The Best Luxury Car Brands
Published on: July 5th, 2019
Editorial Note: The content of this article is based on the author's opinions and recommendations alone. It may not have been previewed, commissioned or otherwise endorsed by any of our network partners.
It's nice to walk out to your luxury vehicle and see it shining in the light — smell the leather, hear the powerful engine accelerate as you roar away in the car. Of course, these extras come at a cost. Buyers generally need to be willing to sacrifice low car payments for a luxury nameplate, which is why luxury car brands are just a small slice of overall U.S. vehicle sales. To figure out the best luxury car brands that could be worth your hard-earned money, we ranked them based on reliability. No one wants to pay for expensive repairs down the road in addition to the hefty upfront price tag.
How we did it
We compared reliability studies from J.D. Power and Consumer Reports. The more reported problems, the higher the trouble score. See the last section for more on methodology.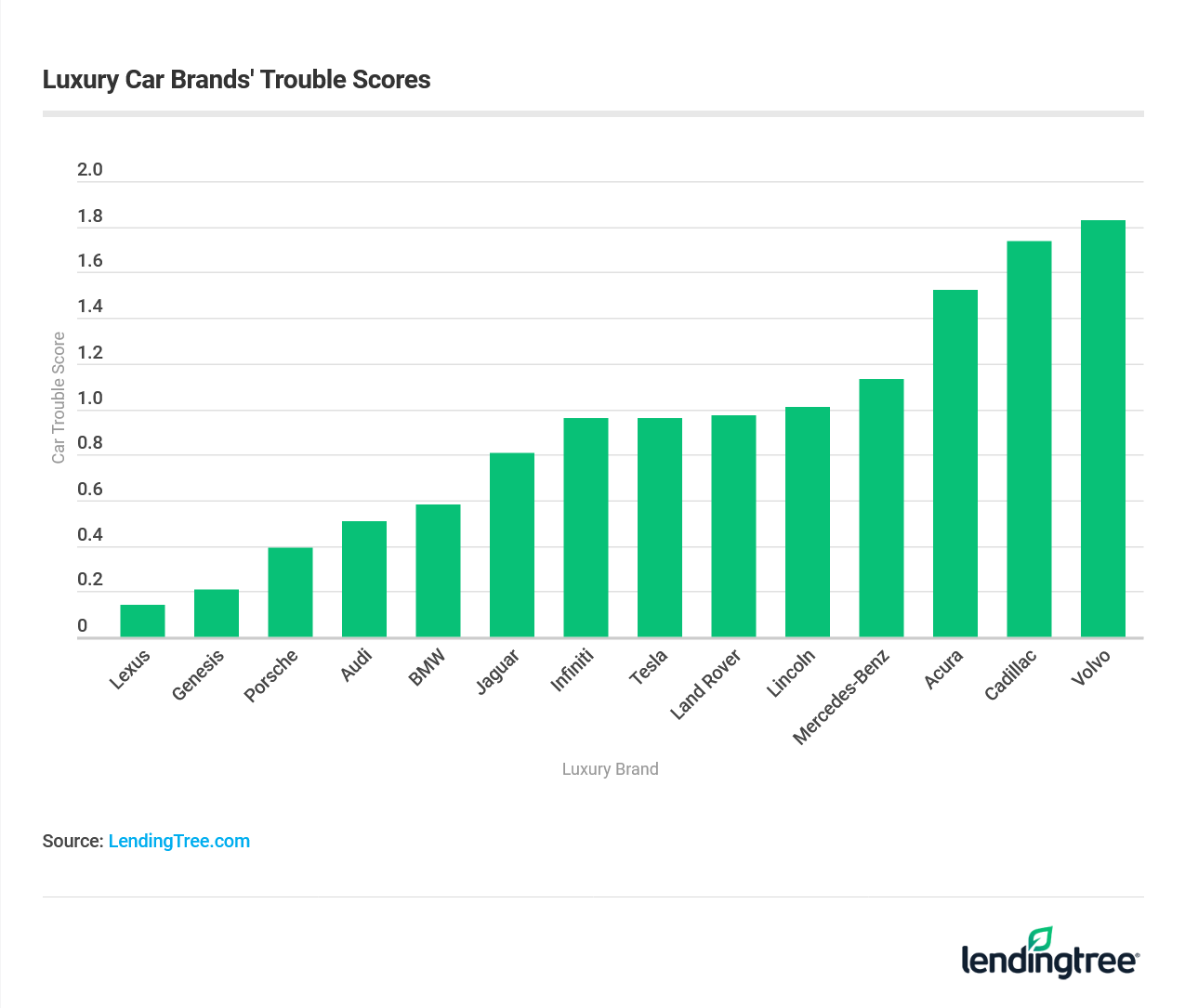 Most reliable luxury car brands
Lexus
Price range: $38,560 – $97,460
Signature vehicle: Lexus LS 500
The luxury arm of Toyota Motor Corp., Lexus is one of the best-selling luxury car brands in the U.S. for a reason. Its vehicles are highly dependable, offer all sorts of luxurious touches and, unlike many European imports, they doesn't cost an arm and a leg to service or repair.
Genesis
Price range: $34,900 – $69,350
Signature vehicle: Genesis G90
Genesis makes extremely well-thought-out sedans. Critics praise everything from excellent suspension to small details like a steering wheel with two heat settings. However, it only makes sedans, which may be a reason it isn't a very well-known brand. Many buyers may not even know it's Hyundai's luxury brand.
Porsche
Price range: $56,900 – $293,200
Signature vehicle: Porsche 911
Known for its race cars, the Porsche brand also makes SUVs. If you're able and willing though, you could practically get your own Porsche race car. The 911 GT2 RS goes from zero to 60 in 2.7 seconds with a top speed of 211 MPH.
Audi
Price range: $33,300 – $182,100
Signature vehicle: Audi A8
Audi offers athletic looks, city comfort and a history of great safety scores. It puts an elegance in most of its cars, powerful but not flashy.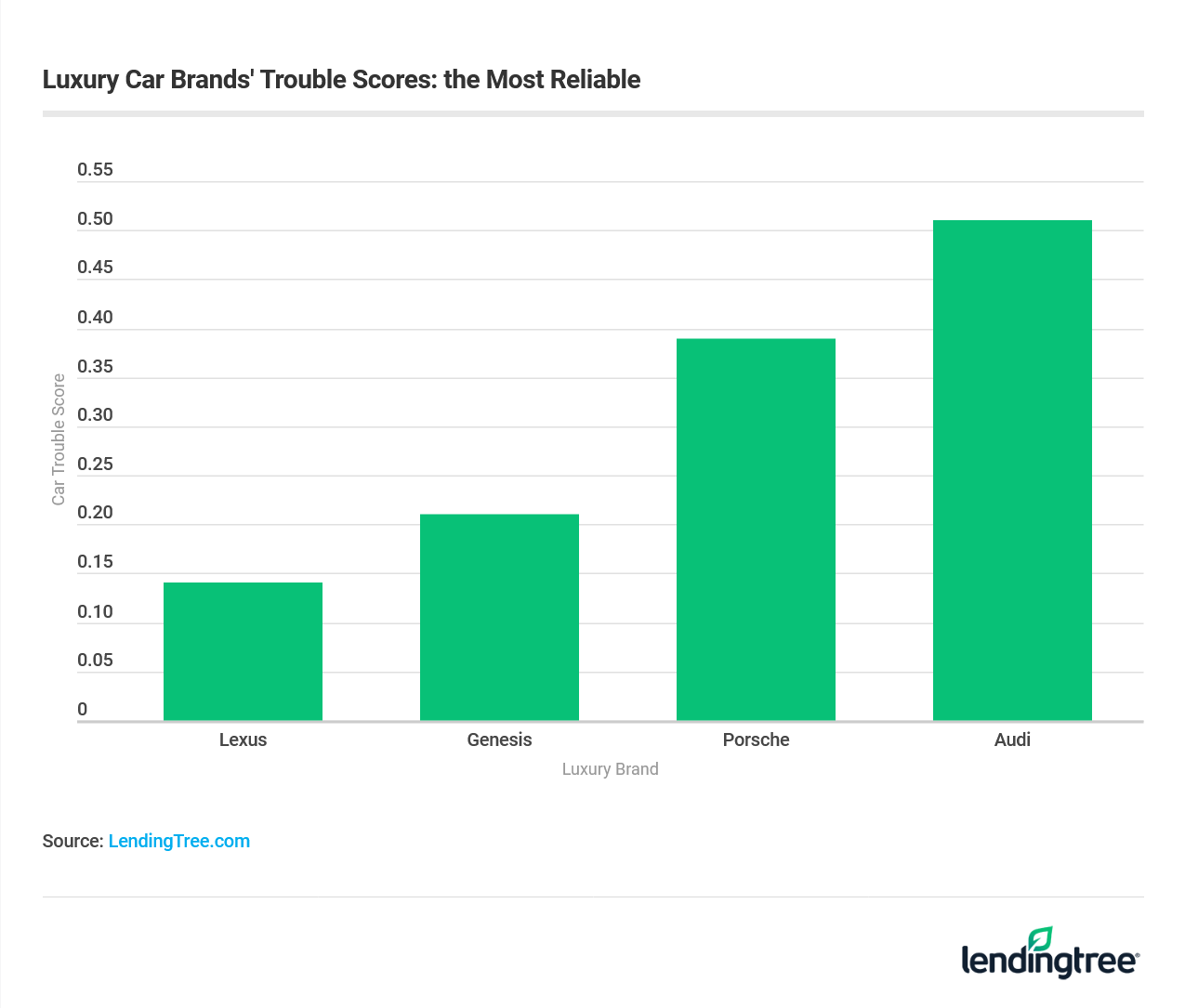 Less reliable luxury car brands
BMW
Price range: $35,300 – $163,300
Signature vehicle: BMW 7 Series
The Bavarian Motor Works Company is famous for the sporty handling of its vehicles. The styling to match isn't bad either. Its most expensive vehicle is the BMW i8 Roadster and its least expensive is the 230i Coupe.
Jaguar
Price range: $36,995 – $76,000
Signature vehicle: Jaguar XJ
Jaguar Land Rover, Britain's largest automaker, had a rough year, ending fiscal 2019 with a nearly 6% drop in sales. However, the company is putting faith in an uptick thanks to new models, including the electric Jaguar I-Pace. The I-Pace was the first vehicle to win three World Car awards in a single year.
Infiniti
Price range: $35,650 – $65,500
Signature vehicle: Infiniti Q70
The luxury child of Nissan, Infiniti is "designed to perform." To that end, it began a partnership with the Renault F1™ racing team in 2016. The brand aims to continue to increase performance while decreasing emissions.
Tesla
Price range: $39,900 – $250,000
Signature vehicle: Tesla Model S
One of only three American luxury automakers on this list and a fully electric one to boot, Tesla is also one of the youngest vehicle manufacturers in the U.S. Tesla and CEO Elon Musk have been in the media spotlight since the company's founding in 2003. Its least expensive new model is the Model 3 and its most expensive is the Founders' Series Roadster, for which it is currently taking reservations.
Land Rover
Price range: $37,990 – $89,500
Signature vehicle: Range Rover
If you would like an executive suite on wheels and you might go off-road with it occasionally, look to the Land Rover. This brand combines luxury and capability. For example, to change driving modes, drivers don't have to do something as common as move a gear shift into either high or low four-wheel drive; they can select one of several driving modes from the touch-screen menu.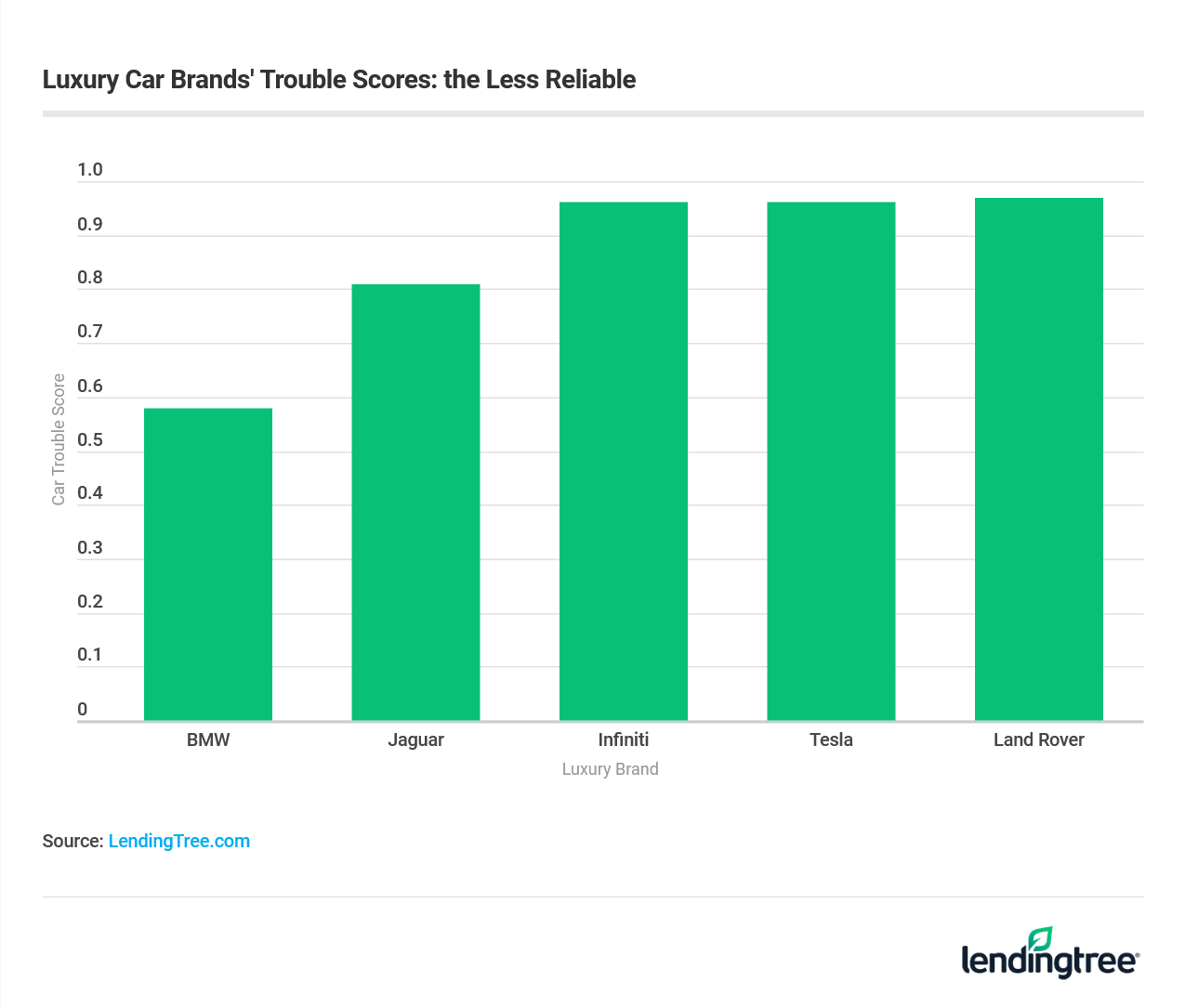 Least reliable luxury car brands
Lincoln
Price range: $35,995 – $73,205
Signature vehicle: Lincoln Navigator
The second American automaker on our list, Lincoln is the luxury segment of Ford. It made a name for itself originally in the 1930s with its large, smooth-riding, luxury sedans. Today, Lincoln's flagship vehicle is still large and in charge – the Lincoln Navigator SUV won the 2018 North American Truck of the Year award at the North American International Auto Show. It can seat seven, tow a boat, still have room for luggage and do it all in style.
Mercedes-Benz
Price range: $32,500 – $170,570
Signature vehicle: Mercedes-Benz S-Class
The three-pointed star of Mercedes-Benz is famous for representing great engineering. Though Henry Ford often gets the limelight, it was Karl Benz who invented the first automobile. And the company has not rested on its laurels all this time. Its luxury lines incorporate a bunch of technology for both safety and entertainment.
Acura
Price range: $25,900 – $157,500
Signature vehicle: Acura RLX
Honda, Acura's parent company, is famous for its engines and Acura gets the benefit of that expertise. From supercars that will throw you back in your seat at 191 MPH, to the more classic luxury sedans, Acura can provide luxury, whether you're looking for speed or comfort.
Cadillac
Price range: $34,795 – $86,995
Signature vehicle: Cadillac Escalade
The classic American luxury car, this is the vehicle brand currently used for the presidential motorcade. The strong, estate-like design is to convey power and confidence.
Volvo
Price range: $33,700 – $52,550
Signature vehicle: Volvo S90
Originally a Swedish company, Volvo is now owned by the Chinese company Geely, but it still retains the element of Scandinavian design. Its most expensive model is the V90 CrossCountry and its least expensive is the XC40.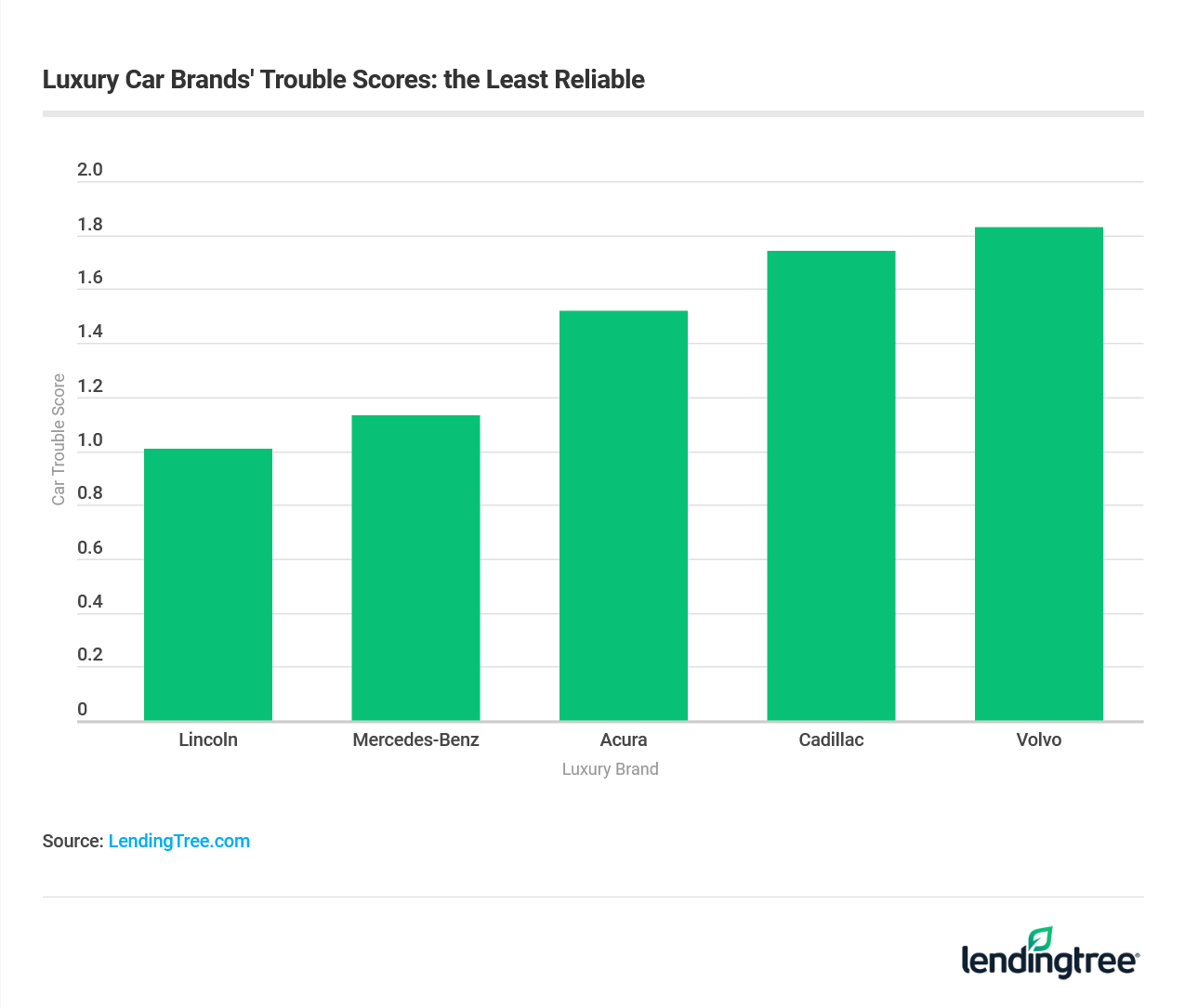 Methodology
Definition of luxury car brands. Luxury car brands were based on what J.D. Power defines as luxury automakers in its U.S. Consumer Financing Satisfaction study. Ultra luxury car brands, those with starting prices around $100,000 or more, such as Ferrari and Lamborghini, were not included.
Trouble Score. The order of brands was determined by a car trouble score based on reliability rankings from both J. D. Power's 2019 U.S. Vehicle Dependability Study and Consumer Reports. All brands besides Genesis, Jaguar and Land Rover had a rank from both sources.
J.D. Power ranked 31 luxury car brands and Consumer Reports Ranked 28. If a car brand was ranked no. 1 in these reports, it had the fewest reported problems; if it was ranked last, it had the most, respectively. To come up with a car trouble score, we created a decimal number for each car brand in each report that was representative of its ranking and then added the scores to create to create a range with a highest possible problem score of two.
Price ranges. Price ranges are the base MSRPs of the least expensive model and most expensive model, not including any other features or packages that may be available, as of publication.