How Does LendingTree Get Paid?
LendingTree is compensated by companies on this site and this compensation may impact how and where offers appear on this site (such as the order). LendingTree does not include all lenders, savings products, or loan options available in the marketplace.
Important Things to Know about Texas Car Title Loans
Updated on: April 19th, 2020
Editorial Note: The content of this article is based on the author's opinions and recommendations alone. It may not have been reviewed, commissioned or otherwise endorsed by any of our network partners.
Advertised as easy and fast cash, a Texas title loan could actually drive you into a desert of debt and leave you there without a car. The nearly 236,000 Texans who took out auto title loans in 2019 were charged more than $522 million in fees, according to the Texas Office of Consumer Credit Commissioner. Alternatives may also be expensive, but they won't require that you trade your vehicle title for needed cash.
How title loans work in Texas
A title loan is a loan based on collateral, your car's title in the case of an auto title loan. Auto title loans are popular because they depend on the value of a vehicle, not a borrower's income or credit score. They're also typically quick to obtain and for relatively small amounts, usually about $1,000.
In the Lone Star State, businesses like Texas Car Title & Payday Loan offer loans online and over the phone. And when you're short on cash and get turned down by a bank, credit union or other financing company, a title loan could be tempting — but the tradeoff is an APR that can soar into the triple digits. Default on the loan, and your car could be repossessed.
Why Texas title loans are so expensive
It's illegal for lenders to charge triple-digit APRs in Texas. However, the business that customers walk into for a car title loan "is actually not a lender at all," said Ann Baddour of Texas Appleseed, an Austin-based public interest nonprofit. The storefront is the middle man between the borrower and lender, which issues two contracts: one for the loan, and another for the service with uncapped fees. These storefronts are credit access businesses, or CABs. (We'll talk more about the risks of title loans ,and how to minimize them, below.)
Types of title loans
There are two types of title loans:
A single-payment title loan is when a borrower is scheduled to repay the loan in one payment, typically within 30 days.
An installment title loan has a longer term, and its fees tend to be higher. Yet more Texans chose installment loans over single-payment last year. That may be because the borrower typically makes fee-only payments until the final bill when the total loan principal is due.
Title loans vs. payday loans
The storefront operations where you might find a title loan could also offer payday loans. They are both loans based on collateral, though the main difference between payday loans and title loans is the form that collateral takes — a postdated check or authorization to debit your bank account secures a payday loan, versus a vehicle title for an auto title loan. They're also both expensive forms of borrowing.
The danger with Texas title loans
Title loans are like french fries, in that they're bad for your health and it's hard to have just one — about 37% of Texans who took out a title loan last year couldn't pay it back on time and refinanced the debt at least once. Some even refinanced more than 10 times.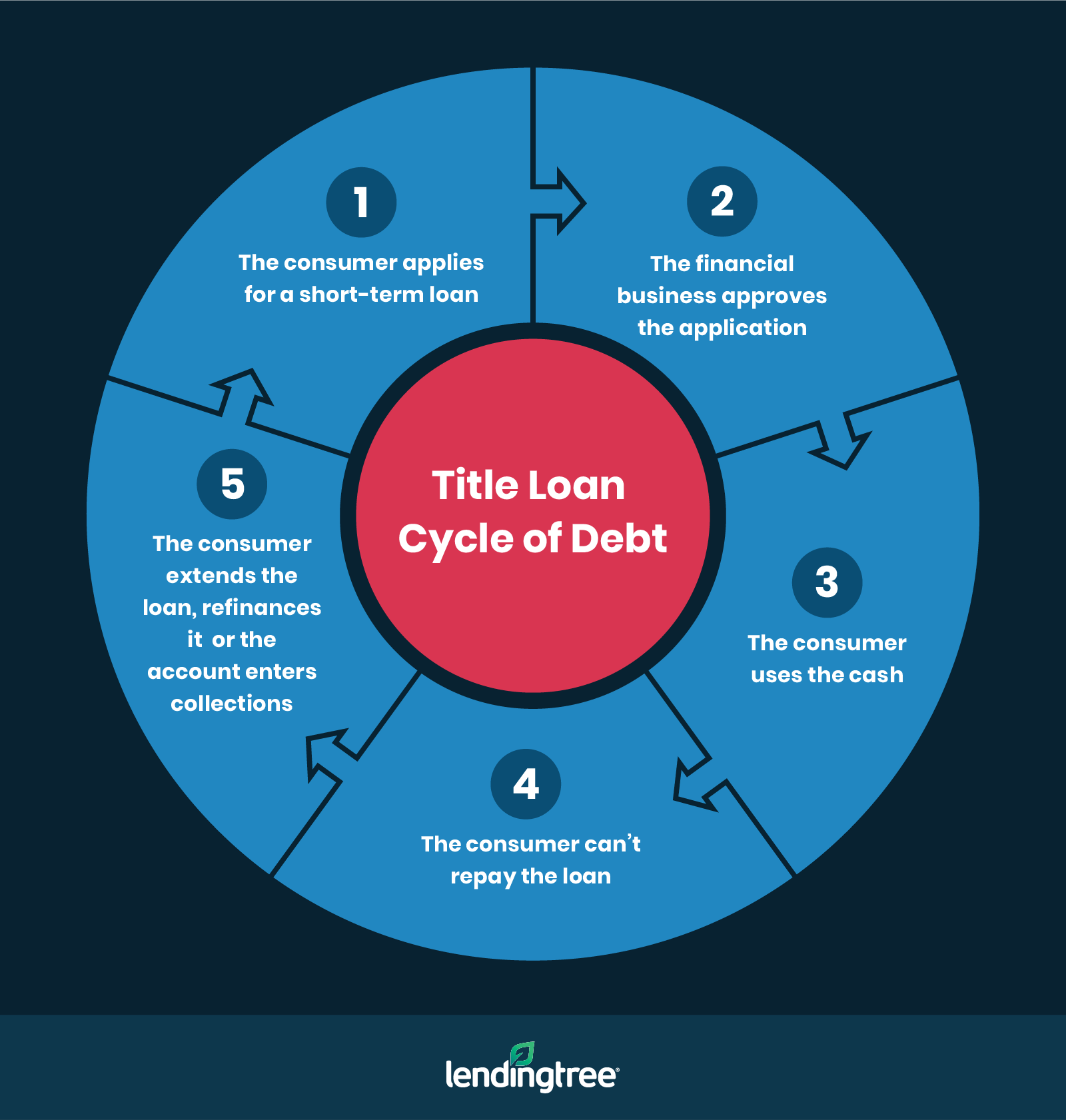 Many Texans wind up losing their vehicles anyway, according to Baddour: "We often encounter people who lose their cars after they've paid twice what they've borrowed."
Texas towns push back on title loans
At least 45 Texas municipalities have passed ordinances limiting the size of auto title loans based on a borrower's income and limiting the number of refinances. Each payment must reduce the principal by 25%, whether the loan is an installment loan with four total payments or a single-payment loan with three rollovers.
"We're a huge state. We also have a very large low income population; a large population with low credit scores and a fairly large unbanked population," said Baddour. "We have a lot of communities of color in Texas, and communities of color have historically been disproportionately targeted by these kinds of very high cost and often predatory loans." You can read more about Texas auto debt here.

Alternatives to Texas title loans
It may not seem like you have many choices when your credit is poor and you need cash quickly, but most of the options below are suited for those with all types of credit. If you can wait, time spent comparison shopping now may save you money in the end.
If, however, you can't wait and are still considering a Texas title loan, you should seek financial or credit counseling for personalized advice, including a plan on how to pay your debts. The National Foundation for Credit Counseling (NFCC) could be an excellent resource. (We'll talk more about the NFCC in a minute.)
Credit union loans
Membership is required, but a benefit of a credit union is that it may be willing to work with those with less-than-perfect credit. It also might be easier to join a credit union than you think.
Cash-out auto refinance auto loans
Some credit unions offer cash-out auto refinance loans, and at potentially lower rates than other lenders. There are good reasons to be wary of this type of loan, too, but it's another way to get cash by using your car's equity. Credit union personal loans may also be more affordable than those from banks or online lenders.
Personal loans
Many lenders offer personal loans — these do not require you to put up your vehicle as collateral, although they highly depend on your personal income and credit. There are personal loans for bad credit, but watch out for potentially high rates.
Home equity loan
Rather than borrow against your car, consider borrowing against your home. Home equity loans typically cost less than title loans, and it is possible to qualify for a home equity loan with bad credit.
Credit cards
While credit card interest rates are relatively high, they're most likely going to cost less than a title loan. You can find a credit card based on your credit rating.
Still in need of fast cash?
If none of the above options pans out, it may be time to take a look at your larger financial picture.
"If you've been rejected multiple times from multiple lenders, it may be wise to look at why you've been turned down and see if there is a reason why you shouldn't be borrowing," said Bruce McClary of the National Foundation for Credit Counseling.
Talk to your creditors if you're behind on bill payments and get advice from a certified financial counselor like those at the NFCC.
What to do if you have a Texas title loan
If you already have a title loan, here's how to pay off debt fast, so you can get out of it ASAP.
If you think the title loan company charged you unfairly or has bad business practices, here are institutions to which you could make a complaint or reach out to for assistance.
Servicemember protections
Texas is home to 15 military installations. If you are part of the U.S. military, or you are married to or a dependent of someone who is, you could qualify for certain protections.
The Military Lending Act (MLA) caps APRs at 36% on title loans for active servicemembers and their dependents.
The Servicemembers Civil Relief Act (SCRA) allows servicemembers to reduce the interest rate on any pre-service loans to a maximum of 6% per year.