How Does LendingTree Get Paid?
LendingTree is compensated by companies on this site and this compensation may impact how and where offers appear on this site (such as the order). LendingTree does not include all lenders, savings products, or loan options available in the marketplace.
2019 Honda Odyssey Review
Published on: March 27th, 2019
Editorial Note: The content of this article is based on the author's opinions and recommendations alone. It may not have been previewed, commissioned or otherwise endorsed by any of our network partners.
The Odyssey is Honda's only minivan, yet it has such a wide range of trims, it covers all the bases, offering everything to a built-in vacuum cleaner and a backseat camera with night vision. With only a handful of minivans on the market, the Odyssey is a standout for its high ratings.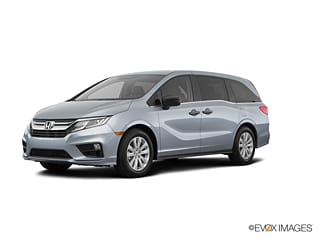 2019 Honda Odyssey pricing
The most expensive Odyssey you can get (without extra options) is the Elite trim Odyssey, at a $47,070 manufacturer's recommended price (MSRP). The least expensive is the LX trim, at $30,190 MSRP.
Trims
LX
EX
EX-L
Touring
Elite
MSRP
$30,190
$34,160
$37,710
$44,760
$47,070
The price difference between the highest and the lowest Odyssey trims is nearly $17,000. The price difference reflects the level of safety technology, engine power and interior luxury you choose.
What's next? Once you pick out the trim level you want, it might be time to think about ways to finance your minivan. You can read about where to find the best auto loan rates in 2019. You could also fill out an online form at LendingTree to receive up to five potential auto loan offers from up to five different lenders, based on your creditworthiness.  Potential lenders could include Honda financing, your bank, credit union or online lender.
Car dealers may raise a customer's APR, so shop around for a car loan like you'd shop around for a car. It doesn't hurt your credit to apply to multiple lenders any more than it does to apply to one if you do all your applications within 14 days — and some credit scoring methods may even allow you up to 45 days.
2019 Honda Odyssey safety
The 2019 Honda Odyssey earned a five out of five star crash test safety rating from the National Highway Traffic Safety Administration (NHTSA). The Insurance Institute for Highway Safety (IIHS) named it a Top Safety Pick, marking the ease of use for child safety seat latches as being especially good.
However, the Odyssey has had three recalls on it so far and it did fall slightly short on the quality of its headlights, which IIHS deemed "acceptable," one step below "good."
Some trims of the Odyssey — EX and up — have Honda Sensing, which is Honda's active safety features. It may include:
Collision Mitigation Braking System. If the car senses it is about to run into something front-first, it will brake itself.
Road Departure Mitigation System. If the car begins to cross a lane without the turn signal on, it can brake and steer to help keep it in the lane and not leave the road.
Adaptive Cruise Control with Low-Speed Follow. The car can follow behind another car at a set interval.
Lane Keeping Assist System. The car can adjust its steering to help keep itself in a lane.
Traffic Sign Recognition. The car can recognize and notify the driver of speed limit signs.
2019 Honda Odyssey competitor comparison
One minivan is much like another? Not necessarily. The Toyota Sienna is the only one to have an all-wheel drive option; the Chrysler Pacifica is the only one to have a hybrid option. And the base models of these vans have about a $3,000 spread in price. The Pacifica and Odyssey each received 5 stars from the National Highway Traffic Safety Administration (NHTSA) and were named a Top Safety Pick by the Insurance Institute for Highway Safety (IIHS). The Odyssey, however, barely edged out the Pacifica in ratings from the experts at Kelley Blue Book.
Honda Odyssey
Kia Sedona
Chrysler Pacifica
Toyota Sienna
MSRP
$30,190
$27,200
$26,995
$29,190
Expert Scores
4.3
4.3
4.2
4
Fuel Economy
21 MPG
21 MPG
22 MPG
22 MPG
Standard Features
Bluetooth, 5″ Screen, Rear View Camera, Push-Button Start
7″ Touch Screen, Apple CarPlay/Android Auto, Stain-Resistant Seats, Rear View Camera
Safety Tec Group, Apple CarPlay/Android Auto, "Stow 'n Go"
Toyota Safety Sense, 6.1″ Touch Screen, Apple CarPlay/Amazon Alexa
*Chart data is for base 2019 models. Expert score averages Kelley Blue Book (KBB) and Edmunds expert ratings. Standard technology refers to features included in the lowest trim level for each model at no extra cost (not an exhaustive list). Fuel economy is combined city / highway mileage as defined by the EPA.
2019 Honda Odyssey trim comparison
With a nearly $17,000 MSRP difference from the basic LX trim to the top Elite trim, you'd better be getting something for your money if you upgrade.
Indeed, the LX trim doesn't set a high bar. It is underwhelming when it comes to technology and comfort features. It doesn't even include the safety features of Honda Sensing. For that, plus a larger screen, the MSRP goes up around $4,000 for the EX trim. But the nifty technology comes with the Touring trim.
Trims
LX
EX
EX-L
Touring
Elite
MSRP
$30,190
$34,160
$37,710
$44,760
$47,070
Standard Features
Bluetooth, 5″ Screen, V6 Engine, Multi-Angle Rear View Camera
8″ Screen, Honda Sensing, Magic Slide Second Row Seats
Leather Seating, Available Package Options
Rear Entertainment, CabinWatch®, CabinTalk™, HondaVAC
Heated Seating, Wireless Phone Charger, Premium Audio, Rain-Sensing Windshield Wipers
For $14,570 more over the base model, the Touring comes with a built-in, rechargeable vacuum plus CabinWatch ® and CabinTalk™. The first gives the driver a bird's eye view, even at night, of second- and third-row passengers. The second, CabinTalk™, is an intercom system that allows the driver to connect directly to the correct backseat passenger, even if they are wearing headphones.
If that's a bit too much of a price jump for you, but one or some of the tech options sound like must-haves, the EX-L trim allows you to pick and choose rather than paying for options you don't want. The top-of-the-line Elite trim comes with all of these features standard.
Seating. In the lowest trim, the LX, there is seating for seven as the middle row consists of captain's chairs. In all other trims, the standard seating configuration fits eight, as the middle row is a bench.
2019 Honda Odyssey — the bottom line
You might like the Odyssey if you're looking for a seriously practical car for a large family. From the base to the elite model, this minivan could get you and at least six other passengers to where you're going. If you're looking for all-wheel drive or a hybrid drivetrain or perhaps a lower price, check out alternatives to the Odyssey in our list of best minivans for families.
But there are other types of vehicle that can comfortably and, dare we say more stylishly, get you and a crowd from Point A to Point B. If this is the case, you could read more about best family cars. There are plenty of SUVs with third-row seating that may suit your family and your style.
MSRPs in the article are accurate as of the date of publishing.