2019 Toyota C-HR Review
Published on: April 12th, 2019
Editorial Note: The content of this article is based on the author's opinions and recommendations alone. It may not have been previewed, commissioned or otherwise endorsed by any of our network partners.
With sporty looks, advanced driver safety features and an eight-inch touch screen, all standard, the Toyota C-HR is a subcompact SUV crossover that may have a sporting chance of attracting you as a driver.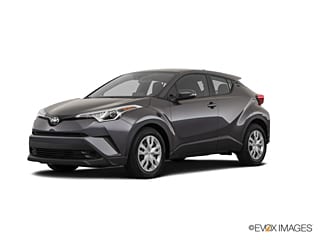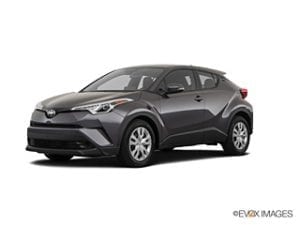 2019 Toyota C-HR pricing
The 2019 C-HR has a base manufacturer's recommended price (MSRP) of $20,995. For the top trim, add about $5,000. These prices are in line with the stated prices of other compact crossovers in the market, which you could check out in the competitor section below.
Trim

LE

XLE

Limited

MSRP
$20,995
$23,030
$26,050
Of course, you do not have to pay MSRP for a vehicle. Depending on where and when you shop, the price may be lower. You could use a free, online industry guide, such as NADAguides or Kelley Blue Book, to see what the fair market price is in your area; you shouldn't pay more than that.
What's next? Once you pick out the car you want, a car loan is usually next. Potential lenders could include Toyota financing, your bank, credit union or online lender. Car dealers can raise your APR, so be sure to apply for a loan outside of the dealership. You could also fill out an online form at LendingTree, where you may be matched with up to five different loan offers from lenders based on your creditworthiness.
It doesn't hurt your credit to apply to multiple lenders any more than it does to apply to one if you do all your applications within the rate shopping period of generally 14 days — and some credit scoring methods may even allow you up to 45 days.
2019 Toyota C-HR safety
The good. The 2019 C-HR earned a five-star crash test safety rating from the National Highway Traffic Safety Administration. The Insurance Institute for Highway Safety (IIHS) also gave it top marks in crash safety.
The bad. However, the IIHS also marked the CH-R's headlights as "poor," which is the lowest possible score. And in driving the vehicle, you may notice that the rear window is very small, which greatly reduces visibility.
Toyota Safety Sense P suite. This suite of active driver assistance technology comes standard on all C-HR models. It includes:
Pre-collision system with pedestrian detection. If the car senses something or someone in front of it, it alerts the driver audibly and visually and applies the brakes if the driver does not.
Lane departure with steering assist. At speeds at or above 32 MPH, the car will alert the driver audibly and visually if it senses that it is drifting out of the lane, and will make small steering adjustments to help stay in the lane.
Automatic high beams. At speeds above 25 MPH, the car will automatically toggle between high and low beams accordingly to allow greater driver visibility.
Full-speed dynamic radar cruise control. While the driver has cruise control on, the car will automatically slow down or speed up, without cruise control deactivating, as conditions call for it due to other vehicles within range. The car can also alert the driver if more speed reduction is needed and apply the brakes.
2019 Toyota C-HR  trim comparison
The C-HR has three trim levels, from the LE to the Limited. Here is what they are and what they cost, side-by-side.
Trim

LE

XLE

Limited

MSRP
$20,995
$23,030
$26,050
Features
Toyota Safety Sense P, 8″ Touch Screen, Apple CarPlay, LED Daytime Running Lights, Selectable Driving Modes, Bluetooth
Blind Spot Monitor, Rear Cross-Traffic Alert, 18″ Alloy Wheels, Puddle Lights, Lock/Unlock Door Touch Sensor
LED Fog Lights, Rain-Sensing Windshield Wipers, Leather-Trimmed Seats, Chrome Window Trim, Wi-Fi Connectivity
Toyota also offers some features a la carte on the XLE and Limited trims, such as premium audio and special design features. And the C-HR has Toyota's standard 3-year, 36,000-mile "bumper-to-bumper" warranty and 5-year, 60,000-mile powertrain warranty.
2019 Toyota C-HR competitor comparison
If all that information on the C-HR didn't float your boat, here are some highly-rated competitors that may work for you instead.
Toyota C-HR
Hyundai Kona
Mazda CX-3
Subaru Crosstrek
Honda HR-V
Base MSRP
$20,995
$19,990
$20,390
$21,895
$20,520
Expert Scores
3.85
4.3
4.2
4.2
4.1
Standard Technology
8″ Screen, Toyota Safety Sense P, Apple CarPlay
7″ Screen, Hyundai Smart Sense, Apple CarPlay/Android Auto
7″ Screen, Rearview Camera, Smart City Brake Support
AWD, Bluetooth, 6.5″ Touch Screen
Bluetooth, 5″ Screen, Rearview Camera
Fuel Economy
29 MPG
30 MPG
31 MPG
25 MPG
30 MPG
*Chart data is for base 2019 models. Expert score averages Kelley Blue Book (KBB) and Edmunds expert ratings when available. Standard technology refers to features included in the lowest trim level for each model at no extra cost (not an exhaustive list). Fuel economy is combined city/highway mileage as defined by the EPA.
Toyota model comparison
The CH-R, which stands for compact high rider or cross-hatch runabout, faces competition not just from rival manufacturers but inside the family, too. It's the smallest of Toyota's long line of crossovers and SUVs but you also might want to look at the manufacturer's original hybrid as well as its small pickup.
C-HR
Highlander
4Runner
Tacoma
Prius
Base MSRP
$20,995
$31,530
$35,110
$25,700
$23,770
Expert Scores
3.9
4.1
3.3
4
N/A
Standard Features
Apple CarPlay, Toyota Safety Sense P, Selectable Driving Modes, Bluetooth
6.1″ Touch Screen, Toyota Safety Sense, Hill Start Assist Control, Keyless Entry
Star Safety System, Bluetooth. 6.1″ Touch Screen, Cruise Control, Voice Recognition
Toyota Safety Sense P, Star Safety System, 6.1″ Touch Screen, 3 USB Ports
Toyota Safety Sense P, Bluetooth, 6.1″ Touch Screen, LED Lights
Fuel Economy
29 MPG
22 MPG
18 MPG
21 MPG
56 MPG
The bottom line on the 2019 Toyota C-HR
You might like the C-HR if you're a city or suburban driver looking for a sporty-looking compact SUV crossover that can fit in nearly any parking spot. You might not like it if you're looking to actually do something sporty. While the C-HR does have MacPherson struts (good suspension for handling curves) and a naturally aspirated engine (for more power), it does not have turbo drive, all-wheel drive or any powertrain option other than a 4-cylinder engine with automatic drive, specifically a CVT transmission, which leaves the car a bit underpowered overall.
MSRPs in the article are accurate as of the date of publishing.