How Does LendingTree Get Paid?
LendingTree is compensated by companies on this site and this compensation may impact how and where offers appear on this site (such as the order). LendingTree does not include all lenders, savings products, or loan options available in the marketplace.
How to Find out If There's a Recall on Your Vehicle
Published on: October 3rd, 2019
Editorial Note: The content of this article is based on the author's opinions and recommendations alone. It may not have been reviewed, commissioned or otherwise endorsed by any of our network partners.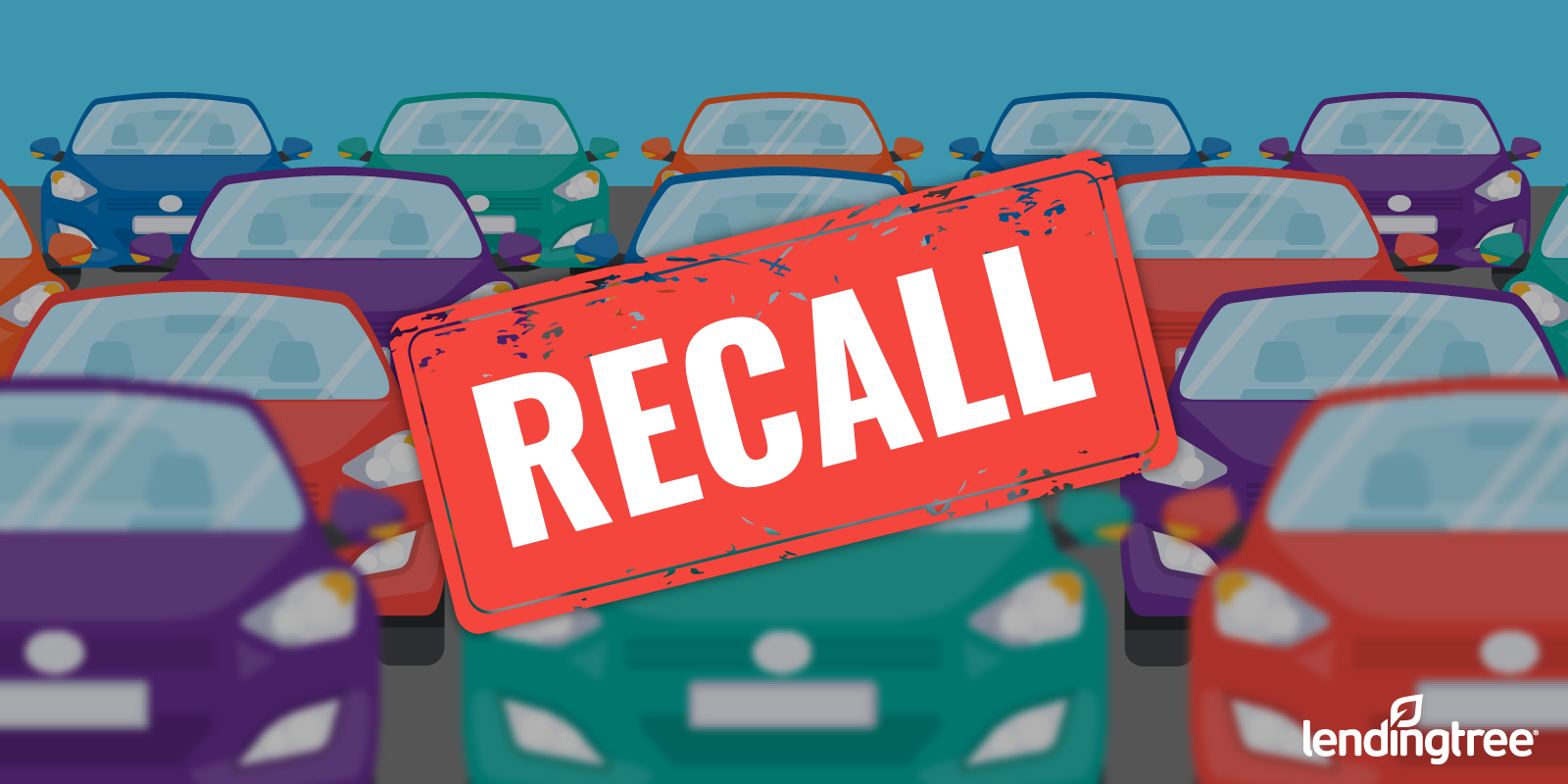 Recalls can be initiated because of windshield wipers, seat backs, car jacks, fuel systems and so much more.
In 2018, there were 1,035 vehicle, equipment, child seat or tire recalls that affected an estimated 35 million+ people. But unless you took certain steps, you may have missed a recall notice for your vehicle.
We'll walk you through how to find out if there's a recall on your vehicle and how to ensure you get future recall alerts.
How to see if there is a recall on your vehicle
Staying informed about National Highway Traffic Safety Administration (NHTSA) or manufacturer recalls is easy, but it requires being proactive.
While manufacturers — who are required to fix the issue, refund the cost or in some cases even buy back the vehicle — attempt to inform vehicle owners of recalls, the process is flawed.
It could take up to 60 days for a manufacturer to send you written notice. Plus, your contact information is pulled from Department of Motor Vehicles records, so you could miss an alert if there's a lapse in your vehicle registration, if you moved to a new address or if you fail to open your mail.
If you're buying a car, asking the seller isn't a guarantee you'll find out about recalls since the seller may not know or not tell you — even if it's a dealership. In either case, you should follow these steps to check recall information for yourself.
Find your VIN
A VIN, or vehicle identification number, is a unique combination of 17 characters that's used to identify a vehicle. You can find your car's VIN number on the lower left-hand side of your windshield. For motorcycles, it can be found on the frame or engine block.
Your VIN number is also on your registration card — and possibly on your insurance card. Before buying a vehicle, it's important to check the VIN to make sure it matches the registration.
Check the NHTSA database
You can check for recalls in the NHTSA's database by calling 888-327-4246 or using the online recall lookup tool. Both are free to use. Simply provide your VIN to receive one of three results:
Recall INCOMPLETE
This means there's an unresolved, or open, recall. It will include instructions for resolving the recall.
Recall INCOMPLETE. Remedy Not Yet Available
This means there's an open recall on the car, but the manufacturer hasn't yet provided a fix.
Number of Open Recalls: 0
This means there are no unresolved recalls on the vehicle.
The search results will include any unresolved recall on your vehicle over the past 15 years.
If you find there are no open recalls, congratulations. Moving forward, you should check for recall alerts twice a year. Below, we'll provide information on signing up for alerts.
Check with your dealer or manufacturer
Another way to find out about a recall is by visiting a franchised auto dealership. When the dealer services the car, it'll run your VIN through the manufacturer database to check for open recalls.
If you want to avoid a visit to the dealership, you can call and ask to run the VIN.
Many manufacturers allow you to look up recall information through their websites. Major manufacturers such as Nissan, Volkswagen and GM (which includes Chevrolet, GMC and more) allow you to plug in your VIN and pull up recall information online.
What to do if there is a recall on your vehicle
Ronald Montoya, senior consumer advice editor at Edmunds, said people have a tendency to ignore recall alerts, thinking the issue can be addressed later. But recalls can be serious safety matters that typically should be dealt with immediately. Even if it is just a windshield wiper, the issue could be indicative of something much more serious, such as an engine problem.
The reason for a recall can be fairly technical, but Montoya said it's not necessarily important for you to understand all the details. The most important thing is that you visit a dealership right away.
You may prefer to visit an independent mechanic, but there's no guarantee it'll check for open recalls or be able to do the repair work — especially if it's a mom-and-pop shop. If you're concerned about car repair costs at an authorized dealership, keep in mind that recall repairs are free.
If the manufacturer hasn't provided a fix for your recall yet, you should monitor the situation. You can do so by registering your vehicle through the manufacturer's website and subscribing to the NHTSA for ongoing updates.
How do you get alerts for future recalls?
There are several ways to receive recall alerts. The NHTSA recommends signing up for its alerts so you can get information about a recall immediately, instead of waiting for a letter from the manufacturer.
It's also recommended that you register not just your vehicle but your tires, car seats and other equipment, so you can get alerts for those items, too.
Here's how you can set up a recall alert:
Sign up for NHTSA email alerts and make sure to permit your inbox to receive NHTSA emails.
Download the NHTSA's SaferCar mobile app via the App Store or Google Play to receive alerts on your phone.
Maintain current vehicle registration with your up-to-date address so that you'll receive recall notices sent in the mail by the vehicle manufacturer.
Register your car and equipment through the manufacturer and update your contact information when it changes.
The bottom line
You can stay safe and informed by registering your car and your equipment, and checking for recalls biannually.
If you have a safety concern related to a feature of your car, you can take it one step further and report your concern to the NHTSA so that the agency can investigate and issue a recall if necessary.
Ignoring a recall could prevent you from renewing your registration or registering a newly purchased car. Even worse, it could put you, your passengers and other drivers on the road in danger.