Houseboat Financing: Learn How To Get A Houseboat Loan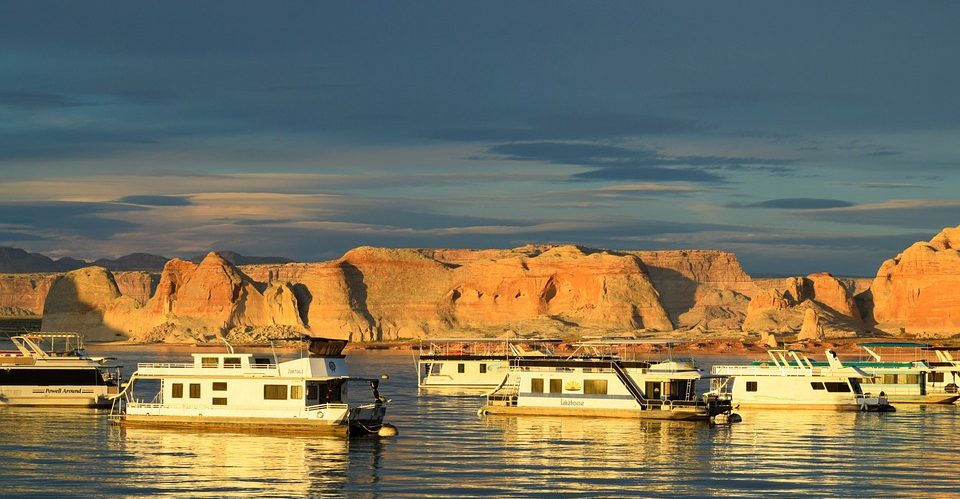 You don't have to be an incurable romantic to yearn for a life on the water. Even the most hardheaded among us can melt at the prospect of drifting asleep to the lullaby-like sound of distant, rhythmic lapping, and the crib-like sensation of gentle, fluid rocking. And how better to start the day than to awake to the sound of seabirds, or river or lake fowl?
Reality Needn't Rock the Boat
If you're tempted by such lures, you need to be ready to temper your dreams with some realities. But owning a floating home can be every bit as amazing an experience as it is in your imagination. To start with, depending where your mooring is, you stand to have views that those in the multimillion-dollar homes on the shoreline above you can only dream of. And your place floats!
True, at the very low end (sub $70,000, say) of the market you're likely to find some freezing-cold, rusty hulks that tend to appeal to those with spartan rather that sybaritic sensibilities. But you don't need to get anywhere close to the $1-million+ top end (think McMansion-sur-Mer) to own the sort of home you've previously seen only in movies.
What Is a Houseboat?
OK, OK. Yes, you're right: A floating home is a home. That floats.
But aficionados (and, if you're reading this, you're likely hoping to be one) have different terms for such vessels. A houseboat is usually a home that floats, but it's one that moves independently on the water. And that means the U.S. Coast Guard may want to take an interest if yours fails to meet any of its standards, most notably those relating to flotation. But it also regulates such crafts' electrical, fuel and ventilation systems. And a houseboat won't normally be attached to a sewerage system, and often may not be connected to a water supply, so you may need to have and maintain tanks to deal with those requirements.
All these factors make a houseboat different from a "true" floating home, which is of little interest (since it's going nowhere — except very occasionally, when it may be towed) to the Coast Guard. The latter does, however, have to comply with local government regulations, which mostly require that it's attached to an approved mooring, and meets relevant construction codes.
Houseboats are generally subject to excise taxes on purchase, but their owners are usually not expected to pay property taxes, unless they own some or all of their mooring. Owners of floating homes most often face the opposite taxation obligations.
Adjusting to Life on the Water
Some of the downsides of living on water may not be immediately apparent to landlubbers. For example, transporting your monthly Target purchases from your attached garage to your kitchen is rarely a problem in your suburban home. It can feel very different when every trip between your car and your gangplank involves a 100-yard+ tramp, especially if a gale is blowing at the time.
But other issues may be eerily familiar to co-op residents. Are pets allowed on your mooring? What are the rules about parking vehicles — especially large ones? What other restrictions might you face? You need to know about all these before you commit to a purchase.
Unless you're lucky enough to own your own mooring, you're likely to face significant Home Owners' Association fees. These usually cover services, including sewerage and water usage, garbage removal, and the maintenance and lighting of common areas, such as walkways and parking lots. Again, make sure you have a grasp of these costs before making a commitment.
Financing a Houseboat
Many lenders don't "get" houseboats or floating homes. However, some do finance houseboats – typically those who do a sizable amount of traditional boat loans. Now it's your job to seek them out. Even the most understanding of these is likely to charge you 100 or 200 basis points (1 or 2 percent) more than someone with the same credit score would pay for a similarly priced property on dry land. In other words, if Freddie Mac's average rate for a 30-year, fixed-rate mortgage were 4.43 percent (as it was in January 2014), you should expect to pay something between 5.43 percent and 6.43 percent for a floating home, assuming you'd have qualified for that average rate, and wanted a similar loan.
And don't expect to make a low down payment. Federal Housing Administration doesn't back floating homes, so you have to expect to put down what commercial lenders require: a minimum of 20-25 percent.
Higher rates and down payments have two knock-on effects. First, you're likely, when you come to sell, to have to wait longer to dispose of your floating home than an equivalent on dry land. And, secondly, because some of those who might otherwise compete with you can't get beyond those rates and down payments, you might buy a really great home for less than it would be worth were every purchaser and mortgage lender to recognize its true value. You win some; you lose some.
What Living on Water Means
Yes: You win some; you lose some. That pretty much sums up what's involved if you want a life on water. You get to fulfill a dream, but it could cost you — though not always very much. Is it worth it? That depends on just how much you like your dreams — and floating.