How Does LendingTree Get Paid?
LendingTree is compensated by companies on this site and this compensation may impact how and where offers appear on this site (such as the order). LendingTree does not include all lenders, savings products, or loan options available in the marketplace.
How Much Does a Yacht Really Cost?
Published on: May 29th, 2019
Editorial Note: The content of this article is based on the author's opinions and recommendations alone. It may not have been reviewed, commissioned or otherwise endorsed by any of our network partners.
Yachts are adored by many — and why not? They are high-end vessels that exude style and status. They can be crafted of the most precious metals and woods, and provide the perfect party destination on the water. It's no wonder the rich and famous have them.
They are, however, expensive. So if you're looking to buy a yacht some day, or just want to learn more about them, this guide will explore the world of yacht ownership and all the hidden costs that go into this opulent option.
Yachts, superyachts, and boats. What's the difference?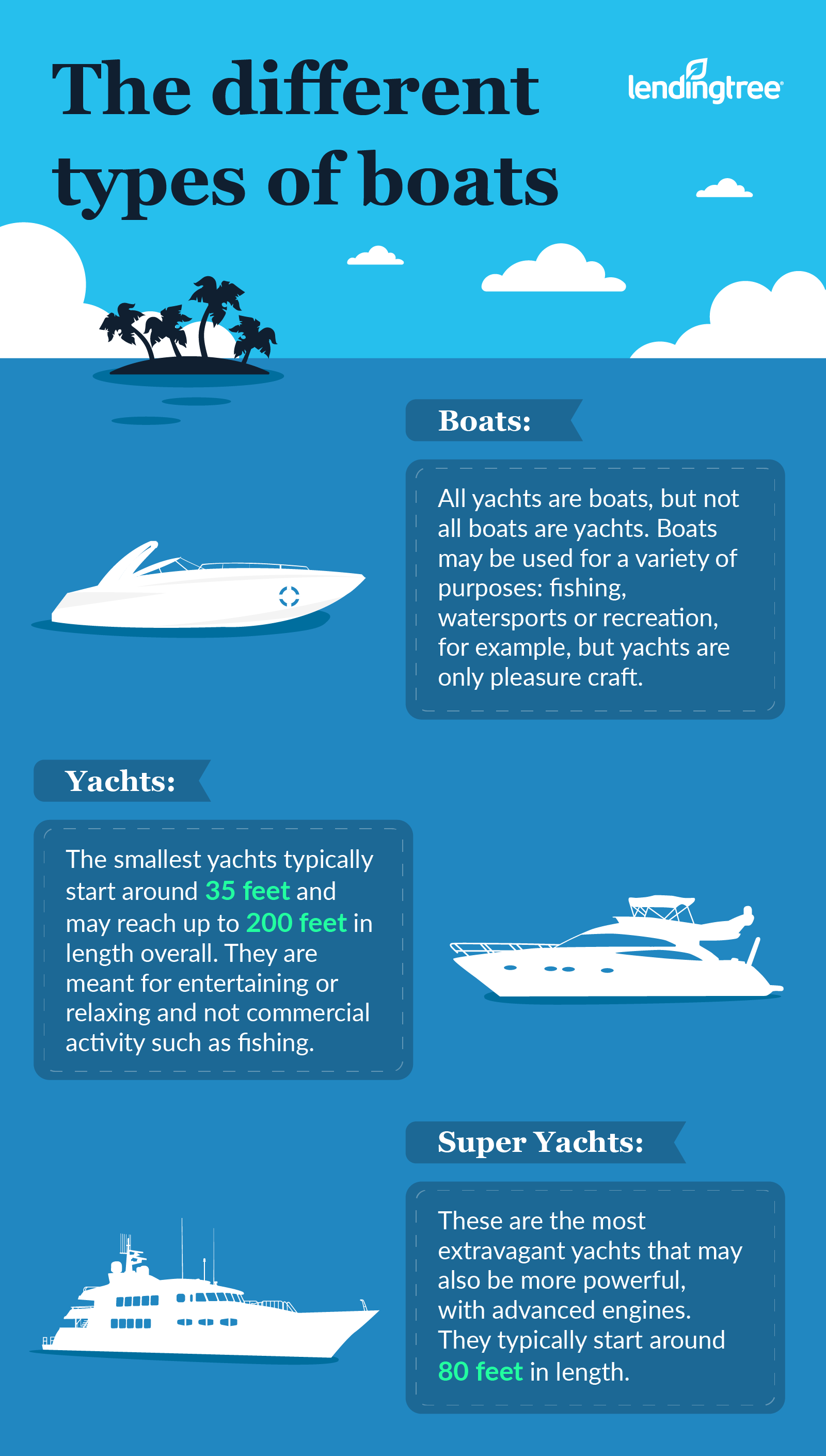 First, it's important to understand the difference between boats, yachts and superyachts. LendingTree spoke with Rick Young, the national sales director at Denison Yacht Sales and a boat broker, to learn more.
According to Young, a boat is a single engine watercraft that can vary in size but is usually under 197 feet in length overall (LOA); however, the term boat can (and often is) used interchangeably with yacht and superyacht. A boat can have a number of different purposes. Some might want to use a boat to go fishing in Florida, while others may like one to sail around Martha's Vineyard.
Yachts
Yachts, however, have just one purpose: pleasurable sailing. Yachts are typically designed around comfort and luxury rather than function. A yacht can be a fairly large vessel (the smallest yachts begin around 35 feet or more) and usually has dual engines. Yachts are not used for any commercial purposes like fishing, but rather for entertaining or relaxing. Yachts are all about luxury and style, and the cost coincides with the vibe, as many can be priced in the tens and hundreds of thousands, if not millions.
Yachts also tend to be much more extravagant, and in some cases more powerful, than your average boat. Some yachts even have more advanced engines that offer increased speed to cover far more ground than your average boat.
Superyachts
A superyacht, on the other hand, starts at 80 feet long and be as large as 150 feet or more in length. In fact, the largest superyacht in the world is 751 feet and is currently under construction. The superyacht, called the Valkyrie Project, will be so big it will hold a casino, a theater and an art gallery.
Yachts versus boats
Yachts are more upscale and often times bigger than a boat, therefore they can cost more than your average watercraft. A popular size yacht is around 50 to 53 feet, which starts at an average of $145 million. Anything around 30 feet and under is considered a boat. Even the largest boat at 30 feet usually only averages out to $200,500, Young says.
Since yachts are generally larger, there's also more upkeep associated with them. Plus, there are many other hidden costs to consider, such as a crew and captain, and the continuous maintenance and improvements to help keep a yacht looking its best.
What is the average cost of a yacht?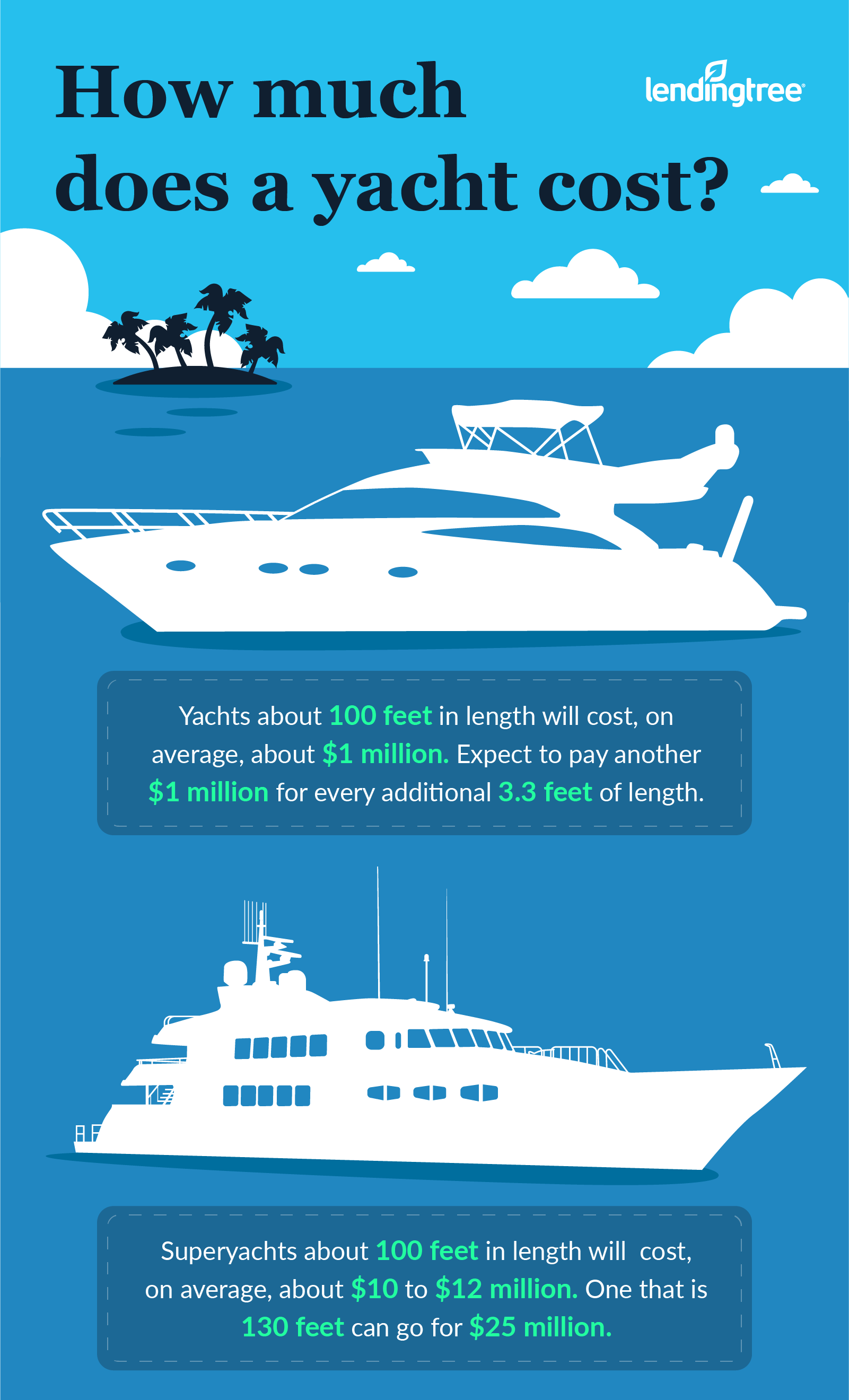 A yacht is a costly investment. If you want a large, luxurious yacht that's more than 100 feet in length, you can expect to pay at least $1 million. Yachts over 100 feet cost roughly $1 million for every additional 3.3 feet of length; of course, you may still be able to find a yacht that isn't brand new and on the smaller side (under 100 feet) that can cost a little less. Typically, used yachts can cost 50% less than the price of new ones, Young says. For example, a 10-year-old 100-foot yacht can cost $5 million as opposed to $10 million.
If you're looking to nab a superyacht, you'll be getting a much larger vessel and a heftier price tag. For example, a superyacht that is 100 feet will likely cost $10 to $12 million, while one that is 130 feet can go for $25 million.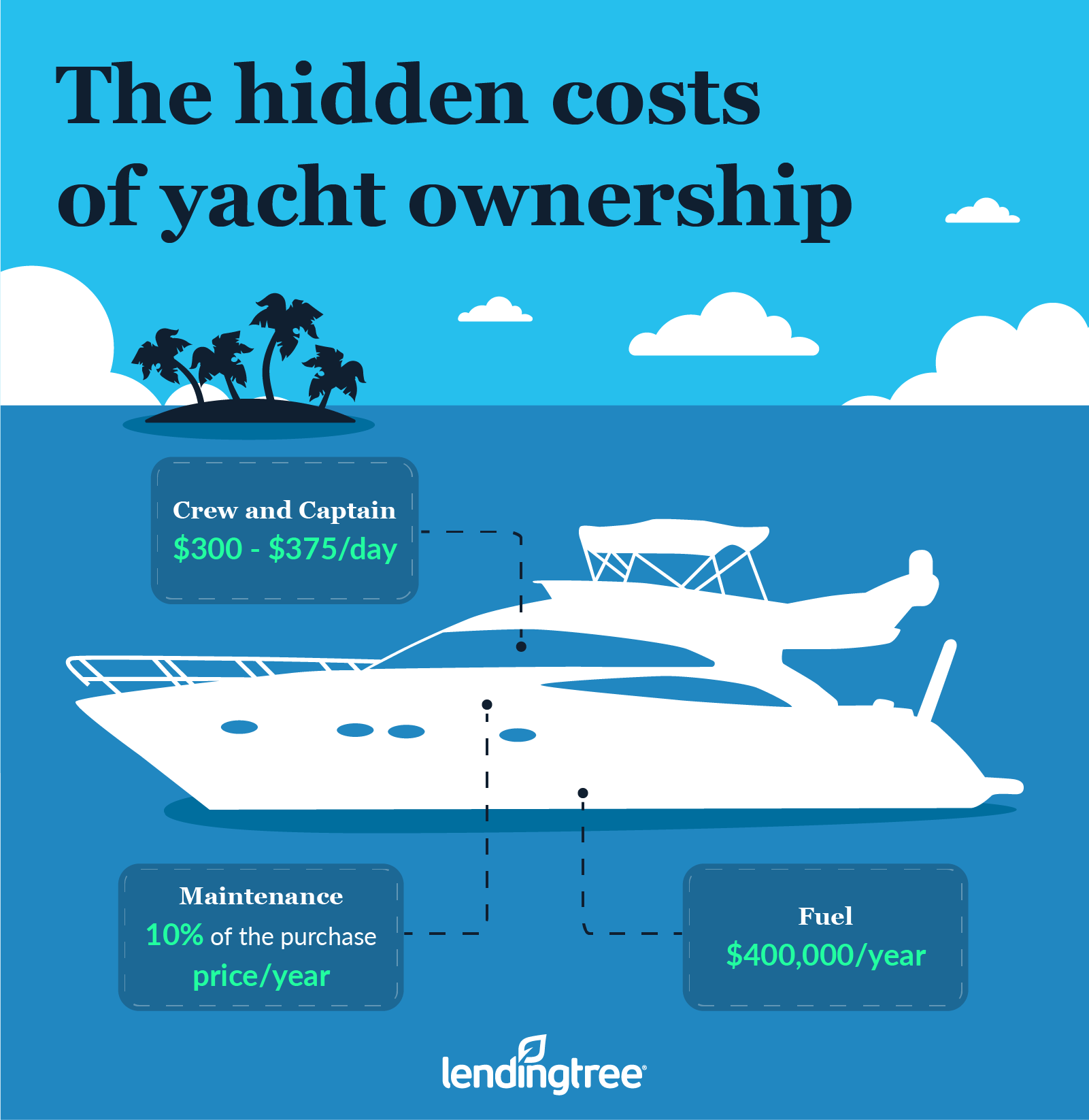 Buying a yacht can be expensive, but the purchase is just the beginning. There are many additional things that people forget to consider when purchasing a high-end vessel. Some of these items can include:
Fuel. This can cost around $400,000 per year for a yacht, but this price can also include water sport activities that use fuel, too. Most yachts often have jet skis or other watercraft aboard that require fuel as well.
Dockage fee. With a daily rate of $0.50 to $3.00 per foot, the dockage fee can typically cost thousands per month, but the actual amount depends on a few factors, including the length of the boat, the marina where it's being docked and the time of year. Though if you want to dock or moor at, say, the Cannes Film Festival or at the Monaco Gran Prix, you can expect to pay considerably more.
Registration. If you are a U.S. citizen and have a vessel that is 26 feet or more, you'll likely register with the Coast Guard whether you are looking to register in the U.S. or outside the country; registration can cost around $1,000, Young says. While it's not required to register with the Coast Guard, this is a popular option because the protection is usually better than with state registration, alone. Plus, if you're looking to get a loan from a bank or financial institution to help pay for your yacht, you'll be required to register through the Coast Guard.
Captain and day/dockworkers. A captain and his mates can set you back financially. The price depends on the yacht's size, so if you have a 70 to 100 foot yacht, you may be looking at paying the captain $300 to $375 per day. One mate alone might walk away with $175 to $250 per day.
Other crew costs. On top of paying the crew's salary, you also have to pay insurance for the crew, including medical and liability — and don't forget about the costs of training. All of this can add up to several thousands of dollars per month.
Maintenance/pperating. Yacht owners are looking at shelling out 10% of the purchase price each year just to operate and maintain a yacht — and as time goes on, maintenance becomes more expensive. A yacht that's 10 years old might cost you 7.5% of what the boat is worth just to keep it operating and maintained.
Refit. A refit can constitute anything from a minor upgrade to a massive renovation, but regardless, it's an added price tag to the regular maintenance on the yacht.
Insurance. Yacht insurance can cost several thousands per year, if not well in the six figure range.
Miscellaneous. Between the administration costs of office supplies and communication support, there's a good chance these miscellaneous charges can add up to a few thousand per month.
Yacht chartering. And if all these added fees are making you think renting a yacht for a certain amount of time might be a better idea, you'll want to know that it's still pretty pricey. The cost to charter will depend on the length of the vessel, but if you're interested in renting a yacht, even one that's under 80 feet, you're looking to spend anywhere from $15,000 to $35,000 per week.
How to finance a yacht
Owning your own yacht might be an all-time dream, but paying for it can be rough on your wallet. However, you may not have to be Jay-Z with a large supply of extra cash on hand to finance a yacht. There are other possible options out there that can help make your dream of owning a yacht a reality.
First, it's best to get an idea of where you stand financially. A great way to get started is by determining just how much boat you can afford based on your current obligations, your debt and your income. You can do this easily by using LendingTree's boat loan calculator. Plug in the desired loan amount and loan term to see how much your estimated monthly loan payments might be. You can even get a break down by each year to keep you ahead of the game.
After you have an idea of how much you can spend, you'll also need to consider how much to put down to purchase your yacht. Normally, Young says, you'll need to put down 20% to purchase a yacht and have a minimum of two times the equity in your account — the more equity you have, the better. If you have five times the equity, you may only need to put 10% down. However, if you have zero equity, you'll likely have to put more down, such as 30%.
A boat loan can be a solid option to help pay for your yacht. Lenders will look at your creditworthiness, like whether you've leased other luxury items like a Ferrari or Mercedes, or have a $10 million home that you have been able to properly finance. In order to qualify for a boat loan, you'll need to complete an application asking for your income and credit score. Each lender has its own credit score requirements, but generally, they look for a score of 700 or higher and like seeing a debt ratio under 40%. Plus, the higher your score, the better your chance for lower rates. If you don't already know your credit score, you can check it now, free of charge.
Once you have a better idea of possible monthly payments and what your credit score is, you can shop around to find some potential boat loan lenders. There are many lenders out there to choose from depending on your financial needs. One possible lender might include U.S. Bank, which provides boat loans anywhere from $5,000 to $150,000, at terms that can start at one year and go for twenty. You can discover other places for boat loans by checking out our story on the best boat financing companies.
Yachts are expensive
Owning a yacht can be pricey. With the cost of a yacht being anywhere from six figures to millions of dollars, you're looking at a hefty sales tag. With that comes plenty of other expensive aspects of yacht ownership, including fuel, dockage, crew costs and chartering fees. It all adds up to one expensive item to own.
If you don't have the money to pay for everything out of pocket, the dream of owning a yacht can seem out of reach. However, there are boat loans that can help. Just keep in mind, though, that you'll be taking out more debt which can easily add up over time. It's always best to shop around for the best rates. Also, if your credit is on the low side, it might be a good idea to work at raising it before applying for a loan — this way you'll have a better chance to nab a better rate.
Owning a yacht has its perks — lavish sailing getaways and endless bragging rights — but it comes with a cost and should be well considered before making the final purchase.
The information in this article is accurate as of the date of publishing.