What to Know About the Schedule C IRS Form
Updated on: December 11th, 2019
Editorial Note: The content of this article is based on the author's opinions and recommendations alone. It may not have been previewed, commissioned or otherwise endorsed by any of our network partners.
Schedule C is an IRS form required for most self-employed business owners to report how much your small business made or lost.
This includes sole proprietorships and single-member limited liability companies (LLCs). A sole proprietorship is the default status assigned to a business. Unless you take action to set up your business as a different entity like a partnership or corporation, you operate as a sole proprietorship.
Your Schedule C is due at the same time you file your personal income tax return, typically April 15 unless you file for a six-month extension, unil Oct. 15. Below, we'll help you understand how to fill out your Schedule C as a business owner.
What is a Schedule C?
Business owners use Schedule C to report any profits or losses from a sole proprietorship and single-member LLC. If your business is set up as another entity, such as a corporation, you wouldn't file a Schedule C. If the LLC is a partnership, those business owners report their income on Schedule K-1 and must file Form 1065. Some LLCs opt to file taxes as a corporation — you could read more about the differences between LLCs and corporations.
Sole proprietorships are pass-through entities, meaning business profit flows through to the owner's personal income and is taxed as individual income tax. Schedule C is part of Form 1040, which is the individual income tax return nearly all tax filers submit.
The Tax Cuts and Jobs Act that went into effect in 2018 established a new deduction for pass-through entities. Owners of pass-through entities may be able to deduct up to 20% of their qualified business income, which represents business revenue after deducting expenses.
Are there any changes in Schedule C for 2019 taxes?
Tax reform, as we mentioned earlier, brought about many changes that affected 2018 taxes for small business owners, but the only Schedule C change for 2019 taxes is the annual mileage rate adjustment:
The business standard mileage rate for 2019 increased to 58 cents per mile. Business owners can report car and truck expenses in one of two ways: Take the standard mileage rate or enter your actual expenses —for gas, oil changes, repairs, insurance — with supporting documentation.
Schedule C instructions for filing
The top portion of Schedule C requires you to disclose information about your business, including the name and address, as well as your employer identification number (EIN), if you have one. Your activity code can be found on pages C-17 and C-19 of the Schedule C instructions. If you paid a contractor more than $600 during the tax year, you will need to fill out Form 1099-MISC. You would need to make a note of your accounting method as well.

Filing your Schedule C will be easier if you've prepared and gathered several documents ahead of time, such as last year's tax return, bank account statements, balance sheet and profit and loss statements. You may also need to refer to your gross receipts from sales or services throughout the year.
Schedule C has five parts, but you'd only need to fill out sections that apply to your business.
Part I calls for you to calculate your gross profit and gross income based on all business income you've generated.
Part II asks for all business expenses to calculate your net profit or net loss. To determine the tax on your net earnings from self employment, fill out Schedule SE, also part of Form 1040.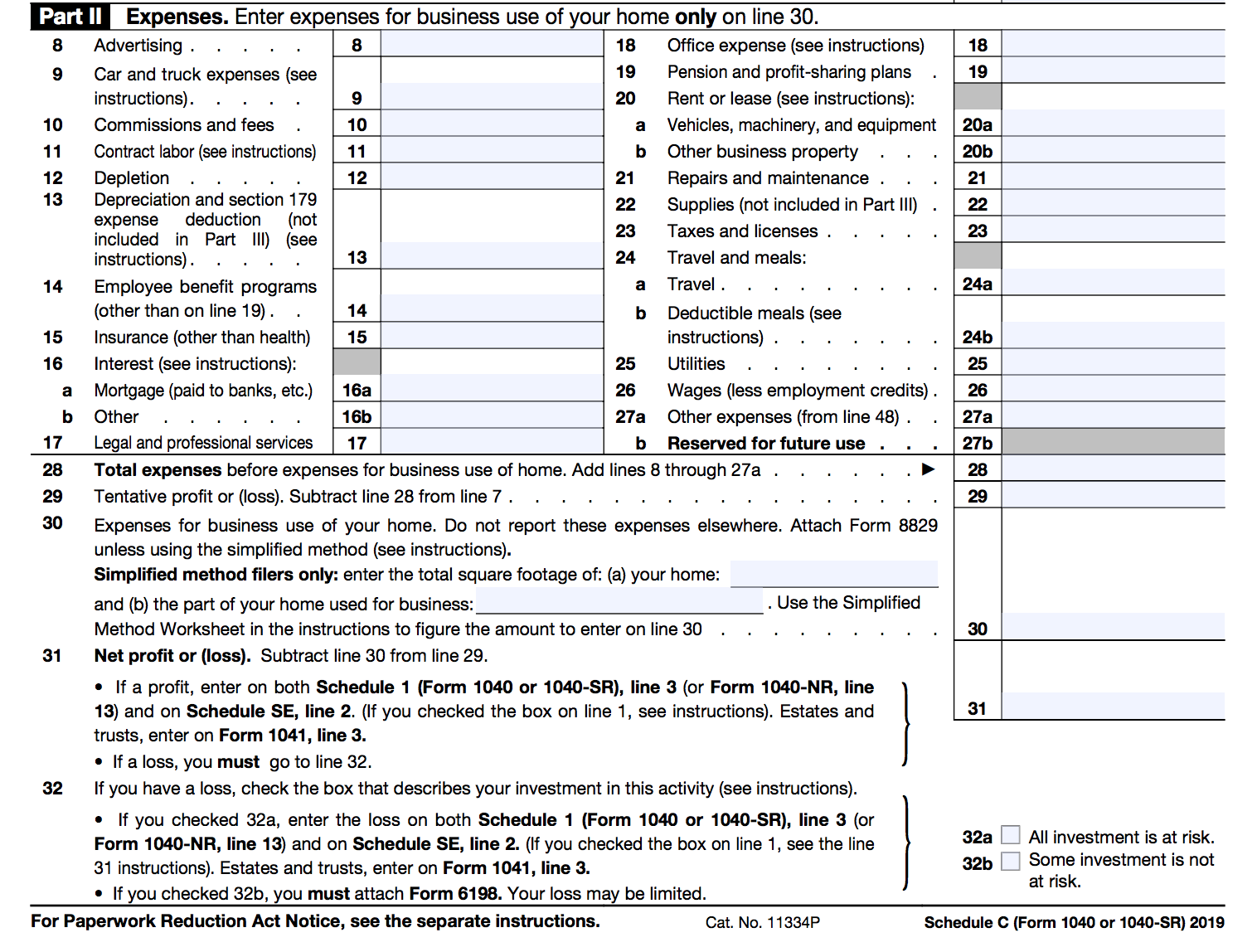 From there, you'd only need to complete the last three sections if you purchase inventory for your business or if you need to claim deductions for car expenses or other expenses not listed in earlier sections.
In Part III, you'd need to calculate the costs of inventory, materials and supplies, and identify the method you used to value items.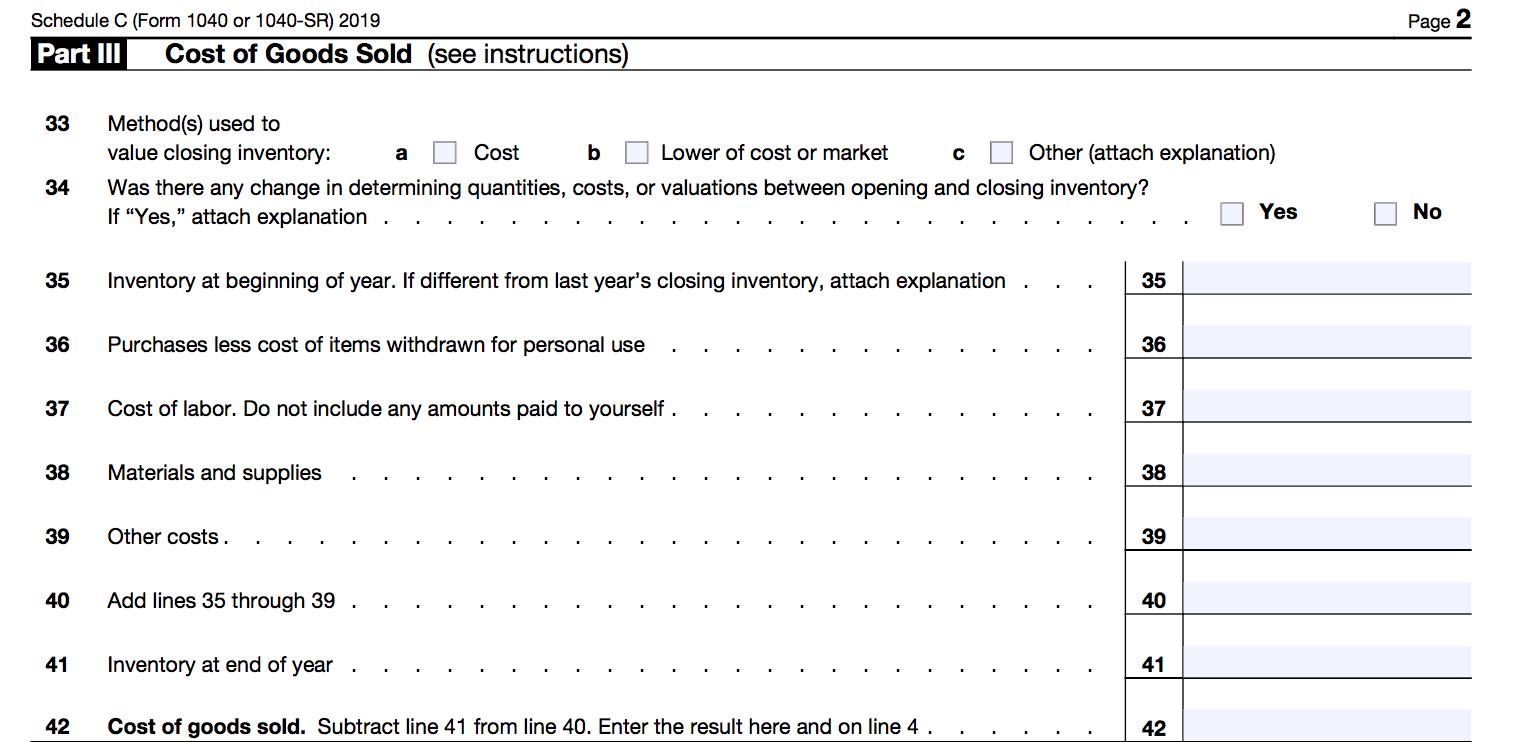 The fourth portion is for claiming a car or truck expense, though you may need to file Form 4562 as well to claim depreciation or amortization on property. Part V allows you to add expenses not already included in the form.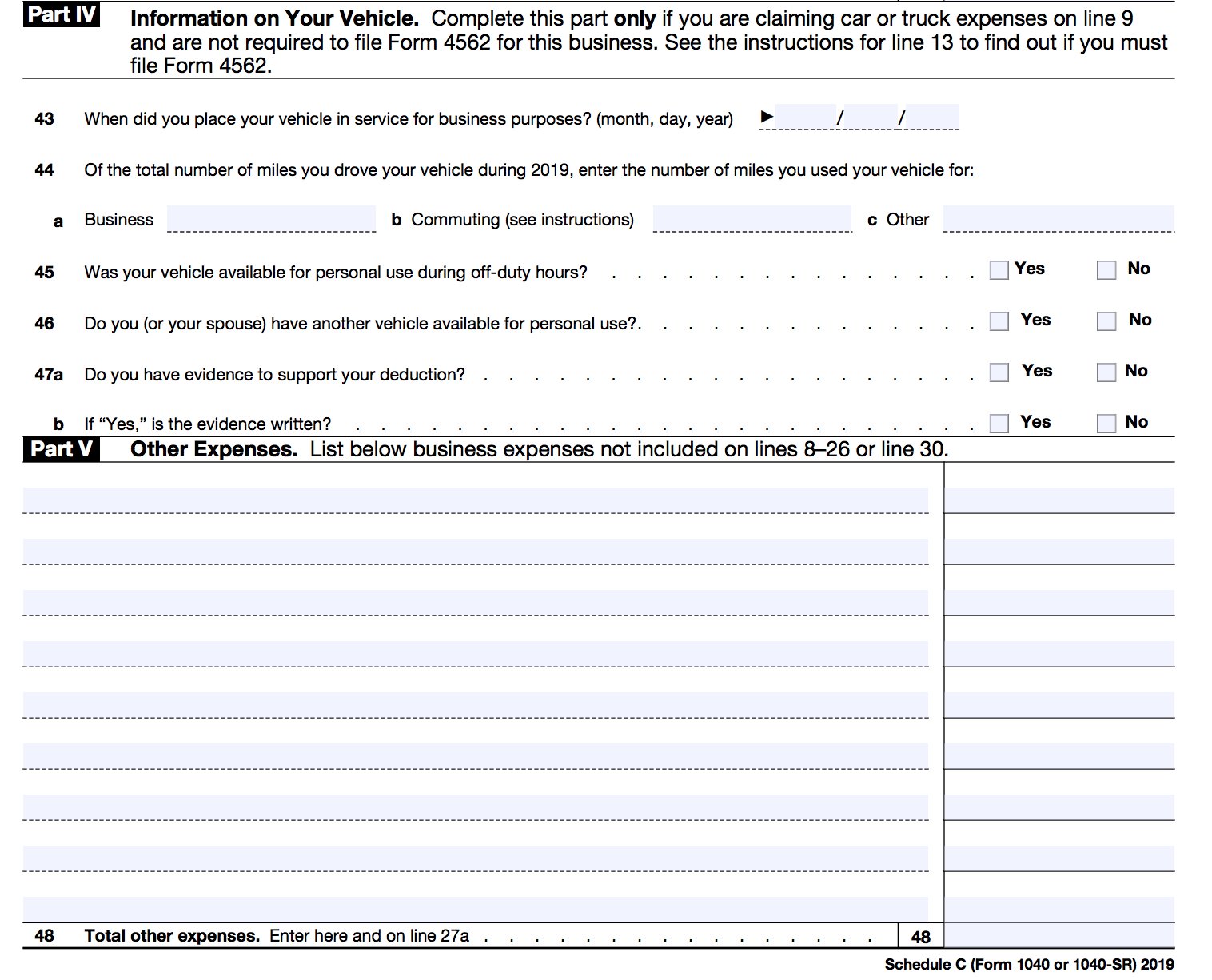 If you earn income from multiple self-employed jobs, you'd need to fill out a separate Schedule C for each type of work. For instance, if all of your jobs are sales related, you'd only need to file one form. But if your work spans several industries, you would have to fill out a Schedule C for each one.
What businesses must file Schedule C?
As mentioned earlier, sole proprietorships must file a Schedule C and attach it to their personal income tax return. There's no minimum threshold for reporting business profits or losses, so all sole proprietors need to file the form.
You'd be considered a sole proprietor if you conduct business activity to make money, rather than as a hobby. And if you did not form your business as another entity, like a corporation, or you don't have a boss who withholds a portion of your salary for taxes, then you'd be considered a sole proprietor.
Some sole proprietors can file Schedule C-EZ, a simplified version of the form. Schedule C-EZ calls for your total business receipts and expenses, rather than the full scope of your income that the regular form requires. You may be eligible to file the simplified form if:
You operate one sole proprietorship.
You have no more than $5,000 in business expenses.
You're reporting a net profit.
You don't hold business inventory throughout the year.
You don't have employees.
You're not claiming a home office deduction.
If you think your business would qualify, you may want to ask your accountant if you should proceed with Schedule C-EZ.
Single-member limited liability companies, or LLCs with one owner, have to file Schedule C as well. The IRS treats single-member LLCs as pass-through entities, like sole proprietorships, and income is taxed as part of the owner's personal tax return.
Single-member LLCs may be taxed as a corporation instead. You'd need to fill out IRS Form 8832 to change the way the IRS taxes your LLC.
FAQs
What expenses can be included in a Schedule C? The IRS provides space to report specific business expenses, such as advertising, commission, employee benefit programs and property or equipment rent. If a space for your expense is not provided in Part III , you can add it in Part V.
Can I file Schedule C-EZ? You may be able to file the simplified version of Schedule C if you meet the IRS's criteria. If your business generates a net profit, you have less than $5,000 in business expenses and you don't employ anyone or have inventory, you may be able to file Schedule C-EZ.
Do I need to file separate Schedule C forms for multiple businesses? Not necessarily. You can report closely-related business activities on one form. You'd need to file Schedule C for each type of work that produces profits and losses. If you operate multiple businesses but they all fall in the same category of work, you would only need to file one form.
Do I need to file a Schedule C if my business had no income or expenses? No, you would not need to file a Schedule C if your business had no profit or loss in the last year. But if your business is inactive and you're still receiving payments that relate to the business, you would need to report those payments.