How Does LendingTree Get Paid?
LendingTree is compensated by companies on this site and this compensation may impact how and where offers appear on this site (such as the order). LendingTree does not include all lenders, savings products, or loan options available in the marketplace.
Step-by-Step Guide to Starting a Consulting Business
Updated on: September 30th, 2020
Editorial Note: The content of this article is based on the author's opinions and recommendations alone. It may not have been reviewed, commissioned or otherwise endorsed by any of our network partners.
You've built deep experience in your particular industry — sharing it with peers could make for a lucrative side hustle or full-time small business. But it takes more than field experience to know how to start a consulting business.
Starting a consulting business involves research and preparation that you may not have learned at your day job. Following the steps below will help you stand out from the growing competition. Statista reports there were more than 700,000 management consultants alone as of 2019, a number that has grown 31% since 2012.
How to start a consulting business: 9 steps
Starting a consulting business with no experience can be overwhelming. The following steps can help you monetize your expertise as a consultant with confidence.
Step 1: Find your niche
Finding your niche is about refining the target audience that your business will serve. For example, if you're a marketing consultant, rather than trying to help companies of all sizes in all industries, you might want to target small- to medium-sized health care companies. If you're a human resources consultant, you might specialize in large-scale e-commerce companies.
Honing your niche
This decision will most likely match your existing skills and experience within an industry. For example, 20 years of cybersecurity experience might lead you to start a security or information technology consulting small business. Ten years of those years spent collecting specialized knowledge in phishing and ransomware could be valuable to a company that handles sensitive customer information.
Step 2: Define your unique value proposition
Your unique value proposition is what distinguishes you from your competitors. Let's continue the earlier example: Your experience in phishing and ransomware is valuable, but several companies in your city already provide that service at a lower cost. Conducting a competitor analysis helps you analyze what your competitors are doing right, what's missing and the gap your consulting services can fill.
Step 3: Register your business
As you would when starting any new business, you'll need to choose your business entity, decide on a business name and obtain your employer identification number.
Choose your business entity: Many consultants operate as a sole proprietorship or limited liability company (LLC). Sole proprietorships are quick to form, but don't offer personal liability protections. Forming an LLC requires more paperwork, but your personal assets are protected during a lawsuit.
Choose a business name: Most states will require you to register your business name with the secretary of state or your county's clerk, according to the U.S. Small Business Association (SBA). If your business name differs from your own legal name, you should file a "doing business as" (DBA) certificate.
Obtain your employer identification number (EIN): This nine-digit number is necessary if you hire employees and is also useful for opening a business bank account, securing financing and filing your business taxes. You can apply for an EIN online through the IRS website.
Step 4: Obtain necessary certifications or licenses
While there is no legally required consulting license or certification, obtaining certifications can help to establish your expertise. Since there is no "blanket" certification, you can seek courses and programs within your respective industry, such as:
HR Certification Institute (HRCI) for human resources
American Marketing Association (AMA) for marketing
Chartered Financial Analyst Institute (CFA Institute) for finance and investing
International Association of Professional Security Consultants (IAPSC) for security
Your local government may also require that you obtain a general business license before you can operate in your area. Check with your local business licensing office to confirm your requirements.
Starting a consulting business checklist
Step 5: Decide on your services and pricing structure
Next, decide on what services you'll offer, how you'll package them and which pricing structure you will use.
Decide on your services
Your business plan should outline the number and prices of the services or deliverables you offer. For example, a marketing consultant can offer consulting packages for social media, content and branding. You may charge a higher price to consult on all three areas, or you could tailor your cost to consult solely on branding.
You should also be conscious of when you might need additional education or training when starting a consulting firm. For example, an HR consultant may have experience in payroll and benefits administration, but may not have the qualifications for furloughing employees. If your target market is a small company, it will likely want to purchase one consulting package that covers as many HR-related topics as possible.
Hourly rate vs. project rate
Setting an hourly rate can be tempting for its straightforward appeal, especially when you're first starting your consulting business. But charging a project rate positions you as a subject-matter expert and places value on your results, not one hour of your time. Your client is hiring you for your expert outside perspective on solving a specific business problem — something they can't resolve just by telling their employees to work harder or take on new tasks.
"You should be getting paid for your knowledge, your experience and, most of all, your outcome for your client," said Marty Fahncke, founder of Adventurist Marketing. "That's what they're paying you for. If they're paying you by the hour, you're just an employee."
Create a payment schedule
Establishing when your clients pay you is also critical. Gina Abudi, president of Abudi Consulting Group, LLC, learned this lesson the hard way after working with a start-up pharmaceutical company.
"We did not have a payment schedule with them," she said. "Although we invoiced a number of times and followed up, they were slow in paying. Then, they filed for bankruptcy."
Abudi now creates a payment structure for large consulting projects: "We have a phased payment structure where we look for x% upfront prior to project start, either one to two middle payments depending on the size and cost of the project and then a final payment upon acceptance of deliverables."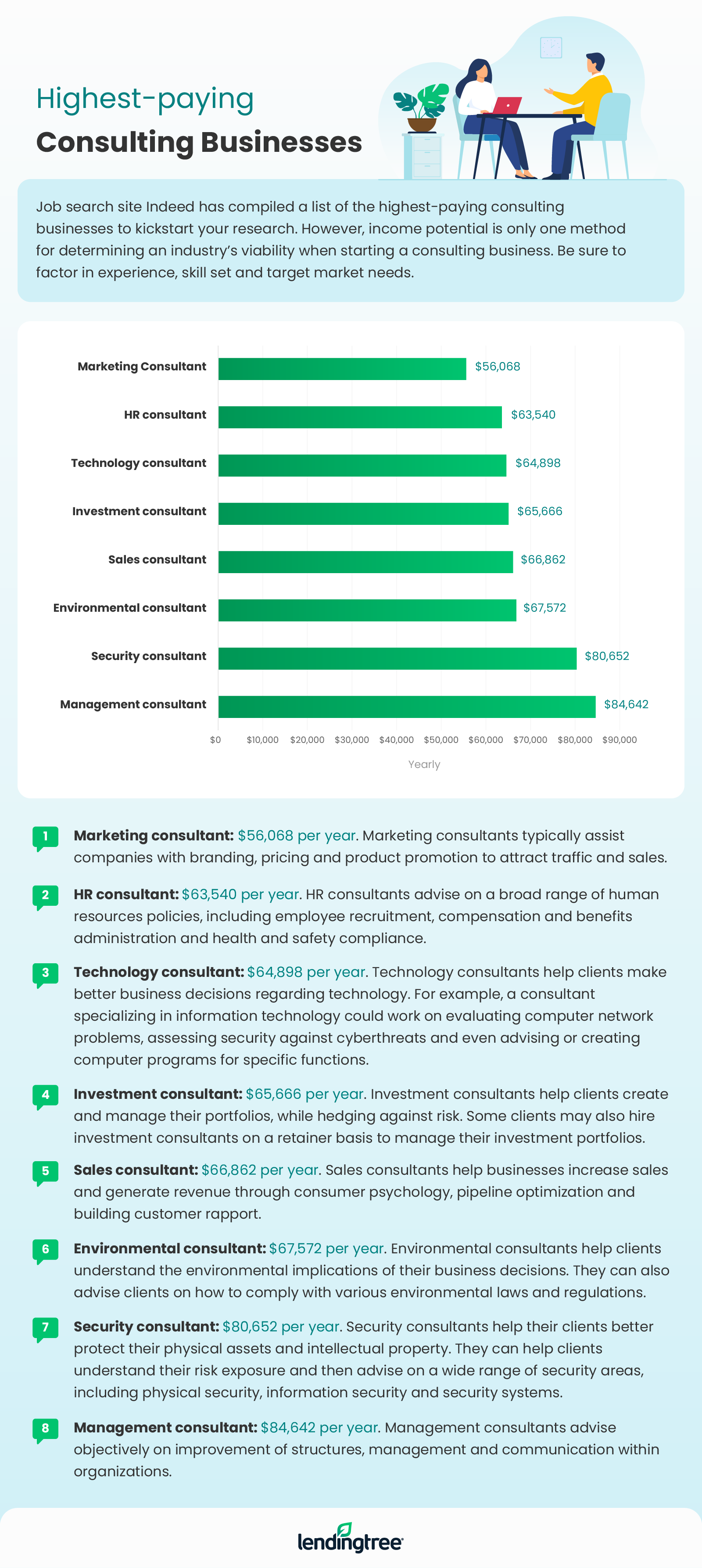 Step 6: Hire staff
Hiring employees or contractors is useful for delegating specific business operations. For example, you can hire a bookkeeper to help you operate your accounting software or consult with a business attorney to understand your legal requirements.
Outsourcing tasks outside your expertise also helps maximize your strengths as a consultant. "The key thing for any consultant, or someone thinking about doing consulting, is to outsource your weaknesses," Fahncke said. "So, for me, I hate doing accounting, so I very quickly outsourced my accounting to an accounting firm."
Step 7: Find clients
When learning how to start your own consulting business, start seeking clients within your existing network. Let professionals and companies you've previously worked with know that you're offering consulting services. You might also want to add paid social media ads, email marketing and creating a landing page to your marketing strategy.
Abudi is a member of the Society of Professional Consultants, a New England-based nonprofit for consultants working in multiple industries. She encourages those learning how to start a consulting firm to join trade groups and attend conferences within their respective fields.
According to Abudi, conferences can be useful for "building your skills, learning what others are doing in your industry and what you might borrow from other industries, as well as for networking with others — and maybe even finding clients."
Step 8: Write and send client proposals
Your business proposal ensures that you and your client are in sync regarding your deliverables, deadlines and pricing structure. Clear deadlines for payment and deliverables will later keep both you and your client accountable to your contract's agreed-upon terms.
Follow up on your client proposals
If there is no response within three to five business days, give your client a reminder call or email. This can put your proposal back on their radar so that you can move forward with your proposed timeline.
Expect rejection and nonresponsive leads when starting a consulting business. However, don't completely rule out nonresponsive leads just yet — you can still contact that old lead a few months later to see if they're open to your consulting services.
This also goes for clients you've worked with before. Regularly following up with past contacts may keep you at the top of their mind when they need your expertise.
Step 9: Request testimonials
Testimonials are critical for establishing "social proof" of results you've delivered for past clients. After successfully completing a project, ask the client for a testimonial that you can post on your website.
"Testimonials are what make people actually decide to do business with you," Fahncke said. "It not only brings new clients into your business, but it also allows you to charge more for what you do and it gives them a confidence that you will accomplish what they are paying you to do."