How Does LendingTree Get Paid?
LendingTree is compensated by companies on this site and this compensation may impact how and where offers appear on this site (such as the order). LendingTree does not include all lenders, savings products, or loan options available in the marketplace.
Import Business Loans: What They Are and Where to Find Them
Published on: April 25th, 2019
Editorial Note: The content of this article is based on the author's opinions and recommendations alone. It may not have been previewed, commissioned or otherwise endorsed by any of our network partners.
To expand your product line or cut down on merchandise costs, you may need to look beyond national borders.
Import businesses receive goods from a foreign country to sell domestically. As the owner of an import business, you could offer customers new or unfamiliar products, giving you a competitive edge. Imported goods can be merchandise produced or grown elsewhere at a lower cost or of a higher quality than those produced domestically. Think bananas from Guatemala or champagne from France.
But there are some regulatory hoops to jump through before importing certain goods such as agricultural or food and beverage products. Food and beverages, artisan crafts, furniture and clothing are common items imported by small businesses. The logistics of shipping those goods into the U.S. can be complex — you may have long waits for items to arrive or for payments from domestic distributors hired to receive and distribute those goods. This leaves import business owners owing large amounts of money before they earn a penny from the imported goods.
An import business loan could be one way to cover financial gaps. Continue reading to find out how you can get the money you need as an import-business owner to keep operations running smoothly.
The basics of an import business
Import trade financing helps business owners pay for the expenses associated with receiving goods from companies in various parts of the world. It's big business — the U.S. imported $3.1 trillion worth of goods and services in 2018. The Federal Reserve Bank of San Francisco estimates that 11% of consumer spending can be traced to imported goods. In other words, the potential payoffs are significant for import businesses, though tariffs, duties and other fees can stand in the way of the exchange process.
The trade flow process typically involves three parties – you, the importer, your supplier or the manufacturer or export company selling you goods, and a lending institution that's financing the deal. By obtaining goods or services at a low cost overseas, you can then mark up and sell those goods or services in the U.S. for a profit — the difference between your costs and your gross income is your net profit. The tricky part? While there's government-backed financing for exporting products from the U.S. to markets overseas, it may be more difficult to find financing for importing products into the U.S. As a country, we import more than we export, leading to trade deficits, which are often critiqued by politicians and debated by economists.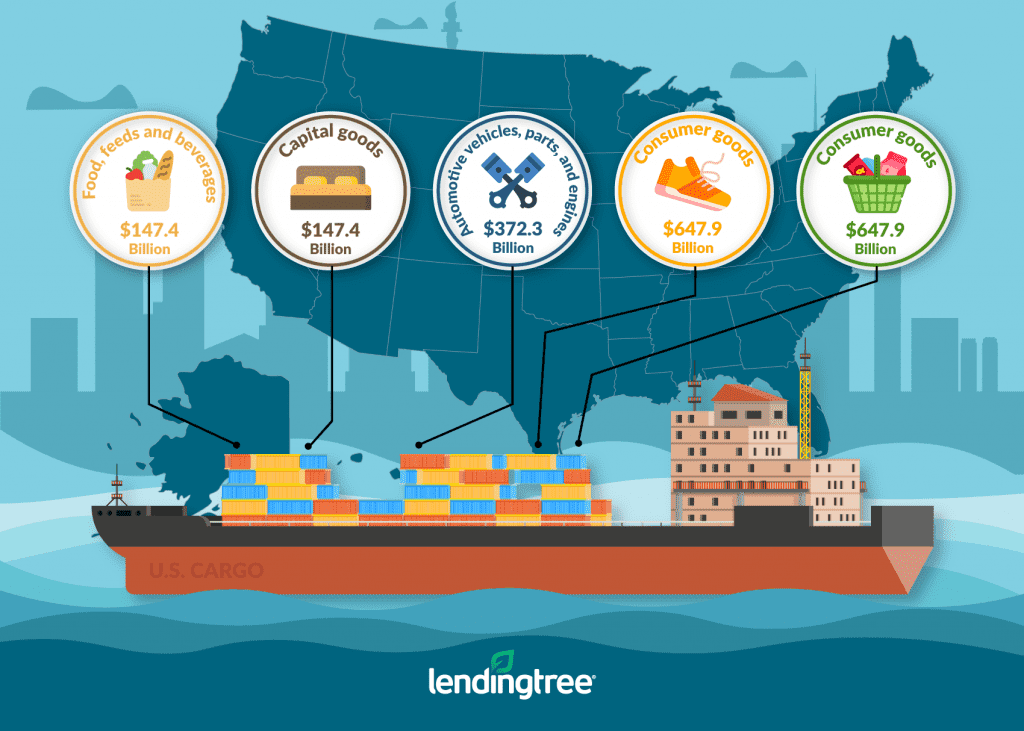 Import business loan options
That doesn't mean it's impossible to find import business loans — you could obtain financing before the exchange of goods even occurs. A lender may offer pre-import financing, which would be a working capital loan that you could use to make a purchase. Approval for pre-import financing would be based on your credit history.
An international lender could be useful for smoothing over the process of buying products overseas. The financing institution would be able to make sure the funding aligns with local currency for both the importer and the supplier.
In addition to standard business financing options like lines of credit and small business loans, importers can turn to several specialized financing solutions, some of which are used in other types of businesses as well:
Purchase order financing
Import businesses can use purchase order financing to pay for the cost of supplies when cash flow alone can't cover the order. The lender would send funds directly to your supplier, and the supplier would then ship the products to your waiting customers. The lender would accept the paid invoice from the supplier and collect a fee before sending you the remaining profit. You could owe a high fee depending on the riskiness of your customer or supplier.
Cash against documents financing
Cash against documents, or CAD, financing allows importers to pay for goods before receiving them. After the importer places an order, the lender would accept the shipment until the importer pays them a prearranged amount. Once payment is received, the importer would receive the goods and the supplier would receive payment. CAD financing would allow you to inspect the quality of the products before funds are transferred to the supplier. Financial institutions typically charge a fee for the service, but the supplier might cover part of the cost.
Letters of credit
Importers commonly use letters of credit to facilitate international trade transactions. This type of financing requires the importer's bank to send a formal letter guaranteeing payment to the supplier. If the import business fails to pay, the bank will cover the purchase, reducing the risk for the supplier. Obtaining a letter of credit would impact the importer's credit score, and the bank would likely ask for payment to secure the financing.
Inventory financing
Inventory financing comes in the form of a short-term business loan or line of credit with inventory acting as collateral. Lenders typically finance up to 80% of the inventory's appraised value, leaving the import business responsible for the remainder of the cost. Because inventory secures the loan, business owners with lower credit scores could be approved for financing. However, failure to repay the debt could result in loss of inventory.
Where to find import business loans
If you need financing to cover a purchase of international goods, consider these lenders that provide import business funding. We chose to highlight both a traditional bank and alternative finance companies to give you an idea of where you can find import business loans. These private companies do not disclose much loan information online, so you would need to contact the lenders directly for details.
Paragon Financial Group
Paragon Financial Group is an online alternative business lender. Paragon provides financing for import businesses through invoice factoring, purchase order financing and cash against documents financing. The lender can handle high-volume purchase orders and most often works with U.S. food importers. Paragon could distribute funding to importers within 24 hours, up to 90% of your invoices, though other details about terms and rates aren't available on its website.
Comerica
Comerica is a Texas-based bank that serves business owners in several states, including Arizona, California, Florida and Michigan. Comerica's financing solutions for importers include bankers' acceptance, which is a short-term financing solution to help you pay for imported goods. It would allow you to rely on the bank's credit standing rather than your own, which could increase the amount of financing.
Ashford Finance
Ashford Finance is a New York-based specialized finance company. Ashford Finance provides a few funding options for importers, including letter of credit financing and purchase order financing. Ashford Finance would issue the letter of credit to ensure on-time payment to the supplier as well as timely delivery to the importer.
How to get an import business loan
First and foremost, import businesses must follow the policies of the U.S. Customs and Border Protection. You don't need a license from the CBP to import goods, but you would need to fill out a CBP entry form, which would ask for your business's IRS identification number. You may need additional licenses from local or state authorities to do business as an importer, depending on your industry.
When your business is in need of import financing, there are a few general steps you can expect to take:
Get a quote from the supplier describing the cost of goods.
Obtain a letter of credit or other type of import financing from a bank or financial institution.
Confirm that the supplier has shipped all goods.
Acquire any ownership documents or certificates from the supplier.
Verify merchandise through U.S. Customs and Border Protection.
Collect your merchandise, or have your distributor pick up the goods.
The type of import financing you're looking for would affect how you receive goods from the supplier. Be sure you understand what the financing institution expects of you as the importer.
The bottom line
Importing goods from foreign countries can benefit your business in many ways. You would be able to provide one-of-a-kind products to customers, which could help you compete in your industry.
However, you might not always have cash on hand to pay suppliers for goods. Import business loans can help you bridge that gap and cover the costs of bringing in items from other countries.
Several banks and financial institutions offer financing for import businesses. But make sure you read the fine print before signing any financial agreements. Understand the expectations of the lender and the supplier before taking on an import business loan.