How Does LendingTree Get Paid?
LendingTree is compensated by companies on this site and this compensation may impact how and where offers appear on this site (such as the order). LendingTree does not include all lenders, savings products, or loan options available in the marketplace.
Incubators vs. Accelerators for Startups: What's the Difference?
Published on: August 14th, 2019
Editorial Note: The content of this article is based on the author's opinions and recommendations alone. It may not have been reviewed, commissioned or otherwise endorsed by any of our network partners.
Incubators and accelerators both offer resources for startups and small businesses to successfully develop and grow. Although the terms are sometimes used interchangeably, incubators and accelerators provide different services and benefits. And not all startup programs can be classified as either, said Ian Hathaway, research director at the Center for American Entrepreneurship.
"There is a lot of noise in the early-stage business support market — a lot of different models and inconsistency in terminology," Hathaway said.
Incubators and accelerators both provide mentorship, technical assistance and, in some cases, funding opportunities. Incubators typically offer long-term support (possibly spanning several years), and are available to a broad range of companies. On the other hand, accelerators are generally short-term, industry-specific programs for startups.
Continue reading to further understand the key differences between incubators and accelerators and how to choose the right one for your startup.
Incubator vs. accelerator: How they compare
Startups can test business concepts and ideas within the safe space of an incubator or accelerator and get access to the support that these programs provide. These programs usually require businesses to work together in a shared space or join a virtual network. Here's how incubators and accelerators stack up in a few crucial areas.
Venture stage
Incubators usually cater to startups in the earliest stages. If you simply have a business idea and need assistance bringing it to life, an incubator could provide basic resources to help you form a business.
On the other hand, accelerators are designed for startups that have more pieces in place. If you've already developed a product or service and have started generating cash flow, an accelerator could give you a boost to grow the business quickly.
Program duration
Incubator programs can last one to five years, while accelerators generally span just three to six months. The longer duration of incubators gives startups time to gradually grow and develop; however, too much time could backfire, as startups could become overly dependent on the resources that incubators provide.
Accelerators instead push entrepreneurs to aggressively focus on developing the business in a short amount of time, which could increase the cycle of the venture, leading to either faster success or failure. The intense pace of work during an accelerator is often unsustainable once the program ends.
Cohorts
Accelerator participants typically enter programs in groups, also called cohorts or batches. Startup founders often help and motivate each other through the program and could form strong bonds and communities. Accelerator programs are often designed for specific types of businesses or industries, like technology. Many accelerators are located near tech hubs in major cities.
Incubators do not form similar cohorts and typically accept startups from a wide range of industries. Incubator participants enter and exit the programs on their own schedule.
Competition
Because accelerator programs accept startups in batches, the selection process can be highly competitive. Some business owners relocate to participate in top accelerator programs. Conversely, incubators accept and graduate startups on an ongoing basis and the application process is usually not as intense.
Program ownership
Many incubators are nonprofit programs that operate through grants, universities or other nonprofit institutions, though there are private incubators as well. Incubators typically do not have their own investment funds, a major differentiators between incubators and accelerators.
Most accelerators are privately owned, and program directors typically take an equity stake in participating startups. Because directors make investments, they may work more closely with startups than incubator managers.
Education
Incubators and accelerators offer varying educational opportunities. Intense education and mentorship is often the core of accelerator programs, and a main reason why startups participate. Program directors or guest speakers typically lead seminars and presentations to teach entrepreneurs about a variety of topics.
Incubators offer similar mentorship, but possibly for a fee. Lessons are typically provided by professional service providers, like lawyers and accountants, and may touch on topics such as human resources and legal matters.

Pros and cons of incubators vs. accelerators
Incubators promote slow growth within the confines of the program, while accelerators push for fast progress and a quick exit. Before choosing one type of program over the other, consider these benefits and downsides of incubators and accelerators.
Incubators
Pros
Cons

Prolonged access to mentorship and other resources.

Possibility of becoming codependent on the program.

Valuable introductions to investors, consultants and other professionals.

Funding not usually provided through the program, and you may have to pay a fee for some educational features.

Low competition to get into the program.

Lack of opportunity to bond with others within a cohort.
Accelerators
Pros
Cons

Startups experience fast growth.

Intense work schedule is unsustainable.

Cohort structure provides networking and bonding opportunities.

Startup selection process is highly competitive.

Equity investment typically available from program directors.

Participants have to give up a stake in the company.
Incubators and accelerators for startups
The global number of accelerators and incubators has decreased since 2016, and the rate of new programs opening up has slowed as well, according to Hathaway's research. However, longstanding programs like Techstars and Y Combinator are still running strong, and many smaller programs are making local impact.
If you want to take a turn in an incubator or accelerator for startups, here are a few programs for which you could apply:
Before choosing an accelerator or an incubator, you may want to ask yourself how the program would impact your startup. Consider if you need to enroll in a program to achieve actionable goals, or if you could make progress on your own. You would also have to pay a price of some sort to participate, whether that's a fee to enter the program or a percentage of equity in your company. Make sure your startup can afford to take part in an incubator or accelerator before you apply.
What you need to apply
An application for a startup incubator or accelerator would likely call for detailed information about your startup. You may need to disclose the stage of your startup, such whether it's in the idea phase or product trial phase. If you've begun generating revenue, you may need to disclose how much you've earned.
You may also need to communicate how much capital you've raised through previous funding rounds, if any. An investor deck listing key takeaways about your startup could be required as well.
Some programs ask for an application fee — for instance, MassChallenge charges a $45 early application fee, and the fee jumps to $99 if you miss the early deadline.
Incubators vs. accelerators: Which is right for your business?
An incubator or an accelerator could assist you in developing your startup, but your goals for the company would help you determine which to choose.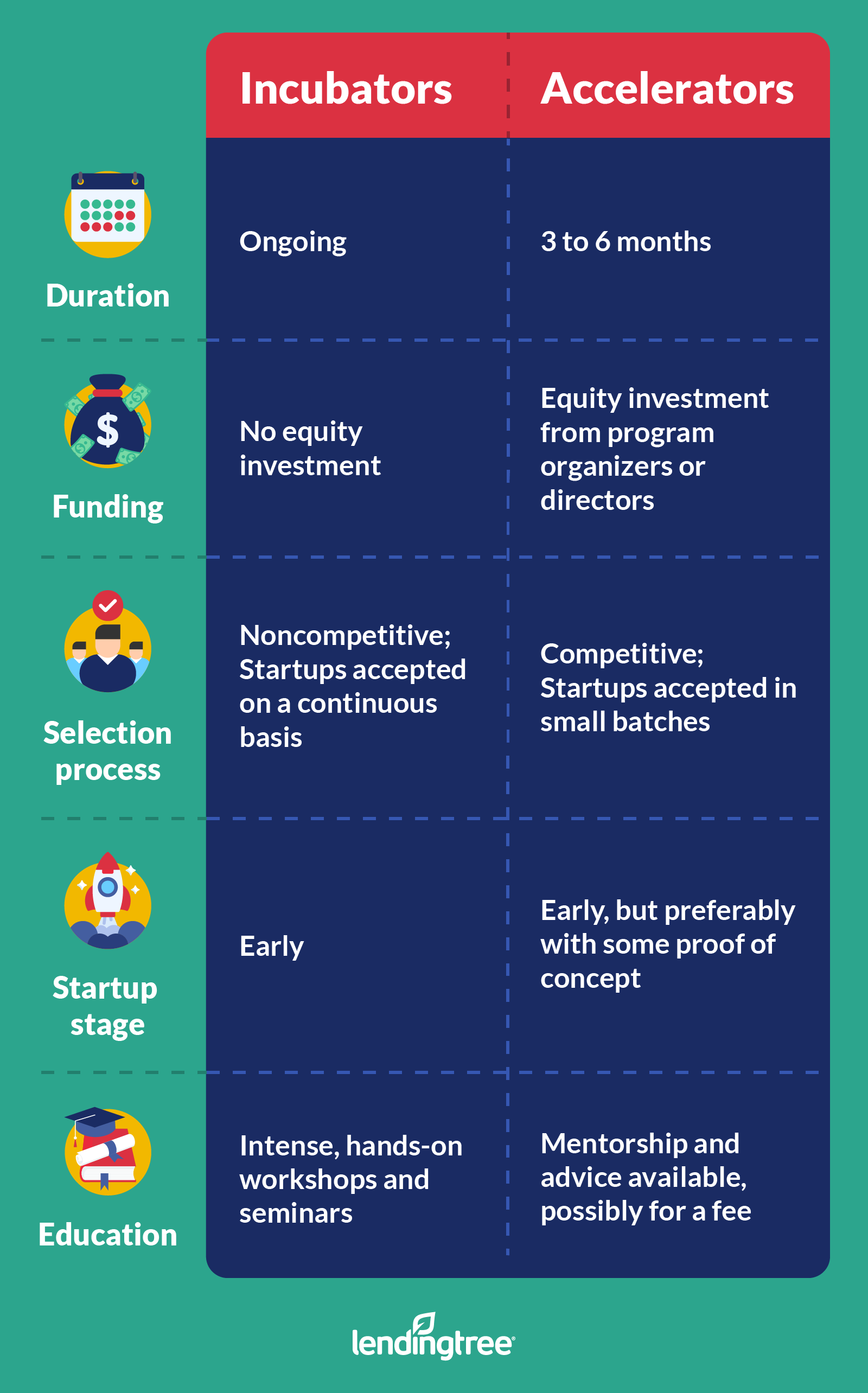 How to tell if an accelerator is the right choice
Although new accelerators are not popping up as rapidly as they once were, the programs can still provide value for startups. Accelerator participants often raise more funding than nonparticipants, sometimes eight times as much money as non-accelerated startups.
An accelerator could shed light on a poor business idea earlier, as the fast pace of the program could lead a startup to fail faster than it would in an incubator. This could allow entrepreneurs to move on to a more lucrative venture instead of spending time on a losing concept. But to avoid a flash failure, you may want to wait to join an accelerator until your startup is off the ground.
Accelerators are best for early-stage, growth-driven businesses and could provide more benefit for startups that already have a product, cash flow and market research. An accelerator could help a successful startup quickly scale. If you're interested in receiving education, guidance and funding in a short-term, cohort-based program, then an accelerator could be the right choice.
But remember that accelerators often require you to offer a stake in your business in exchange for a financial investment and mentorship. Be sure to do your due diligence and research the accelerator, and make sure you won't owe investors anything beyond equity after you exit.
How to tell if in incubator is the right choice
Incubators may be better suited for startups in the earliest stages, possibly still in the idea phase. Incubators offer guidance and advice from accountants, lawyers and other professionals to bring the venture to life. You would also have access to a workspace for the length of the program, which could range from one to five years.
However, an incubator program could hinder your startup's development. A startup could progress in a way that works within the walls of the incubator, but then struggle without the support of the program.
When searching for either an incubator or accelerator, consider reaching out to your entrepreneurial community to ask for recommendations. Before jumping to apply for big-name programs elsewhere, you may be able to find valuable resources in your own backyard.