How the Small Business Loan Underwriting Process Works
Published on: June 11th, 2018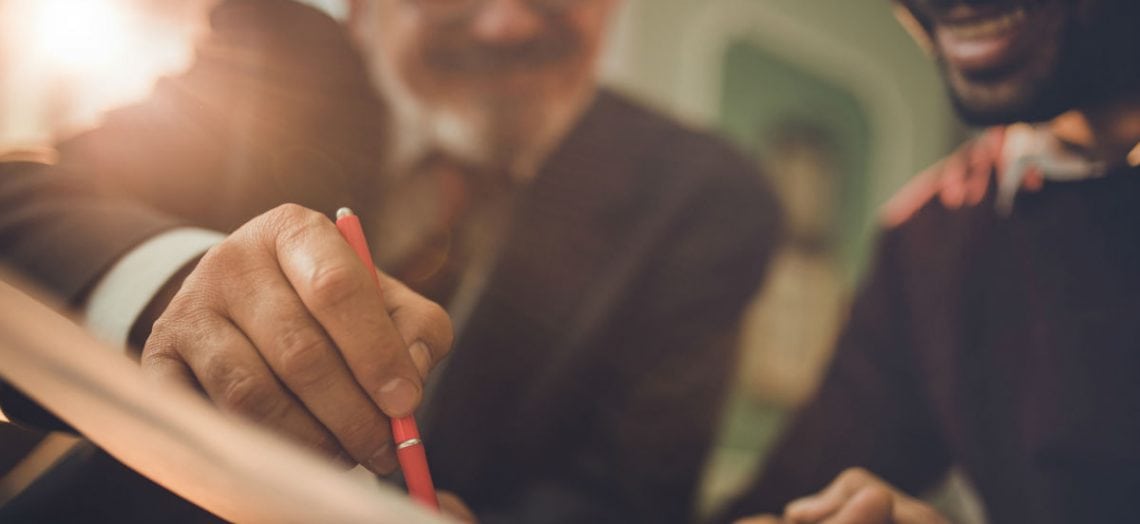 After you've gathered all of your financial documents and applied for a small business loan, the fate of your financing lies in the hands of an underwriter. Underwriting is the step between applying for a loan and receiving your money — in other words, it's crucial to securing the funds your business needs.
What is loan underwriting?
Underwriting is the process a lender uses to decide whether to loan you money and under what conditions, Mitchell Petersen, finance professor in the Kellogg School of Management at Northwestern University, told LendingTree. After you've submitted all required documentation, an underwriter analyzes your loan application to determine if you're qualified to receive the financing you've requested.
A loan officer typically handles underwriting at traditional banks and (sometimes) nonbank lenders. How much of the process is done by a person varies for online lenders as it's often automated. When nonbank lenders advertise loan approval in a matter of hours or days, that's because their underwriting process has been computerized, Petersen said.
Lenders want to loan money to people who are highly likely to pay them back. During the underwriting process, loan officers look at your personal and business financial history, and draw up an offer that ensures they'll make as much money back as possible, Petersen said.
All lenders – including banks and nonbank lenders – want to accomplish three things during underwriting, Petersen said:
Determine how big of a risk you are
Minimize the loss if things go wrong with your loan
Minimize the cost of the underwriting process
Your personal and business credit scores determine your level of risk. For high-risk borrowers, a loan officer would suggest charging higher interest rates to reduce the lender's loss if the loan is not paid back. The cost of underwriting is based on the amount of time a loan officer spends analyzing documents and deciding the terms of the loan. Because their process is partially or completely automated, online lenders typically spend less than banks on the resources needed to underwrite a loan, Petersen said.
How the business loan underwriting process works
The timing of each step depends on several variables, including the amount you've asked for and the documentation you've provided. Online lenders usually move faster than banks, but you may end up with higher rates in exchange for quick approval.
Step 1: Application
The borrower typically begins the process either by calling, visiting a bank or filling out an online application to apply for a business loan, Petersen said.
Online applications are generally simple, requiring a few pieces of information. Applying at a bank is more time-consuming and would likely involve an in-person meeting with a loan officer.
Step 2: Review
Once you've submitted all required documents, a loan officer reviews the entire application.
If you're applying at a bank, the loan officer will scrutinize your financial history to ensure you're not too high of a risk. This process could be lengthy. If the loan officer needs more information or if something in the application doesn't add up, he or she would call you for further clarification.
If you're applying through an online lender with an automated process, you could be approved instantly if your information is up to par. Online lenders typically use an algorithm to calculate which variables are required for approval. But even when applying online, a loan officer could call you with additional questions.
Step 3: Approval
After an online lender approves your loan, you could see the funds in your account in a few days, depending on the policy of the specific lender.
At a traditional bank, the loan officer would write a report stating why you should or shouldn't be approved for the loan. The report would include suggested interest rates and other conditions, and would then be passed to a committee for final approval. The committee could send it back to the loan officer with additional restraints or a different loan amount, or approve the loan right away.
What does an underwriter look at?
Lenders will look into your complete financial past, both personal and professional, before handing over any money, Krista Tuomi, professor in the international economic policy program at American University, told LendingTree. Her field of interest includes financing for small businesses and nonprofits.
"Just be prepared to air all your laundry, dirty or clean," she said.
Credit score. Before applying for a business loan, you should make sure your credit is in good shape, Tuomi said. A personal credit score near or below 680 could make it difficult to obtain a bank loan. Business credit scores range from 0 to 100 — businesses with a score of 75 or higher are considered more capable of taking on loans.
To check your personal credit score, you could order a credit report from the three main credit bureaus: Equifax, Experian and Transunion. Equifax, Experian and Dun & Bradstreet are the three major business credit reporting agencies that compile business credit information. You could also use a credit monitoring service that would regularly report your personal score, like this one from LendingTree. If your score is low, take four or five months to make improvements, like paying off debts, before applying for financing. You could monitor your business score in the much the same way.
"Make that as glowing as possible," Tuomi said.
Documentation. Lenders look for anything that indicates you're a person who follows through on commitments and someone they can trust to pay back the money borrowed, Petersen said. For example, they may examine any contracts you entered into to make sure you abided by them. Anything questionable, such as late credit card payments or a terminated agreement with a previous supplier, would result in an inquiry from the loan officer. They would ask why those payments were late and why that supplier stopped working with you, and it's best if you're upfront with your answers.
"They'll be more amenable if you're forthright," Petersen said. "If they're pulling the truth out of you, that's not going to generate trust, that's going to generate suspicion."
Collateral. Depending on the type of financing you're looking for, collateral could be required. Lenders would place a value on any collateral you offer, such as your building or work vehicle, and that could improve the terms of the loan, Petersen said.
Your reputation. An existing relationship with a bank could be useful during the loan underwriting process, Petersen said. If your business doesn't look great on paper, the bank may take your personal character into consideration. Opening a business or personal account with your local bank would allow you to build a reputation, and your banker may trust you more when it comes time to loan money, Petersen said.
This is where it would benefit business owners to work with a traditional bank rather than applying through an automated system, Petersen said. Although it may take longer, loan officers have the ability to take personal elements into consideration, in addition to hard financial data.
While online lenders may not have the same personal touch as a bank, they often have more flexibility in what they accept as proof of a business's strength, Tuomi said. Nonbank lenders could consider factors such as social media presence when underwriting a business loan.
"They aren't constrained in what they can ask for," Tuomi said.
Documents needed for different types of business loans
Lenders want to know how profitable your business is, information they would find in the financial documents you provide. Banks often prefer tax documents because those are harder to manipulate than statements business owners generate themselves, Petersen said.
The type of business loan you're seeking will determine the type of documentation your lender may need. Here are some of the most common requirements.
Long-term loans
The typical term loan is for three to 10 years, which gives businesses time to pay off a large investment for long-term growth. To apply for one, and depending on the amount of money you are requesting, you may need:
Business debt schedule
Balance sheet
Tax returns
SBA loans
The Small Business Administration offers several types of loans which business owners may obtain through traditional banks or nonbank lenders. Because SBA loans are so popular, the process of applying can be lengthy. Go here to learn more about the application process and the different types of SBA loans. Each type has its own set of requirements.
Short-term loans
Short-term loans offer quick financial solutions to cover cash flow gaps, business expansions or unexpected expenses. These loans are typically paid back in three to 18 months and often have high interest rates because of the short repayment period. Here's what you may need to apply:
Business plan
Balance sheet
Cash flow projections
Tax returns
Active accounts
Proof of licenses relating to your industry
Business lines of credit
Business lines of credit fund short-term working capital needs, such as inventory purchases, equipment repairs or a seasonal cash flow gap. A secured line of credit would require a business owner to offer assets as collateral, while an unsecured line of credit would only require a personal guarantee and a strong credit profile. Here's what you may need when applying:
Tax returns
Two to three months of bank statements
A business bank account number
Profit and loss statements
Accounts receivable and accounts payable
A bank may also ask for personal tax and bank account information
Invoice financing
Invoice financing, or accounts receivable financing, allows business owners to use their accounts receivables as collateral in securing financing. Accounts receivable are a business's outstanding invoices or money that customers owe. In invoice financing, a lending company takes payments out of a business's invoices in exchange for capital to cover daily expenses. Here's what may be required:
Proof of ownership: A business license, tax identification number or articles of incorporation
Accounts receivable and accounts payable
Tax returns
Sample invoices
Credit report
Equipment financing
This type of financing helps owners who need an expensive piece of equipment but cannot purchase it outright. Loans that cover purchases of equipment like commercial ovens, desks and shelves require business owners to use the equipment itself as collateral. Here's what else you may need:
Proof of ownership: A business license, tax identification number or statement of incorporation
Profit and loss statements
Tax returns
Personal resume
Business plan
Credit report
Merchant cash advances
A merchant cash advance is an advance on a business's credit card receipts. Lenders take a percentage of a business's future card transactions in exchange for capital. Here's what may be required:
Tax identification number
Several months of credit card payment processing data and bank statements
Tips for a smooth underwriting process
Because you can't be sure how long the process will take, Petersen suggested starting when you're not pressed for cash. It's also best to avoid holidays when a lender might be short-staffed.
The more organized you are with your financial documents, the faster the process will go, Petersen said. Lenders specify in the application which forms need to be completed and which documents need to be submitted.
References who could speak to your ability as a business owner would be good to keep in your pocket, Tuomi said. Anyone who could highlight your skills and successes could help loan officers with their decision.
Lenders would also want to see your contingency plan if you encounter unexpected business expenses, Tuomi said. They would want to make sure you would still be able to make payments on your loan in the face of financial hurdles. Inform the lender of any business backers or sources of financial capital outside of revenue.
"Be prepared to talk about everything," Tuomi said.