How Does LendingTree Get Paid?
LendingTree is compensated by companies on this site and this compensation may impact how and where offers appear on this site (such as the order). LendingTree does not include all lenders, savings products, or loan options available in the marketplace.
Research Your Competition: What Competitive Analysis Is and How to Conduct It
Updated on: May 9th, 2020
Editorial Note: The content of this article is based on the author's opinions and recommendations alone. It may not have been reviewed, commissioned or otherwise endorsed by any of our network partners.
Knowing how to research your competition can help you refine your business and make it unique. Whether you're the founder of a publicly traded company or you're launching a startup from your garage, your business will likely have competitors. Doing competitive analysis is important, no matter if you view them as enemies to your financial well-being or as friendly neighbors in your industry.
Research your competition: What is competitive analysis?
How to do a competitive analysis in 3 steps
Put your competitive analysis into action
Research your competition: What is competitive analysis?
Competitive analysis is the careful, systematic examination of the companies that offer the same or similar products and solutions as your business. Proper analysis of the competitive landscape is necessary to growing a business and making it stand out. And make no mistake: Even if you're not analyzing your competitors, they could be watching you.
"You have to know who your competitors are and what services they're offering so you understand where your service fits and whether it's truly feasible for you to become a business in that space," said Armando Ojeda, a Detroit-based mentor with SCORE, a nonprofit that provides free mentoring to small businesses nationwide.
Some businesses only analyze competitors with which they compete head-to-head for customer acquisition. They study, among other things:
Competitors' websites
Marketing materials
Market shares
Strengths and weaknesses
Others extend their research to indirect competitors, or businesses that don't offer the same set of solutions as their own but may steal customers away for tangential reasons. For example, a catering company and a grocery store are different types of businesses. But if the grocery store starts offering made-to-order meal platters, the catering company may want to include the grocery store in its competitive analysis.
However deep you choose to go as you research your competition, doing so carefully and meticulously will be part of ensuring your business's success.
Important:Competitor analysis isn't the same as market research.
Some business owners may confuse competitive market analysis with analysis of the market in general, but they aren't the same (though both are important).
Competitor analysis vs. market analysis
Market analysis is the broad examination of your industry so that you can learn who your customers are:
How many people are looking for a solution to the problem you're solving?
What are the ages of these potential customers? How much money do they make? Where do they live?
How much are customers willing to pay for a product like yours?
Does the market have room for another solution, or is it already saturated?
What are the major challenges that businesses in the industry face?
Market analysis is one of the first things you'll need to do when determining the viability of a new business.
Competitor analysis comes a little later. It's an examination of the businesses that are targeting those same customers you identified in your market:
How many customers does your competitor have?
How did the competitor acquire those customers? (SEO? TV ads? Telemarketing?)
What are your competitor's strengths and weaknesses?
How does the competitor differentiate itself from the rest of the market?
How can I differentiate my business from the competitor?
If market analysis is learning the flavor of a pie, competitive analysis is figuring out which slice your competitor has already taken and which slice you're going to claim.
How to do a competitive analysis in 3 steps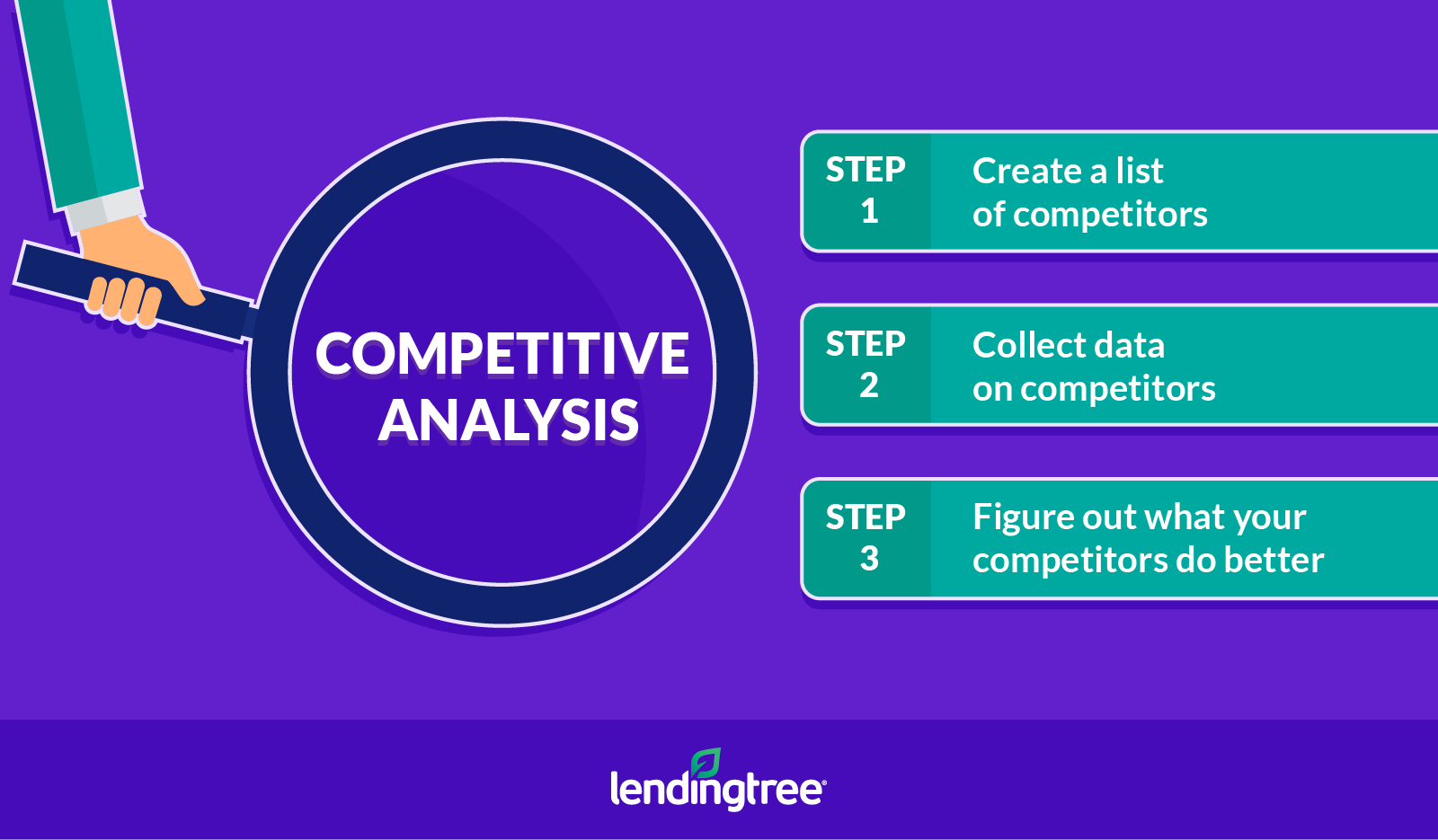 Step 1: Create a list of competitors
The first thing you need to do is to compile a list of your competitors. You could open two tabs in a spreadsheet with the names that come to mind, listing direct or primary competitors in one tab and indirect or secondary competitors in the other. It may also help to paste links to competitors' websites.
Direct vs. secondary competitors
For example, Uber and Lyft are direct competitors. But Uber may consider your city's bike-sharing program — or even the public transit system — as a secondary competitor since it may claim some Uber customers.
Studying your direct competition is the key part of competitor analysis. Whether you decide to extend that analysis to your indirect competition is up to you, but putting down their names in a separate list is helpful in different ways:
You're forced to think through who is your biggest competition
You have their names as you revisit competitor analysis in the future
Tools to help track down your competitors
You should have uncovered many of your competitors when you conducted your market research. But if you think there are some missing, there are tools to help. If your business is localized, such as a restaurant or department store, this may be as simple as checking the Yellow Pages or typing words related to your industry into Google Maps.
A broader Google search can help you identify similar businesses. Get in your customer's mindset and enter the queries you think they'd search for if they hadn't yet solved their problem. For example, if you run a software company that offers a time-tracking program, the following queries may uncover potential competitors:
"How to track employee time"
"Digital time clock"
"How to clock in online"
Make note of the businesses that appear, too. Ojeda recommended researching your industry's federal North American Industry Classification System (NAICS) code. This two- to six-digit code is used to organize businesses that offer similar goods or services, so it may help you uncover other competitors in your industry.
"You have to be really smart about defining who among all of those companies are truly your competitors," Ojeda said. "Who are the ones that are taking your customers and why are they taking them, and what is it that you can do to take them back?"
There are other sites that may help you track down competitive businesses, including:
If you have the opportunity, Ojeda recommends business owners go to industry conferences, where you can gather and exchange information on competitors.
step 2: Collect data on competitors
Once you have a list of direct competitors, it's time to start collecting the information that makes them unique. There are both free and paid tools you can use for this step, but you may be able to pay a consultant to gather the data for you if it seems like too much work.
However, Ojeda warned not to hire a vendor to collect information until you've got a clear understanding of:
What your true problems are
What information you need
Why you need the information
Before you get started, you'll need to identify the data you want to collect. This list will be different for every industry and each company, so you'll want to think carefully about what could help you identify your competitive edge.
You could add these categories as columns to your spreadsheet and list them next to each competitor:
Company mission and tagline: How do they present themself?
Core characteristics: Are they a low-cost provider, a turnkey solution or something else?
Products offered: Are they solving problems you aren't?
Prices: Are they doing more for less or are you leaving money on the table?
Guarantee/satisfaction promises: How confidently do they stand behind their work?
Customer support channels: Are they more accessible than you?
Customer reviews: Are customers wowed by their support? Do they feel scammed?
Blog activity: Could your expertise in certain topics help potential customers find you online?
Social media engagement: Are there additional places where your voice should be heard?
Locations they sell: How do their distribution channels compare to yours (both physically and on the web)?
Revenue estimates: Is their business model sustainable. How does yours compare?
Supply chain providers: Are you buying from the same people? Are their providers faster, cheaper or more reliable?
Employee salary information: Are you paying fair prices to keep the top talent?
Keep an eye on your competitors' superstars
One specific piece of information that Ojeda recommends you keep an eye on is your competitors' most valuable employees. Often, "companies have real superstars that are really the driver of the business," he said. "If that superstar leaves, you can guarantee that the business they left will fall down and the business they went to will go up. So knowing who the superstars are in the business is really an important metric to follow."
Google and your competitors' websites are your allies as you search for information. But you have several other tools at your disposal:
Assess customer sentiment by reading review sites like Yelp
Get salary estimates on Glassdoor
If you work in retail: Do some secret shopping by visiting competitive stores
Depending on your industry, you may also want to access public records, patent filings and business databases like Dun & Bradstreet Hoovers to get large sets of valuable information.
Step 3: Figure out what your competitors do better
If you've compiled the relevant data, you already started this step. Your goal here is to dig into the data to uncover what your competitors are doing right and where you could do better.
A common way to conduct this competitive comparison is a SWOT (strengths, weaknesses, opportunities and threats) analysis. This framework will help you identify the threats and opportunities in your industry at large, as well as the strengths and weaknesses your competitor has when facing those market conditions. Ojeda calls it a fundamental first pass, in which each quadrant should produce action items that help you grow your business.
Here's a basic SWOT analysis worksheet: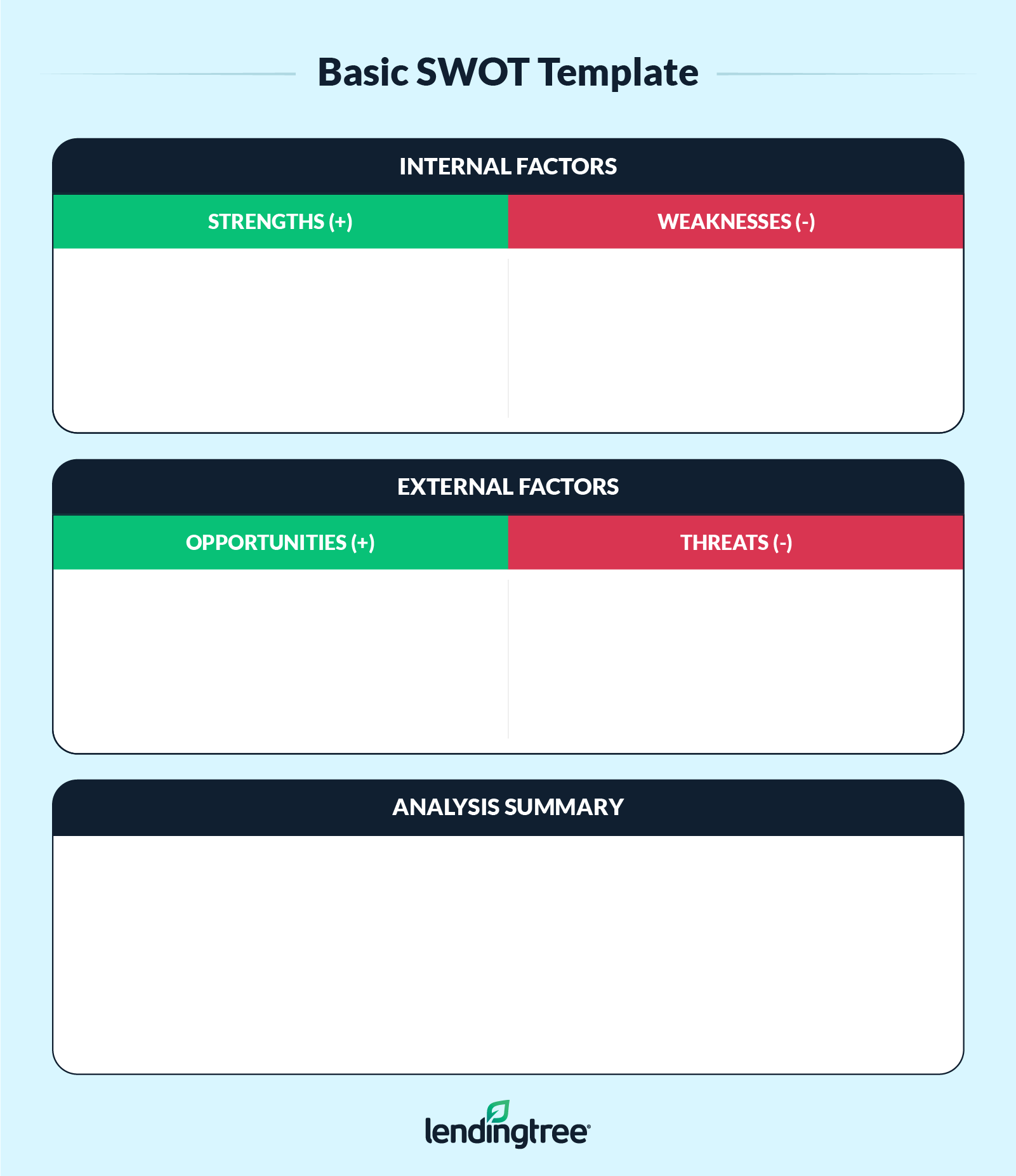 Other ways to do a competitive analysis include the McKinsey & Co. 7-S Framework and the Nadler-Tushman Congruence Model.
Using the data you've collected to perform a SWOT analysis of each of your major competitors will help you learn from those who have gone before you, as well as those who are coming from behind. They may have taken detours or overcome challenges you could avoid, or they may be reinventing your industry right beneath your nose. It pays to pay attention.
Put your competitive analysis into action
If you've taken the steps outlined above, you should have a complete competitive landscape analysis. The only thing left for you to do is to act on it.
What this looks like may depend on where you are in your business life cycle.
If you're just getting started, the competitive research you've performed may have exposed crucial gaps where your market is currently underserved. Consider making this issue your mantra.
If you can enter the space and boldly state that you'll solve a problem your competitors aren't addressing, you'll have found your niche.
Just be sure not to brand your business too narrowly or you may struggle to grow beyond it down the road.
If your company has been around for a while, mapping your competitors' strengths and weaknesses may result less in untapped opportunities and more so in unattractive areas where your own business could improve. If so, make a list of your findings and prioritize them by how easy they would be to fix and how valuable the change would be to your business.
Once you've organized your list, present it to other business stakeholders so you can get started on making improvements.