How Does LendingTree Get Paid?
LendingTree is compensated by companies on this site and this compensation may impact how and where offers appear on this site (such as the order). LendingTree does not include all lenders, savings products, or loan options available in the marketplace.
Feeling Helpless About COVID-19? Here Are 7 Ways to Help
Published on: April 14th, 2020
Editorial Note: The content of this article is based on the author's opinions and recommendations alone. It may not have been reviewed, commissioned or otherwise endorsed by any of our network partners.
The COVID-19 pandemic has created a series of crises across the country. Health care workers have struggled to get the personal protective gear they need. Stores have faced shortages of essentials, like canned food, thermometers and toilet paper. Nonessential businesses have been shut down in at least 46 states, forcing millions of people to file for unemployment insurance.
With so many big problems to solve, it's understandable if you feel helpless — like there's nothing you can do but sit at home, wash your hands and wait for the curve to flatten. But now, more than ever, is a time to act. Doing your part to help those most impacted by the coronavirus will not only make a difference to them, but it can also give you a sense of purpose amid all the uncertainty.
Here are seven ways to help with the COVID-19 pandemic.
7 ways you can make a difference
1. Make and donate masks
Face masks are an important tool in slowing the spread of the coronavirus. The Centers for Disease Control and Prevention (CDC) recommends that people over the age of two cover their faces anywhere it's difficult to practice social distancing. Making face masks is one way you can help out during this public health emergency.
Don't know how to sew? No problem. The CDC has instructions on how to make simple cloth face masks out of basic supplies, like rubber bands and bandanas, you may already have at home — no needle and thread required.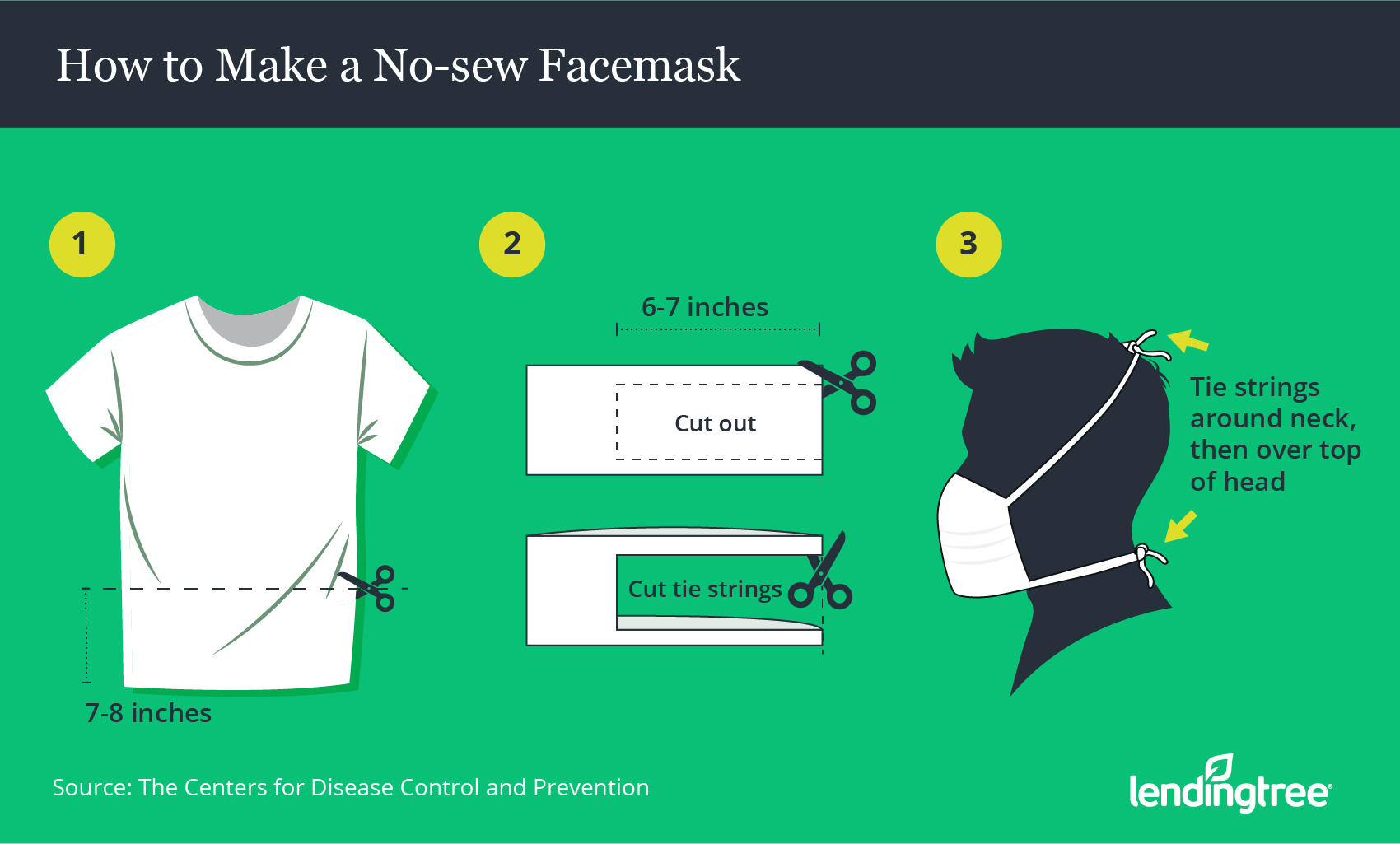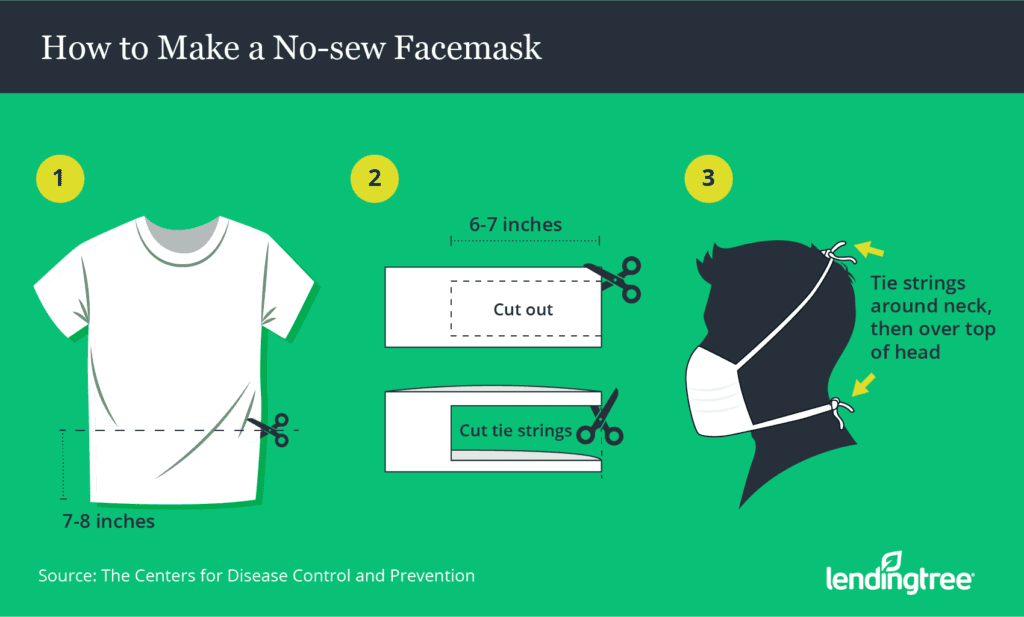 Once you've made enough for your family, you can make and donate extra face masks to organizations in need. Deaconess Health System, which provides health care in Indiana, Illinois and Kentucky, regularly updates its database of health organizations across the country that need mask donations.
2. Donate to food banks
The coronavirus pandemic has been a double whammy for food pantries. They've seen a huge influx of people across the country seeking help while simultaneously facing donation shortages, as nervous families hold on to their food stockpiles and grocery store shelves remain stripped. It has put the millions of recently unemployed Americans at risk of a hunger crisis, and some people have already left food pantries empty-handed.
If you have the means, consider donating money to food pantries. Feeding America, the nation's largest hunger-relief organization, is seeking monetary donations for its COVID-19 response fund to assist its network of 200 food banks across the country.
Is your pantry overflowing with canned veggies, tomato sauce, dried pasta and other nonperishables? Bring the excess food to a local food pantry or food rescue organization to help the people in your community.
3. Support your local restaurants
Restaurants have suffered a massive decline in business after many states banned in-person dining. It has left them struggling for revenue and looking into alternative sources of funding, like the Paycheck Protection Program through the CARES (Coronavirus Aid, Relief, and Economic Security) Act.
These local businesses still need the support of customers, though. While you might not be able to enjoy a sit-down meal, you can help by ordering takeout or delivery. You could also purchase a Dining Bond. It's like a hybrid between a gift card and a savings bond, in that you purchase the gift card for a discounted rate and redeem it for full value in the future. Search for participating restaurants at diningbond.com and make the purchase directly through the restaurant's website or by phone.
4. Give blood
Social distancing measures, while important for managing the pandemic, have had an unintended health consequence: a severe blood shortage. Blood drives have been cancelled in droves, and would-be donors have been hesitant to leave their homes. In mid-March, U.S. Surgeon General Dr. Jerome Adams began encouraging healthy people to donate blood as soon as possible.
The response has been adequate, so far — the American Red Cross has enough blood to meet immediate needs. However, the organization is still urging people to continue to donate blood, platelets and plasma to ensure its supply remains stable throughout the pandemic. You can find blood drives and schedule an appointment to make a donation using this tool from the American Red Cross.
5. Donate to worthwhile causes
Many nonprofit organizations have stepped up to the plate to address the coronavirus in ways that make sense for their missions. They're asking donors to help support their efforts through financial donations.
If you've been able to budget your money in a way that leaves you with some discretionary dollars, consider making a contribution to a cause you care about. Make sure you vet each organization carefully to ensure your money is going to the right place, though. The Federal Trade Commission has guidance on how to avoid coronavirus scams that can help.
6. Volunteer to help those in need
Money might be tight if you're one of the six in 10 Americans whose finances have taken a hit from the pandemic and you're struggling just to pay your credit cards during the coronavirus outbreak.
Fortunately, you can still donate your time and skills. Countless organizations are seeking virtual volunteers to assist with a variety of COVID-19 relief efforts. You can browse virtual volunteer opportunities at Idealist.org, an organization that helps nonprofits recruit employees through job listings, and at All for Good, a volunteerism hub run by the nonprofit Points of Light.
If you have the proper equipment (think masks, gloves) you may be able to find some in-person volunteer opportunities in your community, including packing up groceries at food banks or checking in on neighborhood seniors. Consider giving small treats to local essential workers, like grocery store clerks and delivery drivers, to brighten up their day. Even offering to do small favors, like picking up a few necessities, can help ease the burden of people putting themselves at risk every day.
7. Show gratitude to health care workers
Doctors, nurses and other health care workers are on the front lines of the pandemic, risking their own health to treat coronavirus patients. Finding ways to show gratitude to these heroes can help boost their spirits — and yours, too.
You can record a message of encouragement for health workers by calling the Health Hero Hotline or give a shoutout to doctors and nurses on social media using the hashtag #supporthealthcareheroes. Get in touch with local hospitals to explore the possibility of donating any medical supplies (like gloves and masks) you have at home. You can also offer to drop off essentials to friends and neighbors who work in the health care field.