How Does LendingTree Get Paid?
LendingTree is compensated by companies on this site and this compensation may impact how and where offers appear on this site (such as the order). LendingTree does not include all lenders, savings products, or loan options available in the marketplace.
Credit Card Security: 10 Tips to Keep Your Information Safe
Updated on: August 13th, 2019
Editorial Note: The content of this article is based on the author's opinions and recommendations alone. It may not have been reviewed, approved or otherwise endorsed by the credit card issuer. This site may be compensated through a credit card issuer partnership.
With data breaches becoming almost commonplace, taking steps to protect against fraudulent charges and/or a stolen identity is more important than ever.
"Treat your most valuable personal information like gold, because that's what it is to fraudsters," said Matt Schulz, chief credit analyst at LendingTree. "If someone gets a hold of your Social Security Number, it becomes much easier to set up fraudulent credit card accounts in your name. The last thing you want to do is make a fraudster's job easier, so be diligent."
Here are a few tips for security features, legal protections and more that can help you.
1. Check your credit card statements
This should be something you do regularly. Review your account statements as soon as you get them and keep a sharp eye out for unauthorized transactions. If there's a charge you don't recognize, there's a chance you've been a victim of credit card fraud.
If you have fallen victim to credit card fraud, all is not lost. You've got protection under federal law thanks to the Fair Credit Billing Act. The law limits your liability for fraudulent charges on your credit card to $50 — which can be a big relief if a bad actor charges an expensive purchase to your card. But cause for even bigger relief is that many credit card companies go above and beyond the legal requirement and offer zero liability protection, meaning the cardholder isn't liable for any unauthorized purchases charged to the card.
Make sure to report unauthorized transactions as quickly as possible. Once you do, your credit card company will likely issue you a temporary credit for the amount charged. If the ensuing investigation determines the purchase was indeed fraudulent, that refund becomes permanent. But if it's determined the purchase was legitimate, the credit will be taken back.
You can also expect your credit card company to cancel a compromised card and mail you a new one. For this reason, it's important to have a backup credit card. It might cost a fee to get the new card mailed overnight — and the default free option can take a few days to arrive. Some issuers, such as Discover, offer free overnight shipping for quick card replacement. It's also important to update any payments and services you had linked to the old card number, such as bills, streaming subscriptions and shopping profiles on sites like Amazon.
2. Sign up for a credit monitoring service
Watching your credit card statements lets you check for unauthorized charges. But how can you find out if someone has opened up a new account using your information? What if your Social Security number has been sold on the dark web? That's where credit monitoring comes in.
For instance, LendingTree offers free credit monitoring through its LendingTree app, and Discover offers Social Security Number alerts as a free benefit to its cardholders. If you've activated this service, you'll get an alert (by email, text or both) whenever a new credit card, mortgage, car loan or other account appears on your Experian credit report.
By activating a credit monitoring service, you can act quickly if your identity is compromised, and dispute accounts that you didn't actually open. This can protect you from damage to your credit history and credit score.
3. Make use of fraud alerts and spending thresholds
Most credit cards have fraud alerts, which is when you're notified of a transaction on the card that your credit card company identifies as suspicious. You may be asked to verify whether or not the transaction is legitimate and should be allowed to proceed.
Another type of alert that can help you keep track of how your card is being used is a spending alert. In many cases, you can set this up through your online credit card account, choosing criteria for when you want to be notified of activity by text message or email.
"My favorite credit card security feature is text alerts about purchases," said Lynnette Khalfani-Cox, a personal finance expert and author known as The Money Coach®. "My husband and I have set up alerts on all our credit card accounts and our debit cards, too. That way, we are immediately notified about our spending and can quickly spot any red flags if something pops up that neither one of us recognize."
There are a variety of triggers you may be able to choose for your alerts. For example, Discover offers the following alert options to its cardholders:
When a transaction exceeds a predetermined amount
When your balance reaches a predetermined level
When your balance approaches your credit limit
For alerts related to cash advances
For purchases made outside the U.S.
For purchases made online, by phone or by mail
When your statement is available
When your minimum payment is due
When your payment posts
When your card is declined
When a merchant refund is posted
When a balance transfer is posted
4. Know what to do if your card is lost or stolen
If your credit card has been lost or stolen, you can call your card issuer and report the problem. This means your card will be closed and a new one with a different number will be sent to you.
Having a backup credit card can prevent a lot of hassle in this situation. It can take time for the new card to arrive, and if you only have one card, you'll have to pay by cash or other means until the replacement arrives. This can also be an issue if you have autopay set up on the card for recurring transactions like monthly bills or a streaming subscription.
If you've got a Discover credit card, you have another option. Discover allows cardholders to temporarily freeze their accounts at any time. This means new purchases, cash advances and balance transfers won't be allowed on the card, but transactions such as payments, interest charges and recurring bills will proceed as usual. You can access the Freeze it® feature by logging in online or via the Discover mobile app.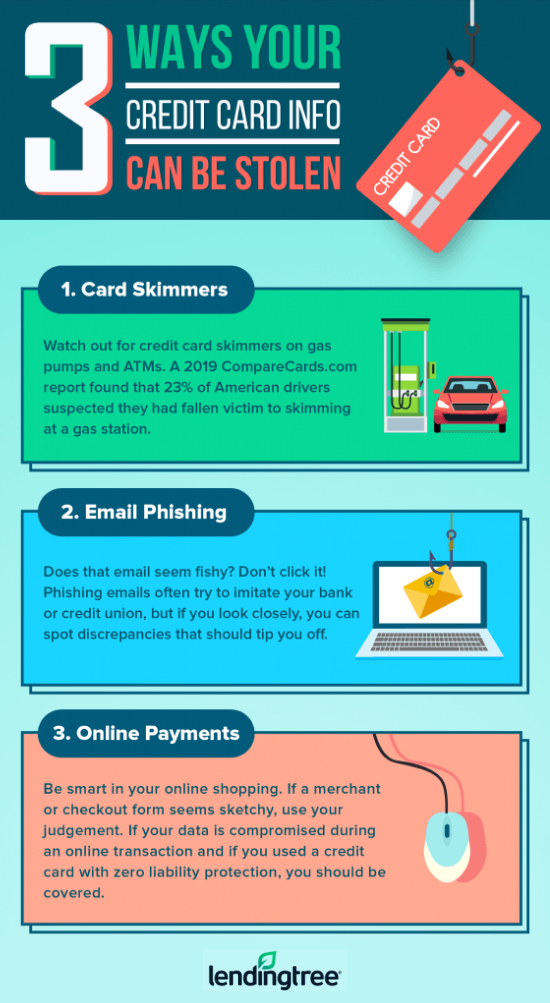 5. Consider freezing your credit
A credit freeze — also known as a security freeze — is different, however. You implement a credit freeze by contacting the three credit bureaus, Equifax, Experian and TransUnion. As of September 2018, it is free to freeze your credit.
What a freeze does is to restrict access to your credit reports, preventing new accounts from being opened with your information. Your current credit cards shouldn't be affected. If you want to apply for a new credit card or a loan down the road, or apply for a job that requires a credit check, you'll need to unfreeze your credit at that point.
Here's the contact information for each of the credit bureaus:
6. Use a password manager
Do you reuse the same login information for your credit card account and your bank account? Or for your credit card account and your auto loan? These are just a couple examples of places where people might reuse logins across financial institutions — but it's a bad habit. If one of your logins gets compromised, and you've used the same password for other websites, you've opened yourself up to having multiple accounts hacked.
Of course, with as many online accounts as people have these days, it can become difficult to remember separate logins. That's where a password manager can come in handy. Having a service that remembers your logins for each site and automatically applies them, so long as you're signed in on the password manager with your master login, can give you security without adding too much inconvenience to your daily online life.
There are many password managers available. LastPass is one popular brand that offers a free version of its service, as well as paid versions for $36 and $48 annually.
7. Be smart with your paper records
Not every form of data theft is high-tech. Sometimes, what's in your trash is the risk.
"Don't make it easy for fraudsters to get access to your credit card data by just throwing away receipts or trashing things like your bank statements — both of which may contain your full credit card number," Schulz said. "Instead, shred those documents before you get rid of them."
8. Watch out for scams
If you get a phone call or an email asking for your credit card information, bank information, Social Security number or other sensitive personal details, be skeptical. Oftentimes, scammers will send emails pretending to be a financial institution, and will ask you to click links to "verify" or "update" your account. This is a fraudulent practice known as phishing.
"I always make it a practice to type in the URL of the site I'm going to rather than clicking any links in emails," said Lee Huffman, a personal finance expert who writes at BaldThoughts.com.
It's also smart to keep a sharp eye out at ATMs and gas stations. One way that thieves can get your information is by attaching "skimmers" to these machines — devices that read your card when you swipe to pay. A 2019 LendingTree report found that 23% of American drivers suspected they had been a victim of skimming at the gas pump.
9. Don't carry too many cards at once
If you have several credit cards to use for different rewards and perks, that's fine. But don't carry them all with you — instead, carry one or two that you use regularly. Schulz listed carrying multiple cards as one of the most common mistakes people make when it comes to security.
"If you lose your wallet [with multiple cards in it], or it gets stolen, far more of your personal data is exposed to potential loss and misuse," Schulz said.
10. Know where your card is at all times
It might seem simple, but it's still important. Watch your card when it's not in your wallet.
"Too often as consumers, we just implicitly trust the waiter, the store cashier or the hotel clerk," Khalfani-Cox said. "But unfortunately, sometimes, workers use skimmers or other devices to swipe your card or make a duplicate of the number. Obviously, the vast majority of workers are going about their jobs in an honest fashion, but those who have bad intentions are less likely to do something wrong with your card if you're right there [closely] watching them," she said. So be vigilant about keeping your card in plain sight.
The bottom line
It's important to follow good security practices to minimize the risk of your personal data being used if stolen. But even while keeping security risks in mind, you can take comfort in the fact that using a credit card is one of the safest options for making payments and protecting your finances.
"A credit card is almost always the safest option if you're concerned about security, simply because your risk of losing any real money is minimal," Schulz said. "If your cash gets stolen, you're not getting it back. If a debit card or prepaid card gets stolen, you'll likely get your money back but it can take some time. With a credit card, all you'll like be out is a phone call."