Air France Flying Blue Cheat Sheet for Using Your Miles
Updated on: January 8th, 2020
Editorial Note: The content of this article is based on the author's opinions and recommendations alone. It may not have been reviewed, approved or otherwise endorsed by the credit card issuer. This site may be compensated through a credit card issuer partnership.
If you're new to Air France Flying Blue, or are considering transferring your points to Flying Blue miles, here's a rundown of all the different ways you can use your miles to purchase flights on Air France or on dozens of partner airlines.
Air France Flying Blue miles are great for funding trips to Paris or Marseille, France. Thanks to Air France's extensive list of airline travel partners, you can also use Flying Blue miles to purchase flights around the world. For example, you can use the miles to purchase a Kenya Airways flight from New York to Nairobi or a WestJet flight from Las Vegas to Vancouver.
Here's a closer look at all the different ways you can collect and use Flying Blue miles.
Click below to learn more:
Credit card points that transfer to Air France Flying Blue
The simplest way to collect Flying Blue miles is to fly with Air France or one of its airline partners. But even if you've never set foot on an Air France plane or flown with any of its airline partners, you can still earn frequent flyer miles.
All you have to do is use a credit card that earns Flying Blue Miles – or use a card that lets you transfer your points to Air France.
Bank of America, for example, offers an airline card that's designed specifically for frequent Air France or KLM flyers. Cardholders with an Air France KLM World Elite Mastercard® get 3 Miles per $1 spent directly on Air France, KLM Royal Dutch Airlines and SkyTeam member airlines purchases and 1.5 Miles per $1 spent on all other purchases.
You can also collect Flying Blue miles by transferring your credit card rewards points from other cards. Several lenders, including Citibank, American Express, Chase and Capital One, allow you to convert your credit card rewards points into Flying Blue Miles.
Some cards will even let you transfer your points on a 1:1 basis. Credit card points that can be exchanged for Flying Blue Miles without losing any value include:
Chase Ultimate Rewards® points
Citi ThankYou® points
American Express Membership Rewards® points
In addition, you can convert miles you earned on the Capital One Venture Rewards Credit Card into Flying Blue miles. However, the transfer rate isn't as generous. It will cost you 2 Capital One Venture miles to get 1.5 Flying Blue miles.
Airlines you can book and where to find award space
In addition to its extensive list of credit card transfer partners, Air France also boasts an unusually long list of airline partners. As a result, you can use your miles to book flights on a wide variety of global airlines, including Air France, KLM, Transavia, Aircalin, GOL, Japan Airlines, Kenya Airways and SkyTeam partners, such as Delta Air Lines and Alitalia. Flying Blue also has a large number of non-SkyTeam partners, such as WestJet, Japan Airlines, Copa, as well as a number of small regional airlines, such as Air Antilles and Flybe Air.
Booking flights with Flying Blue miles is also relatively simple. You can book rewards-funded flights on Air France, KLM, Aircalin, GOL, Japan Airlines, Kenya Airways, TAROM and all SkyTeam partners at airfrance.us or KLM.com. If you plan to fly on the budget airline Transavia – which is now owned by Air France KLM – you can book and search for rewards flights directly on Transavia.com. To book a rewards flight on all other Flying Blue partners, such as Virgin Atlantic or WestJet, call Flying Blue customer service at 1-800-375-8723.
Below is a list of airlines you can book with Flying Blue miles:
Airlines you can book with Flying Blue miles
Region
Airline
Africa
Air Mauritius
Africa
Comair
Africa
Air Austral
Africa
Kenya Airways
Asia
Bangkok Airways
Asia
China Airlines
Asia
China Eastern
Asia
China Southern Airlines
Asia
Garuda Indonesia
Asia
Japan Airlines
Asia
Korean Air
Asia
Air Astana
Asia
Vietnam Airlines
Asia
Georgia Airways
Asia
Silk Air
Asia
Singapore Airlines
Asia
Xiamen Air
Asia
Malaysian Airlines
Europe
Aeroflot
Europe
Air Corsica
Europe
Air Europe
Europe
Air France
Europe
Altialia
Europe
Czech Airlines
Europe
KLM
Europe
TAROM
Europe
Ukraine International Airlines
Europe
Air Antilles Express
Europe
airBaltic
Europe
Air Malta
Europe
Austrian
Europe
Belavia
Europe
Air Serbia
Europe
Bulgaria Air
Europe
Croatia Airlines
Europe
Finnair
Europe
Flybe Air
Europe
Virgin Atlantic
Europe
Luxair
Europe
Montenegro Airlines
Europe
Transavia
Europe
Wideroe
Middle East
Middle East Airlines
Middle East
Saudia
Middle East
AtlasGlobal
Middle East
Azerbaijan Airlines
Middle East
Etihad
North America
AeroMexico
North America
WestJet
North America
Delta Airlines
North America
Winair
Oceania
Qantas
Oceania
Aircalin
Oceania
Air Tahiti Nui
Oceania
Aerolineas Argentina
South America
Copa Airlines
South America
GOL
How to check for award space
Air France's Flying Blue website is a great place to look up possible awards flights, including flights on Flying Blue partners. However, it doesn't let you limit your search to certain airlines. Instead, you'll need to pick where and when you want to fly and Air France will list your different options. You can also check award space on KLM.com.
Not all partners will show up on AirFrance.us or KLM.com, though. So if you're intent on flying a specific carrier, you may need to check award space somewhere else.
For example, if an airline also partners with British Airways, you can check award space through British Airways' award search engine. Or if they're a partner with Delta Air Lines, you can search for space on Delta's search engine.
How much do awards cost?
Air France now uses dynamic pricing to price awards flights. As a result, you won't be able to just glance at a chart and figure out how many miles you need to purchase a flight. Instead, you'll need to look up each flight individually using Air France's search engine. You will also need to be a Flying Blue member to look up award prices. However, signing up for Flying Blue is free and relatively quick.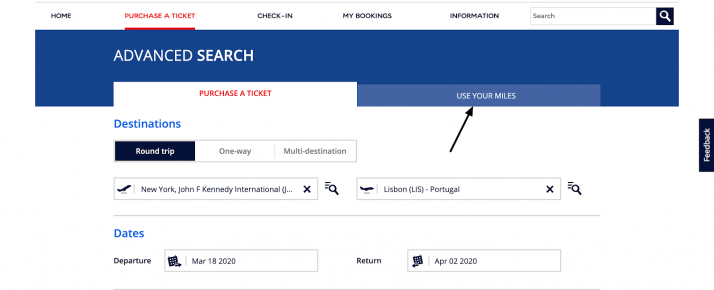 Unfortunately, a few quick searches well ahead of your trip won't necessarily tell you how much you can expect to pay once you're ready to commit. So don't get too excited if you happen to see an exceptionally cheap flight, but aren't yet ready to book it.
Prices for awards flights vary widely, depending on when, where and how you fly. In fact, you may even find wildly different prices on the exact same day for flights with nearly identical itineraries. A flight from New York to Lisbon, Portugal, for example, may cost as little as 21,250 miles if you fly after midnight on a Wednesday in March and are given a promotional rate. But the same trip, with a nearly identical connection and route, may cost you 79,000 miles if you leave at 7:40 pm.
The price of a return ticket on a roundtrip flight can also vary substantially and be much different from the price you paid to get to your destination.
Luckily, Air France will typically give you a number of possible flights to choose from, with a variety of different price points (similar to booking a flight with cash, rather than miles). It may also offer promotional rates, depending on the flight.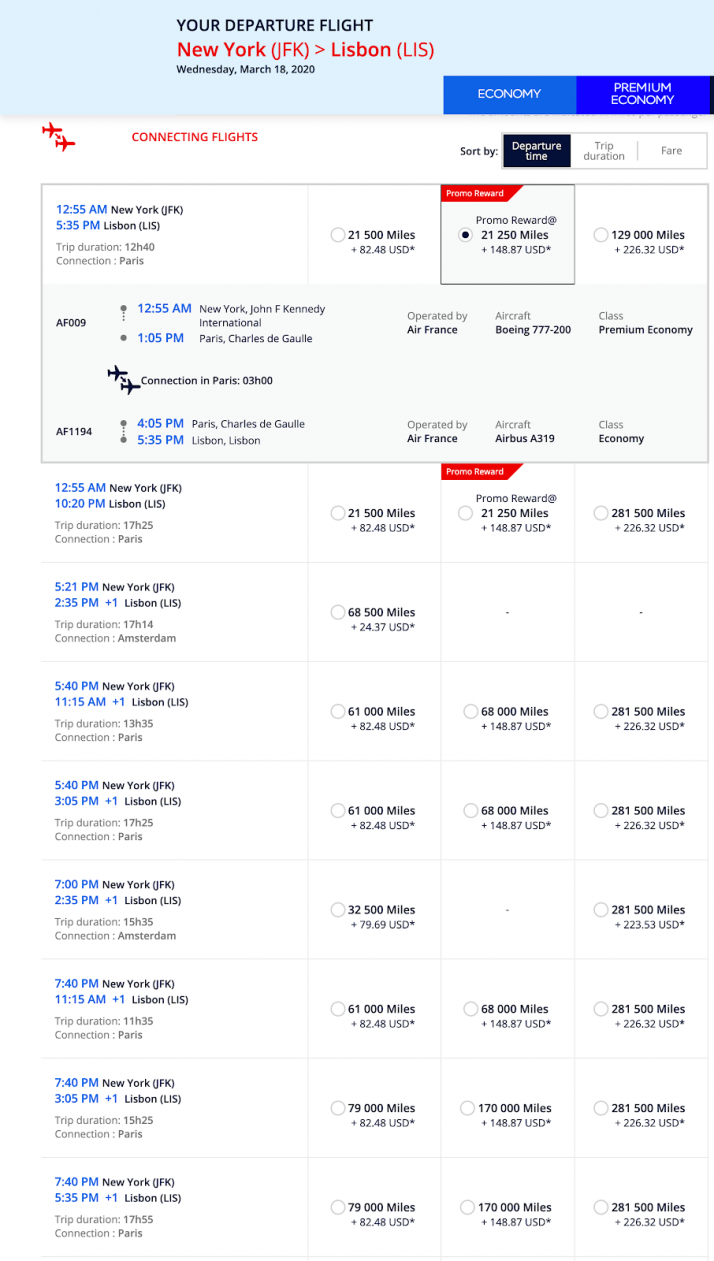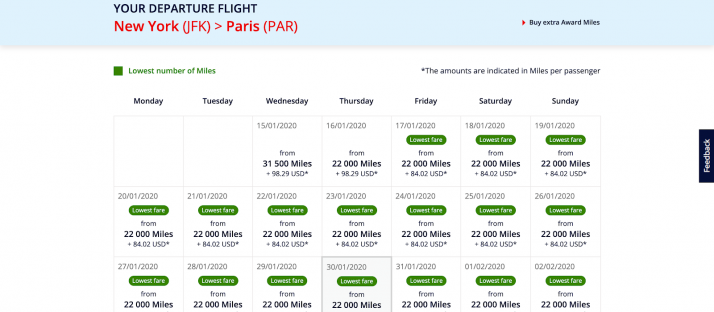 Sample award prices from North America
Unlike with some frequent flyer programs, you can't estimate ahead of time how much a Flying Blue flight is going to cost you, unless you're sure of when you're going to fly. However, you can get a rough idea of what Air France typically charges by looking up various itineraries. For example, here are some sample prices for one-way tickets on a Tuesday in early April:
Sample award prices from North America
Destination
Economy
Business
NYC to Paris
22,000
57,500
Dallas to Helsinki
29,000
72,000
Washington, D.C. to Moscow
21,500
69,000
NYC to Dubai
46,000
115,000
Houston to Aruba
53,500
209,500
Atlanta to San Salvador
17,500
34,500
Chicago to Johannesburg
34,000
113,500
Boston to Nairobi
43,500
194,500
Charlotte to Mumbai
37,500
93,500
Denver to Buenos Aires
29,000
72,000
Los Angeles to Rio de Janeiro
29,000
72,000
San Francisco to Bangkok
37,500
115,000
Seattle to Tokyo
36,000
111,500
Salt Lake City to Sydney
57,500
N/A
NYC to Auckland
57,500
N/A
Prices could change by the time you're ready to book, though, so be prepared for some surprises.
Promo awards are offered at a discount of up to 50%
One of Flying Blue's best perks is its promo awards, which are basically flash sales on Air France and airline partner awards tickets. Discounts can run as high as 50% in some cases, potentially saving you a ton of miles. In December 2019, for example, Flying Blue members could save 50% on economy flights from Boston, Washington, D.C., New York or Chicago to anywhere in Europe, as long as you fly before April 2020. So, a March 16 one-way flight from Boston to London could cost as little as 10,750 miles. Similarly, you could buy a March 8 flight from Chicago to Paris for just 11,000 miles.
You can see all of the current Promo Award options here.
Fuel surcharges
Unfortunately, you probably won't be able to avoid fuel surcharges if you travel internationally on a foreign carrier. However, you may not have to pay a huge amount, depending on your destination and the airline.
If you're trying to pay as little out of pocket as possible, your most economical option is to fly abroad on a U.S. carrier. For example, if you fly Delta on a ticket that starts in the US, you won't have to pay a fuel surcharge, even when flying to Europe. But if you're booking a one way ticket that *starts* in Europe, then you will have to pay a fuel surcharge. Delta passes fuel surcharges on to its own SkyMiles members as well when they fly on a one-way ticket across the Atlantic.
Fuel surcharges can vary widely. When we checked flights, a one-way economy flight from New York to Paris on Air France incurred a 50 Euro fuel surcharge. Meanwhile, an economy flight from New York to Johannesburg incurred a 100 Euro fuel surcharge.
Fuel surcharges on partner flights can also be pricey. For example, an economy flight from New York to Johannesburg on Kenya Airlines incurred a 249.77 Euro fuel surcharge. An economy flight from New York to Delhi, India on Alitalia cost 70 Euros in fuel surcharges.
If you're flying within Europe, you may not have to pay a fuel surcharge at all.
What are award change and booking fees?
Change or cancel award ticket: $51
Phone award ticket booking fee: $16
Tip: Promo awards cannot be changed or refunded at all. Bookings are final.
When are award seats made available?
Air France allows awards to be booked up to 12 months in advance.
Waitlists and options when you can't find awards
A waitlist on an award is not available. However, Air France does allow award bookings until all available seats have been reserved.
What stopovers are allowed?
Flying Blue doesn't allow stopovers on award tickets.
Can you hold an award seat?
You may be able to request a temporary booking. However, you'll need to call customer service in order to book it. Air France's online booking service doesn't allow Flying Members to hold award flights online. (Air France and KLM do, however, let you hold online bookings for flights you pay in cash.) When you call customer service, the agent will let you know whether a temporary booking is possible on a particular flight and how long you can hold the seat.
What are the best award values?
In general, flights to Europe and Central and South America appear to be the most competitive. However, you can get some pretty great value from even longer-haul flights. For example, flying from Salt Lake City to Sydney on Delta on a Tuesday in early April would cost you 57,500 Flying Blue miles.
Delta, by contrast, charges 76,000 SkyMiles (or more than $4,600) for similar flights.
You'll get the best value from your miles, though, if you purchase a promo ticket. So if you aren't set on a particular vacation, you may want to regularly check Flying Blue's Promo Rewards page to see if they're promoting a trip you'd love to take.
Can you upgrade with miles?
Depending on the airline, you may be able to pay for a seat upgrade with miles if you book at least 24 hours in advance of your trip. Rewards-funded upgrades are only available on the following airlines, though:
Air France
KLM
Aeromexico
China Airlines
Aircalin
Czech Airlines
Delta Air Lines
Kenya Airways
Korean Air
TAROM
If you're flying Air France or KLM, you may also be able to pay for a seat upgrade with miles just before you board. In addition, Delta and Kenya Airways allow last-minute award upgrades on flights originating from Amsterdam. Depending on availability, Air France and KLM may even let you upgrade on board, just before your flight departs.
Alternative miles to book Air France flights
If you don't have Flying Blue miles, your best bet is to try to booking an Air France flight through Delta. If you have enough SkyMiles available, you can book your flight online – and, unlike many international carriers, Delta doesn't add a fuel surcharge to Air France trips that start in the U.S.
What hotel points can you transfer from?
If you're a frequent hotel guest and have collected a large number of loyalty points, you may also be able to convert those points into Flying Blue miles. Flying Blue partners with a number of hotel loyalty programs, including:
ALL: Accor Live Limitless: You can transfer points at a ratio of 2:1.
Best Western Hotels and Resorts: Points transfer at a ratio of 6:1.
World of Hyatt: Points transfer at a ratio of 1,250 to 500 miles. You'll also get a 5,000-mile bonus if you transfer 50,000 World of Hyatt points at one time.
Hilton Honors Points: Points transfer at a ratio of 10:1. You'll need a minimum of 20,000 Hilton Honor Points, though, to initiate a transfer.
Marriott Bonvoy™ : Points transfer at a ratio of 3:1.
Golden Tulip Hotels: Points transfer at a ratio of 4:1, with a minimum of 10,000 Flavour points. You'll also get a 2,500-mile bonus if you transfer at least 50,000 Flavour points at one time.
Radisson Rewards™: Points transfer at a ratio of 10:1.
Shangri-La Hotels and Resorts: Points transfer at a ratio of 1:1.
Can you book awards for others?
Yes, Flying Blue members can book award flights for friends and family members, even if they aren't Flying Blue members themselves.
Can you transfer miles?
You can transfer up to 50,000 miles at a time (up to an annual maximum of 250,000 miles) to other FlyingBlue members. However, you'll have to pay a $3.40 fee for every 250 miles you transfer.
Do Flying Blue miles expire?
Not if you keep traveling. Your miles won't expire as long as you fly once every two years on an Air France, KLM or other partner flight or remain an elite or elite plus member. Alternatively, you can also extend the life of your miles by charging a qualifying co-branded credit card at least once within a 24-month period.
Bottom line
Flying Blue miles are exceptionally versatile and are particularly valuable if you frequently travel abroad or manage to score a heavily discounted promo award. It has a huge number of airline and hotel partners and its online booking system is relatively easy to use.
Its dynamic pricing system makes it tough to estimate in advance the number of miles you'll need for a particular trip, though. It's also not as easy to compare Flying Blue's awards offers to other loyalty programs. But if you're willing to be flexible and take the time to search for a good deal, you could still get some solid value from Flying Blue.