How Does LendingTree Get Paid?
LendingTree is compensated by companies on this site and this compensation may impact how and where offers appear on this site (such as the order). LendingTree does not include all lenders, savings products, or loan options available in the marketplace.
| Advertising Disclosure
LendingTree is an advertising-supported comparison service. The site features products from our partners as well as institutions which are not advertising partners. While we make an effort to include the best deals available to the general public, we make no warranty that such information represents all available products.
Frontier Airlines Cheat Sheet: How to Get the Most Out of Your Frontier Miles
Updated on: April 10th, 2019
Editorial Note: The content of this article is based on the author's opinions and recommendations alone. It may not have been reviewed, approved or otherwise endorsed by the credit card issuer. This site may be compensated through a credit card issuer partnership.
Frontier Airlines, an ultra-low-cost carrier based in Denver, flies to more than 100 cities in the U.S., Canada, the Dominican Republic and Mexico via 350 daily flights. That's a fraction when compared when Delta Air Lines' 300+ destinations and 5,000 daily flights to more than 50 countries, but Frontier is appealing to bargain fare hunters within its network.
The airline replaced its EarlyReturns loyalty program with Frontier Miles℠  in August 2018, adding perks including new elite status tiers and more family benefits. While it's not the most compelling program in terms of added benefits, there are ways to get decent value for the miles you redeem for flights if you know what to look for and are flexible with when you can fly.
Click below to learn more:
Where to search for Frontier Miles awards
Search for award tickets at flyfrontier.com or redeem miles for flights by calling 801-401-9000. Note that Frontier's phone number is not toll-free. Frontier makes all of its open seats available, so if no award tickets are available, it means that no seats are available on the flight you want. And since it doesn't partner with other airlines, that means you may have to search other carriers for paid flights on another airline.
Tip: It's best to search for award travel online; otherwise, Frontier will charge you $10 to speak to a customer service agent.
Searching for awards online is easy. Simply navigate to flyfrontier.com, enter your desired travel dates and route, and indicate that you would like to search by miles.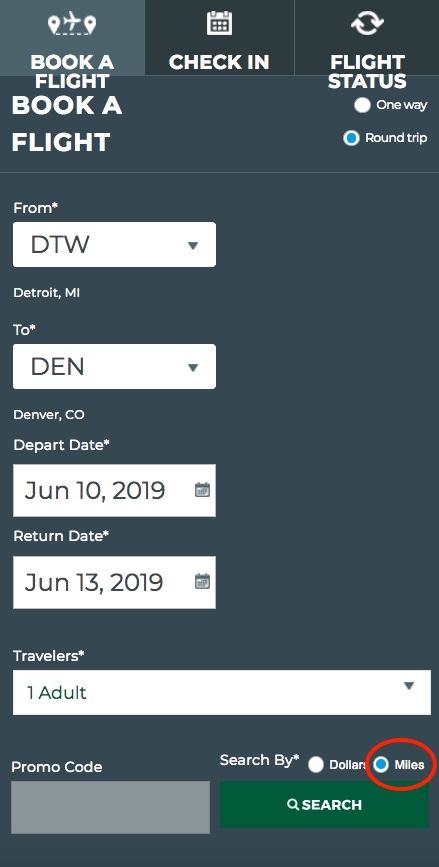 Frontier will come back with the available flight options and corresponding mileage cost.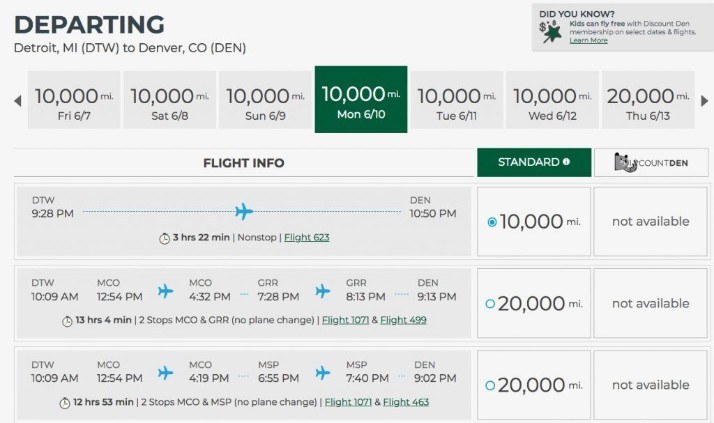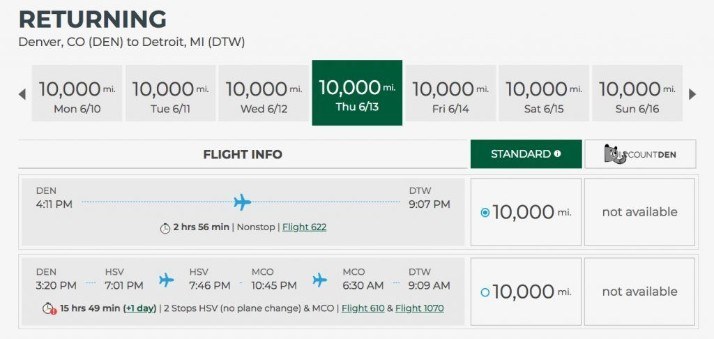 Here's what the same flights cost in cash.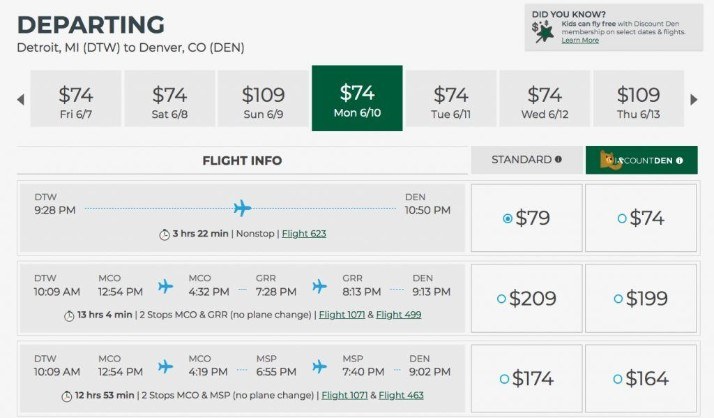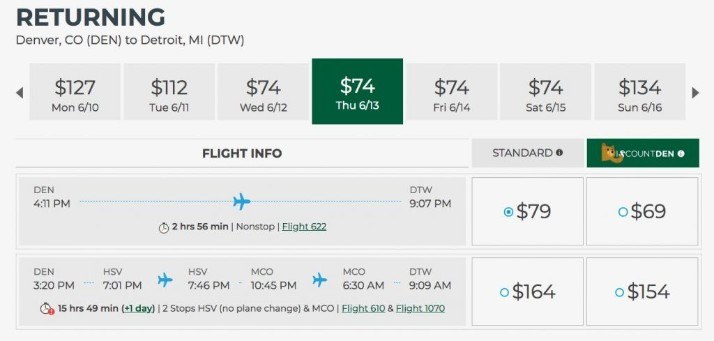 The green block fares in the examples above are the lowest fares offered, under Frontier's Discount Den℠ membership program. Actual fares may vary, depending on which flights are chosen.
If you can't find available award seats on Frontier for your ideal itinerary, all you can do is choose another flight with award inventory, or pay cash. But understand that award miles for flights rise as availability becomes more limited, so book early if you want to travel during popular travel times.
Note that the airline doesn't allow loyalty program members to redeem miles for items such as seat selection or baggage fees.
Tip: Read flight times carefully before booking award travel. Because Frontier has a smaller route network, you could either end up hopscotching around the country, face long layovers or both.
What are Discount Den Deals?
Discount Den Deals offer exclusive access to the lowest fares on Frontier. A membership costs $59.99 a year, and you can book as many deals as you want for yourself and up to six additional people traveling on your itinerary.
Members earn Frontier Miles miles on every purchase. Den members are also the first to hear about new Frontier destinations, along with flight offers and promotions. The program is best for travelers who fly almost exclusively on Frontier Airlines.
The biggest benefit of Discount Den is Kids Fly Free — but only for families. Under the program, a child aged 15 and under can fly free with every adult Discount Den fare purchased. One adult must be a Discount Den member and they can fly with up to six passengers, including kids and adults. Note that this deal is only good for Discount Den fares that show the Kids Fly Free logo.
If you don't have children, Discount Den membership only gets you special Den fares and the first crack at special promotional and discount fares. It doesn't come with discounts on baggage fees, seat selection or in-flight food or beverages.
Note that Discount Den membership doesn't guarantee special fares are always available. The member must be both the one purchasing and traveling on Den fares. Memberships are automatically renewed unless canceled in your Frontier Miles account before the renewal date.
Tip: The discounts are only $10 on average between Den and standard fares, so make sure the other benefits that come with Discount Den make the yearly membership worth buying.
What is the value of Frontier Miles awards?
The number of miles needed to redeem for award tickets on Frontier depends on where you are traveling and seat availability. Award prices are each way.
Value awards are the best since in exchange for booking flights well in advance, you redeem the fewest miles — but the number of seats available is limited. Standard awards are similar to standard fares, and are more available than value. Last seat is literally that — if there's a seat on the plane at the last minute, you can use your miles to get it, for higher miles. But these seats are only available to those with Frontier Miles elite status.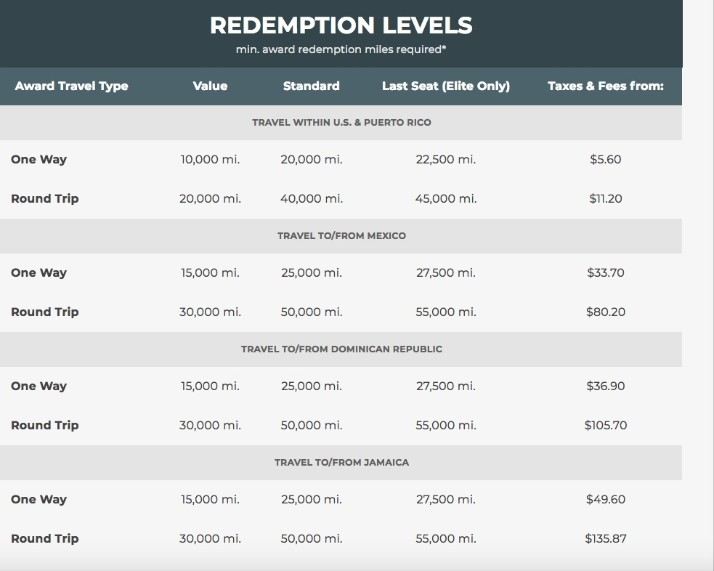 See program terms and conditions for additional details and information.
Frontier Miles award change and booking fees
When redeeming miles for award travel, be prepared to pay for the privilege with Frontier. You will be charged for changing and canceling award tickets.
Award travel booked 180 or more days in advance is free. Bookings between 179 and 21 days cost $15, between seven and 20 days is $50 and $75 for bookings under six days. Remember, if you choose to call Frontier to book award tickets, it will cost $10.
If you need to make any changes to award tickets, you must call Frontier at 801-401-9000 — and pay the $10 phone charge. Changes made eight or more days before travel won't be charged a fee if the class of service is available for the new flight. But you'll pay a $99 fee for changes made to an award ticket within seven days of travel. If you cancel an award ticket, it will cost $75 to redeposit miles back into your Frontier Miles account.
Tip: Avoid pesky redemption fees by being a The Frontier Airlines World MasterCard® holder or an elite status member; booking flights 180 days or more in advance; or be a traveling companion booked on the same reservation as a The Frontier Airlines World MasterCard® holder or a flyer with Frontier Miles elite status.
How to get the most from your Frontier Miles
Since Frontier has a relatively small route network, the best award value options are somewhat limited. As a general rule, travel to Puerto Rico on Frontier with miles is a good deal at 20,000 miles round-trip, like the round-trip flight from Detroit on May 22-26, 2019, illustrated below.
Delta Air Lines award flights on the same route range from a low of 38,500 to a high of 67,000 miles. On American Airlines, be prepared to redeem 62,500 for a similar flight.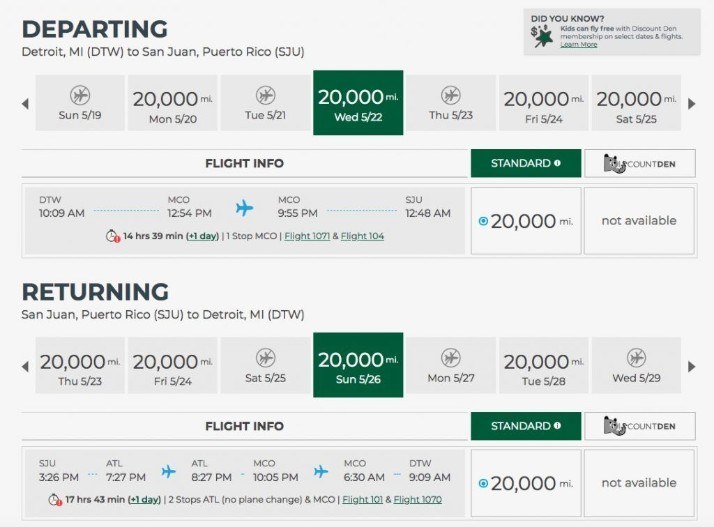 The same Frontier flight, below, would cost $492, so you're much better off using award travel miles.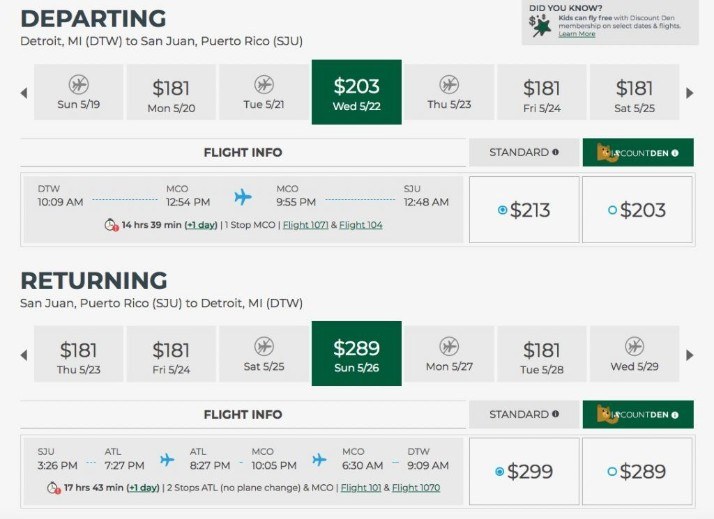 Frontier also offers good value for travel to Mexico and the Dominican Republic, at 30,000 miles round-trip. American Airlines' redemption costs roughly the same to fly to both countries, while United Airlines adds up to around 35,000 miles.
If the timing is right, you can also get good rewards redemptions for flights within the U.S. on expensive days or at the last minute, as long as you can find a flight with availability at 20,000 miles round-trip or 10,000 miles each way.
Other ways to redeem Frontier Miles miles
Hotels. While you can use your miles to book hotels, the redemption value isn't very good. An overnight stay at a 3-star Chicago hotel for two adults in June will run you between 27,600 miles (0.0043 cents per mile) for the Holiday Inn O'Hare to 95,400 (0.0050 cents per mile) for the AC Hotel by Marriott Downtown.
Rental cars. Like hotels, Frontier Miles miles aren't worth nearly as much as redeeming them for flights. Rent a full-size, four-door car at participating Hertz® locations in the U.S. for three days for 18,000 miles or $424.11 (0.023 cents per mile). Or redeem 45,000 or $478.29 (0.010 cents per mile) for a seven-day rental of an SUV or minivan at participating locations in the U.S.
For 22,000 miles or $211.36 (0.0096 cents per mile), rent a midsize car for two days or 52,000 for seven days or $566.16 (0.010 cents per mile) with National Car Rental®.
Alamo Car Rental® has several options: 9,500 miles or $86.29 (0.0090 cents per mile) for a one-day rental of a compact full-size car; 27,000 miles or $246.25 (0.0091 cents per mile) for the same car for three days; 12,500 or $90.84 (0.0072 cents per mile) for a two-day weekend rental of a compact full-size car; 18,000 miles or $126.01 (0.0070 cents per mile) for the same car for three weekend days; and 45,000 miles or $262.20 (0.0058 cents per mile) for three weekend days on a premium/SUV.
Magazines. Get a yearlong subscription to top magazines including Barron's, Sports Illustrated, Fast Company, People and Food & Wine, ranging from 600 to 2,700 miles.
Tip: Remember to have activity on your Frontier Miles account every six months so you don't lose the miles you earn. That includes redeeming miles for a flight, hotel or rental car, buying something on your The Frontier Airlines World MasterCard®, earning miles from a Frontier partner or donating them to charity.
How much do Frontier Miles upgrades cost?
Frontier doesn't offer first class, but it does offer what it calls "stretch seats" that offer extra legroom. It costs $20 if you book it online or via the call center (but remember that $10 charge to speak with a customer service agent) or $25 if you do it via web check-in, at the airport ticket counter or a self-service kiosk.
When do Frontier Miles miles expire?
Your miles will expire if there's no activity on your account at least once every 180 days. Activities to keep your miles from expiring include flying on Frontier, using the The Frontier Airlines World MasterCard® or using miles on its partners. Miles can be reinstated, but you'll have to pay, based on the chart below.
Can you earn elite status with Frontier Miles?
Frontier does offer elite status, which is unusual for ultra-low-cost carriers. Status benefits include:
Elite 20k Status: Fly 20,000 status qualifying miles or 25 segments and earn benefits such as a free carry-on bag, family points pooling with up to eight members, a free seat assignment, priority boarding, waived redemption fees, last seat availability when redeeming miles and the chance to get stretch seating at check-in.
Elite 50k Status: Fly 50,000 miles, or 50 segments, and receive all the benefits above, plus free stretch seating, 50% off a Discount Den membership, 1.25X miles on flights and family seating, and seat assignments for the member and up to eight traveling companions on the same reservation.
Elite 100k Status: Flying 100,000 miles or 100 segments gives you all the above benefits plus a free Discount Den membership, 1.5X miles on Frontier flights, a free checked bag and family status with the WORKSSM bundle for you and up to eight traveling companions on the same reservation. The bundle includes a carry-on and checked bag, seat selection, priority boarding, flight flexibility and 100% refundability.

Tip: Status Qualifying Miles only go toward earning elite status. You can't redeem them for flights or with Frontier's partners. Special bonus miles, mileage multipliers and other promotional miles don't count as qualifying miles.

Earning miles

Thanks to its many partnerships, Frontier Airlines allows loyalty program numerous opportunities to earn miles. The Frontier Airlines World MasterCard® members can earn 50,000 bonus miles after spending $500 on purchases within the first 90 days. That's a good way to jump-start your Frontier Miles account.

Then earn 5X miles on eligible purchases at flyfrontier.com, 3X miles on restaurant purchases and 1X miles on all other purchases. Miles earned for Frontier purchases and restaurants are more generous than what's offered by competing airline credit cards. The card has a $0 intro annual fee the first year, then $79.

After spending the required amount to receive the card's sign-up bonus, those points are deposited into your Frontier Miles account within four to six weeks. Miles earned on the card post to your account between eight and 10 weeks.

Earn points on 17 Frontier Airlines partners, including seven car rental companies, four hotel loyalty programs, along with Groupon, Teleflora, Vinesse Wines, Points, Frontier Cruises and Super Shuttle airport transportation. Also earn Frontier miles with Thanks Again every time you park, shop or dine at more than 100 North American airports or make purchases at more than 25,000 businesses nationwide.

Can you transfer Frontier Miles to someone else?

It's possible to transfer your Frontier Miles to another person if they need to top up their account for an award. But know it won't be cheap, since Frontier charges 0.025 cents per mile to transfer between 1,000 and 25,000 miles. It will cost you between $25 and $625, which is pretty high. So don't consider this option unless you're only a few miles away from redeeming award travel.

Frontier Airlines also has a family pooling program that could be an option. A Frontier Miles member must opens a family pooling account and serve as the head of the group. The head of the pool can invite up to eight friends and family members to join and share miles. Once your pool has enough miles, the head can redeem them for an award flight. Note that this benefit is only available for those with elite status or those who have the The Frontier Airlines World MasterCard®.

The best option is to use your miles to book a ticket for someone else online at the myFrontier portal.

The bottom line

You must be a regular flyer on Frontier Airlines to get the most out of the Frontier Miles loyalty program. Regular flyers know that the Denver-based carrier has a limited route network as it doesn't have airline partners, belong to a global carrier alliance or fly internationally beyond limited cities in Canada, the Dominican Republic and Mexico.

Frontier offers good ways to earn miles. Redemption for award travel is simple and pretty generous. Other ways to earn miles include spending on the The Frontier Airlines World MasterCard® and Frontier's 18 travel- and non-travel partners. Redemption options include hotels, rental car companies and magazines.

The airline makes all its seats available for award travel, but thanks to limited frequencies on its routes, you may have to be more flexible when booking a flight. You could also face long layovers and several stops before reaching your final destination.

As is normal with ultra-low-cost carriers, be prepared to pay fees for everything from luggage to seat selection. It's rare to see an elite status program on budget airlines, so it's a welcome perk for loyal travelers despite the limited benefits when compared with legacy carriers.