How to Book Hotel Rooms for Someone Else With Points
Updated on: April 11th, 2019
Editorial Note: The content of this article is based on the author's opinions and recommendations alone. It may not have been reviewed, approved or otherwise endorsed by the credit card issuer. This site may be compensated through a credit card issuer partnership.
Have some extra points and want to use them to book a hotel night for a friend or family member? Sharing your points with others is a great way to extend your travel perks to others and let them enjoy the benefits of your reward programs. When you book a room for someone else with your hotel rewards, along with a free stay, your guests could also be treated to program perks like priority rooms, free Wi-Fi and late checkout.
Depending on the hotel loyalty program, it's a hit or miss. When booking for another isn't allowed, it is sometimes possible to transfer points, combine them or give them as a gift instead. These options can be free of charge or be assessed a fee, based on the particular program.
Also, since Marriott acquired Starwood Hotels in 2016, there have been some major shake-ups in the hotel rewards industry. In February 2019, Marriott rolled out its new Marriott Bonvoy™ rewards program, which now includes the former Marriott Rewards, Starwood Preferred Guest and Ritz Carlton Rewards programs. The new Bonvoy program includes some of the best features of the former SPG program and Marriott rewards, and members of both can easily merge their accounts.
This post covers the booking and transfer policies for major hotel programs.
Click below to learn more:
Hotel Programs
Paris-based Accor Hotels does not allow you to use your points for anyone else and your rewards are not transferable to someone else's account. However, you can redeem points for hotel vouchers, starting at 2,000 points per €40 voucher.
Terms and conditions do not specify that you can or can't book a reward for someone else, but you cannot modify the name in the reservation when you book a room nor add an additional guest to your stay. For that reason, it's not easy to book a hotel room for someone else using Best Western Rewards points.
However, transferring points is allowed between people as long as they share the same physical address. You need to contact Best Western customer service in order to initiate the points transfer.
It is possible to book awards for others over the phone by calling 888-770-6800, but only for immediate family members, which includes a spouse, partner, children, parents, in-laws, brothers and sisters. When you book a reward for a qualifying family member, ask the reservation agent to add that person's name in the notes field of the reservation. Choice points cannot be transferred, including in your will or by divorce.
You can book awards for other people directly online. Elite members can transfer points to another member's account by request through member services. Non-elite members can also transfer points to another person in your household through member services as long as both people have been members for at least a year and neither account has had an address change in the past 30 days.
Hilton Honors offers some of the most flexible options for using your rewards for a friend or family member. The program allows members to gift, share or even pool their points with others. You can transfer between 1,000 and 500,000 points to another Hilton Honors member free of charge. You can gift points to someone else, but Hilton will charge $10 per every 1,000 points. To maximize benefits, Hilton offers points pooling, where up to 10 members can pool their points for free and share up to 500,000 points per year (and receive up to 2 million points). To start pooling, you'll need to create a group online and invite other members to join the group.
New members can receive points through pooling, transfer or gifting within 30 days of signing up — as long as they have activity on their account. If not, you'll have to wait 90 days. Also, members are limited to six pooling transactions and six transfers per calendar year.
For assistance with any of Hilton's programs, members can call 800-446-6677, or check out this cheat sheet for using your Hilton HHonors points.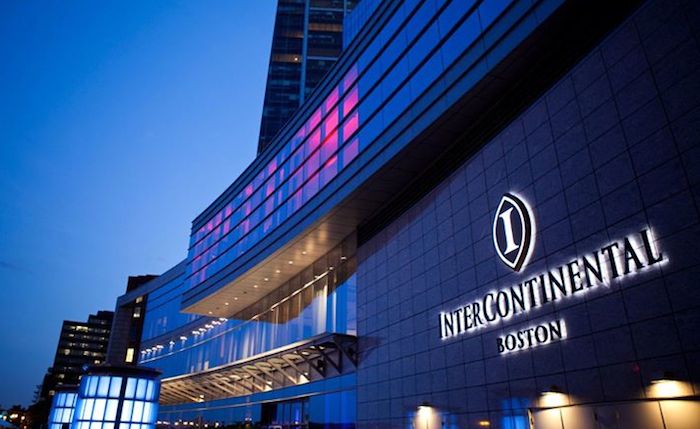 IHG Rewards Club allows members to use rewards to book a room in someone else's name, but you'll need to enter that individual's name when you book online or provide the information when you book via phone reservations at 888-211-9874. You can also give or transfer points to family or friends, as long as they are also IHG members. You can transfer points with no limit to another member for a fee of $5 per 1,000 points. You can transfer or gift awards online or by calling 888-211-9874. Note that, like for other chains, the Chase free night from the IHG® Rewards Club Premier Credit Card is not transferable.
Marriott's rewards program, which launched in February 2019, includes the former Marriott Rewards, Ritz Carlton Rewards and SPG programs, and allows you to use points to book rooms at 6,700 hotels and resorts worldwide. With the Bonvoy program, you can purchase up to 50,000 points per year for yourself or another member. To book a room for someone else using your rewards, you'll need to contact member support at 800-627-7468. At this time, you can't book a room for another person online.
With the new Marriott Bonvoy program, you can also share points with another member by calling member support at 800-627-7468, as long as both accounts are in good standing and have been open for at least 60 days. You can transfer 1,000 points or more at a time and up to a maximum of 100,000 points per year.

Hyatt allows you to easily book a room for someone else or share an upgrade by calling 800-544-9288. Better yet, if you are a Globalist member, the Guest of Honor perk allows you to transfer all your Globalist benefits (like late checkout and free breakfast) to the person you're redeeming for, and you can share points or free night awards with any World of Hyatt member. Note that the Chase anniversary free night from the World of Hyatt Credit Card is not transferable.
You can also fill in a points combining request form and email it to Hyatt to transfer points from one member to another (at no charge) but you are limited to one sharing transaction per 30-day period on a given account.
According to Wyndham's terms and conditions, redeeming points for another person is allowed and should be possible online or by phone. Wyndham does not, however, allow the transferring of points between accounts. Wyndham Diamond Level members can give Gold level status to a friend or family member, providing them access to perks such as late checkout and priority rooms. You can only award one Gold level membership per calendar year.
Omni's rewards program doesn't allow members to book a room for someone else, but you can transfer points to another individual, but you'll have to take a few steps to make it happen. To transfer awards, Select Guest members should email member support at [email protected] and include your name, account number, the name of the person you'd like to transfer awards to and their member number. If they are not a member of Select Guest, Omni will create an account for them and you should include their name, email, phone number and address. Omni says it could take one to two days to process the transfer.
Bottom line
Using your hotel points to book a room for friends or family is definitely a good option. Unfortunately, not all programs are alike and only some hotel programs allow you to make an award reservation in the name of another person. You still have options though, as most programs allow members to transfer awards, combine points or give points as gifts to other members (sometimes with a fee and award point limits).
Since the program has different rules, look closely at the terms and conditions of your program. Most programs have some way to share your points, but it isn't always simple and it often comes with a charge. And, the rules and limits can also change (or even become a new program, in the case of Marriott Bonvoy), so be sure you're consulting your program's most recent information. As a general rule, using your airline miles for another person is more straightforward than sharing your hotel points.