How to Read United Expert Mode Fare Codes
Updated on: May 10th, 2019
Editorial Note: The content of this article is based on the author's opinions and recommendations alone. It may not have been reviewed, approved or otherwise endorsed by the credit card issuer. This site may be compensated through a credit card issuer partnership.
United Airlines' Expert Mode gives experienced travelers access to a detailed view of fare class inventory at United.com that's typically only seen by reservation agents.
The cryptic combinations of letters and numbers are incredibly useful for determining which flights have space for upgrades, where award space is hiding, and whether you have a decent shot of standing by for a flight — all in one quick glance. Note that while helpful, the feature is intended for informational purposes only, and may not always match United's exact availability or reflect the stages of the upgrade process.
Below we outline how to turn on Expert Mode and all the ways you can use it to hunt for available seats in all cabins on United flights.
How do I use United Expert Mode?
Before turning on United's Expert Mode (instructions below), please note the following:
It is not a forecasting tool. Availability levels in certain fare classes should not be interpreted as indicating that other fare classes will be made available.
Not all upgrades are cleared in real time. The airline's process of clearing upgrades varies based on the type of upgrade and when upgrade inventory becomes available. Upgrades that can't be cleared in advance will be managed at the departure gate, subject to availability and in Premier MileagePlus priority order.
Complimentary Premier Upgrades (CPUs). As a Premier MileagePlus® loyalty program member awaiting a CPU, you may see upgrade availability and still not be cleared. This is because the process for clearing CPUs runs at 24-hour intervals before the departure date, based on the eligibility window for a traveler's Premier status. Inside of 24 hours, the process will run more frequently. When these processes run, they take into consideration all customers awaiting an upgrade at that time and clear them in update priority order.
All other MileagePlus upgrades: Waitlists are cleared in real time except during the 24-hour period before trip departure. Inside this 24-hour window, upgrades requested for flights in CPU-eligible regions will be cleared using the same automated system that processes CPUs. For all other flights, upgrade clearance inside of 24 hours will be managed at the departure gate in priority order.
United Airlines phone agents will not clear pending upgrades. Those agents don't have complete visibility into the upgrade priority order for a given flight. You can view the status of your pending upgrade through the manage reservations function at united.com.
Availability changes frequently. Sometimes the fare class information in Expert Mode may not be completely up to date. While this is rare for United and United Express-operated flights, it is not uncommon with flights operated by codeshare partners and other airlines.
You can enable Expert Mode by following this link  to set your United.com search preferences.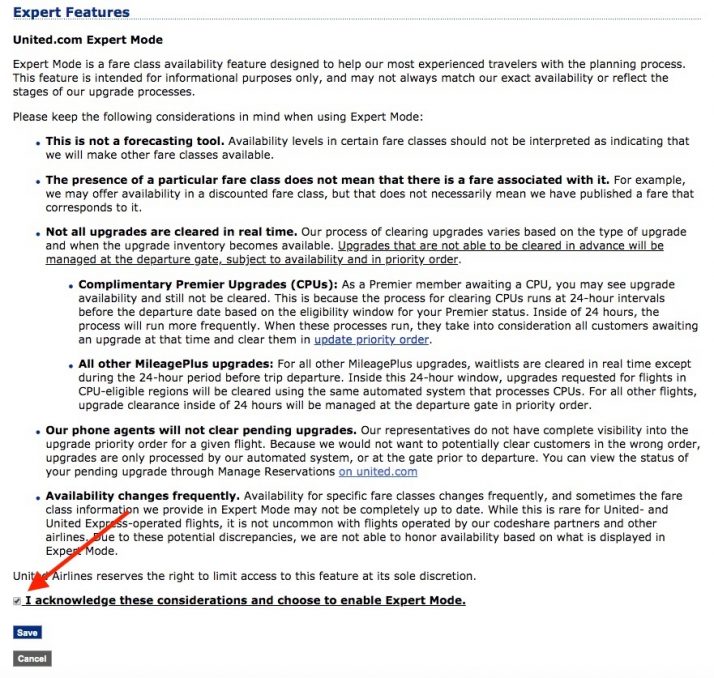 Once checked and saved, you'll see the fare code details after clicking the 'Details' arrow while searching for flights on United.com.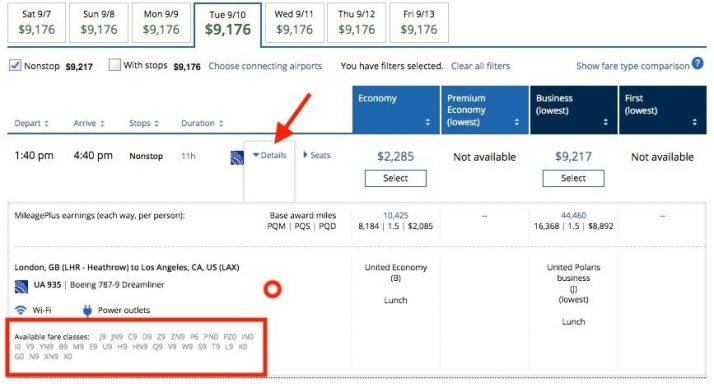 Expert Mode visible on a United.com search
United offers up to three classes of service, depending on whether it's a domestic or international flight: first class (domestic), Polaris Business class (for international flights), Premium Economy (on select international flights), and economy class, illustrated below.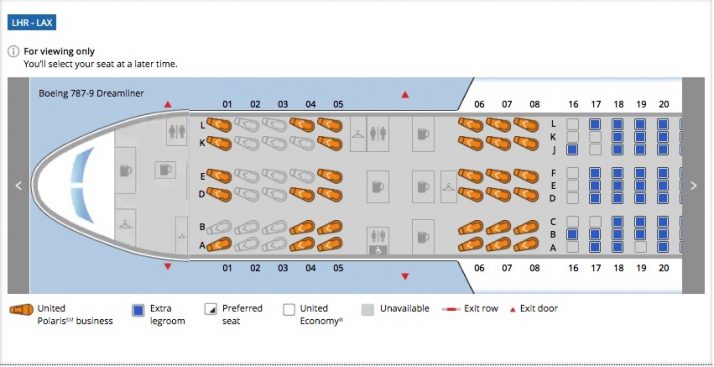 In the example above, there are currently 33 international Polaris business class seats on this London-Los Angeles Boeing Dreamliner 787 flight.
In the illustration below, we see seat availability for Economy Plus (with extra legroom) preferred seats and the remainder of economy class. Seeing this in Expert Mode allows you to get a sense of how full a flight is when you want to check your chances of getting an upgrade or clearing standby.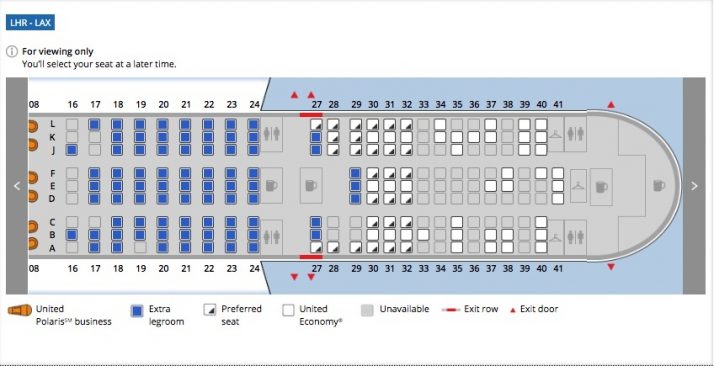 Tip: Airlines often sell more tickets than there are actual seats, so the numbers you see aren't the number of seats left. They represent the number of seats they are willing to sell. If you see a flight with all seats grayed out, it means there are no seats left for sale, and it's possible the flight is oversold.
Revenue fare code list
If you're a true aviation geek, here's a list of what each of the fare codes typically maps to via Flyertalk.
J – Full Fare Business
C – Discount Business
D – Discount Business
Z – Deep Discount Business
P – Deep Discount Business
O – Full Fare Premium Economy
A – Discount Premium Economy
R – Deep Discount Premium Economy
Y – Full Fare Coach
B – Full Fare Coach
M – Discount Coach
E – Discount Coach
U – Discount Coach
H – Discount Coach
Q – Discount Coach
V – Discount Coach
W – Deep Discount Coach
S – Deep Discount Coach
T – Deep Discount Coach
L – Deep Discount Coach
K – Deep Discount Coach
G – Deep Discount Coach
N – Basic Economy
What fare classes are upgradeable?
All fares except for Basic Economy are upgradeable with either cash, miles plus a cash copay or a Regional Premier Upgrade — one-way upgrades that are confirmed as early as time of ticketing on eligible United, United Express® and Copa Airlines operated flights — depending on availability.
If you're using a Global Premier Upgrade for a long-haul international flight, these fare classes are available for upgrades:
Economy to Business: Y, B, M, E, U, H, Q, V, W, S, T, L, K and G.
Premium Economy to Business: O, A and R
Upgrade waitlists are processed in the following priority order:
Premier status of the traveler
Fare class
United Club℠ Card cardholders and United MileagePlus® Presidential PlusSM Card

 

cardholders
United℠ Explorer Card cardholders with $25,000 annual spend
Time of request
The bottom line
Thanks to Expert Mode, travelers who want to inquire about seat availability or check their chances for upgrades have much of the same information United's reservations agents have. As United cautions, Expert Mode isn't guaranteed to be accurate all the time, but it does give you a leg up on travelers who don't use this feature.
It does take some time and a few extra steps during the search and booking process, but if you're willing to make the effort, it could get you a seat in a premium cabin — or at least far away from the lavatory!
The information related to the United MileagePlus® Presidential PlusSM Card and the United Club℠ Card has been independently collected by LendingTree and has not been reviewed or provided by the issuer of this card prior to publication. The United MileagePlus® Presidential PlusSM Card is currently unavailable to new applicants.