How Does LendingTree Get Paid?
LendingTree is compensated by companies on this site and this compensation may impact how and where offers appear on this site (such as the order). LendingTree does not include all lenders, savings products, or loan options available in the marketplace.
How to Transfer Hilton Honors Points to Friends for Free
Updated on: March 18th, 2019
Editorial Note: The content of this article is based on the author's opinions and recommendations alone. It may not have been reviewed, approved or otherwise endorsed by the credit card issuer. This site may be compensated through a credit card issuer partnership.
As a Hilton Honors member, you may have racked up the points and want to share the wealth with friends and family. Hilton offers two options that let you do it — for free.
We'll offer step-by-step instructions on how to transfer or pool your points, and answer questions about both processes. We'll also look at other alternatives — but know it will cost you to do them.
Transfer your points
You can transfer your points to other Hilton Honors members at no charge as long as they are also a Hilton Honors member. Start by signing into your Hilton Honors account. Decide how many points you want to transfer, along with the name, email address and the Hilton Honors member number of the recipient and submit the form.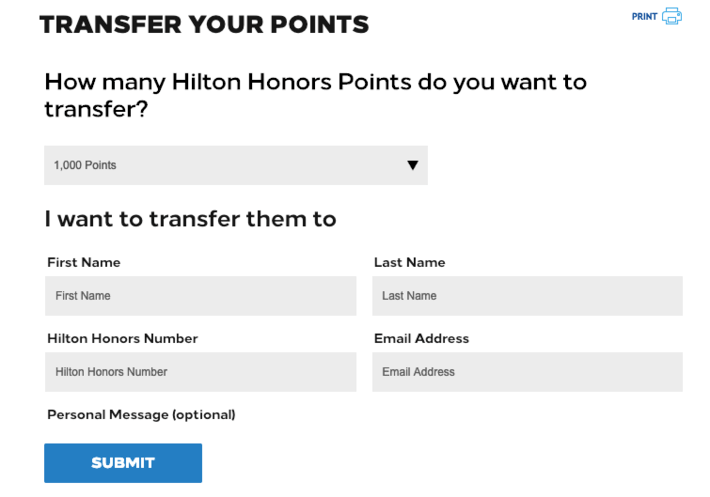 Rules to transfer your Honor points are:
You can transfer points up to six times a year
There's a maximum of 500,000 points per transfer
You can transfer as few as 1,000 points
The program allows you to receive a maximum of two million points in a year
Transfers post within 24 hours. They're also reversible using the same method, but when your recipient transfers back, they'll be dinged for one of their six transfers per year.
Pool your points
Hilton also offers points pooling, which works almost exactly the same way as transfers. Hilton Honors members can combine their points with family and friends to book a stay. Choose up to 10 people to be in your pool and request they send their points to your account.
People in your points pool will receive an email that looks like this: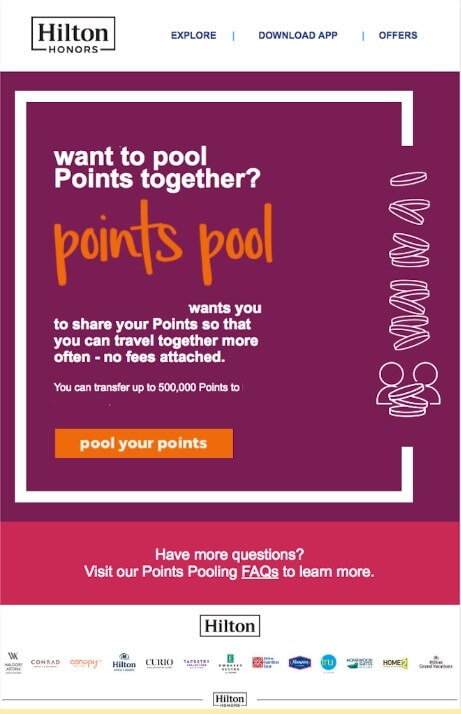 Each pool member can click on the 'pool your points' button, enter how many points they want to transfer and the primary Honors member will receive them. Pooling does not create a joint account where you can all see the points together. It just sends points from whoever responds to the member who starts the pool. Most people will find it simpler to do a points transfer, but it's nice to have pooling as another option.
These combined points could unlock new redemption opportunities, including rooms, upgrades and Hilton Honors experiences. You can also use Points & Money Rewards™ to cover a room reservation.
To use Points Pooling, you must be an active Honors member, have been in the program for at least 30 days and have at least 1,000 points in your account. Transferred or pooled points are available instantly, but Hilton asks members to wait up to 24 hours for them to show up in an account. Points can be transferred back for free if a room booking is canceled.
Buy, gift or exchange Hilton Honors points
If you don't have enough points in the bank and would like to purchase points for someone, Hilton Honors members are allowed to buy up to 80,000 points a year, which can then be transferred. The cost ranges from $10 for 1,000 points all the way up to $800 for 80,000 points. They're available within 24 hours and don't count toward Hilton Honors status. The process and cost to gift points is the same, except you need to add the name, email and Honors number of the recipient.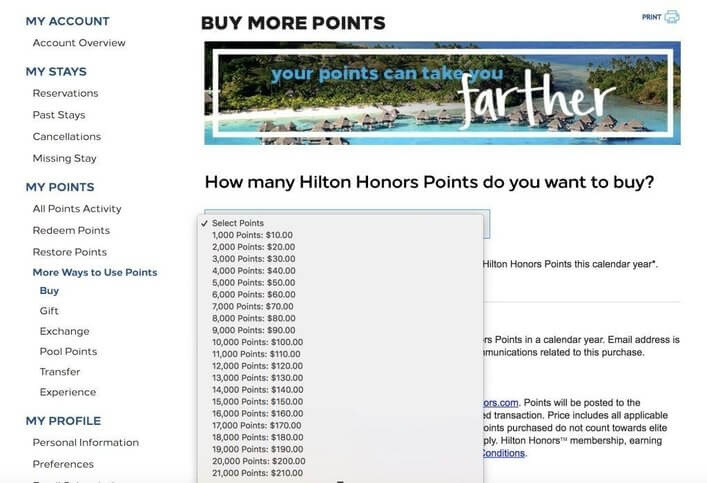 Still need more points? If you have extra points or miles on Amtrak, Hawaiian Airlines or Virgin Atlantic, call each company's customer service to have them transferred into your Hilton Honors account.
Exchange 5,000 Amtrak Guest Rewards® Points for 10,000 Hilton Honors Points: 800-307-5000
Exchange 10,000 Hawaiian Airlines Miles for 15,000 Hilton Honors Points: 877-426-4537
Exchange 10,000 Virgin Atlantic Flying Club miles for 15,000 Hilton Honors Points: 800-365-9500
And know that if you hold an American Express® card that offers Membership Rewards® points, you can transfer them to Hilton Honors in increments of 1,000 and a ratio of 2:1.
The bottom line
It's always good to have options when it comes to transferring Hilton Honors points as needed. And it's even better when the two top ways to make transfers are free. However, the cost to buy or gift points can be high, at up to $800, so we advise doing so only if you need a few points to redeem for a hotel stay.