Priority Boarding with United Credit Cards: How It Really Works
Updated on: February 20th, 2019
Editorial Note: The content of this article is based on the author's opinions and recommendations alone. It may not have been reviewed, approved or otherwise endorsed by the credit card issuer. This site may be compensated through a credit card issuer partnership.
Airlines have tinkered with how to board passengers in the most efficient way possible for years — while ensuring that those efforts still take care of their best customers. In September 2018, United unveiled its Better Boarding program, which it says was designed to give customers more space at the gate, less time waiting in line and improved boarding information, which the airline hopes creates "a less stressful environment."
We take a look at the Better Boarding system and see what boarding perks come for those carrying United-branded credit cards.
How Better Boarding works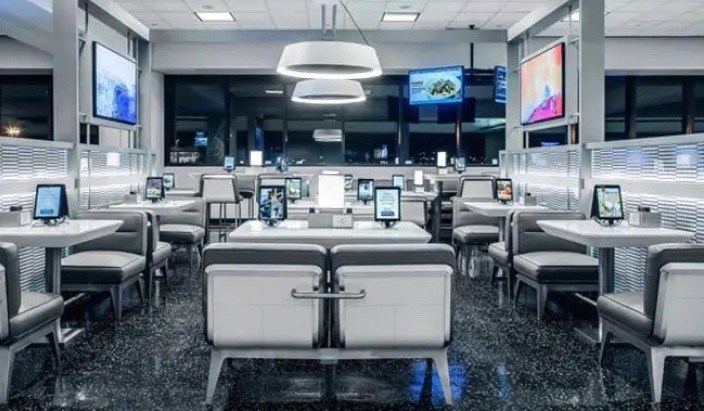 Photo courtesy of United Airlines – https://hub.united.com/
Instead of five lanes for travelers, United now has two lanes for five groups — one for its top customers and one for everyone else. The airline made this change so that customers could have more space to relax in upgraded gate areas — including in Terminal C at Newark-Liberty International Airport, which now has more comfortable seating where travelers can have food and drinks delivered to their gates.
United MileagePlus Premier 1K customers who previously boarded in group one can now pre-board, while Premier Gold customers move from group two to group one boarding. It expanded military pre-boarding group from only uniformed military members to all active duty military members. And qualifying United credit cardholders will continue to receive priority boarding in the first boarding lane with groups one and two.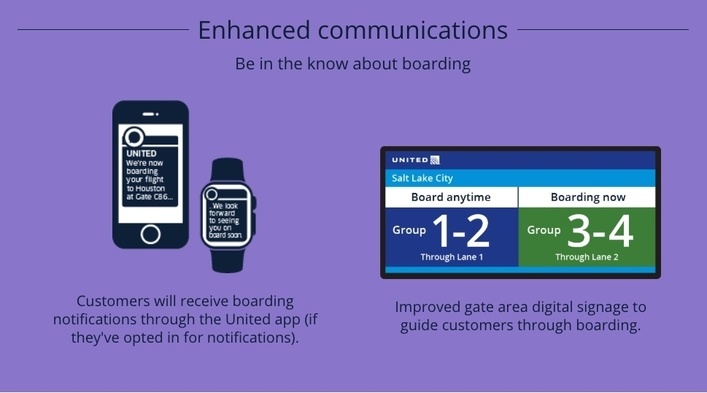 Photo courtesy of United Airlines – https://hub.united.com/
Those with the United app now receive an alert when boarding has begun for their flight, making it easier to know when to get to their gate. Customers will only receive notifications if they opted in for push notifications and have a mobile boarding pass in the United app wallet. Digital displays in the gate area also keep customers informed with the latest boarding information. Here's the boarding order, broken down by priority:
Pre-boarding
Customers with disabilities
Active members of the military
United Global Services® members
Families traveling with children age 2 and younger
Premier® 1K® members
Group 1
Premier Platinum members
Premier Gold members
Star Alliance™ Gold members
Customers seated in premium cabins: United Polaris®, United First® and United Business®
Group 2
Premier Silver members
Star Alliance Silver members
Customers who have purchased Premier Access® or Priority Boarding
United℠ Explorer, Club, Presidential Plus℠ and Awards cardmembers
Groups 3 – 5
Economy Plus®
United Economy®
Basic Economy*
*Customers with a Basic Economy ticket will be in the last boarding group, except for Premier members, United Chase cardholders and Star Alliance Gold members, who will still receive their priority boarding in group 2, lane one.
United credit cards
United's (with an annual fee of ) comes with priority boarding in group 2 as part of Premier Access. This access includes priority check-in, security lines, boarding and baggage handling where available.
But if you're a cardholder with MileagePlus Premier elite status from gold up, you can either pre-board or board in group 1, depending on your status.
The bottom line
United started testing different boarding concepts in the fall of 2017, asking for feedback from customers and employees. After testing at different airports, United began rolling out parts of the program, including updated signage at select airports across its network in early 2018 and rolled it out in phases the rest of the year.
These changes mean two things. One, there won't be as much crowding at the gate when it's time to board the flight. And two, the earlier you board, the more likely it is there will be overhead bin space available for your carry-on bag unless it's a business traveler-heavy flight.
Your MileagePlus® frequent flyer number should be entered when making your reservation in order to get a higher boarding group number. Waving your credit card at the gate agent won't work, but showing your MileagePlus card will in case your group number isn't on your paper or mobile boarding pass.
The information related to the  has been independently collected by LendingTree and has not been reviewed or provided by the issuer of this card prior to publication.