How Does LendingTree Get Paid?
LendingTree is compensated by companies on this site and this compensation may impact how and where offers appear on this site (such as the order). LendingTree does not include all lenders, savings products, or loan options available in the marketplace.
| Advertising Disclosure
LendingTree is an advertising-supported comparison service. The site features products from our partners as well as institutions which are not advertising partners. While we make an effort to include the best deals available to the general public, we make no warranty that such information represents all available products.
United Premier Silver Status Benefits
Updated on: April 5th, 2019
Editorial Note: The content of this article is based on the author's opinions and recommendations alone. It may not have been reviewed, approved or otherwise endorsed by the credit card issuer. This site may be compensated through a credit card issuer partnership.
When airline loyalty programs were first unveiled, miles were earned just based on how far you flew. Today, travelers can earn miles by also using their credit cards and spending on an airline's partners, and have been quick to take advantage of the perks that come with elite status, which ultimately costs airlines money.
In an effort to try to combat these losses, United Airlines changed its MileagePlus® loyalty program in June 2014 from earning miles based only on distance to earning miles based on those flown along with the fare paid. The move favored business travelers who tended to spend more on higher fares or paid for access to premium cabins. The change also allowed them to maintain their elite MileagePlus status.
The lowest MileagePlus elite status is Silver, but what does that get you when competing against those with a higher status? Are the perks that come with Silver status enough to make it worth having? Here's what you need to know about United Silver status, the entry level in United's MileagePlus Premier program.
How to qualify for United Premier Silver status
You can qualify for United Premier Silver status in one of two ways:
Fly 25,000 Premier Qualifying Miles (PQMs) and spend $3,000 in Premier Qualifying Dollars (PQD) (for U.S. residents) on United or United Express in a calendar year.
Fly 30 segments Premier Qualifying Segments (PQS) and spend $3,000 in PQDs (for U.S. resident) on United or United Express partners within a calendar year.
Silver members earn PQMs, PQSs and PQDs on Star Alliance tickets issued by United Airlines. If your ticket is issued by Star Alliance carriers, you can only earn PQMs and PQSs.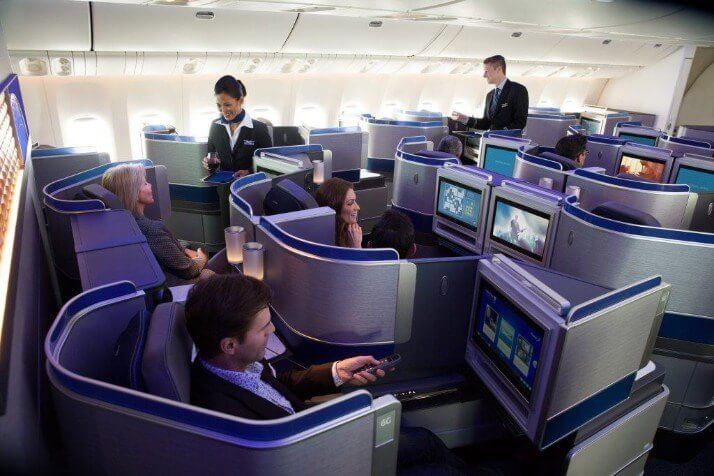 What you get with United Premier Silver status
United Airlines Premier Silver status provides the following benefits:
Free access to Economy Plus seating for you and a companion on the same reservation at check-in when available. This is one of the best benefits of Silver Premier status since Economy Plus seating is at the front of the plane with extra legroom.
Free Premier upgrades for you and a companion on the same reservation on the day of departure. It's not likely that you'll get a cabin upgrade with Silver status, but nothing is impossible. You'll be standing in line behind those with Gold, Platinum, 1K® (million-mile flyers) and Global Services status. So if there are upgrades available at all, it's likely they will go to someone with higher status. United has also been selling empty premium class seats at a discount during check-in, so fewer of them are available for upgrades on the average flight.
Instant upgrades on Y- or B-class, full-fare economy tickets. For flights eligible for free upgrades (flights within North America without a Polaris business cabin), you can get upgraded instantly if upgrade space is available. A lot of the time buying a first-class fare will be cheaper than buying a 'Y' or 'B' fare and upgrading, so this benefit has limited value.
At least 500 PQMs per flight. Whenever you fly, you will earn at least 500 miles toward your PQMs. This means that even if you are taking a very short flight that is only 201 miles, you will earn 500 miles.
7x fare redeemable mile accrual. You earn MileagePlus miles based on the cost of the ticket rather than the distance that you fly. Premier Silver members receive 7 additional redeemable miles per dollar spent.
1 free 70-lb. checked bag for economy flights. If you frequently check bags, this can save you a lot of money. This perk is only available for flights operated by United or United Express.
Priority check-in, security screening, boarding and baggage handling. You'll board in Group 2, which includes Star Alliance Silver members, United Gateway℠ Card, United Club℠ Infinite Card and United℠ Explorer Card and United MileagePlus® Presidential PlusSM Card holders and those who purchased Premier Access® or Priority Boarding.
A dedicated Premier priority customer service phone number.
Priority award waitlisting. You'll be ahead of non-Premiers when you waitlist for cheaper Saver-level award seats and standby for international awards.
Unrestricted access to United Standard awards on United and United Express flights.
Better availability of United Saver awards in economy
Reduced or waived fees. This covers close-in award booking, award redeposit and award change fees.
These benefits are applicable for the rest of the year in which you qualify, the entire following year and January of the year after that. For example, if you qualified for United Premier Silver status in August 2018, it's valid from then to December 2018, all of 2019 and January 2020. While your status benefits will still be valid in January 2020, if you want to requalify for status beyond then, all status requirements must be met by the end of 2019.
16.49% to 23.49% Variable
$0 Intro for the First Year, then $95
Earn 2 miles per $1 spent on dining, hotel stays and United
Earn 60,000 bonus miles after you spend $3,000 on purchases in the first 3 months your account is open.
$0 introductory annual fee for the first year, then $95
Earn 2 miles per $1 spent on dining, hotel stays, and United purchases
Up to $100 Global Entry or TSA PreCheck® fee Credit
25% back on United inflight purchases
Check your first bag for free (a savings of up to $140 per roundtrip) when you use your card to purchase your ticket
Enjoy priority boarding privileges and visit the United ClubSM with 2 one-time passes each year for your anniversary
Earn 2 miles per $1 spent on dining including eligible delivery services
Earn 4 miles per $1 spent on United purchases, 2 miles per
Earn 100,000 Bonus Miles
Earn 4 miles per $1 spent on United purchases including tickets, Economy Plus, inflight food, beverages and Wi-Fi, and other United charges
Earn 2 miles per $1 spent on all other travel
Earn 2 miles per $1 spent on dining including eligible delivery services
Earn 1 mile per $1 spent on all other purchases
Up to $100 Global Entry or TSA PreCheck® fee credit
Free first and second checked bags - a savings of up to $320 per roundtrip. Terms Apply
25% back as a statement credit on purchases of food, beverages and Wi-Fi on board United-operated flights when you pay with your Club Infinite Card.
2 miles per $1 spent on United purchases, at gas stations and
Earn 20,000 bonus miles
No annual fee
Earn 2 miles per $1 spent on United purchases, at gas stations and on local transit and commuting
Earn 2 miles per $1 spent on United purchases
Earn 2 miles per $1 spent at gas stations
Earn 2 miles per $1 spent on local transit and commuting
Earn 1 mile per $1 spent on all other purchases
What is United Premier Silver status worth?
The most valuable benefits of Premier Silver Status are free access to Economy Plus seating toward the front of the plane, a free checked bag and reduced award fees.
Economy Plus Seating. Even if you only fly United a couple of times a year, you could easily save a few hundred dollars on Economy Plus seating, depending on the length of the flight. While not everyone feels Economy Plus is a perk, it is nice to have a couple of extra inches of legroom and be closer to the front of the plane, especially if it doesn't cost you anything extra.

You and a traveling companion booked on the same ticket can get Economy Plus seating 24 hours before flight time, when available. If you're connecting, you'll have access to Economy Plus seating for your full itinerary.
But understand that there are no guarantees that Economy Plus seats will be available when checking in for your flight. Those with higher status levels get access to Economy Plus sooner than Premier Silver members, plus travelers with no status can buy those seats right up until flight time.
Those with status also have the option to buy Economy Plus seating if they don't want to wait for a possible free seat. But if you've paid for a seat and a free one becomes available, you can't get a refund.
It's rare you'll find a flight with no Economy Plus seats available, but you may run into situations where only middle seats are available in Economy Plus. Then the question is: a middle seat with extra legroom or a window/aisle seat with less legroom?
If you usually buy Economy Plus seats, United Premier Silver status could easily save you hundreds of dollars a year. If you wouldn't otherwise purchase Economy Plus, having access to the seating for free because of your status won't save you money, but it will slightly increase the comfort of your journey.
Free checked bag. Having a free checked bag through Premier Silver status isn't going to be helpful to everyone, but it could help some. If you fly internationally, you already have a free checked bag included in your ticket.
If you have the United℠ Explorer Card or the United Club℠ Infinite Card, you automatically get a free checked bag.
The free checked bag benefits those who fly domestically. Being able to check a bag for free through your status will save you at least $60 per round-trip domestic flight. If you fly only five round-trip flights a year, your Silver status will save you $300 in bag fees.
Reduced award fees. If you book a lot of award travel, the fees that go with it can add up. While there's no overall award booking fee that applies to all itineraries, you will run into a lot of fees if you book last minute, make changes or cancel an award fee. As a United Premier Silver member, you generally won't receive a fee waiver, but you will receive reduced award fees, seen below: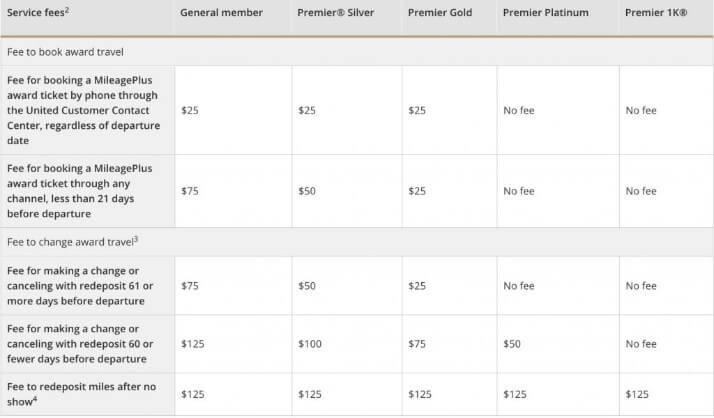 1Changes to tickets for flights within Japan (with no international connections) operated by ANA (All Nippon Airways) must be made at least four days prior to departure.
2When determining which service fees apply, the number of days before departure is calculated based upon the exact time of the scheduled flight departure.
3In cases where the customer cancels with no redeposit, the fee is based on the date the customer changes or requests redeposit, not the date the customer canceled.
4This fee applies to all members and is charged instead of the redeposit fee that applies if canceling before flight departure.
What about domestic first and international business class upgrades?
In short: don't count on them. Members with 1K, Premier Platinum and Premier Gold status will always be above you on the upgrade list. The following graphic illustrates how many elite flyers — 51 total — are jockeying for 12 first-class seats on this flight to Boston. The battle for business-class upgrades is similar on international flights.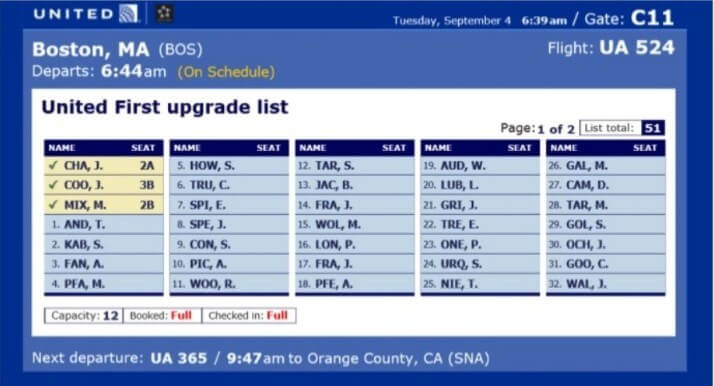 It's highly unlikely that Premier Silver MileagePlus members received those three open first class seats. Even members with higher status have found upgrades harder to come by over the years as United tries to increase revenue by selling unbooked premium cabin seats at a discount during check-in to those who book economy tickets.
It's definitely not worth booking extra flights to hit United Premier Silver status with the hope of getting upgrades to domestic first or international business class. But depending on your travel patterns, the other benefits of Silver status could make it worth it.
The bottom line
Premier Silver is United's lowest MileagePlus elite status when it comes to perks and benefits. The odds of getting those sweet premium cabin upgrades are practically nil, since you're competing with those with higher status and those who buy last-minute discounted United deals. You do get a discount on award booking service fees, but you'll still pay all of them, unlike Platinum and 1K members.
But it's not all bad news. The free checked bag on domestic flights can save you hundreds of dollars a year, depending on how much you fly on United. And there's a solid chance of getting free upgrades to Economy Plus seats that give you extra legroom.
So when it comes to United Airlines MileagePlus Premier Silver status, something is better than nothing.
The information related to the  United MileagePlus® Presidential PlusSM Card has been independently collected by LendingTree and has not been reviewed or provided by the issuer of this card prior to publication. The United MileagePlus® Presidential PlusSM Card is currently unavailable to new applicants.