How Does LendingTree Get Paid?
LendingTree is compensated by companies on this site and this compensation may impact how and where offers appear on this site (such as the order). LendingTree does not include all lenders, savings products, or loan options available in the marketplace.
How Salary and Income Affect Your Credit Score
Updated on: October 2nd, 2020
Editorial Note: The content of this article is based on the author's opinions and recommendations alone. It may not have been reviewed, commissioned or otherwise endorsed by any of our network partners.
No matter how big or small your paycheck, you can build great credit because income does not affect your credit score and is not included on your credit reports.
However, it is a factor when you apply for a loan or credit card as that is how lenders determine whether you have the ability to repay what you borrow.
We review what does and does not affect your credit score, as well as examine how reducing your debt-to-income (DTI) ratio is one of the best things to do before applying for new credit.
Know the difference between salary and income
Though people may use the words interchangeably, salary and income are not the same thing in the eyes of lenders.
Your salary is the compensation you earn from working, or what is reported on a W-2 form to the Internal Revenue Service (IRS) by your employer at the end of each year.
Your income — which includes your salary — is additional revenue from any number of sources. Social Security benefits, stocks, rent payments, child support and alimony are also considered income.
When applying for a credit card or loan, you generally are asked to list your total annual income. Note that if you're 21 years old or older, a rule enacted by the Consumer Financial Protection Bureau (CFPB) allows you to include third-party income on credit card applications if you have a reasonable expectation of access to it. This means applicants can include income from a spouse or partner when applying.
Neither your salary nor your income factors directly into the calculation of your credit score. However, a loss of income that affects your ability to pay your bills on time could have an impact, because late and missed payments reported to the credit bureaus hurt your score.
Factors that do affect your credit score
There are different types of credit scores. When you apply for a loan or credit card, lenders typically check your FICO Score, which can range from 300 to 850.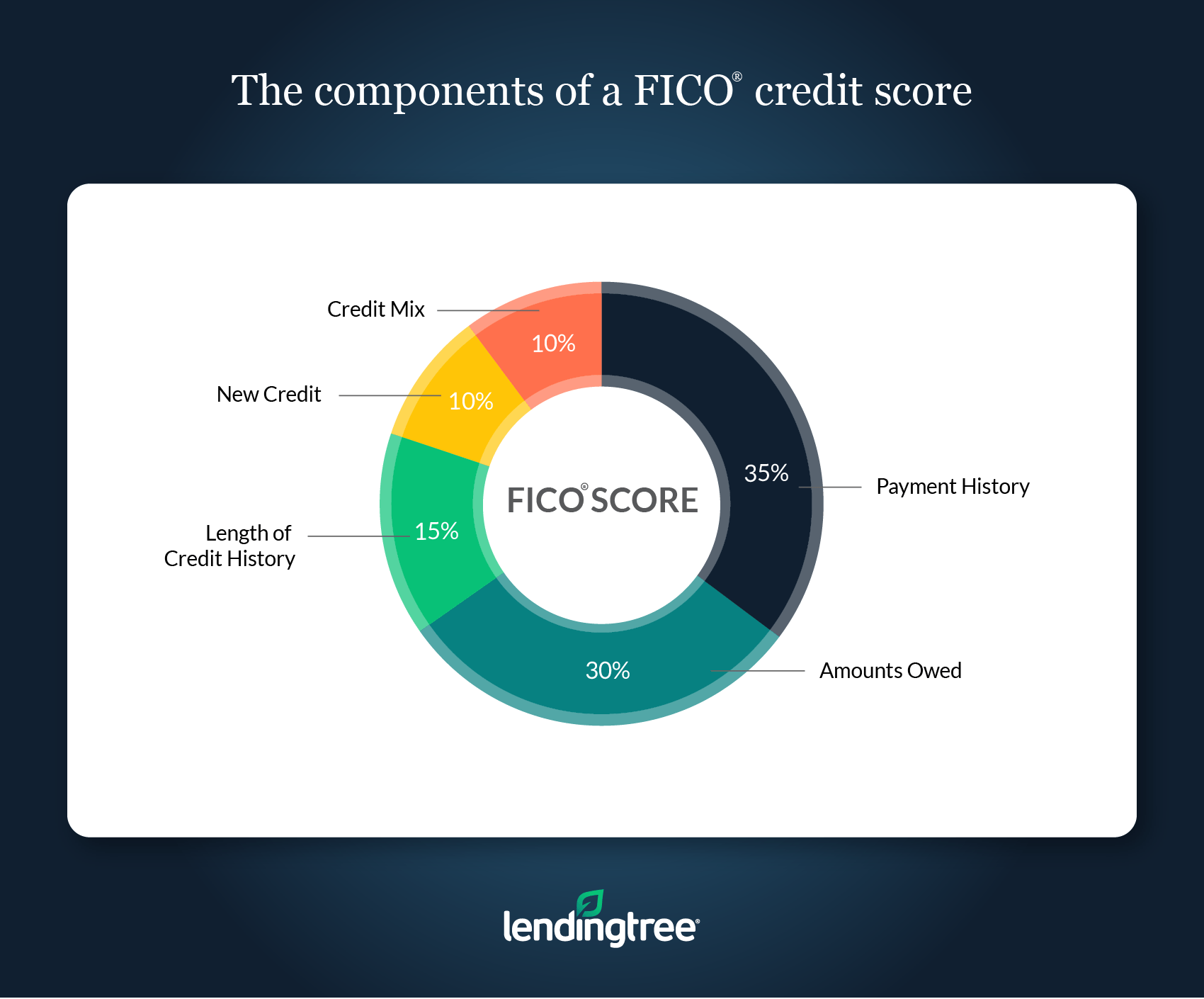 Here are the five factors that affect your FICO Score:
Payment history (35% of your score)
Amounts owed (30% of your credit score)
Length of credit history (15% of your score)
Credit mix (10% of your credit score)
New credit (10% of your credit score)
Your FICO Score isn't the only credit score you have, though. Another type of credit-scoring model you may encounter is VantageScore, which also ranges from 300 to 850.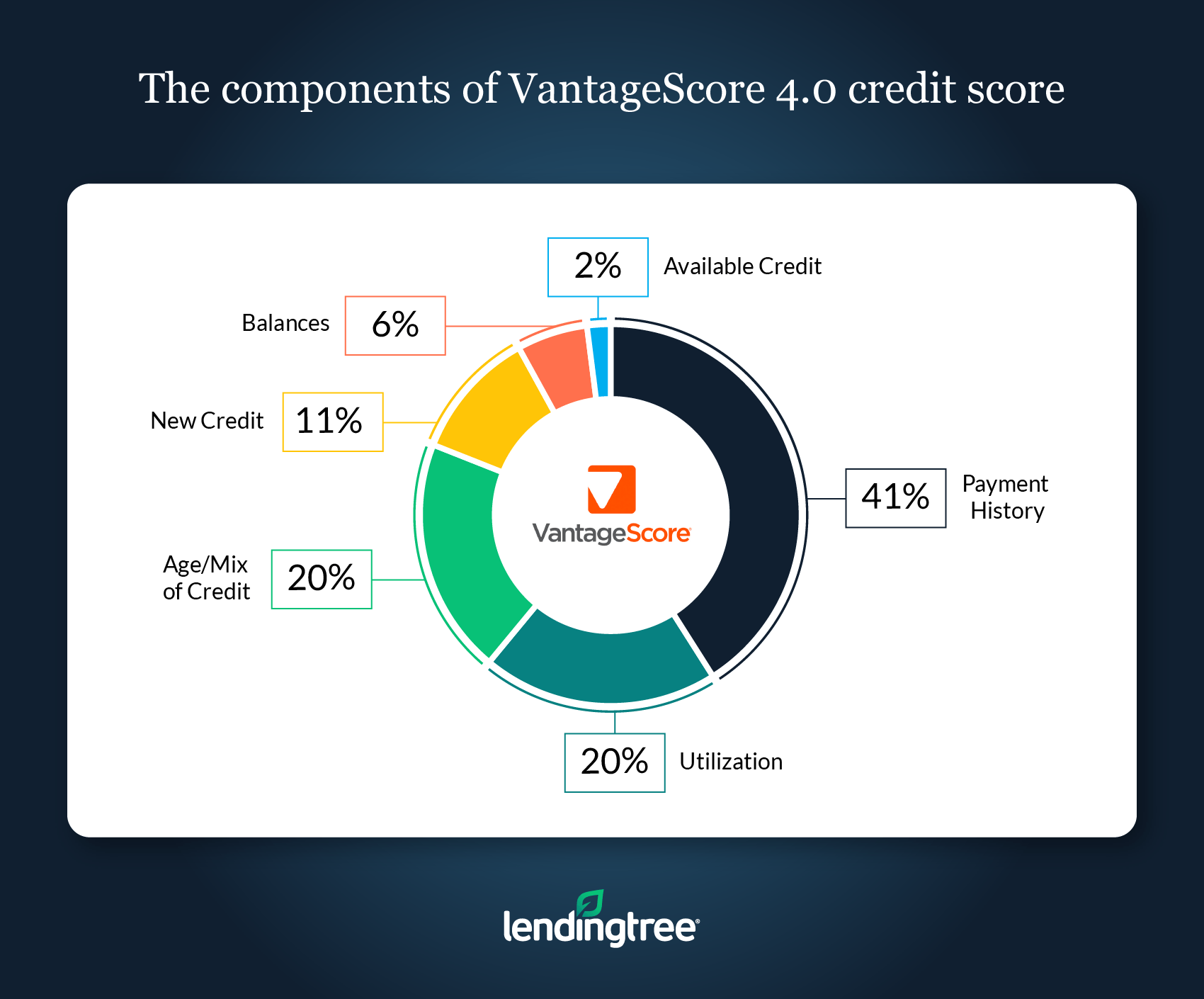 Here are the six factors that affect your VantageScore:
Payment history (41% of your credit score)
Utilization (20% of your credit score)
Credit age/Mix of credit (20% of your credit score)
New credit (11% of your credit score)
Balances (6% of your credit score)
Available credit (2% of your credit score)
So, paying your bills on time, keeping balances low on revolving credit accounts, not applying for too much credit all demonstrate that you are a responsible borrower and are contributing factors to building a solid credit score.
Lenders also consider whether you have the ability to repay what you borrow, so they also look at the amount of debt you are carrying relative to your income. This means that while your income does not impact your credit scores, it is considered when a lender evaluates your application.
Factors that don't affect your credit score
There are certain things that, while they may impact how you manage your finances, don't actually affect your credit score.
For example, employment status does not affect your credit score, though you typically have to list your employment status when applying for a credit card or loan.
Marital status is another item that has no impact on your credit score. Of course, it can affect your finances in other ways, such as filing taxes and deciding whether to share a bank account.
Other factors that don't affect your credit score include:
Gender, race, education level, religion or political affiliation
Your spouse or partner's credit standing
Your salary and income
Your bank account balance
Debit or prepaid card activity
How your debt-to-income ratio affects credit applications
While your income doesn't play into your credit score, your debt-to-income ratio (DTI) is an important element that is evaluated by potential lenders when you apply for a loan or credit product.
This formula compares your pretax income to the amount of debt you currently pay out monthly.
When lenders consider whether to let you borrow money, they compare self-reported income from loan or credit applications (or, in the case of large loans, require you to submit proof of income) against current debt amounts listed on your credit reports to calculate the ratio.
For mortgage approvals, the maximum acceptable DTI ratio is usually 43%, according to the CFPB.
However, companies that extend credit typically prefer a DTI ratio that is 30% or lower, said Henry Wong, senior vice president of Catalina Wealth Management in Tucson, Ariz., and founder of Friendly 401k.
"While your DTI does not have a direct correlation to your credit score, credit companies will often be wary of extending further credit to an individual with a high ratio," Wong said. "These companies reason that the individual will have a higher likelihood to be overcome with debt and therefore unable to fulfill their payment obligations."
You can improve your DTI ratio in one of two ways, said Kevin Haney, New York-based founder of A.S.K. Benefit Solutions. "Either lower the numerator, which is your monthly debt payment, or boost the denominator, which is your monthly income."
Here are some steps you can take to improve your DTI:
Pay down outstanding debt. Try paying off your smallest debts in full, refinance large installment loans at a lower rate to reduce your monthly payment and pay down high-interest credit card balances. This will reduce your DTI and can save you money on interest fees, too.
Don't buy what you can't pay for right now. When spending with a credit card, you can prevent balances from accruing by charging only what you can pay off each month.
Increase your monthly income. When possible, talking with your supervisor about a timetable for a raise is the most obvious move here — but that isn't always an available option. In that case, it may be worth considering a side gig to boost your income.
Add a cosigner to your loan application. Having someone with income that's equal to or higher than yours, such as a spouse or a parent, may help your chances of approval.
Learn more about your credit score!