How Does LendingTree Get Paid?
LendingTree is compensated by companies on this site and this compensation may impact how and where offers appear on this site (such as the order). LendingTree does not include all lenders, savings products, or loan options available in the marketplace.
What Does My Credit Score Mean?
Published on: April 4th, 2019
Editorial Note: The content of this article is based on the author's opinions and recommendations alone. It may not have been reviewed, commissioned or otherwise endorsed by any of our network partners.
You know that your credit matters, but you might not be so clear on what your credit score is and what it does.
A credit score is a tool that lenders use to predict risk. You can think of credit scores like the number grades you received on your report cards in school. Just like grades, the higher your credit score climbs, the better. And the better your score, the higher the chances of a lender approving your loan — and on more favorable terms.
What is a good credit score?
Do you want to receive better treatment from lenders (e.g., lower interest rates and better terms)? If so, earning good credit scores is a must.
Here's a look at the different credit score ranges for both FICO and VantageScore scoring models.
FICO
VantageScore
Very Poor
N/A
300-549
Poor
300-579
550-649
Fair
580-669
650-699
Good
670-739
700-749
Very Good/Excellent
740-799
750-850
Exceptional
800-850
N/A
What factors influence my credit score?
Both FICO and VantageScore credit scores are calculated based on the information contained in your credit reports.
Here's a look at the factors that influence your FICO Score, and by how much: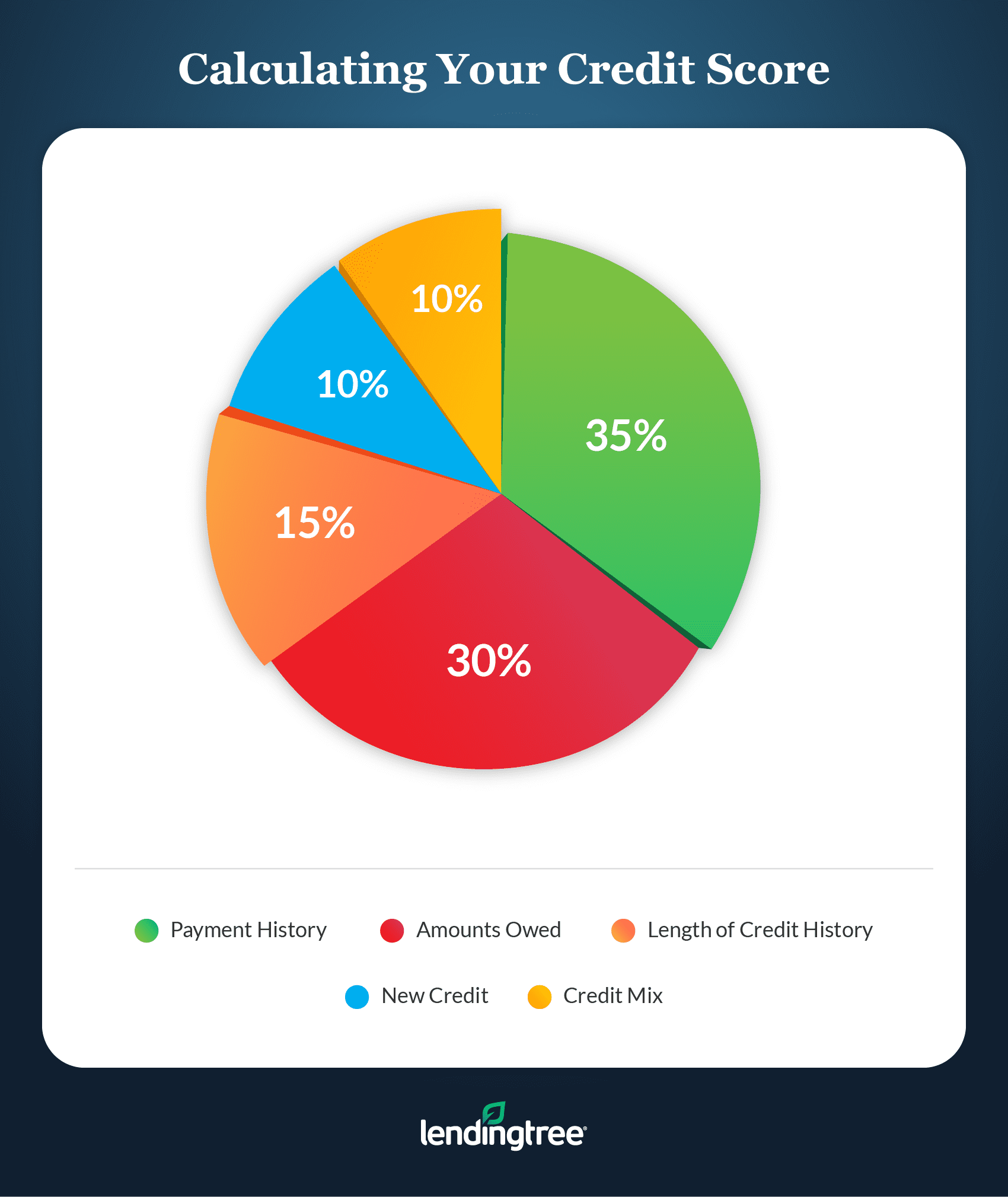 Payment history: 35% of your FICO Score. Keeping your credit obligations paid on time is the most important factor that influences your FICO Score.
Amounts owed: 30% of your FICO Score. Using a high percentage of your available credit limits isn't good for your FICO Score. Your total number of accounts with balances also matters (with fewer accounts showing outstanding balances being better than many).
Length of credit history: 15% of your FICO Score. The longer you have had credit established in your name, the better.
Credit mix: 10% of your FICO Score. Having a good mix of account types on your credit reports (e.g., credit cards, installment loans, mortgages, etc.) could have a positive effect on your FICO Score — albeit slightly.
New credit: 10% of your FICO Score. Shopping for new credit and letting your credit report be pulled by lenders (hard inquiries) too often could harm your FICO Score.
VantageScore credit scores are influenced by largely the same information found on your credit reports. However, scoring models designed by VantageScore Solutions may assign a different weight or value to each factor.
In other words, a late payment assessed by FICO might not have the exact same effect on your score as if your credit report was assessed by VantageScore. (Of course, a late payment would be considered negative with either scoring model.)
Here's a look at how information on your credit reports influences your VantageScore 4.0:
Payment history: 41% of your VantageScore.
Age and mix of accounts: 20% of your VantageScore.
Credit utilization: 20% of your VantageScore.
New credit: 11% of your VantageScore.
Balances: 6% of your VantageScore.
Available credit: 2% of your VantageScore.
Trying to figure out the difference between how FICO and VantageScore scoring models work? Think of it like weighing yourself on a scale that uses kilograms versus a scale that calculates your weight in pounds. You may get two different numbers, but they will mean basically the same thing.
What a credit score doesn't mean
When you earn a good credit score, it means that lenders believe you are less likely to become seriously delinquent (90 days late) on any of your credit obligations within the next 24 months. In other words, you're more likely to pay your bills as agreed. A bad credit score means the opposite.
However, bad credit scores do not mean that you're a bad person. They don't even mean that you have financial problems or that you don't earn a lot of money. In fact, you won't find your income, checking account balance or any other metrics that have to do with wealth on your credit report. Your credit scores are also not based on your religion, race, gender, marital status or occupation.
What is FICO?
In 1989, FICO introduced lenders to the very first FICO credit score. The FICO Score represented one of the first general-use credit scores to be used at a major credit reporting agency (Equifax). By 1991, FICO Scores were available at all three major credit reporting agencies (Equifax, TransUnion and Experian).
Before FICO Scores, lending decisions could be a lot more biased and far less fair. In those days, your social status, race, gender or where you lived might make or break your ability to qualify for a loan.
Enter the FICO Score. Suddenly lenders were given an opportunity to predict risk in an objective, more consistent way. Lending decisions could now be based on statistics and probability rather than guesses, gut feelings and preconceived ideas.
Although FICO isn't the only credit score lenders use today, it is the most popular. FICO is the score of choice for lending decisions for 90% of the top financial institutions in the U.S.
Base FICO Scores range from 300 to 850.
What is VantageScore?
FICO's chief competitor in the credit-score marketplace is VantageScore Solutions. The VantageScore was created as a joint effort by the three major credit reporting agencies themselves.
FICO Scores may be the most popular credit scores used by lenders currently, but around 10.5 billion VantageScore brand credit scores were used by companies (including credit card issuers and financial institutions) between July 2017 and June 2018. That's a 20% increase compared with the previous year — confirmation that VantageScore has been growing in popularity.
VantageScore models 3.0 and higher also feature a range of 300-850.
How to check your credit score
There's no legal requirement that gives you free access to your credit scores — unless you've been turned down for financing or received worse terms because of your credit score. But checking your credit score is easier than it used to be.
You can get a free credit score by signing up for LendingTree. There's also a chance your credit card issuer might give you access to a free credit score every month, as a cardholder benefit. You can find other sources for free credit scores online or you can purchase FICO Scores directly from myFICO.com.
Make checking your credit scores a habit
Love them or hate them, credit scores have a powerful influence over your financial life. They can make or break your applications for new loans or credit cards. Credit scores can affect your ability to purchase reliable transportation or even put a roof over your head. In short, your credit scores are a big deal.
You should develop a habit of checking your credit scores and reports frequently. Keep an eye on your credit and you'll not only be better informed, you'll be better prepared to take action, if a problem comes up.
Learn more about your credit score!