How Does LendingTree Get Paid?
LendingTree is compensated by companies on this site and this compensation may impact how and where offers appear on this site (such as the order). LendingTree does not include all lenders, savings products, or loan options available in the marketplace.
Why Do Credit Bureaus Report Differently?
Published on: February 7th, 2019
Editorial Note: The content of this article is based on the author's opinions and recommendations alone. It may not have been reviewed, commissioned or otherwise endorsed by any of our network partners.
Your credit report is a critical factor for lenders and others to determine everything from your credit card limits to the rates you receive on mortgages and other loans. But consumers may be confused by the different credit bureaus and how they report information when it's pulled by lenders, merchants, prospective employers and others.
The big 3 credit bureaus
The major credit reporting agencies are Equifax, Experian and TransUnion. Most of the information collected by each credit bureau is similar, but there are some differences. Sometimes, one credit bureau will have information that another doesn't collect. Other times, credit reporting agencies may display the same information differently.
If you have applied for credit under different names, such as a maiden name, this could cause credit bureaus to have piecemeal or incomplete files, resulting in discrepancies among reports. (A credit repair service could help with discrepancies.)
Furthermore, since not every company or lender works with every credit reporting agency, the information in one report might slightly differ from that in another.
Understanding your FICO Score
The FICO scoring system is the most commonly used credit score to evaluate a consumer's credit risk. This score, which ranges from 300 to 850, is similar across all three credit bureaus, so a consumer with a high FICO Score from one will likely have a similarly high score from another, and vice versa.
A number above 670 is typically considered a "good" credit score, while anything over 740 is recognized as "very good," and scores of 800 and above are deemed "exceptional". Scores below 670 are considered "fair" or "very poor."
Time is also a factor. Since lenders report information to credit bureaus at different times, one credit reporting agency may have more recent information than another.
To further complicate matters, there are multiple versions of FICO scores. Here's a breakdown of which versions are most commonly used by each credit bureau, according to FICO:
Experian
Equifax
TransUnion
Most widely used version
FICO® Score 8
FICO® Score 8
FICO® Score 8
Versions used in auto lending
FICO® Auto Score 8
FICO® Auto Score 2
FICO® Auto Score 8
FICO® Auto Score 5
FICO® Auto Score 8
FICO® Auto Score 4
Versions used in credit card decisioning
FICO® Bankcard Score 8
FICO® Score 3
FICO® Bankcard Score 2
FICO® Bankcard Score 8
FICO® Bankcard Score 5
FICO® Bankcard Score 8
FICO® Bankcard Score 4
Versions used in mortgage lending
FICO® Score 2
FICO® Score 5
FICO® Score 4
Newly released version
FICO® Score 9
FICO® Auto Score 9
FICO® Bankcard Score 9
FICO® Score 9
FICO® Auto Score 9
FICO® Bankcard Score 9
FICO® Score 9
FICO® Auto Score 9
FICO® Bankcard Score 9
What information is key in your credit report
All the information in your credit report helps lenders, prospective employers and others determine how financially reliable you are. This includes a mix of information such as personal data, public records and account information.
In the personal information section of your credit report, you'll find the last four digits of your Social Security number; your name, including maiden and married names, if applicable; and a history of your home addresses and telephone numbers you've used or have been associated with.
Public records related to your financial accounts, such as bankruptcies and civil judgments, can also appear on your credit report. A public record on your credit report can negatively affect your credit score. But in 2018, credit reporting firms stopped including tax liens and tax lien data on consumers' credit reports.
A negative public record will include information such as the filing date; the reference number that corresponds to where the public record was recorded; the court in which the public record was filed; the name, company or organization that brought the case against you; and the amount of damages awarded to the plaintiff.
Civil judgments and Chapter 13 bankruptcy remain on a credit report for seven years from the filing date, according to Experian. A Chapter 7 bankruptcy remains on a credit report for 10 years from the filing date.
There's another section in your credit report for account information, which includes revolving credit and installment loans. Here, you'll find information about when the account was opened, whether it is an individual or joint account, the balance, payments received and when the account was closed, if applicable.
Generally, creditors report any changes made to your account on a monthly basis. If you've satisfactorily met the terms of your agreement, the lender will report that your account is in good standing. If you are late on a payment, your credit report will typically display this by the number of days since the due date. It will also show whether an account went to collections, charge-off or foreclosure.
Your credit report will also include a list of inquiries, which includes all companies that requested access to your credit report, their address and phone number, and the date of the request.
What factors are key for your FICO Score
With that said, some information on your credit report weighs more heavily when determining your FICO Score. According to FICO, the score is calculated using a number of different pieces of data in your credit report. This information is sorted into five categories: payment history, which accounts for 35% of the score; credit utilization rate (30%); length of credit history (15%); new credit (10%); and credit mix (10%).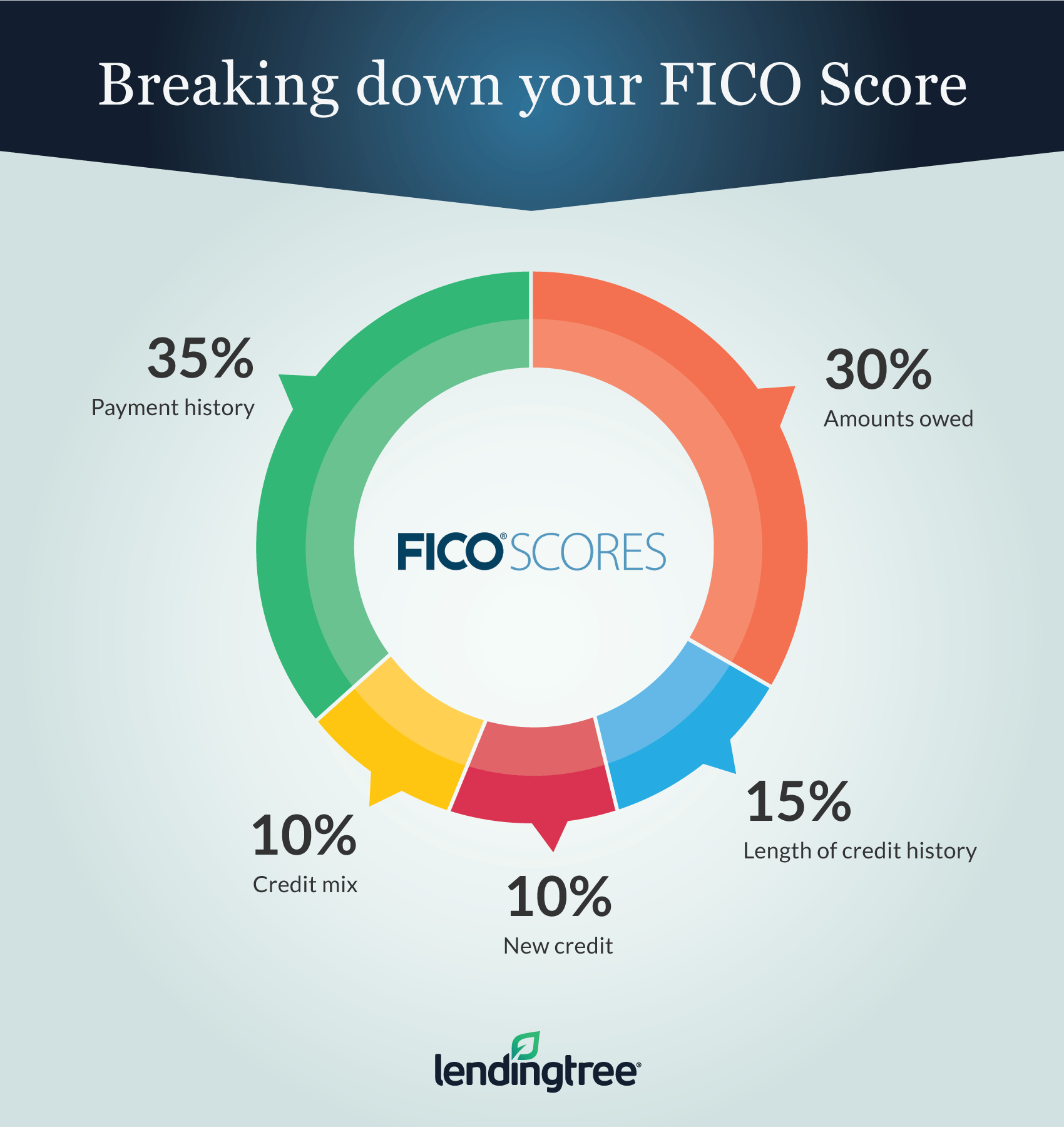 Payment history shows whether you've made on-time payments for your past credit accounts. Credit utilization reveals whether you are using a lot of your available credit, which could indicate that you are overextended and at a higher risk of defaulting. The length of credit history is determined by how long your credit accounts have been established and how long you have used certain accounts. New credit shows whether you have opened too many accounts too quickly, and credit mix shows the variety of the credit you use, including credit cards, retail accounts, mortgages and other types of credit.
The importance of these credit categories varies by person. For example, a consumer who has not been using credit for a long time will be assessed differently than one with a lengthy credit history.
How to access your credit report
You can obtain a free copy of your credit report once a year from each of the big three credit bureaus. To do so, call 877-322-8228, or visit AnnualCreditReport.com, which is the only authorized website for free credit reports, according to the Federal Trade Commission. You'll be asked for your name, address, Social Security number and date of birth. You can also complete the Annual Credit Report Request Form and mail it to Annual Credit Report Request Service, P.O. Box 105281, Atlanta, GA 30348-5281.
You can also order reports from each of the three credit reporting agencies by contacting them directly. You're entitled to one free copy of your report annually, but you may be charged a fee for any additional copies.
In sum, credit reports provided by the major credit bureaus may not be identical, and this is because information is sometimes collected or reported differently among the companies. That's why it's helpful to routinely monitor your reports from all three credit bureaus to gain a good understanding of your financial profile and see how responsible you appear to lenders, prospective employers and others.
Learn more about your credit score!