How Does LendingTree Get Paid?
LendingTree is compensated by companies on this site and this compensation may impact how and where offers appear on this site (such as the order). LendingTree does not include all lenders, savings products, or loan options available in the marketplace.
More Than 1 in 5 Americans Started Investing for First Time During Pandemic
Updated on: October 19th, 2020
Editorial Note: The content of this article is based on the author's opinions and recommendations alone. It may not have been reviewed, commissioned or otherwise endorsed by any of our network partners.
While the coronavirus pandemic and ensuing economic crises have caused some Americans to struggle financially, others found an opportunity to start investing.
According to the final findings in a three-part series from personal finance app Stash and LendingTree, some investors took advantage of the downturn to snatch up stocks. In fact, more than 1 in 5 said they invested for the first time amid the COVID-19 crisis.
We surveyed nearly 5,000 consumers to provide a deeper look at investing trends amid these times of turmoil.
Key findings
More than 1 in 5 consumers (22%) began investing for the first time during the coronavirus pandemic. That includes those who aren't traditionally big investors — women (25%) and young adults (28% of Generation Zers).
Many changed their investing behavior during the pandemic, including diversifying their portfolio (40%), investing more money (34%) and taking on a riskier approach (29%).
Just over 1 in 10 investors saw the market downturn as a chance to scoop up stocks that are usually priced higher (Gen Zers — 18% — especially).
Men were more likely to invest more money — and take more risks — during the pandemic than women. Women tended to maintain pre-pandemic levels.
Those hardest hit financially — namely the 22% making less than $35,000 a year — said they're investing less money because of a job loss. Just 4% of those making $100,000 or more said the same, while 41% of those in that high-earning group are investing more money than before.
First-time investors amid coronavirus pandemic by demographic
While some might not think a pandemic is the best time to test the investing waters, more than 1 in 5 Americans did just that. Here are further breakdowns by demographic:
More Gen Zers (28%) became first-time investors than Gen Xers (24%), millennials (22%) and baby boomers (19%).
Black (29%) and Hispanic (25%) consumers outpaced white (20%) and Asian (19%) consumers as first-time investors.
One in 4 women began investing for the first time during the pandemic, versus 19% of men.
Lower-income consumers were more likely to jump into the stock market for the first time than those who earned higher salaries.
As stock prices declined, people saw an opportunity to buy low. In fact, nearly three-fourths of Americans who started investing during the coronavirus pandemic said the ability to purchase fractional shares played a role in their decision.
"Investing is one of the ways we can make progress towards minimizing the wealth gap that exists today, and for people to generate wealth for their future," said Mindy Yu, director of investments at Stash.
With widespread unemployment and small business shutdowns this year, many first-time investors realized that they needed to strengthen their financial big picture.
"The message was loud and clear: 'Start investing as soon as you can, and when you can,'" Yu said.
34% investing more money during crisis
More than a third of investors (34%) say they invested larger amounts of cash into their investment portfolios during the pandemic than they did in the previous few months. Forty-five percent stuck to the same amount, while 21% cut back.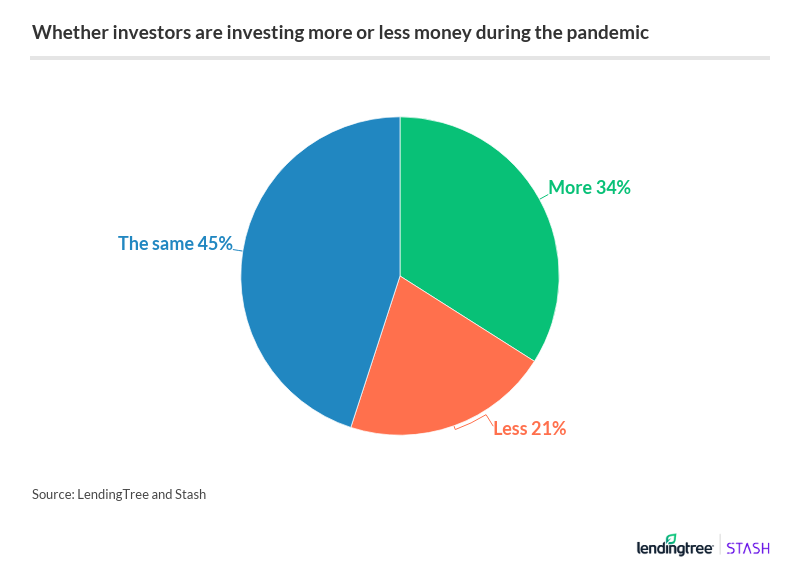 A larger percentage of Asian (26%) respondents said they spent more money than white (22%), Latino (19%) and Black (18%) investors.
One standout group making larger investments was millennials, 37% of whom made bigger moves during the pandemic than they had prior — more than any other age group.
Yu attributed this trend to a rise in digital investing platforms that allow anyone to start investing with just a few dollars. "Historically, investing was only accessible to the wealthy, and it came with high investment minimums, management and trading fees, and so on," she noted, adding that these platforms "have helped to make investing far more accessible to the everyday American."
How investing behaviors differ between men and women
Male respondents seemed to indicate that they took more risks and perhaps have more disposable income with which to work. But among new investors, more women than men entered the fray amid the coronavirus crisis.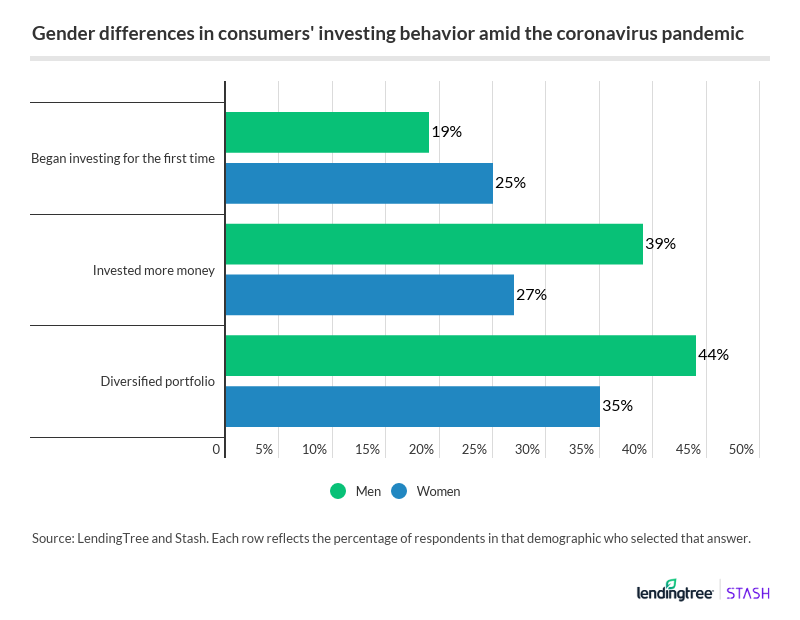 As for risk tolerance, actions speak louder than words. "While female investors come to the Stash platform self-identifying as having a lower tolerance for risk, it turns out that in actuality, they take on the same amount of risk as their male counterparts," said Yu.
What the survey responses and Stash data point to collectively is that, according to Yu, women are being more methodical than ever about planning their futures.
29% of investors taking a riskier approach
Whether someone was likely to take more or less risks, or stay on autopilot, most likely had to do with their personal financial situation.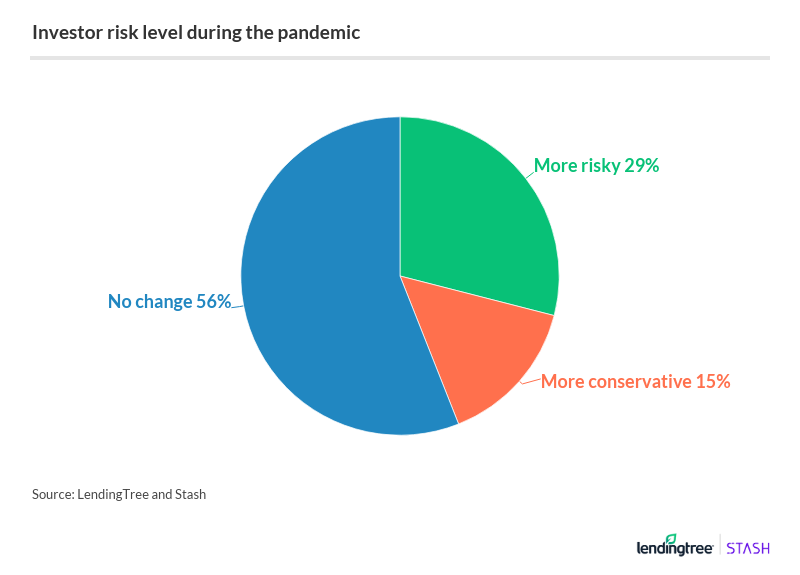 Still, the survey revealed which groups were most likely to say they took a somewhat or way more risky approach during the pandemic:
More men (34%) than women (24%) made an investment gamble.
Younger investors — 34% of Gen Zers and 33% of millennials — took more risks than their older counterparts — 27% of Gen Xers and 21% of baby boomers.
Those making more than $100,000 a year (32%) were the most aggressive among the different income levels, but there was less than a 10 percentage point difference across the board.
Asian (38%), Black (32%) and Latino investors (31%) took a riskier approach than white respondents (28%).
No matter your background, it's important to think long term during a market crisis like the COVID-19 pandemic and not get caught up in short-term volatility, according to Yu: "This year alone, we've seen the market (S&P 500) dip more than 30%, only to see it then rise more than 50% in the weeks and months following."
When it comes to your comfort level with risk, it's important not to have a knee-jerk reaction that may shift you off course from your investment goals. Here are some guardrails to keep in mind:
Your investment goals. "It may be tempting to follow the trending headlines on what to invest in," Yu said. "However, understand that your financial situation likely differs from others, and you may not be able to bear that additional amount of risk."
Your time horizon. Younger people have more time to ride out short-term volatility in the stock market, while the opposite is true of older investors. Generally over time, your portfolio should become more conservative as you near retirement, Yu noted.
Your portfolio balance. Having a combination of investments that move differently and are uncorrelated can allow you to reduce some of the risk that is accompanied with investing, Yu said, noting that "it's encouraging to see that 40% of the survey respondents diversified their portfolios amid the peak of the pandemic this spring."
Methodology
This survey was conducted online within the U.S. by Stash and LendingTree using SurveyMonkey technology. The survey conducted in August 2020 was completed by 4,955 people.
Generations are defined as the following as of August 2020:
Gen Z: Ages 18 to 24
Millennial: Ages 25 to 43
Gen X: Ages 44 to 55
Baby boomer: Ages 56 to 74
Silent generation: Ages 75 and older
Stash is a Paid Partner of LendingTree, LLC NMLS# 1136. LendingTree is a minority Shareholder of Stash.
Of the 4,955 individuals who completed this survey, 51% identified as men, 47% identified as women, 1% identified as nonconforming/nonbinary and 1% didn't disclose.
Of the respondents, 14% identified as Latino, 62% identified as white, 21% identified as Black, 5% identified as Asian, 3% identified as American Indian or Alaska Native, 1% identified as Middle Eastern or Northern African, 1% identified as Native Hawaiian or other Pacific Islander and 5% identified as other. (Respondents were able to select all races that applied.)
Of the respondents, 24% reported earning less than $35,000 in annual household income, 18% reported earning between $35,000 and $49,999, 21% reported earning between $50,000 and $74,999, 15% reported earning between $75,000 and $99,999 and 23% reported earning $100,000 or more. (Totals don't add up to 100% due to rounding.)
Investment advisory services offered by Stash Investments LLC, an SEC registered investment adviser. This information is for informational and educational purposes only, represents an assessment of the market environment as of the date of publication, is not intended as investment, legal or tax advice and is subject to change without notice. The information should not be relied upon by the reader as research or investment advice regarding any issuer or security in particular. Bank Account Services provided by and Stash Visa Debit Card issued by Green Dot Bank, Member FDIC, pursuant to a license from Visa U.S.A. Inc. Investment products and services provided by Stash Investments LLC, not Green Dot Bank, and are Not FDIC Insured, Not Bank Guaranteed and May Lose Value.