203k Loan: Rehab Loans Courtesy of the FHA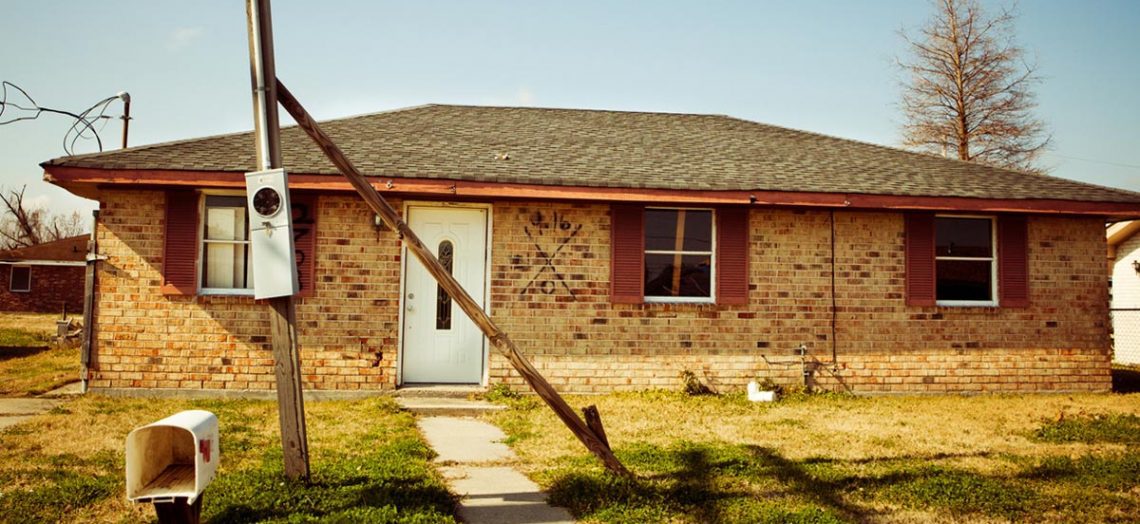 Did you know that The Federal Housing Administration (FHA) has a loan program that allows home buyers to purchase fixer-uppers? This FHA-insured option, called a 203k loan, consolidates the price of the home, the estimated renovation costs, and the closing costs all into one mortgage. FHA 203k loans provide a solution to individuals who were having to take out a home improvement loan in addition to a traditional home loan in order to fix up run-down houses. Now you can purchase a home that requires some TLC without the complications, or extravagant expenses, that come with maintaining two separate loans.
How Does an FHA 203k Loan Work?
The 203k loan works much in the same way as a regular FHA loan. The difference is that the estimated renovation costs are set aside in an escrow account. This account can be used to release funds to your contractor as agreed construction milestones are accomplished. This loan, also known as a rehab loan, is ideal for home buyers who either find a home that is structurally sound, but still requires some improvements, or a home that needs to be torn down and rebuilt.
For example, if you find a home that has good bones in a perfect location that needs exterior or interior improvements, there is a good chance that you'll be able to purchase the property with an FHA 203k loan. If you find a home that is uninhabitable, but that sits on a significant amount of land, you'll be able to rebuild that home from scratch with a rehab loan. Essentially, this loan allows you to construct your dream home.
You may be wondering what will happen to you and your family while the renovations are taking place. Rehab loans can include a contingency fund if you notify your lender that you'll need temporary housing while the repairs are being made to your future home. Lenders will set aside enough money to take care of your existing mortgage or rent for up to six months. Keep in mind that you will be borrowing these additional funds. So, the total amount of the home loan is likely to increase.
Regardless of whether you choose to take temporary housing or not, home buyers taking out a 203k loan must have their renovations completed within a six-month timeline. You'll want to make sure you pick a reliable contractor who understands your timing constraints. Make sure they are ready, able, and willing to commit to meeting the timeline requirement.
Which Repairs are Eligible for a Rehab Loan?
Eligible renovations are pretty broad. The only stipulations the Department of Housing and Urban Development (HUD) sets are that you don't alter the current foundational systems and that the house does not contain more than four units. Other than that, you can do as much or as little as you'd like to the house.
Here are a few improvements that HUD specifies as eligible renovations:
Structural modifications and reconstruction. You can create new rooms, combine rooms, or tear down everything and start from scratch.
Upgrades and improvements. You can update or improve the kitchen, bathrooms, master bedroom, or any other part of the house that can use some rehabilitating. This can also include the removal of useless areas of the house and exterior improvements.
Removal of threats against health or safety. If any part of the house poses a health or safety risk, the 203k loan will cover the removal of such threats. For instance, if you find that any part of the house has asbestos or mold, you should be able to demolish and rebuild that section.
Redoing the plumbing. You can upgrade, fix, or replace the plumbing system. You can even use the funds to add a water well or septic system.
Installing or redoing roofing, gutters, and downspouts. You can rehabilitate the essential exterior functions of the house.
Installing or redoing the floors. You're able to improve the interior floors of the house. You can either rehabilitate the existing floors or install floor treatments, such as laminate, vinyl, or tile.
Landscaping improvements. If the land on which the property stands needs some improvements, you'll be able to use the funds from the rehab loan to get that work done.
Adding or upgrading accessibility for a disabled person. If you or a loved one requires assistance getting into the house through a ramp or other means, you'll be able to include that in your renovation plans.
Conserving energy through improvements. You are able to make any improvements to the house that will help you conserve energy. For instance, you can add solar panels to the roof of the house.
What are the Pros and Cons of a 203k Loan?
So far, you may be thinking that rehab loans sound like a dream come true. You can purchase a run-down property in a good neighborhood and turn it into the home you've always fantasized about owning. While this is essentially true, there are some caveats to this type of home loan.
FHA 203k Loan Drawbacks
FHA mortgage insurance rules. This may be a specialist loan, but it's still an FHA loan. These home loans follow the FHA's mortgage insurance rules. They require you to pay for mortgage insurance for a minimum of 11 years. This will typically raise your monthly payments. While you may have the option to spread out the insurance payments, that may last for the entire duration of the home loan.
Slightly higher interest rates or closing costs. 203k loans require more administrative work from the lender. They have to maintain site inspections throughout the renovation process. They also maintain the payments going from your escrow account to the contractor. For these reasons, lenders will either increase the interest rate or add more items to the closing costs.
Extended closing process. If you happen to choose a lender who isn't familiar with the FHA's 203k loan, they may delay your closing date. This is because they're not familiar with the loan's unique processing procedures. Just make sure that the lender you choose has experience with rehab loans.
Strict timeline. Since you need to complete the renovations within six months of your closing date, you'll want to take great care in choosing a contractor that has experience with 203k loans. They must understand how they work and be willing to manage the required documentation. Most importantly, you'll want to make sure to set realistic expectations with them. This will help to make sure that they don't go over the six-month timeline. Get accurate estimates from them, establish milestones, and make sure they agree to receive payments only when they complete those milestones. There's little room for cost or timing overruns. This is why paying them by milestone will help motivate the contractor to stick to the timeline.
More Advantages to the 203k Loan
Low down payment. Since the FHA insures this loan, you may be eligible to put down as little as 3.5% of your total home loan. This is dependent on your credit, but even if you have fair credit, the down payment is much lower than that of a conventional loan.
Fixed-rate option. Rehab loans come with the option to get a fixed-rate mortgage or an adjustable rate mortgage. Should you choose to go with a fixed-rate at a time when mortgage rates are low, you won't have to worry about rising interest rates.
Tax deduction on paid interest. You're able to deduct the interest you pay on the renovations on top of deducting the interest paid on the mortgage. This only works because the portion you paid to get the renovations done was lumped into your home loan. This is an advantage over using a credit card to pay for the renovation because you wouldn't be able to deduct the interest collected from the card charges.
Can I Get a Rehab Loan?
Simply put, if you qualify for a regular FHA loan, then you qualify for an FHA 203k loan. This means that lenders will look at your credit score, debt-to-income ratio, and down payment eligibility.
Credit Score
You should have a minimum credit score ranging from 620-640 in order to be eligible for the 3.5% down payment. If you have a credit score as low as 580, you may still be able to qualify. However, there's a good chance you'll be asked for a bigger down payment. According to Elli Mae, only 4.87% of people who closed FHA loans in January 2017 had credit scores at or below 599. The percent of home buyers who closed with credit scores in the 600-649 was 19.63%, while all others were higher. It's not uncommon to pay a higher interest rate if you have a lower score. You'll want to make sure you monitor your credit score throughout the loan application process.
Debt-to-Income Ratio
Lenders want to be sure that you can comfortably afford the monthly payments on your new mortgage. So, they're going to look closely at your household finances. In particular, they're concerned about how those payments and other debts affect your income.
Most lenders typically want your overall debt to make up no more than 43% of your gross monthly income. In order to assess how these new mortgage payments will affect your monthly income, lenders calculate a debt-to-income (DTI) ratio. These calculations are a comparison between all of your debt-related outgoings each month and your gross monthly income. For example, if the debt from your credit cards, store cards, auto loans, personal loans, student loans, what have you, total $1,000 and your gross monthly income totals $3,000, you would have a total DTI of 0.33 or 33%.
When it comes to calculating a monthly mortgage payment, lenders prefer for the monthly payment to make up no more than 28-31% of your gross monthly income. To ensure that you remain within that percentage, lenders look at a housing DTI. If your new mortgage payment came out to $850 a month, for instance, your housing DTI would be 0.28 or 28%. This is assuming your gross monthly income is $3,000.
In January 2017, Elli Mae reports that an average of all closed FHA home loans had a housing DTI of 28% and a total DTI of 43%.
There may be a little wiggle room with these. Especially if you have a huge down payment or stellar credit, but the difference is typically minor.
Down Payment Eligibility
FHA loans are known for having a low down payment requirement. A home buyer with a good credit score can qualify for a 3.5% down payment on the 203k loan. However, if a home buyer has a fair credit score or worse, they may be asked to put down more. Either way, the more money you're willing to put down up front, the better the terms will be for your home loan.
Other Eligibility Requirements to Consider
In order to qualify for a rehab loan, the total loan amount can't exceed the FHA loan limit for the county in which the property resides. FHA loan limits throughout the U.S. are currently capped at $636,150. So, if your expenses look like they're going to exceed that amount, you won't be eligible for a rehab loan.
Another factor to consider is that HUD requires all properties that have an FHA mortgage to be occupied by the owner. In other words, if you decide you want to flip the house to rent out at an extravagant price, you won't be eligible for an 203k rehab loan. You have to actually reside in the property you renovate.
What Does the 203k Loan Process Look Like?
If you'd like to apply for an FHA 203k loan, you'll have to go through some extra steps in addition to the traditional mortgage application process.
Submit an offer to your desired property. After you receive word of your pre-approval and find the ideal property, you'll want to submit an offer that mentions that the transaction will be financed with a 203k loan. This will make your offer more credible if the house is run-down or foreclosed.
Locate an FHA 203k Consultant. Once the sellers accept your offer, locate a 203k consultant and have them inspect the property.
Research reputable contractors. After the property passes inspection, research reputable contractors. You may want to get three or four competitive estimates to ensure you're getting the best price for the job. Have the contractor do an inspection of their own to make sure that they can complete the work in a timely fashion.
Schedule a meeting with your consultant and contractor. Finalize the estimate and contract with your 203k consultant and contractor. Be willing to compromise on some wish list items in order to give priority to essential repairs.
Order an appraisal. Finalize your loan amount by ordering an appraisal on your desired property.
Maintain communication with your contractor and lender. When the loan is approved and you've closed on your property, the construction timeline begins. You'll want to make sure to maintain communication with the contractor and your lender. Ensure that site inspections and payments are happening throughout each milestone the contractor completes. At the end of the timeline, you'll be move-in ready and able to enjoy living in your dream home.