How Does LendingTree Get Paid?
LendingTree is compensated by companies on this site and this compensation may impact how and where offers appear on this site (such as the order). LendingTree does not include all lenders, savings products, or loan options available in the marketplace.
Mortgage Knowledge Gender Gap Could Be Costing Women Over $1 Billion a Year
Published on: June 12th, 2019
Editorial Note: The content of this article is based on the author's opinions and recommendations alone. It may not have been reviewed, commissioned or otherwise endorsed by any of our network partners.
LendingTree finds that both men and women could improve their mortgage comparison shopping activity and save money on interest payments.
Over the years, research has found numerous differences between men and women that affect their financial prospects and outcomes. While the gender wage gap is well known, economists at the Federal Reserve have also found that women have lower credit scores on average, and some studies have shown there may be a difference in risk aversion between the genders.
In an earlier study, LendingTree reported that single women owned homes at higher rates than single men. This suggests women are overcoming both the gender pay gap and the credit score gap in pursuing their dream of homeownership.
However, it seems women are paying a higher price to access homeownership than they should. A new LendingTree study of data from the Consumer Financial Protection Bureau reveals that women report being less prepared in terms of knowledge about mortgages and also comparison shop less than men. This can result in considerably higher costs. LendingTree data shows that borrowers can save tens of thousands of dollars over the life of a 30-year mortgage loan by shopping around.
Key findings
For first-time homebuyers, only 21% of women said they were very familiar with the different types of mortgages available, compared to 27% of men.
For repeat borrowers, 47% of women said they were very familiar with the different types of mortgages; 56% of men said the same.
Women reported being less familiar with all aspects of the mortgage process for both first-timers and repeat borrowers. The widest knowledge gap for first-time buyers was being familiar with "the mortgage rates available at the time" — with just 28% of women saying they were very familiar, compared to 37% of men.
The widest knowledge gap for repeat borrowers was knowledge about "the different types of mortgage available" with 47% of women saying they were very familiar compared to 56% of men.
The strongest area for all borrowers and both genders was knowledge of their credit scores.
Just 45% of women consider more than one lender when choosing a mortgage, lower than the 51% of men who do the same, although this is also a poor rate of mortgage shopping.
Ultimately, 21% of women apply for a mortgage with more than one lender, compared to 23% of men, so education may be narrowing some of the gender gap. However, all borrowers still show a low propensity to apply to multiple lenders.
Of those who shop around, a smaller percentage of women say they applied to multiple lenders to search for better loan terms — 16%, compared to 19% for men.
Taking the 6 million in total home sales in 2018, of which about 22% were to single women, extra costs are over $1 billion from not shopping around. Extra costs for men are about half of those for women.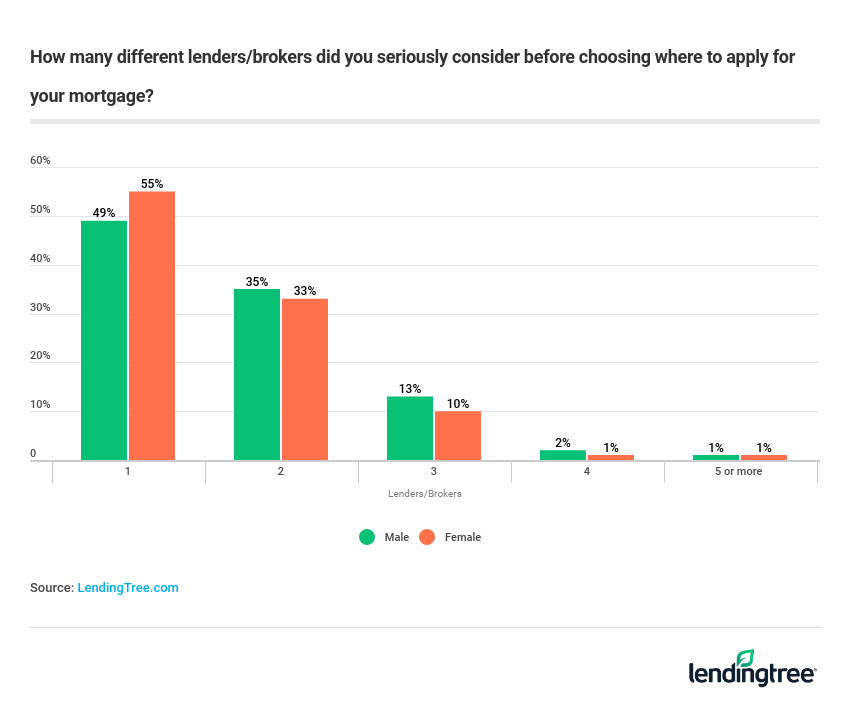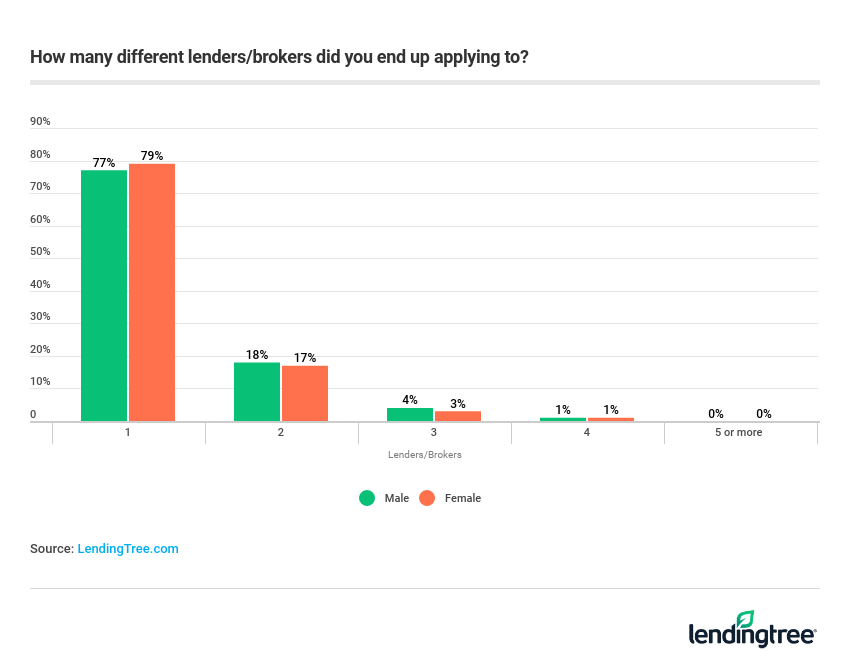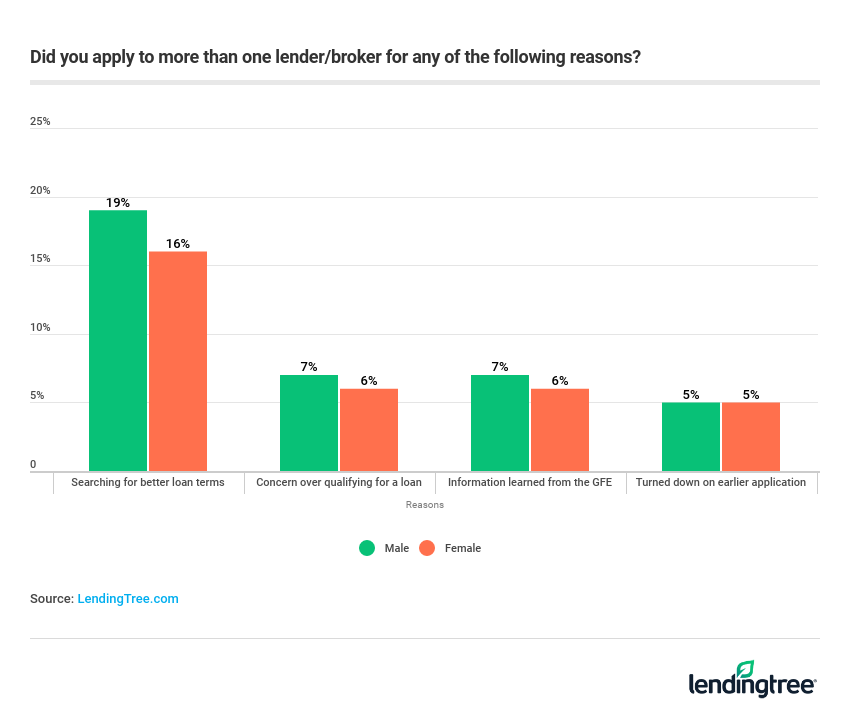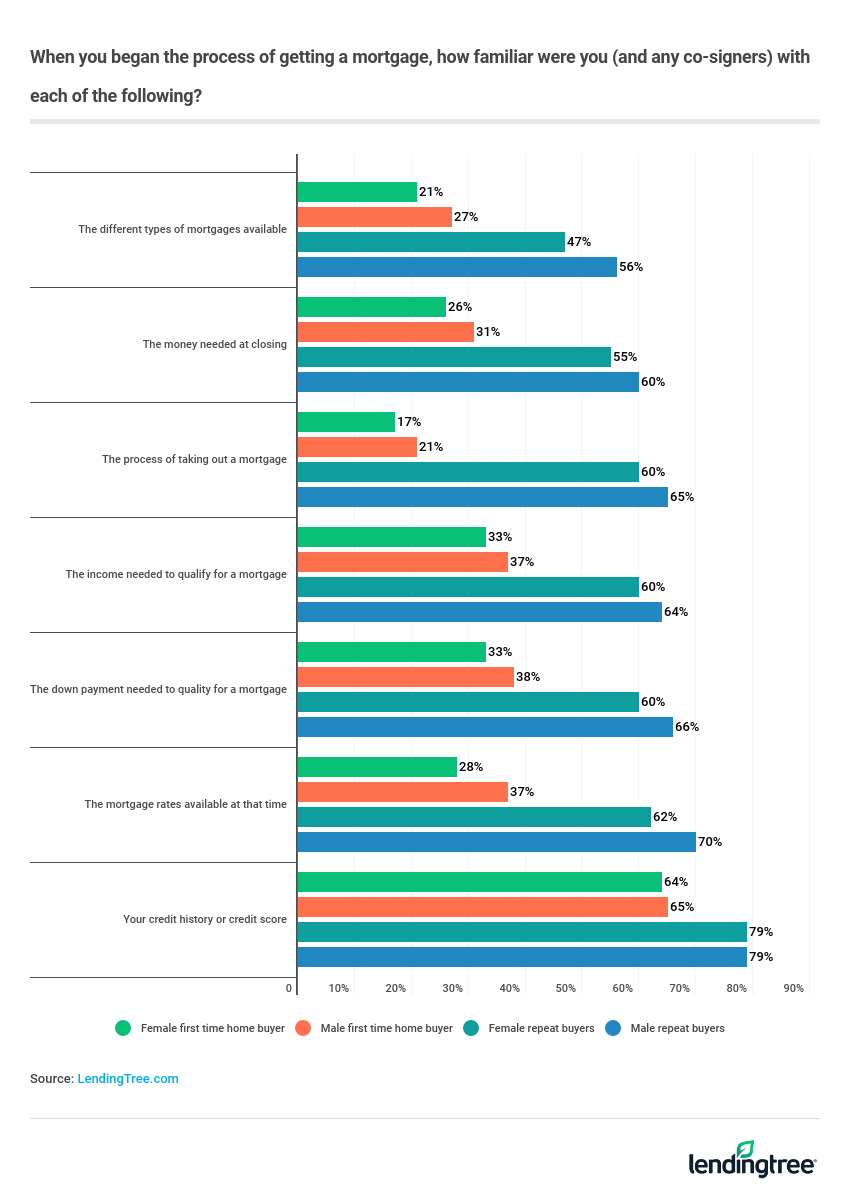 Understanding home buying and mortgages can be a little daunting, but getting educated about the process can greatly improve a borrower's experience — and potentially save them substantial sums of money.
Methodology
Data on mortgage shopping activity was taken from the Consumer Financial Protection Bureau's National Survey of Mortgage Originations (NSMO), which provides insights into borrowers' experiences in getting a residential mortgage. In each quarter since 2014, the CFPB has sent surveys to borrowers who recently obtained mortgages to gather feedback on their experiences during the process of getting a mortgage, their perception of the mortgage market and their future expectations.
Estimating the lost savings
Total annual home sales = 6 million (Sum of new and exiting 2018 sales)
% of sales to single women = 0.22 (Share of homes owned by single women)
Sales to single women = 6 million * 0.22 = 1,320,000
% applying to just one lender = 0.79 (from this study)
Number not shopping 1.32 million * 0.79 = 1,042,000
Annual savings from shopping = $1,000 (rounded estimate from weekly MRCI)
Population savings from shopping = 1,042,000 * 1,000 = $1,042,000,000
---
Featured Articles