How to Stage a Home on a Budget
Published on: December 5th, 2018
Editorial Note: The content of this article is based on the author's opinions and recommendations alone. It may not have been previewed, commissioned or otherwise endorsed by any of our network partners.
When it comes to selling your house, staging can help potential buyers picture what their lives would be like there. A bright, cheerful living room; a tastefully made-up bedroom; a spotlessly clean bathroom — these are just as powerful selling points as square footage and a manicured backyard.
Staging is a marketing tactic to make a house seem warm and inviting by using strategically placed furniture, freshly painted walls, and other touches that subtly influence buyers. You can stage using your own furniture and decorations or hire a staging company that will bring in its own inventory to spruce up the place.
The costs of home staging range widely depending on whether you do it yourself or hire an expert. You might spend a few hundred dollars on paint, decorative plants, and replacing a few fixtures on your own, or a few thousand on a staging service. The experts we talked to provide practical tips to help seal the deal on selling your home, no matter your budget.
The power of staging
The Real Estate Staging Association found that staged homes sold 90 percent faster than unstaged properties. They may fetch higher prices, too — 29 percent of sellers' agents said staging can motivate buyers to increase their offers by 1 percent to 5 percent, according to the National Association of Realtors' 2017 Profile of Home Staging report. The NAR also found that staging may also boost the dollar value of the property, as much as 6 percent to 10 percent.
Thanks to the rise of real estate-centric shows — consider the nightly slate of the HGTV network — buyers have come to expect that the homes they look at will be carefully curated for their viewing, said several staging experts.
"You're seeing the home staging companies coming in on 'Flip or Flop' and 'The Property Brothers' shows now and people are like, 'Well, who are they? What are they doing? What's home staging?'" said Krisztina Bell, founder of No Vacancy and Virtually Staging Properties, which operate in the Atlanta metro area. "Home staging is now becoming more of a necessary marketing tool for agents to be utilizing to sell a home." Bell added that she's seen increased interest in staging among individual sellers as well.
Increased awareness of staging is driving demand — as more people look at homes online before visiting them in person, staging becomes even more important. A 2016 NAR survey found that 95 percent of buyers searched for listings online, and 51 percent purchased properties they found through the web.
"You really need rooms that … look attractive, that create kind of an emotional connection as they're looking through the photos online," Bell said. "That's when they're going to call their agents and say, 'We want to go see this house' or 'We want to put an offer on this house.'"
Lori Carbone, founder of New Jersey-based Spaces that Speak, agrees. "When you're shopping for a home, you want to cull down your list right away, and that's what a lot of today's buyers are doing," she said. "They're researching properties and neighborhoods before they even step out of their door to make an appointment to go look at a home, so it's so critical that people do home staging."
How much does staging cost?
What you'll spend to stage your house will vary significantly based on a couple of factors:
DIY or professional staging company. If you choose the latter, the expense depends on whether you want a brief consultation or you expect them to stage the house using their furniture and laborers.
Location and size of your home. A small suburban ranch will almost certainly incur fewer staging expenses than an 8,000-square foot house near a major metropolitan city. If you hire a professional to handle all of the staging details, you may be looking at spending several thousand dollars.
Kristin Skarbovig, owner and principal stager at Reveal Home Staging in Houston, said that sellers should expect to invest 3 percent to 5 percent of their home's value in preparing it for a sale, regardless of the size and location. However, she noted that any home improvements they've made while living there — such as aesthetic renovations and replacing major appliances — count toward that number, so it's not necessarily about spending a lump sum when they're ready to sell. However, those who haven't updated the house since they bought it can expect to have higher expenses when preparing to list their house.
Staging on a budget
"The whole purpose of staging is to give the home the best possible look for someone coming into it," said Andrew Edlin, a broker associate with Miller Realty in Fairfield, Iowa. "Its purpose is to enhance whatever the property has."
Fortunately, you can enhance your property significantly, no matter the size of your budget. A few simple, inexpensive tweaks can transform your home into a space buyers will clamor to see. Here's how to do it: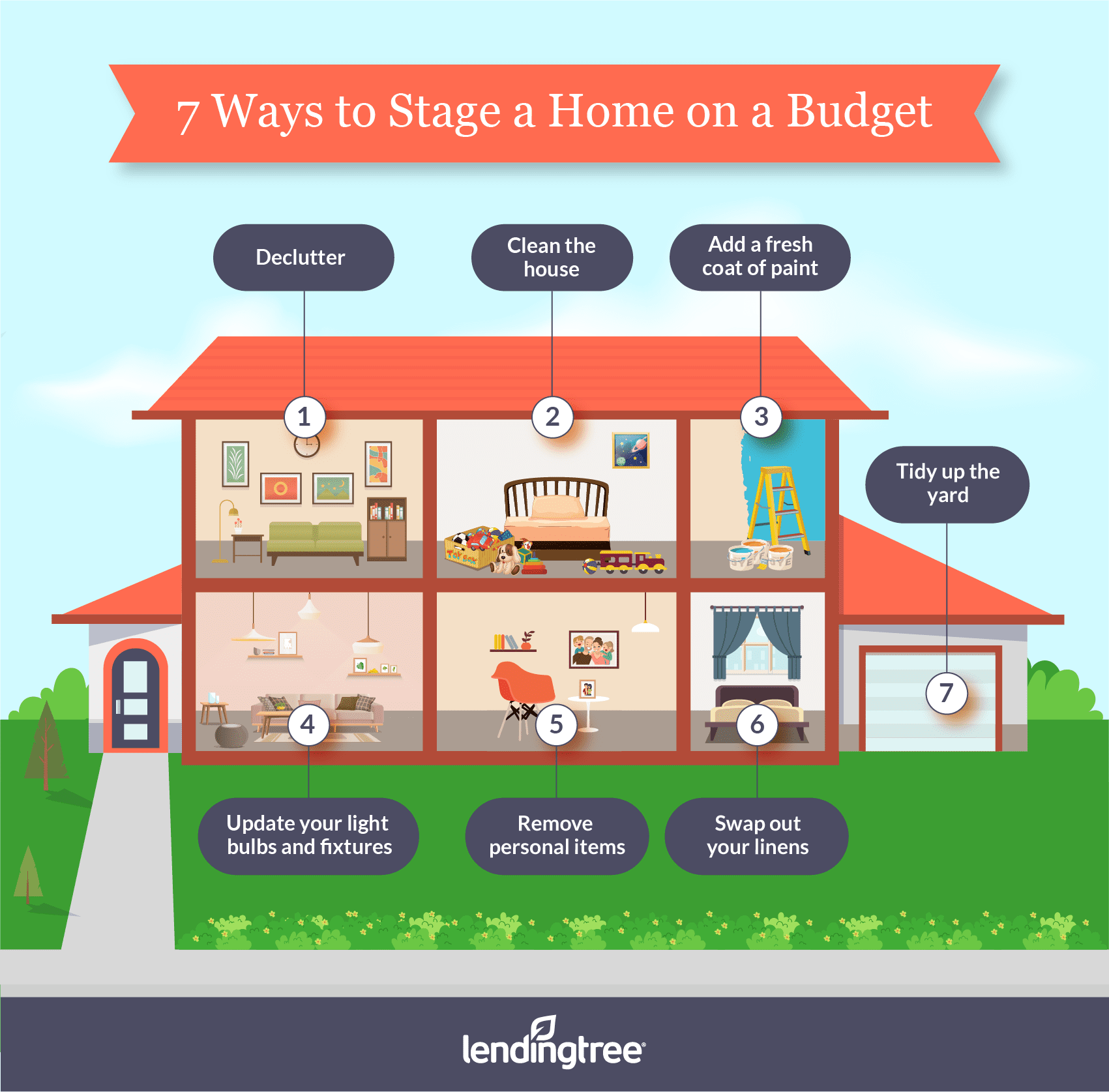 1. Consider booking a staging consultation.
Carbone said that homeowners become so used to living in their homes, they simply don't see the flaws or off-putting features — and relying on friends and family for their opinions is misguided.
"When people come to [your] home, they say, 'Oh my God, your house is so beautiful.' Nobody's ever going to walk in and say, 'It's ugly.' Nobody's going to walk in and say, 'It's messy.' Nobody's going to say, 'Oh my God, I walked in and smelled the cat litter box by the front door,'" she said. "And if you're living in that house, you're not even going to notice it."
Having an objective professional assess your home may cost up to several hundred dollars, but they can help you see the property from a buyer's perspective. Carbone noted that oftentimes, homeowners will become so used to the house, they fail to realize that beneath old carpets are beautiful hardwood floors that buyers will pay a premium for. Or they might put up curtain rods at the wrong height, obscuring intricate molding that could be another selling point. A professional consultation can help you zero in on the areas that need adjusting before putting the house on the market.
2. Declutter.
When a buyer comes to your house, they don't want to see evidence of your family's day-to-day activities strewn everywhere.
"You don't want to have toys or dog toys or shoes in the hallway to trip over. You don't want to have a bunch of stuff on the couch," Edlin said. "You want the eye of the person coming into the room to be able to smoothly look around and think, 'Oh, this looks tidy.' Because tidy makes a good impression on people."
Decorative touches that you enjoy, such as throw blankets on the backs of chairs, may read as clutter to prospective buyers, so put these away during showings. Don't overcrowd the room with your best furniture, either. A few carefully chosen pieces can create a welcoming feeling, but if people are squeezing past tables and chairs, the house may seem smaller than it is.
Bell gave the example of opening up a dining room by removing the table's extending leaf and using only eight chairs instead of 10. The two missing chairs won't detract from the usefulness of the space, and the extra room may make it more appealing.
But she noted that you don't want to leave a room too sparse, especially if your home has an open floor plan —  when people see an open plan kitchen and living area without any furniture, she said, they sometimes struggle to picture how they might lay it out and wonder whether it's too small to meet their needs. Having a few pieces of furniture can show them the space's potential and reassure them that they'll be comfortable in it.
3. Clean the house.
Your home must be spotlessly clean when prospective buyers arrive. Dirty floors and windows covered in smudges will turn buyers off, and general grease and grime will detract from the quality of the house.
Do a deep cleaning of every room, particularly key living spaces. If there are scuff marks or scratches on the walls, these should be cleaned or covered before the first showing — same goes for rug stains. Skarbovig emphasized that pet odors must be removed, light switch plates should be wiped, and that kitchen cabinets and pantries should be perfectly clean as well. She also suggested polishing windows inside and out to maximize natural light in the home.
According to Edlin, garages and closets filled with boxes aren't necessarily deal breakers; buyers understand these spaces are designed for storage, especially during a move, so you don't need to stress about keeping them pristine. However, any room in which a buyer would spend considerable amounts of time — especially the living room, kitchen, and master bedroom — should be in top shape.
4. Spruce up your walls with a fresh coat of paint.
Neutral paint colors are key to keeping buyers' interested once they enter your home, according to Bell. Garish or overly bright colors may seem shocking or uninviting, and buyers may discount the house right away once they see unattractive walls. And although unattractive is subjective, neutral shades are unlikely to offend any prospective buyers.
Bell recalled working with a woman who was trying to sell a house with a bright red entryway. The woman's house looked great from the outside, Bell said, but upon entering, "it was this bright red that hit you right when you walked in the door and it kind of killed it. The rest of the house just looked kind of dated after that." Within weeks of persuading the woman to repaint the entryway, the house was under contract, she said — and that was even with a somewhat outdated bathroom.
The right paint color can set the tone for the rest of the showing, and it encourages prospective buyers to keep an open mind as they move through the rest of the house.
5. Update your light bulbs and fixtures.
First things first, make sure all of your light bulbs work. It may not bother you that the hall light has been out for the past year, but it sends negative signals to prospective buyers. Small though changing a light bulb may seem, many people don't want to move into a house that requires immediate work. Having functioning light bulbs is a simple way to make them feel at home.
"Light bulbs can make all the difference in the world," Skarbovig said. Her mantra is "the way that you live is different than the way that you stage," and lighting is a key component of that.
When you're living in a house, you want warmer, yellow-ish light in your rooms. But staging is all about neutral-colored bulbs because their bright, white light makes it look fresher. She recommends bulbs within the 3,000-4,000 Kelvin range; her go-to bulbs are 3,500K.
Once your lights are updated, you'll want to examine other decorative details. Bell said that outdated styles can make old homes in particular look even older. Updating light fixtures, door knobs, and drawer handles go a long way toward modernizing a room. Touches such as removing a fireplace screen and painting over the original fireplace brick or taking down outdated candelabras can also brighten the house.
6. Remove personal items from the home.
Filling your house with framed diplomas, mementos from your travels, religious artifacts, and family photos may make it feel more like home to you. But when you're trying to sell, you want other people to imagine it being their home. It's difficult for them to do that if they see remnants of your life all around them.
Carbone said that not only do personal artifacts remind potential buyers that someone else currently occupies the space, they can also create subtle negative connotations. Seeing a diploma from the dream school that rejected them or a sports pennant from a big game their favorite team lost may make the house feel less inviting. They may not even realize the reason they dislike the house, they'll just dismiss it as not being to their tastes.
However, if you live in a small town, Edlin suggests that personal photos can help. The buyer might recognize the people in the photos and feel a sense of connectedness that they'll then associate with the house. But he agrees that religious iconography could put off buyers, depending on their own views.
If you're worried about a wall looking too bare once you take down your framed photos, Skarbovig suggests replacing the pictures with decorative craft paper. This maintains the ambiance without pushing buyers away.
7. Swap out your bedroom and bathroom linens.
Both Bell and Carbone recommend purchasing new bed covers, at least for the master bedroom. Here especially, buyers don't want to feel like they're intruding on someone else's home. A brightly patterned comforter that speaks to your tastes may not be to theirs, and there's an intimacy associated with being in someone's bedroom. A clean, plain coverlet over the bed and a few simple pillows helps potential buyers see the space as distinct from the people currently occupying it.
When it comes to the bathroom, less is more. Bell and Carbone suggest taking a spa mentality to staging the bathroom, opting for white towels and other neutral elements that make people feel like they're in a hotel rather than someone else's home. Bell said putting up a white shower curtain with clean, new shower rings can go a long toward getting a bathroom ready for a showing.
8. Tidy up the yard.
Remember that buyers are looking at the entire property, not just the primary living spaces. They start making judgements from the moment they see the exterior of the house.
"It starts at the curb," Bell said. "That first impression starts right when they pull up."
Make sure your lawn is trimmed and tidy, and put away any tools and appliances that detract from the overall appearance. Carbone suggests weeding the garden and putting down fresh mulch to improve the yard's aesthetic.
If you notice dirt and grime clinging to your driveway or front porch, give it a good pressure wash. Don't leave your kids' bikes and skateboards lying around, and of course, clean up after your pets well before buyers arrive. Putting out potted plants along the walkway or on either side of the door are cheerful, welcoming touches that make people want to come inside.
When in doubt, prioritize
Eldin said that much of staging is all about common sense. Cleaning, tidying, organizing — those are the fundamentals of selling a house. But updating fixtures and linens and paying attention to the nooks and crannies can make your home that much more sellable.
Of course, the prospect of preparing your entire home for buyers may seem daunting in terms of time and financial commitments. So if you find yourself pressed for either, remember to focus on the core living spaces, including the living room, kitchen, and master bedroom. These are the most important areas to buyers, so if you have limited resources, prioritize staging these — and cleaning your bathrooms, as those are critically important as well.
Ultimately, good staging comes down to stepping outside your role as a homeowner and learning to see your house through a buyer's eyes. Staging for their needs instead of your comfort is a powerful first step toward selling your home.