The Best Places for Young Families in Alabama
Published on: September 1st, 2019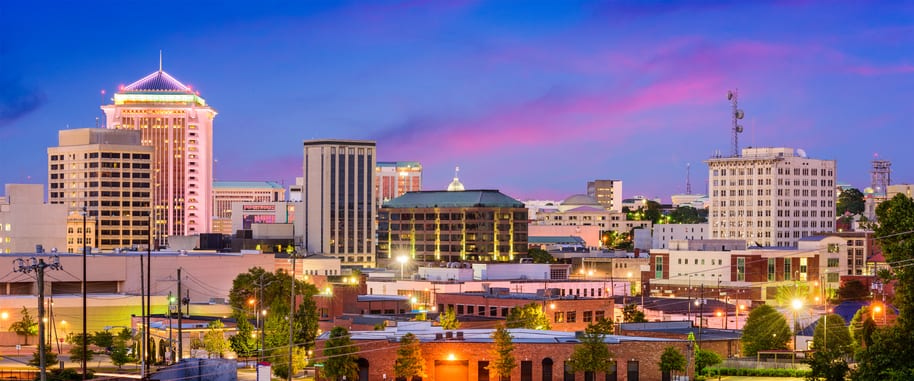 Background
Starting a family is a major life event — so it's no surprise that it has a big impact on household finances. In particular, parents in Alabama might wonder if they'll be able to juggle competing priorities and costs. With Alabama home prices climbing and mortgage rates increasing, many families in the state might be stuck wondering where they can live and still make ends meet.
To help out, researchers at LendingTree surveyed more than 100 cities in Alabama for family-friendly factors. We wanted to identify the places where parents can achieve higher incomes, secure affordable housing and still expect a good education for their kids. Here, we highlight the best places for young families in Alabama.
Key takeaways
Mountain Brook is the best place to raise a family in Alabama, with a final score of 74.6 out of 100 for affordability and family-friendliness.
Vestavia Hills and Homewood are the second and third best places in our analysis for families in Alabama, with respective final scores of 73.4 and 73.3. All three of these top-ranked towns are suburbs of Birmingham.
On the opposite end of the spectrum is Anniston, which we found to be the most challenging place for young families in Alabama with a score of 44.3.
Bessemer and Lanett rounded out the three least favorable spots in this state to raise families, scoring 46.6 and 49.6, respectively.
The top 10 cities to live in Alabama
1. Mountain Brook
A suburb of Birmingham, Mountain Brook is the best place for Alabama families for several reasons. First off, this town has a high number of families: 37.9% of households have children.
Among these family households in Mountain Brook, the median income is an impressive $151,125 — the highest of any Alabama city we surveyed. With incomes this high, families can more easily afford and get approved for a home loan — even with high-cost local housing at a median of $1,847 per month.
In fact, 90.6% of Mountain Brook families own the homes they live in. They also enjoy the shortest commute among the top 10 Alabama cities for families at just 16.8 minutes.
2. Vestavia Hills
Next is another Birmingham suburb. Like neighboring Mountain Brook, Vestavia Hills stands out thanks to high family incomes, with a median of $141,902. This pay is high enough that parents can still afford a home for their families, despite more expensive housing — the median monthly housing cost is $1,424.
Vestavia Hills ranked favorably across other categories, too, including its low unemployment rate, which is just 1.6% among workers ages 25 to 44.
3. Homewood
Yet another suburb of Birmingham, Homewood comes in at No. 3. And again, it's thanks in large part to high incomes, with a median $116,667 annual income among households with children at home.
In addition to higher pay, low unemployment is another sign of a healthy local job market that families count on for financial security. The unemployment rate is just 0.9% among Homewood workers (ages 25 to 44), the lowest among the 10 best Alabama cities for families.
Parents in Homewood also have more time with their families, thanks to shorter commutes at 18.1 minutes on average.
4. Madison
Next is Madison, a suburb of Huntsville, which also offers a favorable situation for many families. With the average commute at 19.4 minutes, it has one shortest average drives to work among the top 10 cities in Alabama (after Mountain Brook and Homewood). Madison also has one of the highest rates of high school completion, with just 0.1% of teens aged 16 to 19 neither enrolled in nor graduated from high school.
Madison also has a larger population of families — 36.4% of households have children at home. These families also tend to be high earners, with a median income of $114,977.
5. Muscle Shoals
Sharing much of its metropolitan area with Florence and surrounding cities on the Tennessee River, Muscle Shoals is another ideal place to raise a family.
In particular, it's one of the most affordable places for families, thanks to low housing costs, with the monthly median of just $763. The median household income among families is also lower, at $69,643 — but that still beats the median income for most families in the state.
Muscle Shoals also boasts an impressive 0% rate of high school students who have either not graduated from or are not enrolled in school, which speaks to the quality of local schools. Families also get more time together thanks to shorter commutes, averaging 20 minutes.
6. Meridianville
At No. 6 is Meridianville, a northern suburb of Huntsville. Meridianville has higher median incomes among families, at $109,779.
Combined with reasonable housing costs, with a median of $1,053, more families here can meet mortgage requirements and access homeownership. This is evidenced by the impressive rate of 97.5% of families with children that own their own homes — the highest among these 10 top Alabama cities.
We also have to mention the impressive outcomes of Meridianville schools, which result in virtually all students staying in and completing high school.
7. Moores Mill
Just to the east of Meridianville, Moores Mill is another suburb of Huntsville that ranked among the best places for Alabama families. This city also boasts a statistically nil rate of high school students not in school or not having graduated. And families should feel right at home, because a large share (37.2%) of Moores Mill households have kids at home.
Moores Mill stands out for low housing costs, too, with median monthly prices at $949. This affordable housing also makes homeownership accessible for more families, with a homeownership rate of 87.9%.
8. Southside
The vast majority of families in Southside achieve the goal of owning their homes, with a homeownership rate of 91.1% among households with children.
This could be due to a combination of affordable housing, with median costs of $967 per month, and above-average incomes for Alabama, with a median $81,373 among households with kids. In addition to higher incomes, Southside's job opportunities are shored up by a low unemployment rate of just 1.1% among 25- to 44-year-olds.
9. Satsuma
Satsuma is next in these rankings, a suburb of Mobile that's just north of the coastal city. It has some of the best educational outcomes among Alabama locales, as evidenced by its 100% rate of high school enrollment or completion.
Satsuma also provides affordable living costs relative to income. Median housing costs are $930 per month here, while median incomes for families are a higher $89,188 annually. It's no surprise, then, that 83.4% of Satsuma families own their own homes.
10. Chelsea
Rounding out the best places for families in Alabama is Chelsea, yet another Birmingham suburb. It's the place among the top 10 with the highest density of families — nearly half (45.9%) of all Chelsea households have children. It doesn't have the lowest housing costs (median monthly costs are $1,312), but a high 92.7% of families here still own their homes.
Its proximity to a major city gives Chelsea parents convenient access to a healthy job market, with a low unemployment rate of 1.3% and high median family income at $101,827. This does come with one downside, however: Chelsea has the longest average commute, at 30.3 minutes, of these top 10 cities.
Understanding the rankings
We chose seven indicators to rank cities and towns with above 5,000 people in Alabama for how good they are for young families, which were then scored to create an overall ranking of the best places for young families. The seven indicators we used are:
Median family income: Money isn't everything, but a place with high family incomes suggests a place with good job opportunities and a community with more resources.
Median monthly housing costs for all households: For families already dealing with new childcare expenses, reasonably affordable housing is important.
Homeownership rate of families with children: This indicates where homeownership is both more common and perhaps important for a family looking to buy, more practical.
Unemployment rate of 25- to 44-year-olds: This indicates where the job market is healthy and suggest a higher quality of life, locally. We focus on 25- to 44-year-olds in particular to capture the most common ages for parents of young families.
Percentage of 16- to 19-year-olds not enrolled or graduated from high school: To estimate high school graduation rates and therefore school quality, we calculated the percentage of older teenagers who were not in high school yet had no high school degree. This number is not the actual high school dropout rate, but is well-correlated.
Average commute time: Shorter commutes mean less-stressed workers who have more time to spend with their families.
Percentage of households that have children: A community with more children means that other families have already decided it's attractive. It also usually means more educational and recreational activities suitable for children and their parents and that residents are concerned about policies that benefit families with kids.
Methodology
Analysts used data from the 2017 5-Year American Community Survey by the U.S. Census. Each of the seven metrics was given a value according to their relative location between the highest and lowest values. The values were then summed and divided by seven for an equal weighting. The analysis was limited to Census-designated places with populations of at least 5,000, in the case of Alabama.