The Who's Who of the Mortgage Process
Published on: February 15th, 2019
Editorial Note: The content of this article is based on the author's opinions and recommendations alone. It may not have been previewed, commissioned or otherwise endorsed by any of our network partners.
Getting a mortgage has become a fairly complicated process. Over the course of a month, you'll fill out dozen of forms, submit scores of documents and interact with a laundry list of people.
You might already know about loan officers, whose primary job is to provide you with information and guidance on the best loan program at the best rates based on your credit profile. But behind the scenes, there's a whole team of mortgage professionals who pitch in to help get your loan to the finish line.
It's helpful to know these other people working behind the scenes on your approval. There's always a chance you might get a call from them during the loan process.
As we discuss the who's who, we'll also look at how the mortgage approval process works. Each step of the way, we'll let you in on who's going to be helping.
In this article, we will cover: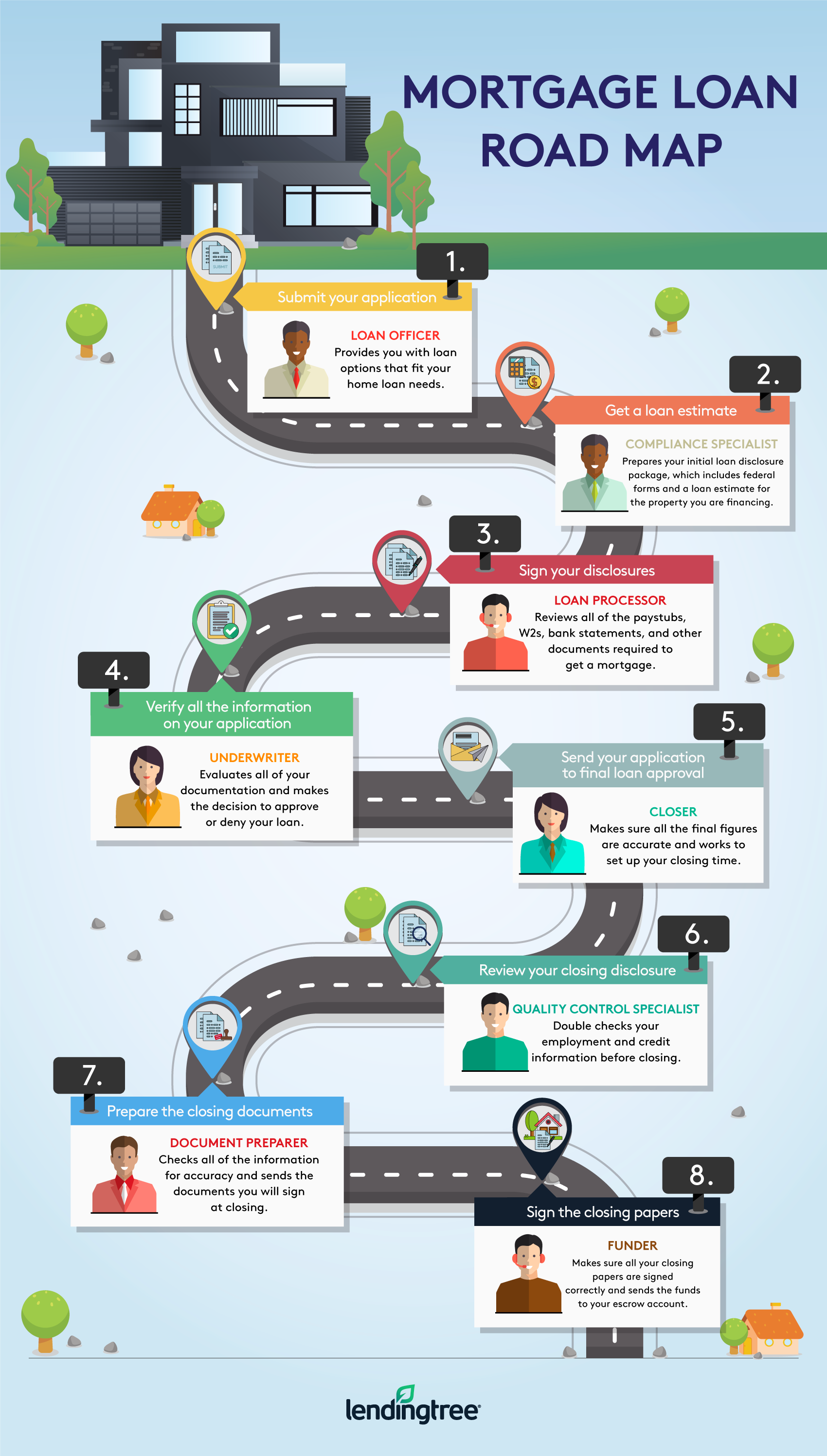 Step #1: Submit your application
To get the loan process started and get accurate quotes, you'll need to complete a loan application for each lender you are considering. This is usually a process you'll do online, but it can also be done over the phone, or in person.
The application requires details about your employment history, income and savings. To get the most accurate pre-approval and loan estimates possible, a credit report is pulled so your credit history and score can be reviewed.
The accuracy of the information you complete for your loan application will be very important for the people who will work to finalize your loan later in the process.
Who helps with this step?
Loan officer
Loan officers  are educated and licensed to provide you with loan options that fit your particular home loan needs based on a review of your income, assets and credit. They track the interest rate markets and have a general knowledge of what is required to help you with an approval for a mortgage.
They are usually very involved in the loan process at the beginning, and available to answer questions or get answers from the other people handling the different steps along the mortgage approval path. If you use a local lender, your loan officer may attend your closing, or at least be available by phone when your signing is scheduled.
Loan officer assistant
Some loan officers have a loan officer assistant to help you through questions about the paperwork you need along the way. They have to be licensed to answer questions about your rates and fees, so they can be a great back up if your loan officer isn't available.

Step #2: Get a loan estimate or fee sheet
In the next step, you'll get back from your lender some fee estimates and loan program recommendations. These side-by-side cost estimates are the best way to make sure you're getting a competitive offer. Your loan officer must send you a loan estimate within 3 business days of receiving your loan application.
Who helps with this step?
Your loan officer will prepare initial fee sheets or loan estimates at the beginning of the process to give you a rough idea of costs based on the information you completed on your application. If you are buying a home, the figures can change once you have a final purchase contract.

Step #3: Choose a lender and sign their disclosures
Once you choose a home and have an accepted contract on the house you're buying, or are ready to get a refinance started, you will settle on a lender. They'll send a packet of disclosures to you, including a loan estimate reflecting the terms of the loan on the property you are buying.
The total disclosure package can be over 80 pages, and includes required federal forms that discuss your rights to fair lending, as well as authorizations forms that will need to be completed to verify all the information on your loan application.  Fortunately, you can typically e-sign the disclosure package, saving you both time and paper.
Who helps with this step?
Compliance specialist
To ensure that your loan estimate is as accurate as possible, a disclosure specialist will send out your loan estimate with instructions for how to open up the documents, review them and e-sign them.
Although most lenders allow for the documents to be signed electronically, you may still need to print and sign some of the documents. Your loan officer should be able to guide you through this process, but if you run into any technical difficulties opening or signing them, the compliance specialist may give you a call to help with the process.

Step #4: Verify all the information on your application
This is where your loan approval gets finalized. In most cases you'll provide current pay stubs, W-2s, tax returns, bank statements and any other information that supports the data you input on your loan application.
If you are buying a house, you'll provide a copy of the purchase contract so an appraisal can be ordered, and escrow can be opened. There will be a title company that verifies there aren't any title issues with the property you are buying like tax liens or judgments.
Who helps with this step?
Loan processor
Once you've finished signing your initial disclosures, a loan processor is usually the next person involved in your loan. They will review all of the paystubs, W2s, bank statements, and other documents required to fine tune the income numbers, verify there are enough funds in your account for closing, and address anything unique.
A loan processor may also ask you questions about information on your credit report like past addresses, and have you write letters of explanations for any late payments or other credit issues. They will also order your appraisal and request the title information related to your property.
Loan processing assistant
You may initially get a call from a loan processing assistant who will do some of the basic documentation collection, and work with you ordering verifications of employment and getting your homeowner's insurance set up before your closing.

Step #5: Submit your loan for final approval
Once all of your supporting documentation has been received, your loan will be prepared for final approval submission. If all goes well, you'll receive the approval with only a few remaining conditions left, and your loan will be moved to the closing department for the preparation of your closing disclosure.
Who helps with this step?
Underwriter
Once the loan processor has collected all the documentation from you, your loan is submitted to an underwriter for final approval. The underwriter has to review all of your documentation to confirm that it meets the approval guidelines for the type of loan your applying for.
In most cases, you won't talk directly to an underwriter. However, if you have complicated income or credit issues, you may get a call to provide clarification.
Usually, the loan processor is the contact point after the loan is approved and will review any remaining documentation needed to complete your loan. Your loan officer will also likely contact you to give you the good news of the approval, or to go over how to strategize a denial.

Step #6: Review your closing disclosure
The closing disclosure is the most important financial document you will review before you finalize your mortgage loan. It is a five-page document that provides all of the final details about your loan term, monthly payment and the total cost to get a mortgage.
Lenders are required to provide a CD to you at least 3 business days before your closing date, so you can question any costs, and make sure you are getting credit for any expenses you've already prepaid like an appraisal fee.
Who helps with this step?
Closer
Once you've provided any remaining conditions requested from the underwriter, it's time for your closing disclosure preparation.The closer works with a compliance specialist to ensure all of the information is accurate, and then your CD is issued for you to e-sign.
The closer contacts your title company or attorney to discuss a closing time, and go over the process required to fund the loan. Once you e-sign the closing disclosure, the closing clock officially begins counting down to your closing date.

Step #7: Collect closing documents
After you accept your closing disclosure, the loan will be ready for the preparation of the closing documents. The paperwork will include most of the documents you signed at the beginning of the loan process, plus your final mortgage note and deed of trust — the paperwork that will commit you to the payment obligation on your loan.
Who helps with this step?
Document preparer
This process may be handled by the closer, but many lenders have a document preparation person who puts together the final paperwork for you to sign at closing. They will be making sure your name, the address of the property and the legal description of the home you are buying is correct, and matches on all of the documents.
Quality control specialist
Many lenders have a quality control department to double-check information on your application before funding. This may include re-verifying you are employed, and checking your credit to ensure no new debt has been opened.
Once the quality control process is done, the closer or document preparer will finish your documents and send them to the attorney or title company for you to sign.

Step #8: Sign your closing papers
Your documents will be sent to a title company or to your attorney for you to sign. Any remaining balance due for your down payment and closing costs is paid at this time.
Once the paperwork is signed and your funds are received, the lender will authorize your loan funds to be used to purchase your home, and ownership will be recorded into your name.
Who helps with this step?
Funder
Once your loan paperwork is signed, the final process is for the funds to be sent to your escrow to complete your purchase. A funder makes sure the wire goes out at the correct amount, and all of the parties to the transaction are allocated the correct amount of money.
The closer may also perform this function, and your loan officer may attend your signing to make sure everything goes smoothly. If all goes as planned, you'll usually be able to pick up the keys to your house the same day, and can begin enjoying your new home.

A few other important "whos" in the home financing process
The process above details the who's who of the mortgage financing process. You may also be contacted by an appraiser who will inspect your home to verify the value. A  title officer or escrow officer will handle the documents related to making sure you take proper legal ownership of your property.
If you need to improve your credit score before or during the loan process, a credit repair specialist may contact you. Be sure to respond to their calls — the sooner you provide what they need to complete their tasks, the sooner you'll be able to close on your home loan.