How Does LendingTree Get Paid?
LendingTree is compensated by companies on this site and this compensation may impact how and where offers appear on this site (such as the order). LendingTree does not include all lenders, savings products, or loan options available in the marketplace.
What is a Buyer's Market?
Published on: May 30th, 2019
Editorial Note: The content of this article is based on the author's opinions and recommendations alone. It may not have been previewed, commissioned or otherwise endorsed by any of our network partners.
With home prices rising and relatively few homes available on the market, sellers have had control of the real estate world for several years — giving buyers little room to negotiate.
But sellers may finally be losing their competitive edge as mortgage rates drop while more homes are going up for sale. Could we be entering a buyer's market?
We'll explore what a buyer's market looks like so you can take advantage of the extra buying power that comes with them for your home purchase.
We'll cover:
What is a buyer's market?
In real estate, a buyer's market occurs when there are more houses for sale than there are house hunters. Buyers in these markets enjoy much more bargaining power and choice. They also benefit from sellers who are more willing to offer incentives to close a deal – everything from paying closing costs to installing new appliances in an outdated kitchen – all to attract a buyer.
This is very different from the seller's market that most homebuyers have experienced for the past several years. In a seller's market, there are few homes for sale, and buyers usually end up offering at least the asking price, if not more, just to compete. Because sellers know there are more buyers than available homes, they won't offer to pay closing costs, and often offer the homes "as is" without offering any upgrades even if the house could use some sprucing up.
U.S. real estate markets tend to follow a pattern of roughly 18-year cycles, according to research by prominent economist Homer Hoyt. Periods that favor buyers only tend to last about two to three years out of the nearly two decade cycle, with the remaining 15 or 16 years usually dominated by sellers.

How to identify a buyer's market
As a buyer's market approaches, you may see more balloons on the weekends to draw you to open houses as agents step up their efforts to get you to check out their listings over those from other agents.
Be sure to watch also for houses that are on the market for awhile, then taken off the market and put back on a few weeks later. This may be a sign that the seller is feeling some pressure to get offers, creating a good opportunity for you to jump in and get a good deal. While you may not see all the signs pop up at once, you'll start to notice more of them as the buyer's market heats up.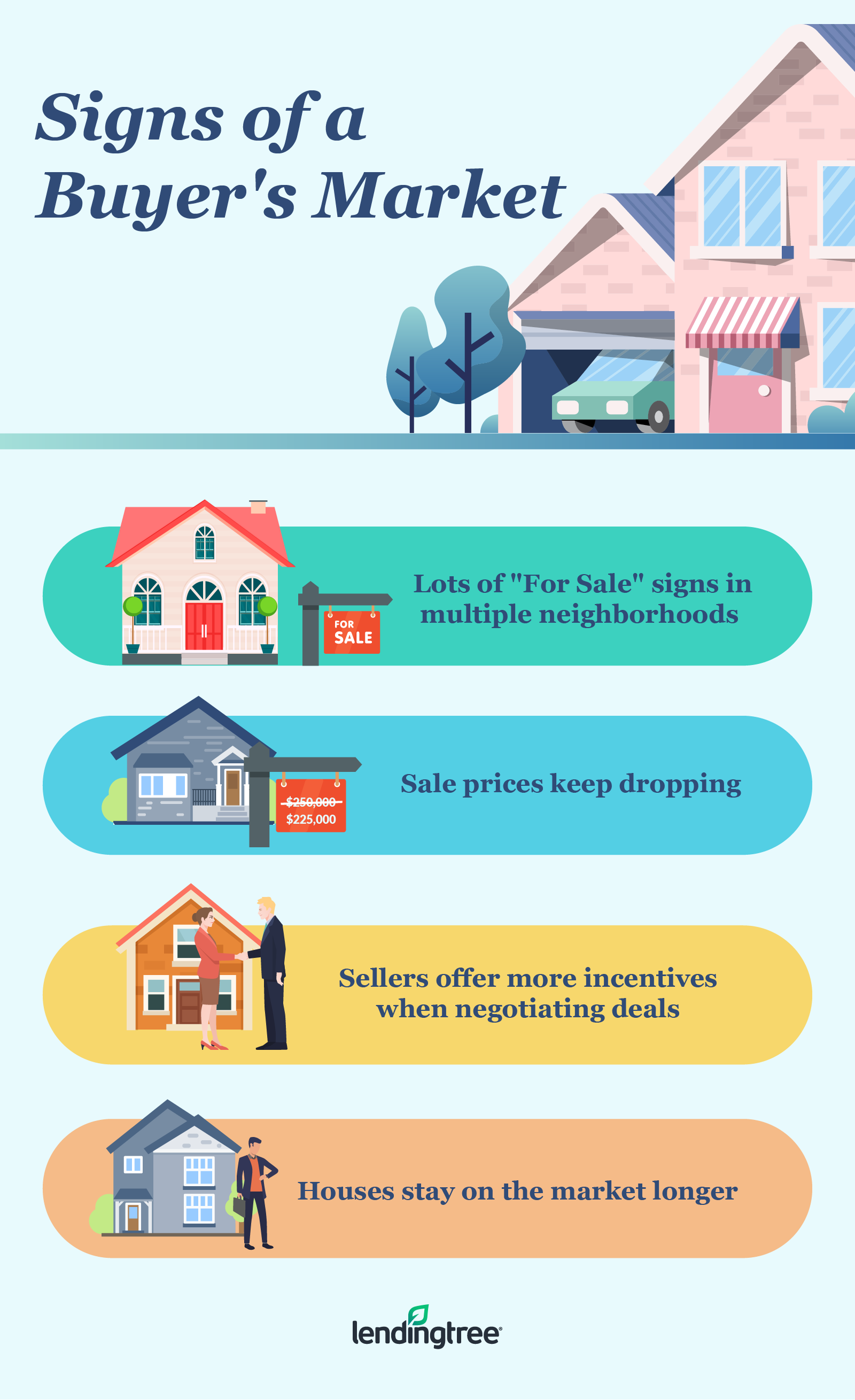 How to negotiate in a buyer's market
With so many homes to choose from, finding the perfect home may be much easier in a buyer's market. You may be able to negotiate a home purchase with far more incentives, and you should ask for them.
It's not uncommon to offer a lower sales price than what is listed and ask for the seller to pay closing costs. You might even ask them to use some of the closing cost to pay some discount points for a lower interest rate.
The point is: You are much more in control in the driver's seat, and should be willing to walk away if a seller isn't willing to concede to a reasonable offer. Your offer should be consistent with how much houses have recently sold for in the neighborhood — if you make too low of an offer a seller may just reject it out right without even attempting a counteroffer.
Buyer's markets may be local
You may have heard the expression that real estate is about location, location, location. The same is true about buyer's markets. Just because one part of town is a buyer's market, doesn't mean that every neighborhood will be.
If you are very particular about where you want to live, or are targeting an area where most homeowners tend to stay put until their kids have graduated from a particular school district, you may not have as much negotiating power. It's a good idea to work with an experienced real estate agent from the area to take the pulse of a particular neighborhood before you start going out and making offers.

Why buyer's markets don't usually last long
If history is an indicator, buyers don't have the upper hand for very long in the U.S. real estate world. Like any other investment, it's never a good idea to try to "time" the market.
If you see a property you like at a price you can afford, and can get the seller to throw some money at closing costs or a few bells and whistles' upgrades, take the deal and move in. If you wait too long and the market shifts back in favor of sellers, you may end up spending years kicking yourself for not taking advantage of home prices when buyers had more control.
---
Featured Articles