Best Mortgage Refinance Options to Lower Your Monthly Payment
Updated October 18th, 2019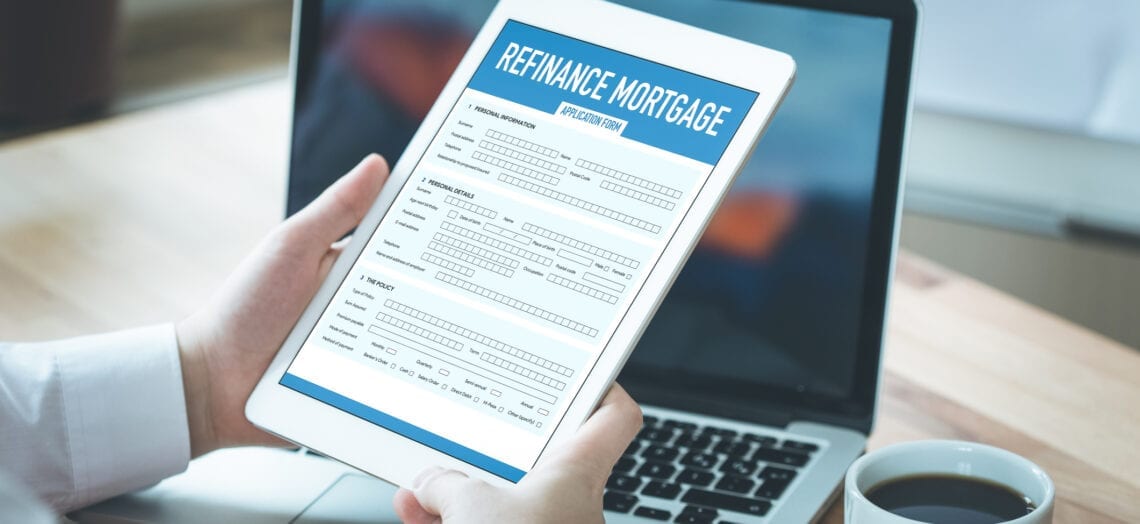 Refinancing your home loan to a lower interest rate can be an excellent way to lower your monthly mortgage payment. But it's important to pick the right type of refinance mortgage for your needs and financial situation. In this guide, we'll discuss the different options for a mortgage refinance and how to choose the best one to lower your payment.
We'll cover:
Home refinance options for lowering your mortgage payment
Picking the best refinance mortgage for lowering your monthly payment depends on which type of mortgage you currently have. In most cases, you probably have a conventional, FHA or VA loan. Below, we will outline the refinance options for each type of mortgage.
Conventional loans
Conventional loans are the most common type of mortgage, giving you the ability to buy a home with a 20% down payment. If you put less than 20% down, you are typically required to pay  private mortgage insurance (PMI), which protects the lender against default.
You have two refinance options for a conventional loan:
Conventional rate and term refinance with an appraisal waiver. A rate and term refinance allows you to get a new mortgage at a lower interest rate and/or monthly payment. If you don't have the cash to pay for the refinance fees and costs, you can roll them into the new loan amount.
To refinance, you'll need to document your income and credit again. If values have risen since you purchased your home, and you aren't taking out any additional cash except to roll in closing costs, you may be eligible for an appraisal waiver.
Your loan officer will let you know if you're eligible for the waiver, and if you get it, you'll save the $300 to $400 you'd normally spend for the appraisal inspection fee.
Conventional rate and term refinance with an appraisal. You can also get a rate and term refinance with an appraisal. If your property is not eligible for an appraisal waiver, you'll most likely need the appraisal.
To get rid of or reduce your monthly PMI premium, you can get a home appraisal if you think values have risen your neighborhood. If the appraisal indicates you have 20% equity, PMI won't be required on the new loan.
FHA loans
The Federal Housing Administration (FHA) insures loans made by FHA-approved lenders. The FHA loan program was designed to help people buy moderately-priced homes with a low down payment and easier qualifying guidelines than conventional loans offer. FHA streamline refinance programs allow you to lower your mortgage payment without income documentation or an appraisal. There are two options available with the FHA streamline refinance, and we'll discuss how each works.
FHA streamline refinance with no appraisal. The FHA streamline with no appraisal allows you to refinance your mortgage without income documentation and, as the name suggests, no appraisal. The only catch: you can't roll your closing costs into the loan. Some lenders may offer an option with low or no cost fees, but you'll pay a higher interest rate as a result.
Lenders only consider your mortgage payment history for an FHA streamline approval. They will also check your credit score to determine what interest rate to offer you. Balances or payments on other credit accounts are not considered.
When you take out an FHA loan, you have to pay two types of mortgage insurance — a lump sum upfront mortgage insurance premium (UFMIP) that is usually rolled into your loan amount, and an annual mortgage insurance premium (MIP) that is paid in monthly installments. The bad news: You'll have to pay both types of mortgage insurance again, but you will get a refund of any unused portion of your upfront mortgage insurance premium (UFMIP) to help offset some of the costs of the refinance.
FHA refinance with an appraisal. If you don't have the cash to cover the closing costs, you can opt for a regular FHA refinance that requires an appraisal. As long as you don't borrow more than 97.75% of the value of your home, you'll be able to roll your closing costs into the new loan.
VA loans
VA loans are designed to provide competitive home loan financing options for active-duty or veteran military personnel. To refinance, VA-approved lenders can offer an interest rate reduction loan option requiring no appraisal or income documentation. An additional benefit of the VA streamline refinance is it doesn't require mortgage insurance.
VA interest rate reduction refinance loan. Veterans with an existing VA loan can enjoy the savings of a lower payment by using the VA's Interest Rate Reduction Loan (IRRRL) program. Much like the FHA streamline, no income documentation or appraisal is required.
One of the biggest advantages VA borrowers have is being able to borrow more than 80% of the value of a home with no mortgage insurance requirement. Instead, the VA charges a guarantee fee of 1.25% to 3.3%, depending how much you put down and whether you've used your home loan benefit in the past.
That fee is 0.5% on a VA IRRRL. Veterans with a service-related disability may be eligible for a waiver of the funding fee. You can also roll closing costs into a VA IRRRL loan without needing an appraisal.
What you'll need to qualify for a lower payment refinance
The table below provides a side-by-side comparison of qualifying guidelines for each type of payment reduction refinance, including any special requirements you need to meet.
Mortgage program
FICO Minimum
DTI maximum
Maximum LTV
Special requirements
Conventional rate and term with and without appraisal
620
Up to 50%
97%
None
FHA streamline refinance w/no appraisal
No minimum but rate is based on score
No DTI or  income documentation required
N/A

No appraisal required

Current loan must be FHA
Must have made 7 months of payments on current loan

FHA refinance with appraisal
580
43% recommended
97.75%

Current loan must be FHA
Must have made 7 months of payments on current loan

VA IRRRL
No minimum but rate is based on score
No DTI orincome documentation required
N/A

No appraisal required

Current loan must be VA
Must have made 7 months payments on current loan
How to choose the best mortgage refinance for lowering your payment
There's a lot to consider when deciding on the best mortgage for lowering your payment. Below, we offer guidelines on how to pick the right option for you.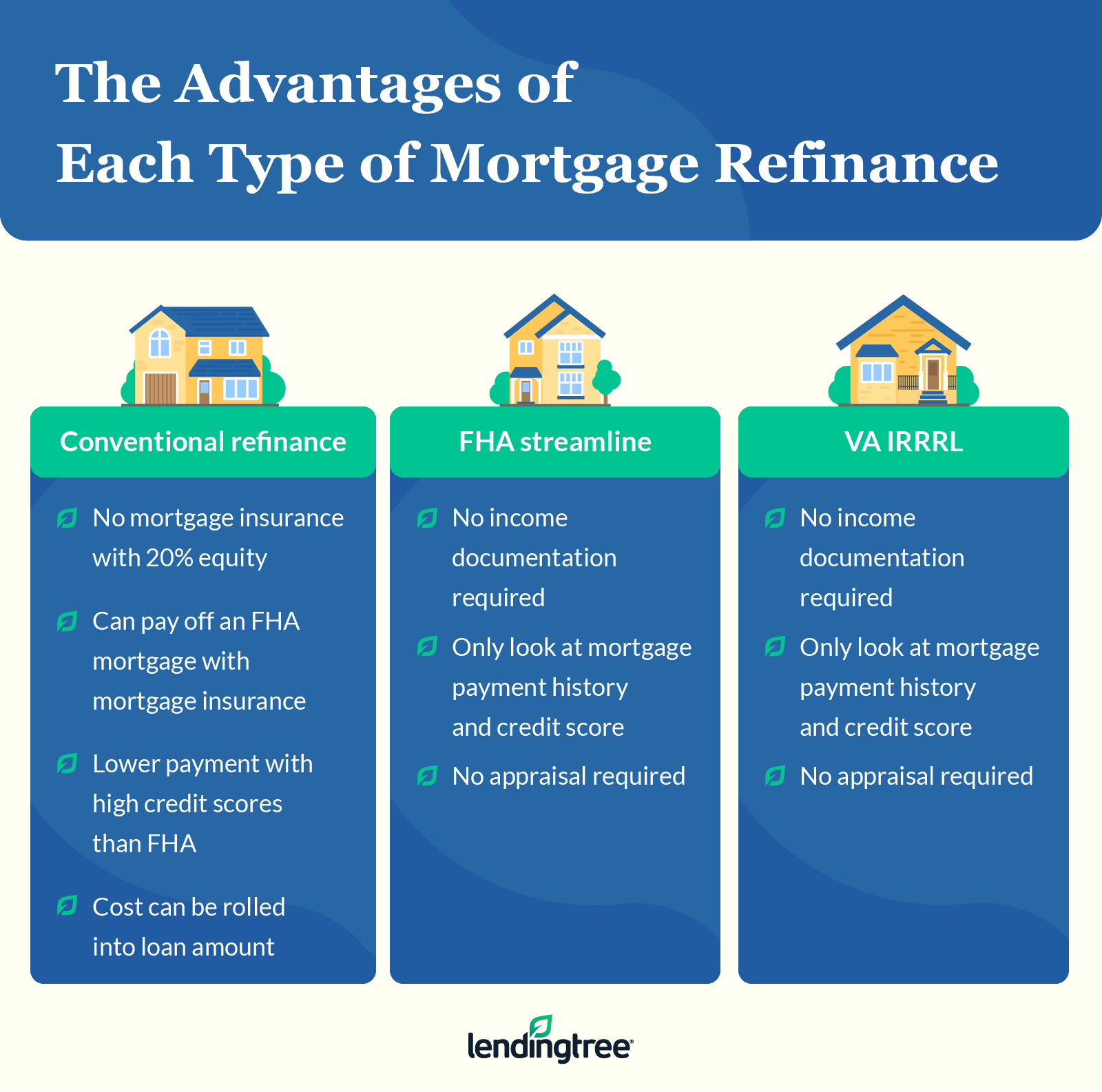 When a conventional rate-and-term refinance makes the most sense
If you've got good credit and a stable income, and home values have been steady in your neighborhood, a conventional rate and term refinance is a good choice. It's an especially good choice if you've got at least 20% equity in your home because you won't need mortgage insurance.
Alternatively, if you currently have an FHA loan and your home equity has increased to at least 20%, a conventional refinance will replace your current loan with a loan that doesn't require FHA mortgage insurance premiums.
If you're tight on cash, being able to roll your costs into an FHA mortgage will save you from having to spend out of pocket for the refinance fees.
When an FHA streamline makes the most sense
If you have a current FHA loan and don't want to have to deal with income documentation or the inconvenience of having an appraisal inspection, an FHA streamline is the best fit. If you've recently racked up credit card debt, you won't have to worry about whether it will affect your approval because there is no DTI review.
As long as you've had your current mortgage at least seven months with on-time payments and have enough money in the bank to cover the closing costs, an FHA streamline will be the fastest path to a smaller mortgage payment.
When a VA interest rate reduction refinance loan makes the most sense
Eligible veterans with a current VA loan will get the most benefit with the VA IRRRL program. With no income documents, no appraisal and no mortgage insurance costs, it is by far the easiest refinance program for saving monthly on your mortgage payment.
Closing costs can be rolled in, and as long you've can recoup the closing costs in 36 months and paid your current VA mortgage for the last seven months, you'll be approved for the lower payment.
Rate shopping tips for lowering your mortgage payment
The key to buying real estate may be location, location, location, but the key to refinancing is shop, shop, shop. Not all lenders offer the lowest rates possible on the refinance options we've outlined in this article. Some may specialize in conventional loans, while others have a special niche for FHA and VA loans.
Here are some tips for finding the best deal:
Use a rate comparison site
The fastest path to getting feedback on rates available on any refinance program that lowers your payment is to use a rate comparison site, like LendingTree. You'll get calls back from multiple lenders with offers that should give you an idea of a range of interest rate and closing costs.
Make sure you compare rates on the same day
Mortgage rates work much like stock prices and can change daily; if there is big news about the economy, they may change hourly. Get all of your rate quotes on the same day, or you may not be comparing apples to apples.
Get your lock in writing
Everything in real estate should be in writing, including a confirmation that your mortgage rate is locked in. You'll have a set amount of time to provide all of the documentation before the lock expires, usually 30 to 60 days. Be sure to provide what your loan officer requests promptly so you don't end up needing a lock extension, which may cost you extra.
Don't try to time the market
The best time to refinance is when rates save you enough money to break even on your costs before you sell your current home. Rates can rise just as quickly as they fall, and you'll kick yourself if you lose out on thousands of dollars of payment and interest savings waiting for rates to drop a little bit more.
The information in this article is accurate as of the date of publishing.