Cash-Out Refinance for Home Improvements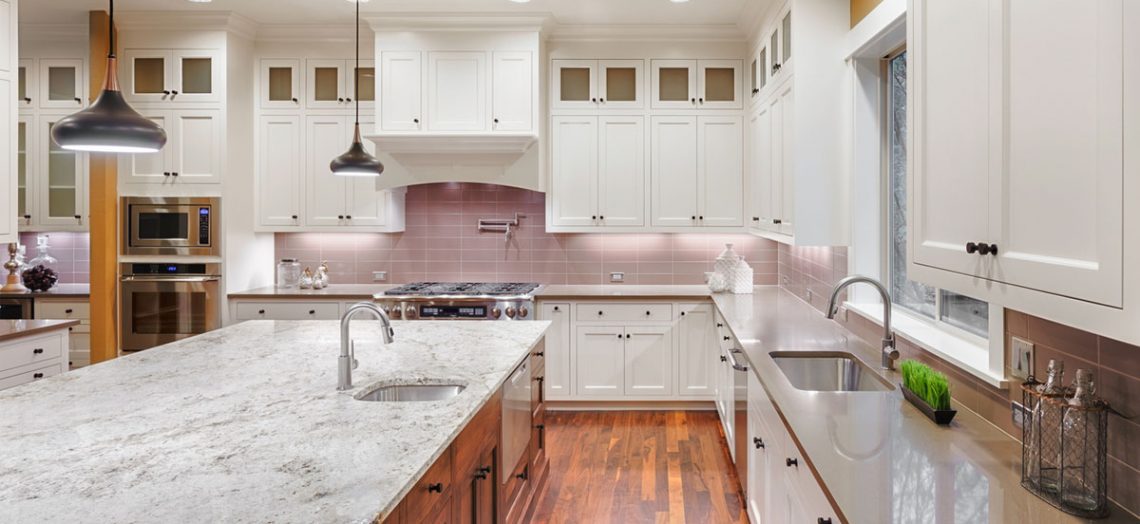 If you're aching for a new kitchen, updated bathrooms, an addition to your home or a number of other improvements, it's wise to compare the different ways you could cover the cost. Perhaps you have the savings on hand but don't want to drain your bank account for a splurge. Or, maybe you're considering a personal loan or credit card to cover the costs.
You may also want to consider a cash-out refinance. Unlike other loan and financing options that add a new account you need to service, a refinance with cash out for home improvement replaces your old mortgage with a new loan. This can be advantageous for several reasons, but there are disadvantages, too. Keep reading to learn more about refinancing your home to get cash out for a remodeling project and how you could use this strategy to save money, pay for the upgrades you've been dreaming of and build equity in your home.
Why you might want to use a cash-out refinance for home improvements
There are several reasons a cash-out refinance may be your best option, although the pros and cons vary depending on your unique situation as well as your home. Let's start with some of the main advantages:
You could secure a lower rate and monthly payment on your mortgage.
If you took out your original mortgage several years ago and rates have dropped since then, a cash-out refinance for home improvement could help you get a lower rate on your full loan amount. Let's say you took out a 30-year mortgage for $250,000 at 6% APR 10 years ago. After making the $1,498.88 monthly mortgage payment (including principal and interest) for 10 years, the principal of your mortgage is down to $208,761.
Now, let's imagine you could refinance your home at today's lower rates and take $15,000 out in cash. During the cash-out refinance process, you replace your old home loan with a new 30-year mortgage for $223,761 and pay your closing costs in cash. But, since the APR is now 4%, your monthly payment (including principal and interest) goes down to $1,068.27. And remember, you now have $15,000 cash to spend on projects around your home.
Mortgage lender Corey Vandenberg of Platinum Home Mortgage in Lafayette, Ind., says this scenario is a pretty common one for consumers who refinance their homes to tap into their equity.
"Interest rates tend to be lowest on first mortgages, which is why it can be smart to do a cash-out refinance instead of a second mortgage or another type of loan," he said. "Your payment may go down even though you're taking cash out."
This is one reason a cash-out refinance could be a boon to your finances while also helping you finance the home upgrades you really want.
Mortgage interest rates are typically lower than other loan options.
Vandenberg says many people assume a credit card or personal loan is a good option for a home remodeling project. They may also turn to these options because they require less work than a full refinance, he says. However, those financing options tend to come with much higher interest rates, and the higher rate can cause consumers to pay a lot more in the long run.
"The interest rate with a home mortgage is typically better than you'll get with other borrowing options since it's secured," he said.
Your mortgage interest may be tax deductible.
Jeremy Schachter of Pinnacle Home Mortgage in Arizona says that many consumers prefer to do a cash-out refinance because they want to be able to deduct the interest on the full amount they borrow.
"You wouldn't be able to deduct the interest on a credit card or personal loan," he said.
However, Schachter adds that you should speak with a tax adviser about how much interest you can deduct, per the new tax rules of 2018.
Not only was a $750,000 limit (for married couples) put in place on the amount of mortgage debt you can deduct interest on, but the standard deduction was raised for both individuals and couples. These two factors could impact whether you're able to deduct mortgage interest on your taxes.
A refinance for home improvement could make your life simpler.
While none of the financing options we cover are overly complex, there's a notable benefit that comes with refinancing your primary mortgage into a new loan — simplicity.
"You'll only have one loan going forward, so you won't have to manage several new debts," said Schachter.
If you took out a second mortgage or personal loan, on the other hand, you would have your old mortgage to service in addition to your new loan.
You can use the funds however you want.
Another benefit of cash-out refinancing is that you can use the cash you receive at closing however you want. This means that, in addition to home upgrades or repairs, you could cover other expenses.
You could gain more equity in your home.
Vandenberg says one of the biggest benefits of a cash-out refinance for home improvements is the fact you will likely improve the value of your home. "Adding a new kitchen or upgrading a bathroom could add as much value as the amount you borrow," he said.
Cash-out refinance or home improvement loan?
A cash-out refinance may seem ideal for your home remodeling project, but before you decide, compare all your options. One option you may want to consider is a home improvement loan with no equity. These loans come in several different forms, including the FHA Title 1 home improvement loan, an unsecured personal loan and even a 401(k) loan.
Each of these options will let you borrow money for home improvements whether you have equity in your home or not. However, there are some serious differences between cash-out refinancing and home improvement loans, including:
Home improvement loan amounts can vary. For example, FHA Title 1 home improvement loans only let you borrow up to $25,000, and any loan over $7,500 requires collateral.
There may be limits on how you can use the money. If you get an FHA Title 1 improvement loan, for example, you can use the money for alterations, repairs and site improvements, but not for luxury items like pools or spas.
Unsecured personal loans and credit cards may come with higher interest rates than home improvement loans, so make sure to check and compare rates.
A 401(k) loan requires you to borrow from your own retirement account, and it can be risky. For example, you may miss out on returns while you're borrowing the money, and if you change jobs during the loan period, you may have to immediately repay the entire balance.
There are still several benefits to consider with home improvement loans with no equity like the FHA loan, unsecured personal loans or credit cards. Those advantages include:
Closing costs are much lower with home improvement loans. There are no closing costs on FHA Title 1 home improvement loans, for example. There are many credit cards with no annual fees and personal loans tend to have minimal fees, if any. With a cash-out refinance, on the other hand, Schachter says your closing costs could add 1%-3% of the home's value onto the loan.
An unsecured personal loan, credit card or 401(k) loan would make it possible to use the money however you want.
Some credit cards come with 0% introductory APR on purchases for up to 18 months, meaning you could secure an interest-free loan for a limited time.
Using a cash-out refinance for home repairs and maintenance
Schachter says many people limit themselves by thinking of only borrowing money for big remodeling projects like a new kitchen or home addition. However, cash-out refinancing and other loan products can be good for small home repairs and maintenance, too.
"This is especially true if you don't have the money to make important repairs otherwise," he said. By borrowing against your home equity to pay for maintenance and repairs, you could even prevent higher costs down the line. One example is using a cash-out refinance to repair a leaky roof now so you can prevent pricey water damage, but there are plenty of other situations where routine maintenance can save you money later on.
Another time it may make sense to use a cash-out refinance or loan to pay for routine maintenance or repairs is when you are selling your home. Moving is expensive, says Schachter, so you may not have the cash on hand to repair your roof or buy a new HVAC system.
"If you're selling your home and need to spruce it up first, a cash-out refinance could make sense," he said. Ideally, you would get at least some of the money you spend back in a higher selling price. But, at the very least, you would probably attract more buyers with a home that's in the best shape possible.
On the flip side, however, some of the money people spend on maintenance and repairs will inevitably be a sunk cost. That's because, according to Vandenberg, buyers expect a minimum standard for most homes regardless of what you have to spend to reach it.
Replacing windows, basic siding, or flooring may not boost your sales price because these items are considered "maintenance items," he said.
"If someone replaces old, dirty carpet with new carpet that costs $15,000, that doesn't mean they'll get their money back," he said. Buyers expect carpet that's in good shape, just like they expect workable windows and siding that is not an eyesore.
Using a cash-out refinance for renovations
Vandenberg says most people use cash-out refinances for big purchases like kitchens and bathrooms. However, additions are also very popular since they "almost always add value since you're adding square footage to your home," he said.
Here are some renovation projects that can add the most value to your home:
A 2018 study from Remodeling Magazine compared the costs of some popular home remodeling projects with costs recouped during resale. On a national level, some of the most valuable remodeling projects included garage door replacement (98.3% cost recouped), manufactured stone veneer (97.1% cost recouped) and entry door replacement (91.3% cost recouped).
A minor kitchen remodel helped sellers recoup an average of 81.1 percent of the money they spent, while a bathroom remodel brought back 71.1 percent. A major kitchen remodel, on the other hand, helped buyers recoup only 59 percent of their costs when they sold.
Still, you should keep in mind that the value you recoup may only matter if you sell. If your goal is improving your home so you can stay there and enjoy it for the foreseeable future, then the resale value may not matter to you quite as much.
Also, home remodeling projects are very personal, says Schachter. While you might love the new kitchen cabinets and flooring you picked out, that doesn't mean a buyer will. Plus, even "new" updates can look dated after you've used them and enjoyed them for a decade or more.
That's why when it comes to using a refinance for home improvements, you'll be better off using the money to make your home into what you want it to be.
"Buyers may love new kitchens and bathrooms, but that doesn't matter if you have no intention to sell," said Schachter.
Final thoughts
A cash-out refinance for home improvement may be just the answer you're looking for if you're ready to remodel but are short on cash. Not only could you secure a low-interest rate with this option, but you could boost the equity you have in your home as well.
If you're curious what your new home loan would look like, taking the time to play around with a cash-out refinance calculator could be a smart move. With a lower interest rate and the cash you need to pay for maintenance, repairs or a big home remodeling project, a cash-out refinance could be your best option.