How Does LendingTree Get Paid?
LendingTree is compensated by companies on this site and this compensation may impact how and where offers appear on this site (such as the order). LendingTree does not include all lenders, savings products, or loan options available in the marketplace.
Reverse Mortgages and Estate Planning: What You Need to Know
Updated on: April 16th, 2021
Editorial Note: The content of this article is based on the author's opinions and recommendations alone. It may not have been reviewed, commissioned or otherwise endorsed by any of our network partners.
If you've spent any time browsing online or watching TV in recent years, you've probably seen advertisements for reverse mortgages. The pitch is simple: As a senior homeowner, you can supplement your retirement income with a loan that you don't have to pay off as long as you live in and own your home.
The ads make it sound appealing, but there are several factors to consider when weighing reverse mortgages and estate planning.
Understanding reverse mortgage rules
A reverse mortgage allows older homeowners to convert part of their home equity into cash without making monthly payments to a lender. The loan doesn't have to be repaid until the borrower dies, sells the home or moves out.
While you can receive reverse mortgage loan proceeds in a lump sum, most people receive the proceeds in regular increments, so the loan balance starts small but increases over time.
Today, most reverse mortgages are federally insured through the FHA's Home Equity Conversion Mortgage (HECM) program.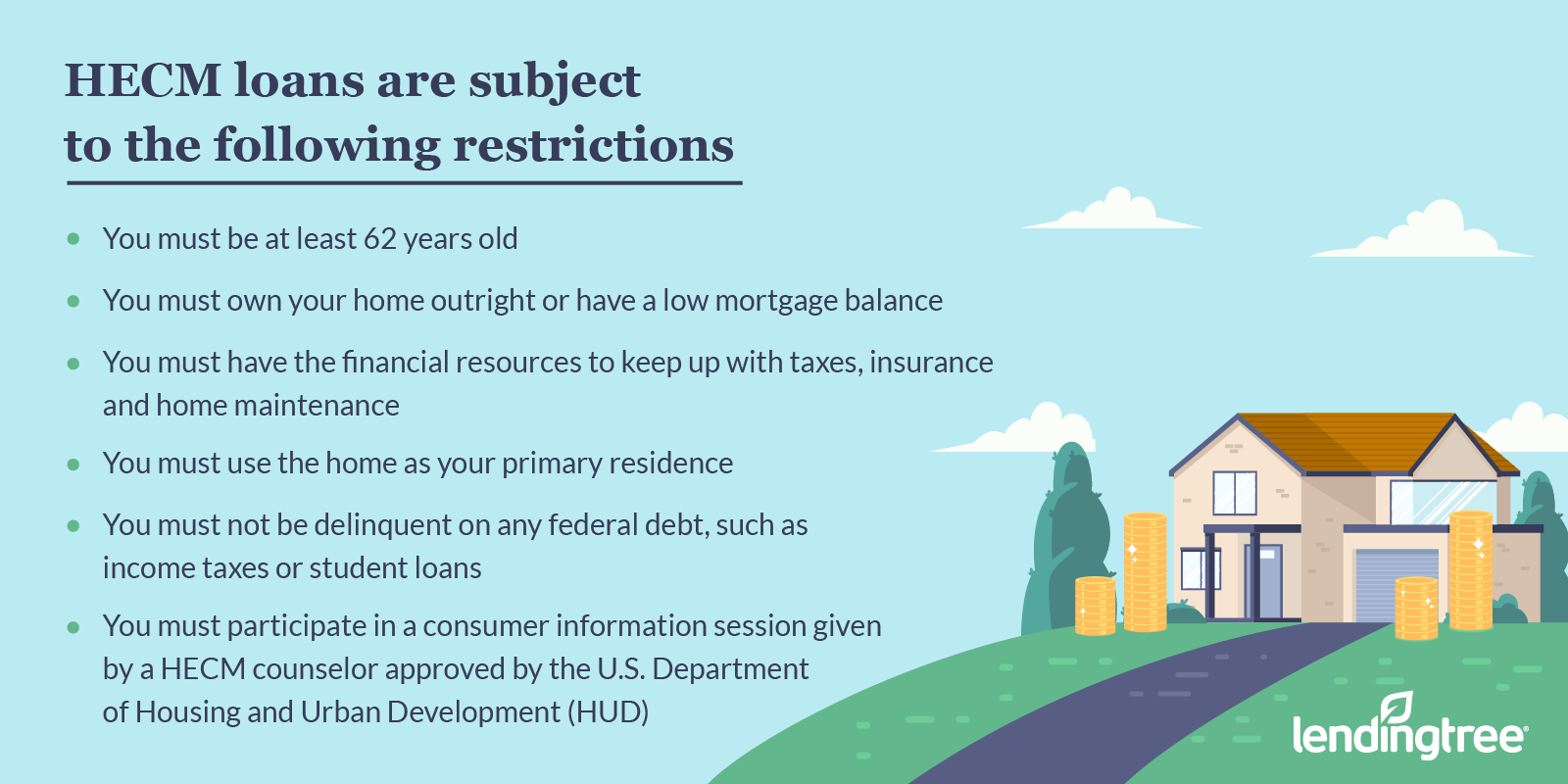 Since borrowing against your home's equity effectively reduces the value available to your estate when you die, it's important to weigh the trade-off between the impact on your estate and the supplemental income a reverse mortgage provides.
Your reverse mortgage and estate planning
If you plan on leaving an estate to your heirs, it's important to understand what happens to a reverse mortgage after death.
Your estate is the value of your property when you die, net of any money you owe. Your home may be part of that estate, but a reverse mortgage increases your debt. Thus, if you have a reverse mortgage, your estate will receive the net equity value from your home, which is the market value of the property minus your reverse mortgage balance. The problem is it can be tough to predict what the balance of that reverse mortgage might be.
HECM loans allow you to borrow up to your home's appraised value or the current year's FHA loan limit for HECM loans, whichever is less. A reverse mortgage calculator can help you figure out how much you may be able to borrow based on your specific property and circumstances.
Whether this leaves anything for your estate depends on three things that happen after you borrow the loan:
Home value fluctuations. Real estate prices go up and down over time, and these changes impact the amount of home equity available to your estate. If real estate prices rise steadily over time, your estate should benefit from those increases. However, if prices fall between the time you borrow the money and when you die, the amount you owe could exceed your property's value, and thus your estate will receive nothing from the property.
Your pace of borrowing. Money from a reverse mortgage is often received gradually over time and used to supplement retirement income. When you receive the money gradually, the equity in your home is slowly reduced. In this case, there's a greater chance that the value of your home will still exceed the amount you've borrowed by the time you die, thus leaving some equity for your estate.
Interest and fees. With a reverse mortgage, the amount you owe the lender increases over time as interest and fees are added to the loan balance each month. As your loan balance increases, the home equity available to your estate decreases.
THINGS YOU SHOULD KNOW
When you die with a reverse mortgage, your heirs generally have up to six months from your date of death to:
Hold on to the home by paying off the reverse mortgage balance or 95% of the home's appraised value (if the loan balance is greater than the appraisal)
Sell the home to pay off the reverse mortgage and inherit any remaining proceeds
If your heirs need more time to sell the property or obtain financing to settle the loan, they can request a 90-day extension from the loan servicer. The extension has to be approved by HUD.
Pay off a reverse mortgage after death with life insurance
One way reverse mortgage borrowers can limit reverse mortgage problems for heirs is by carrying life insurance.
If your heirs wish to keep the home when you die, they can use any available source of funds to finance the loan repayment, including proceeds from a life insurance policy.
With this as an option as part of your estate plan, you should review how the amount of life insurance you have compares to the size of the reverse mortgage debt you are likely to accumulate, as well as your life insurance policy beneficiaries.
Using life insurance to provide a means for your heirs to pay off a reverse mortgage probably makes the most sense if you have an existing whole life insurance policy you've paid into for several years. Later in life, it might not be cost-effective for you to purchase a new life insurance policy for the sole purpose of paying off any remaining reverse mortgage debt after you die.
Because of these complications, families need to have conversations about the future and create a plan for dealing with reverse mortgage pitfalls. Your heirs will need to get in contact with the loan servicer shortly after you die to let them know what they plan to do with the property.
THINGS YOU SHOULD KNOW
Loan servicers will find out about the borrower's death, even if heirs don't notify them. At this point, the loan servicer will send a "Due and Payable" letter to the borrower's home address, which will include the loan balance, the estate's options for paying the balance due, and the number of days heirs have to respond. If your heirs don't respond to the letter within the allowable time frame, the loan servicer can begin foreclosure proceedings.
If the home goes into foreclosure, your heirs lose their interest in the property and won't receive any proceeds from the sale, even if the house was worth well over the reverse mortgage balance.
Is a reverse mortgage a good idea?
A reverse mortgage can be a good way to access cash in retirement — but only if you and your heirs understand the downside of reverse mortgages. Here are a few factors to consider.
You may have challenges selling your home
If you decide you want to sell your home at some point after taking out a reverse mortgage, you should be aware of potential reverse mortgage problems. Selling likely won't be an issue if the home has increased in value, or you have plenty of equity to pay off the reverse mortgage, but if the home is worth less than the balance owed, you may have to do a short sale, which can be time-consuming and complicated.
You'll pay several fees as a borrower
There are several reverse mortgage costs and fees, in addition to interest. Typical fees include upfront and annual mortgage insurance premiums, appraisal fees, title search fees, inspection fees, recording fees, credit report fees, origination fees and monthly loan servicing fees. With a HECM, you can finance these fees and have them paid with loan proceeds. However, this reduces the proceeds available to you.
You'll need to watch out for scams
Reverse mortgages are complicated financial products. The Federal Trade Commission (FTC) warns that unscrupulous salespeople and lenders sometimes push homeowners to take out a loan they don't understand or use reverse mortgage proceeds to buy other financial products.
Your heirs may receive a reduced inheritance
If you die with a reverse mortgage on your property, your heirs will likely have to sell the home to pay off the reverse mortgage, and they'll only receive what's left after the reverse mortgage balance has been repaid.
You'll need to continue paying for taxes, insurance, maintenance and repairs
One of the conditions of a reverse mortgage is keeping up with payments on property taxes and homeowners insurance, plus covering maintenance and repairs to keep your home in good shape. Neglecting these costs is considered a "maturity event," meaning the lender can require you to repay your loan.
Questions to ask before borrowing a reverse mortgage
What if my reverse mortgage exceeds my home's value?
If you live a long time and accrue significant interest and fees on your reverse mortgage, or the value of your home drops over time, it's possible to owe more on your reverse mortgage than the home is worth.
If you die with a reverse mortgage balance greater than the home's value, your estate is only responsible for paying the lender 95% of the home's appraised value. The estate won't have to make up any remaining amount owed, as it's covered by mortgage insurance.
What happens to other residents of the home if you die with a reverse mortgage?
If you have a spouse or other long-term residents in your home, consider making them co-borrowers when you apply for the loan. This ensures they won't have to pay off the loan immediately when you die, and they can continue receiving money from the loan if it's not yet reached its dollar limit. Keep in mind that the youngest co-borrower must be at least 62 years old to qualify for a HECM loan.
A spouse or partner living in the property who is not a co-borrower might still be able to continue living there without repaying the loan immediately after you die. If you were married to the non-borrowing partner when the loan was taken out and they were identified in the loan documents, the loan doesn't have to be repaid until that spouse dies or sells the property.
If there are no co-borrowers and your partner doesn't qualify for the above protection, then the loan will have to be repaid upon your death.
What happens if I outlive my reverse mortgage?
Your loan will not come due as long as you continue living in the home and meeting the other reverse mortgage conditions. However, it's possible you'll max out your reverse mortgage balance. When this happens, there is no more cash to withdraw, but you must continue paying for property taxes, insurance, maintenance and repairs.