Joint VA Loans: What They Are and What You Need to Know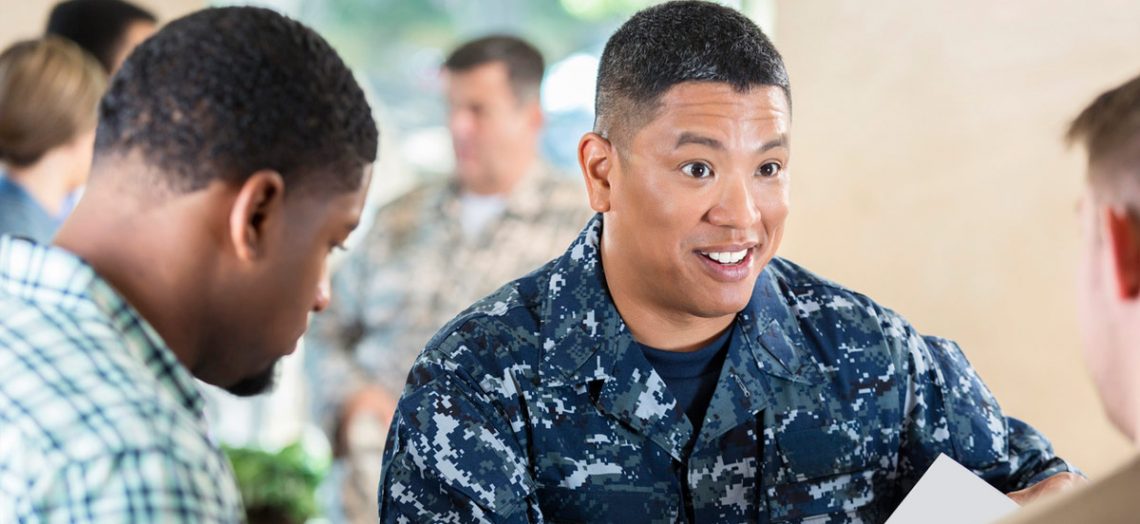 If you're eligible for a VA loan and want to borrow with a spouse or partner, a joint VA loan might be right for you. The Joint VA Loan program lets veterans or active military use a joint borrower to help qualify for their mortgage. For instance, you may be challenged by low credit, outstanding debt or low earnings. Think of a joint VA loan as an illustration of the principle that there's strength in numbers.
What is a Joint VA loan?
A joint VA loan is a loan taken out by a veteran and another borrower. Like regular VA mortgage loans, these joint products are guaranteed by the Veterans Administration (VA).
The guarantee constitutes the percentage of the total loan that is backed by the government and serves as security to potential lenders.  If you pursue a joint loan with qualified vets, the loan is also guaranteed. But if you're borrowing with a non-veteran, be aware that the VA will only guarantee your portion of the mortgage. A low guaranteed percentage created by non-veteran participants may make it tougher to land the loan. Lenders, however, may be amenable to a down payment from the non-veteran to offset the risk.
When to Use a Joint VA Loan
Veterans and spouses
If spouses are both veterans, they can qualify for a joint VA loan.  If a spouse or other veteran plans to be on the mortgage or title, he or she must also participate in the joint loan process.
Combining forces with your veteran spouse to secure a joint VA loan is one way to improve your chances of qualifying for a mortgage if one spouse has significantly lower income than the other. But that principle doesn't apply to credit scores. If one spouse's credit score is poor, it can't be helped by their spouse's stronger score.
If you qualify for a VA loan, you are eligible to receive an entitlement. That's a dollar amount the VA commits to repaying the lender if you ever default on your mortgage. Right now, VA entitlements are capped at $36,000, and most lenders are willing to lend up to four times that amount, assuming that you meet credit and income requirements.
You may be wondering just how far joining forces can go: If you and your spouse are both veterans and wish to apply for a joint VA loan, does that mean you can double your entitlement? Not necessarily. It is up to the VA to evaluate combined entitlements to determine the size of the loan.
But if you choose to use only one spouse's entitlement, you'll be free to use the other's on a future home purchase. (Note: The VA may restore your entitlement when you sell the home and pay off the mortgage.) Alternatively, both spouses can choose to split the entitlement so each is responsible for half the loan.
Two-veteran joint loan
According to the VA Lender's Handbook, a VA-eligible borrower and one veteran who will not be using his or her entitlement can apply for a Two-Veteran Joint Loan. Underwriters will consider the credit, assets and combined income of the applicants. You may want a co-borrower, since the assets and income of the other veteran can offset your shortcomings. However, the VA says, the co-applicant's credit cannot remedy your own poor credit.
Veteran/non-veteran joint loan
This joint loan is open to VA-eligible and non-VA-eligible borrowers — other than a spouse. Two or more VA-eligible borrowers can pool resources to buy a home or multiple-unit property. But if one borrower besides your spouse is not VA-eligible, you'll need the vet/non-vet loan.
To qualify, you must have satisfactory credit and income to support your guaranteed portion of the loan. And you must reside in the home that's financed. The non-veteran co-borrower(s) must have satisfactory credit and may combine assets and income with you to improve your chances for the loan. As with the two-veteran joint loan, none of the non-veteran borrowers can exchange their credit score with yours.
How to qualify for a joint VA loan
The VA assesses each applicant in a joint VA plan based on service eligibility, ability to pay his/her portion of the loan, and the type of loan. You can predict estimated payments on your portion of the loan by using LendingTree's VA Loan Calculator.
Eligibility
To qualify for a Joint VA Loan, the applicant must have a Certificate of Eligibility (COE). You can apply for one online. Active service members, reserves and National Guard members must have a current statement of service signed by a personnel office, adjutant or unit commander. Surviving spouses must submit VA Form 26-1817. For two or multiple-person loans to qualified veterans, the participants must meet qualification requirements if they are using their entitlement.
Fees
There is no down payment required, but all qualified veterans on the loan will have to pay a funding fee. All veterans seeking the home loan guarantee for their portion will be charged the funding fee based on the loan type, the amount, military category and how many times they have used their eligibility.
You can finance the funding fee through the total loan amount or pay cash — but it must be paid upon closing. On a no-down-payment loan to multiple qualified veterans, funding fees range from 2.15 to 3.3 percent. Non-veterans or disabled veterans are exempt from funding fee charges. Spousal survivors of veterans killed in action or from service-connected disabilities are also exempted.
Underwriting requirements
There is no minimum credit score requirement for the principal applicant of a joint VA loan. Lending underwriters will review your credit score and credit history and will flag delinquencies, which you may be called upon to explain. The veteran's income must be sufficient to repay his or her portion of the loan. The combined income of co-borrowers can enhance your prospects of getting the loan, however, though as previously explained,  your poor credit cannot be replaced by better credit scores among the other participants.
Lenders are required to round up your credit report and all authorizations for each participant. They are instructed by the VA to assess you and your co-borrower's past-payment history on mortgages or monthly rent.
The absence of credit history is not necessarily a show-stopper or black mark; recently discharged veterans have not yet developed a credit history, for instance.
Spouse, veteran status and military requirements
To qualify, veterans or active military must have accrued at least 90 days of active duty or less than 90 days' active duty if you were discharged because of a service-connected disability (WWII – Vietnam War). Gulf War veterans must complete 24 months of continuous active duty. Veterans with dishonorable discharges are not qualified. Find additional qualifications at the VA.
Surviving spouses are eligible to use their partner's eligibility if the service member was killed in action or has been reported missing. However, they must not have remarried, in order to qualify for the benefit.
Entitlement limits on joint VA loans
The VA has established separate entitlement limits for Joint VA loans based on the number of borrowers and the number that use their entitlement. Using the VA formula, LendingTree suggests that you divide the total amount of the loan by the number of borrowers. For example, consider a joint VA loan involving two VA borrowers using their eligibility and one non-veteran. The maximum limit on a $300,000 loan would be $100,000 for each entitlement, or a cap of $200,000.
Under the formula, the maximum guarantee amount on this $300,000 loan (two-VA and one non-VA participant) would top out at $50,000. Your team of borrowers may find a lender that supports this lower guarantee, or you may offset it with a down payment. Remember: The non-VA borrower would already be required to put down money at closing.
Restoration of entitlement
If you, as a qualified applicant, the VA allows you to restore your restore eligibility if:
You have sold the home and paid off the previous VA mortgage on the property.
You have paid off the home for the initial entitlement but not sold it (a one-time-only option).
A VA-qualified buyer agrees to substitute his or her entitlement on the home in exchange for your initial one (if equal).
Those seeking restoration must submit the proper request form to their nearest service center.
VA loans versus joint VA loans
The following chart illustrates fees and eligibility requirements for VA and joint VA loans:
VA Loan
Joint VA Loan
Eligibility
Open to veterans who meet eligibility requirements for active duty and type of discharge.
Open to the veteran and one or more veterans or non-veterans (excluding spouse unless he/she is a qualified veteran)
Fees
Qualified veterans and active service members pay a funding fee and are not required to make a down payment. They may choose to make a voluntary down payment to lower the cost of the loan.
Only the qualified veterans in a joint loan are required to pay a funding fee on their portion of the loan. Non-veterans do not receive a VA guarantee on their portion and are required to make a down payment instead.
Underwriting Requirements
Qualified veterans and spouses must meet "residual income" requirements. You may not exceed a maximum debt-to-income (DTI) ratio of 41% (VA).
In most cases, conventional mortgages will not be approved until four years after a bankruptcy discharge or dismissal. In the case of a Chapter 13 bankruptcy, the waiting period may only be two years if the bankruptcy was discharged rather than dismissed. Conventional mortgages generally require a waiting period of seven years from the completion date of a foreclosure action.
Sources: LendingTree, Veterans Administration
Can you have a co-signer on a VA loan?
There is a difference between a co-borrower and a co-signer on a VA loan. The distinction lies in whether the person helping with your loan intends to hold financial interest in the home and appear on the title. With VA joint loans, a qualified party who participates as a co-borrower has ownership interest and will be on the title.  On the other hand, a co-signer on a loan assumes joint responsibility in the repaying the mortgage but holds no ownership stake. Either a co-borrower or a co-signer can positively affect the VA underwriting process for your loan.
Qualified vets and non-vets can participate in a joint VA loan as co-borrowers and will hold a stake in the dwelling. They can be helpful in preserving entitlements, helping you meet your income, debt and asset requirements.
But co-signers on joint VA loans are limited to the borrower's spouse or an unmarried VA-eligible signer.  Though they hold no financial stake in a property, they may still improve your chances for approval by increasing the income on your application. But beware: A co-signer's own poor credit history can knock you out of eligibility.
If you cannot round up a veteran or non-veteran co-borrower to help with your VA loan, you may want to see if you qualify for other types of loans. A   Co-signers on non-VA loans can include a spouse, a friend or a family member.
Understanding the prorated guarantee on joint VA loans
A guarantee supports the approved VA lender up to a percentage of the full amount of the loan. The guarantee ceiling is 50 percent of a home loan up to $45,000 or a minimum guarantee of $22,500 on loans between $45,000 and $144,000.
The guarantee on joint VA loans is prorated, based on the qualifications of veterans who use their entitlement. With the non-qualified, non-VA participants on the joint loan, the lender has the option of accepting a 12.5 percent guarantee from the VA or assessment of an offsetting down payment.
Here is LendingTree's breakdown for a prorated guarantee on a two-veteran joint loan with only one participant using a VA entitlement:
Purchase price: $200,000
Veteran's portion: $100,000
Maximum 25% guaranty: $25,000
Properties allowed under joint VA loans
There is a range of options for approved joint VA loan properties based on the number of qualified participants teaming up on the mortgage. You can buy a house, a manufactured home or a condo in a project approved by the VA. If you're considering a veteran/non-veteran joint loan, your co-borrowers can purchase a multifamily property as long as the applicant using his or her entitlement plans to live in the building. Guarantees are restricted to a maximum of four family units, one business unit, and family units for each borrower using an entitlement.
The joint loan can be used to purchase and build a new home if it is approved by the VA. You may also use the loan to buy and improve a home or add energy-efficient improvements.
Energy efficiency
The VA allows borrowers to increase their loan up to $6,000 on existing homes for energy-efficient upgrades. The lender must evaluate the improvements/weatherization plan to determine whether the cost is reasonable. The lender must also determine whether the borrower(s) can afford the cost of the improvements when these are added to the total amount of the loan.
Where to find a lender
VA-guaranteed joint loans are offered by VA-participating banks, credit unions, insurance companies, mortgage companies and savings and loan associations. You can begin the process by phoning 1-877-827-3702 or finding a nearby VA Regional Office that handles guarantee loans.  They can answer your questions about participating lenders and how to put your VA paperwork together.  Once you're done with the VA requirements, you apply directly to the lender. All lenders are required by the VA to gain federal approval for all joint loans, including applications for joint VA loans with unmarried partners as co-borrowers.
Once you and your VA co-borrowers using entitlements have obtained your COEs, you can start searching for pre-qualifications or apply directly for loans from participating lenders. Lenders may impose their own requirements, depending on the percentage of the guarantee. At LendingTree, you can get free loan offers from competing lenders to find the optimum deal.
Get VA Loan Offers for Free