So, You Want to Start a Food Truck? Consider These Start-Up Costs
Published on: October 10th, 2019
Editorial Note: The content of this article is based on the author's opinions and recommendations alone. It may not have been previewed, commissioned or otherwise endorsed by any of our network partners.
It seems logical that a food truck would be a cheaper alternative to a brick-and-mortar restaurant. You don't have to rent or buy real estate, you'd have a smaller staff and there would be less overhead in general — but that's not always the case. A food truck alone could cost $60,000 or more, and you could be indebted with thousands more between permits, insurance and equipment before you drive off the lot.
When you're passionate about your product and you're willing to put in the hard work, though, you might just taste the success of food truck enterprising. Read on to learn what costs are associated with food trucks and how to finance your culinary venture.
How to start a food truck: 5 costs you can't overlook
1. Buying a food truck vs. a trailer
Food trucks have become synonymous with all sorts of mobile restaurants, including trailers, stands and actual trucks. Your first thought might be to buy a vehicle for your food truck, but you might consider getting a trailer instead.
Food trucks do have an Achilles heel. If the truck breaks down, you're out of business until it's fixed. Or, if it ends up needing a significant mechanical repair, your enterprise might be out of commission with no way to cover expenses in the meantime. With a trailer, you could always rent a truck to take it to your destination. Though you might be able to get creative with an out-of-commission laundry truck or ambulance, the novelty might not be worth the price you pay in maintenance and repairs.
Plus, a trailer could cost you less upfront. Of course, you'll save even more if you already own a truck that can tow it; you'll need a vehicle with a sizeable towing capacity to tow the trailer around.
Keep in mind that with any vehicle that's used for business, you'll have to account for fuel, labor and repairs in your budget.
2. Obtaining licenses and permits
The cost of permits required to operate a food truck will vary based on location. But no matter where you are, you can expect permits to add to your start-up costs.
For example, in Charlotte, North Carolina, city permits under the Temporary Infrastructure Agreement cost $300 annually, and trucks require insurance and a health department inspection. Plus, a commercial driver's license through the state of North Carolina will cost you $20 per year. In New York City, a Year-Round Mobile Food Vending Unit Permit can be $200 every two years and requires a health inspection to have the permit sticker attached to your food truck.
You'll also need to register your business. You probably won't need to register with the federal government unless you want to file for trademark protection or tax exempt status as a nonprofit. Instead, you'll need to register in any state where you conduct business. Under certain business structures, you may be required to register with a county rather than the state.
In addition to needing permits, you'll have to register your vehicle and make sure any drivers are licensed and insured. These costs vary by state, so contact your nearest Small Business Administration office for more details.
3. Insuring your truck and your company
Insurance has your back covered in many common circumstances. Some types of insurance, such as general liability and business owners insurance, are not required by law, but you'd be putting your business at a huge risk without them. Other types, such as workers' compensation and commercial auto insurance, will be required by law.
According to online small business insurance agency Insureon, you could pay thousands each year in insurance for your food truck.
4. Partnering with a commercial kitchen
Chefs need a place to prepare meals, dump water, clean dishes and store food; it's just not logistical to outfit a food truck with enough space to accommodate these necessities. So, food truck operators have to partner with local commercial kitchens to help with commissary.
Costs depend on the breadth of services provided, but you could expect to pay hundreds per month if you need a full-service commercial kitchen partner. Commercial kitchen rentals could also cost more or less depending on where you're located. You may also be able to secure hourly commercial kitchen rates from $15 to $35 per hour.
Search for commercial kitchens near you on Culinary Incubator or Kitchen For Rent.
5. Marketing and other operational costs
You'll want to consider the costs of website hosting, point-of-sale software, branded uniforms and a graphics wrap or paint job for your food truck. While these costs may not seem like a great expense on their own, they do add up. The little touches to your campaign could make a big difference for your brand, but don't overspend on branding without considering the big picture.
Take it from Alicia Pincham, owner of Charlotte, N.C.-based food truck and catering company A Pinch of Soul. Start with finding out what your clients want. Even something as simple as a tone-deaf menu can start your business on the wrong foot.
"When I first started, I was cooking what I wanted to cook and what I thought people wanted, and I was quickly eating up my savings," Pincham said. "What I came to realize is that people want from a food truck what they can't have at home."
For Pincham, the solution was as simple as taking a food truck marketing class at a local university. There, she learned how to market her brand better to become a successful business owner. Catering to the right audience can make or break your business.
Keep these routine business costs in mind
Getting your food truck up and running is only the beginning of your journey. Make sure you're financially prepared for food truck costs by keeping track of the expenses you'll have to pay on a regular basis.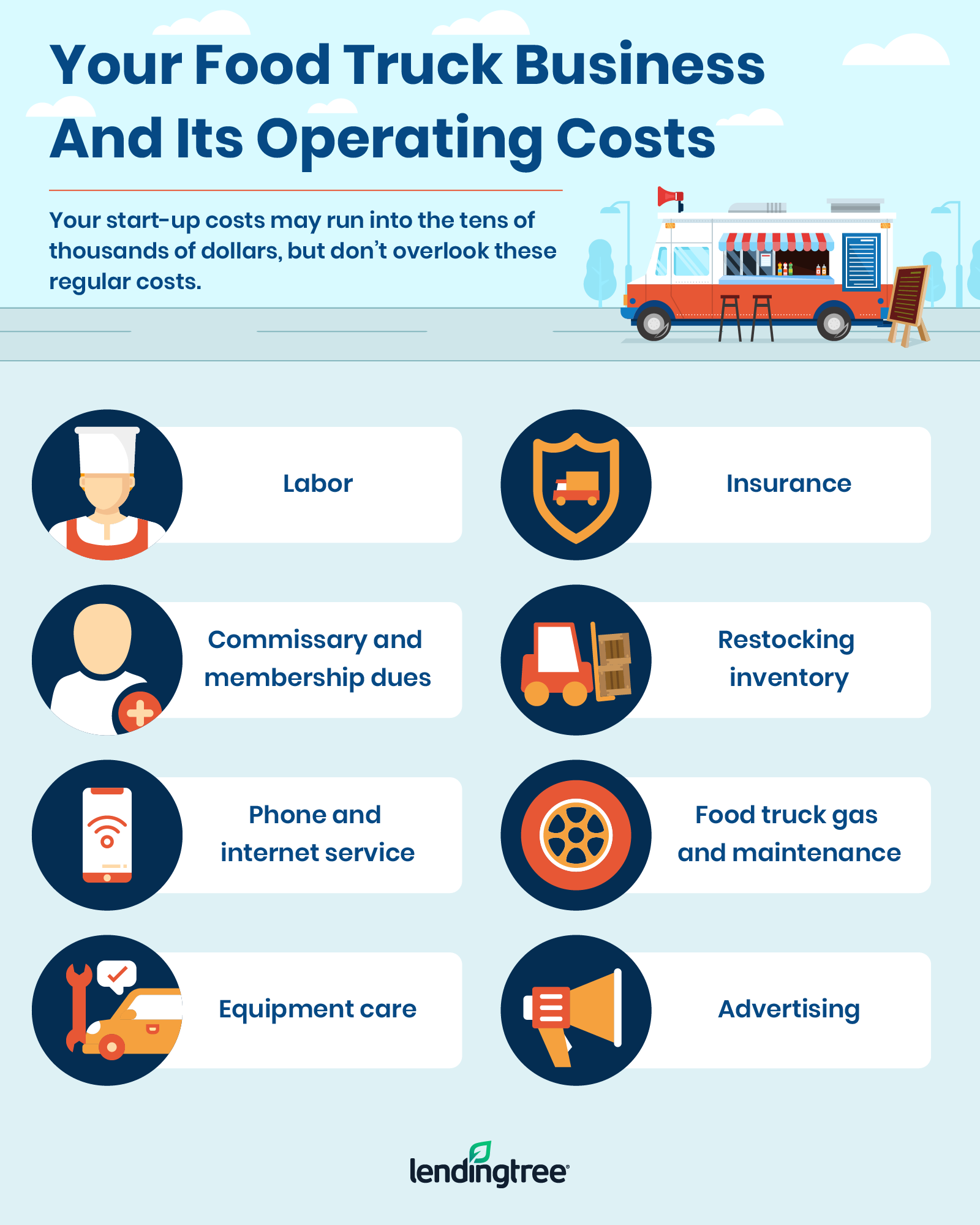 How to finance your new food truck
Small business loans vs. personal loans vs. business lines of credit
Your best food truck financing option will be completely dependent on the circumstances. Take Pincham's situation, for example. She wanted to be free of banks, so she started her food truck with her own 401(k). While it's not in everyone's best interest to dip into retirement savings to start a business venture, there are plenty of ways to finance a food truck, including a small business loan or personal loan:
Small Business Administration (SBA) loan: Like the name implies, an SBA loan is guaranteed by the Small Business Administration. The SBA doesn't give out the loan itself, but it sets guidelines for loans made by lenders. This reduces risk and makes it easier for lenders and small businesses to work together.
Personal loan: Personal loans come with few strings attached. This type of loan is unsecured, so you wouldn't have to put up your home or car as collateral. Because of this, the lender will more closely scrutinize the applicant's credit history, since that's really all they have to reference. And often, a personal loan will have higher interest rates than other types of loans, especially for low-credit applicants.
Business line of credit: When you need money for your business but you're not sure how much, you might consider opening a business line of credit. This financing option functions more like a credit card than a loan, because you only pay interest on the money that you use. Rates tend to be lower than that of business credit cards, but lenders may require that the business has been under ownership for a certain period of time.
Take a look at the pros and cons of these financing options below:
In general, putting your personal finances on the line for your business isn't a good idea. If you default on a personal loan, you will be held liable, and your credit score will be greatly damaged.
On the other hand, if you default on an SBA loan, the lender would come for your business or any other assets you put up as collateral. If these are not enough to cover the debt, the lender can file a claim with the SBA, which will work with you to present an offer for a settlement.
Bottom line
A love of food alone is not enough to fuel your business venture. If you want your food truck to bear fruit, you'll have to put in the work, sometimes filling the role of janitor, accountant and marketing specialist all at once. You'll need to be able to roll with the punches to be a successful business owner in this industry.
"Knowing how to cook does not guarantee that you're going to be successful in a food truck, or a restaurant," Pincham said. "Most people come into it with the love of food, but you have to deal with the grind."
Pincham tells aspiring food truck operators to shadow for a day in their favorite local food truck. The best way to know what the food truck market is like in your area is to learn from those who have conquered it.