How Does LendingTree Get Paid?
LendingTree is compensated by companies on this site and this compensation may impact how and where offers appear on this site (such as the order). LendingTree does not include all lenders, savings products, or loan options available in the marketplace.
How to Get Solar Panels for Your Home
Updated on: March 26th, 2021
Editorial Note: The content of this article is based on the author's opinions and recommendations alone. It may not have been reviewed, commissioned or otherwise endorsed by any of our network partners.
If you're considering solar panels for your home, you're not alone. According to a survey by the Pew Research Center, 46% of Americans say they've given serious thought to solar panel installation. However, many find that the solar panel installation cost holds them back from making the commitment, even though they stand to save tens of thousands over the solar panel system's lifetime. With that in mind, we've taken a look at the question, "Are solar panels worth it?" from a financial perspective.
How much are solar panels?
In the industry, residential solar panels (solar panels for home use) are known as "photovoltaics" (PV). These solar panels are usually seen on rooftops or installed in a field. When sunlight hits one of these panels, the cells of the panel absorb photons from the sunlight, creating an electric field and causing electricity to flow.
The average cost of solar panels can range from $17,760 to $23,828 — after tax credits — for a 10 kW system, according to EnergySage, a solar energy marketplace funded by the U.S. Department of Energy's Sun-Shot program.
EnergySage estimates that the federal solar tax credit alone can save you as much as 26% on your solar installation cost and, according to research by Consumer Affairs, once all available discounts have been applied, the average cost of solar panels drops to just $12,000 in total.
6 ways to buy solar panels for your home
Now that you know more about the average cost of solar panels, it's a good idea to take a look at your residential solar panel financing options. Consider how each of the six options below works, as well as their pros and cons.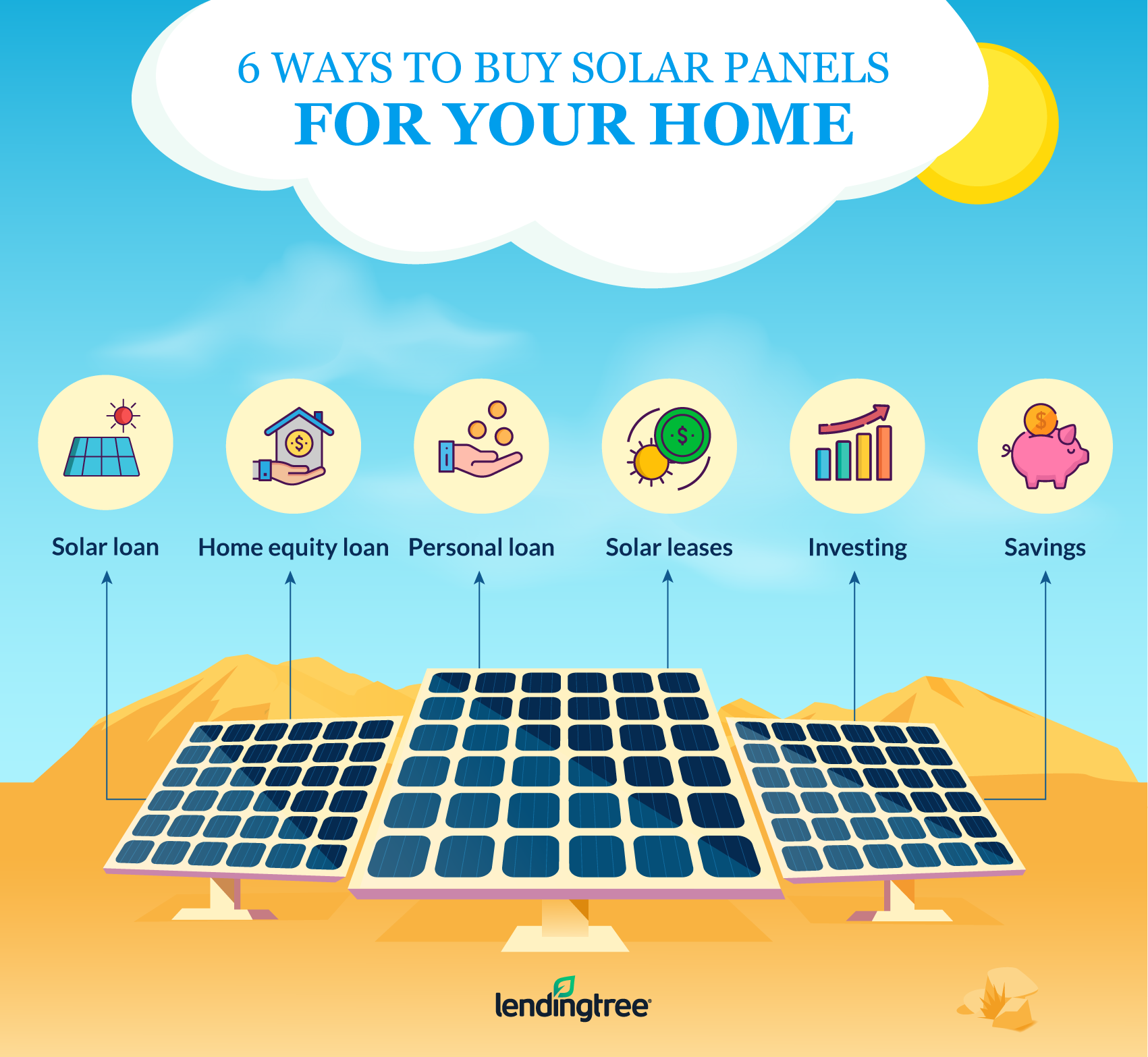 1. Solar loan
As the name suggests, solar panel loans are specifically used to cover the costs of solar power installation. While these loans can be secured or unsecured — meaning that they may or may not need to be backed by collateral — many will allow you to finance the entire cost of your system, which can make paying your total solar energy cost seem much more manageable.
Pros
 You'll have a range of options for solar panel loans. LightStream, a subsidiary of Truist, is one example. You can browse by state to see where you can get a solar loan specific to your local needs.
 You can choose a longer loan term. Solar loans terms can reach up to 20 years, while many personal loans stop at five years (although some do go longer). This can help you with low monthly payments if that's all you can afford.
Cons
 Your loan is specific to solar panel installation. If you need to make other home improvements, you'll need separate financing to cover those costs.
 You'll pay interest for the privilege of financing. Borrowing money means you still need to pay it back with interest. In particular, a long-term loan equates to more interest payments over the life of the loan.
2. Home equity loan
If you own your own home, you may be able to use a home equity loan to cover the cost of your solar panels. At its core, a home equity loan allows you to borrow money using the equity you've built in your home — this serves as collateral. In this case, you receive the money upfront in a lump sum and repay it in fixed monthly payments.
Alternatively, if you need to cover the cost of solar panels for your home plus other ongoing expenses, you may consider taking out a home equity line of credit (HELOC) instead. Like a home equity loan, a HELOC also allows you to borrow against the equity in your home, though in the form of a revolving line of credit. HELOCs typically allow interest-only payments during the draw period, which is then followed by a repayment period where you're responsible for paying off both the principal and interest amounts over a fixed number of years.
Pros
 You may get an affordable interest rate. Home equity loans and HELOCs usually offer competitive interest rates compared to other lending products, which can help make your payments more manageable.
 You'll have several repayment term options. Home equity loan terms generally range from five to 30 years, so you should have the ability to choose the payment arrangement that works best for you.
Cons
 Your home is used as collateral. A home equity loan is backed by your home, which means that the lender could decide to foreclose on your home if you stop making payments.
 You'll have to budget for an extra monthly payment. If you decide to borrow the money, you will have to worry about budgeting to take care of the new monthly payment.
3. Personal loan
A personal loan might be the quickest way for you to cover your solar power cost. Many personal loan lenders can deposit your money within a few days — or as little as a day — after being approved. You can browse through many different lenders online, or apply through your local bank or credit union.
Pros
 You may receive your funds quickly. A personal loan is often the quickest way to get money for home improvements, including solar panel installations.
 You may qualify for a competitive interest rate. The higher your credit score, the lower your interest rate is likely to be. A lower rate could make it much more affordable to buy solar panels for your house.
Cons
 You may have various fees to pay. Personal loans can come with lender fees, which can include origination fees, late fees and prepayment penalties.
 You'll need a decent credit score. You may not get approved if you have a low credit score, a limited income or a lack of credit history, so a personal loan isn't an option for everyone.
4. Solar leases
Leasing solar energy for your home is a lot like leasing a car. You get the benefit of enjoying the energy produced, but you make monthly payment on the panels themselves. In this case, you still get to save on your monthly electric bill, but you won't get the same tax benefits you would if you'd financed the full solar panel price and owned the panels outright.
Pros
 You'll typically get a power production guarantee. This means if your panels don't produce a certain amount of power, your solar panel lease payment goes down.
 You won't have a ton of maintenance costs. The company you lease from handles replacing broken parts. This means you won't have to pay if something isn't working.
Cons
 You'll have a long-term lease contract. They usually last around 20 years — about the same as a solar loan for installation. But at the end of it, you'll need to give the solar panels back rather than owning them. Some companies do offer a buyout deal where you can own the solar panels after the lease ends.
 You save much less from leasing than from owning. When you buy solar panels for your home, you can save more than $61,000 over 20 years. By leasing the residential solar panels, however, you'll save around $18,000 after 20 years.
5. Investing
If you have the time to grow some cash, you might want to start investing in order to cover the cost of your solar panels. You don't need to invest a big chunk of money, but you should add funds to your investment account regularly to help your money grow.
Pros
 You'll avoid paying interest. Using money from your investment accounts lets you avoid taking out a loan and paying it back with interest. You can instead use your own money.
 Your investments can grow quickly. Investment funds tend to grow faster than some savings accounts, depending on where you put your money.
Cons
 You're taking on financial risk. All investments carry risk — this means there's a chance you might lose money rather than gain it.
 You need time to earn investment income. If you're hoping to get solar panels ASAP, growing money through investment accounts might not be the right choice for you.
6. Savings
Simply saving up can also be a great way to buy solar panels. The best savings accounts are the ones with low to no fees, no minimum balance requirements and a decent annual percentage yield (APY). The higher the APY, the more money you earn on top of the money you've put in. Plus, the more money you can add to your savings on a regular basis, the more money you earn from a higher APY.
Pros
 Your savings account is often the safest way to invest. Your growth comes from your APY, but your loss only comes when you withdraw money.
 You won't have to worry about paying interest. The money you put into a solar panel installation won't be from a loan that you'll need to pay back — with interest added on, it'll come from your own funds.
Cons
 Your money might grow slower than investment funds. Savings interest tends to grow slowly, which could cause delays when you're ready to buy the solar panels.
 You won't receive instant gratification. Saving your money means you won't get the instantaneous satisfaction of getting your solar panels right now, which is what a solar or personal loan could offer.
FAQs: Solar panels for home use
How much does it cost to install solar panels?
Unfortunately, there is no one-size-fits-all way to answer the question, "How much do solar panels cost?" Ultimately, the cost will vary according to a few different factors, including the specific state and local tax credits that are available to you, your choice of panels, where you live and your electricity needs.
To that end, it's absolutely crucial to do your research on the solar installation options available to you before making a decision on what to buy. You'll also want to shop around to ensure you're getting the best price available to you.
Do solar panels save money?
Yes, at the end of the day, homes with solar panels will see monthly savings on their energy bill. While exactly how much you save will depend on how much electricity you use and the average rate for electricity in your state, EnergySage estimates that the average home can save between $10,000 and $30,000 over the lifetime of a solar panel system.
Will having solar panels increase my home's value?
Buyers tend to view solar panels as home upgrades, similar to a chef's kitchen or in-ground pool, according to the Office of Energy Efficiency and Renewable Energy. With that in mind, they are willing to pay a premium for this offering. One study found that buyers were willing to pay $15,000 for this feature.
Do I need to replace my roof before installing solar panels?
Depending on the current age and condition of your roof, it may be wise to replace your roof before getting solar panels. The average solar panel system lasts 25 to 35 years and can be costly to remove if you have to replace your roof in the interim. It's wise to have a professional inspect your roof before undertaking a solar panel installation.
Is solar worth it?
You're the only one who can truly answer whether the benefits solar panels bring outweigh the costs. While many homeowners do feel the environmental benefits and energy savings are worth paying the upfront costs and fees, you'll need to do your own research to determine if it's the right move for you.