How Does LendingTree Get Paid?
LendingTree is compensated by companies on this site and this compensation may impact how and where offers appear on this site (such as the order). LendingTree does not include all lenders, savings products, or loan options available in the marketplace.
Need a Personal Loan? Here's How to Find Loans and Apply
Updated on: June 23rd, 2020
Editorial Note: The content of this article is based on the author's opinions and recommendations alone. It may not have been reviewed, commissioned or otherwise endorsed by any of our network partners.
A personal loan is a flexible financing option, allowing you to get cash for major purchases, to consolidate or refinance debt or something else. Traditional personal loans are unsecured, so you don't have to put up your property or savings as collateral to secure funds.
But between banks, credit unions and online lenders, there are a wide variety of institutions offering personal loans, and you'll need to do a bit of research to find a lender that may work for you.
If you need a personal loan, this guide will help you discover how they work and where to find the best loan for your situation.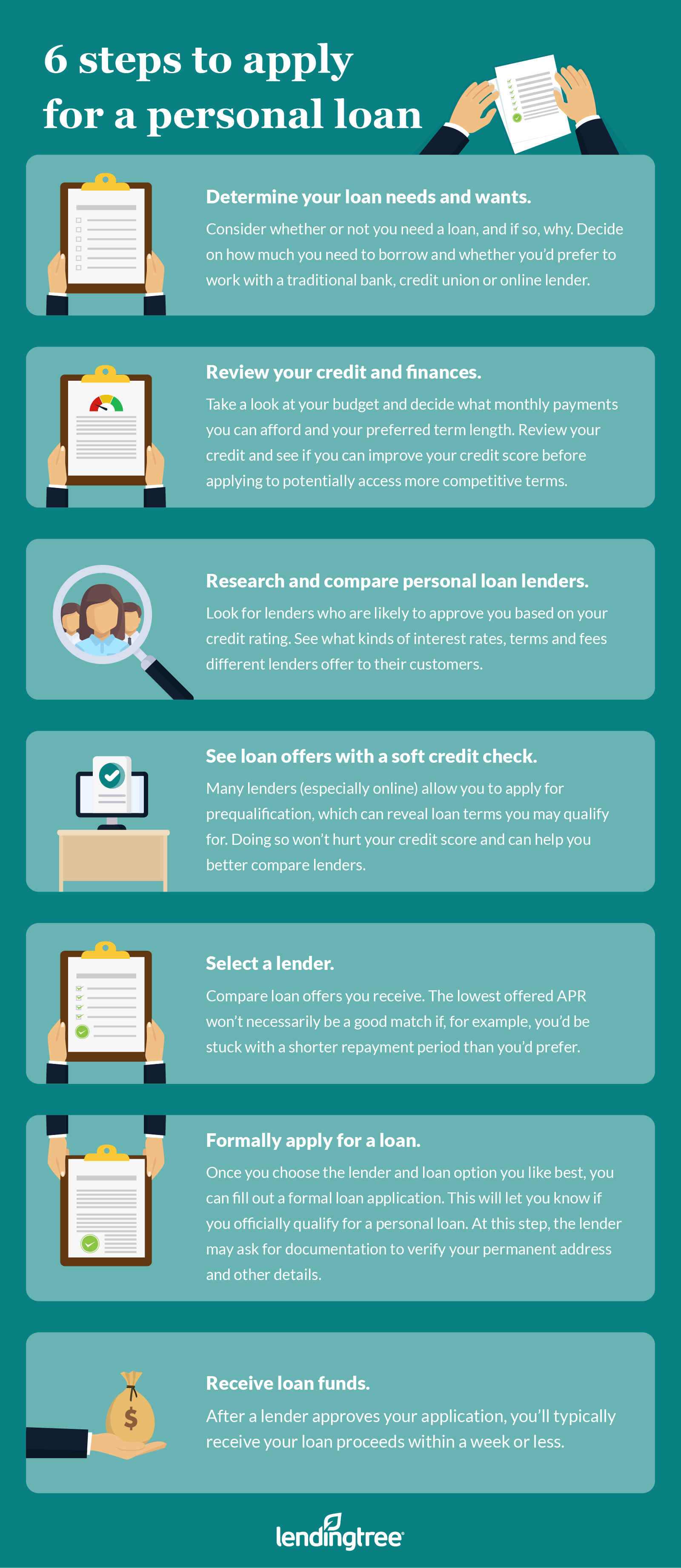 1. Determine your loan needs and wants
Step one in the personal loan process is figuring out what you need in a personal loan, and if you can use a personal loan for that purpose. For example, lenders commonly don't allow borrowers to take a personal loan for real estate, business or investment purposes.
Commonly approved uses for a personal loan include:
Debt consolidation or refinancing
Home improvement or repairs
Medical expenses
Moving costs
Large purchases, such as a wedding or vacation
Emergency expenses
You should also decide whether your need for a loan is urgent. If your need for cash isn't immediate, consider whether you can wait and save up cash to make your purchase rather than borrowing for it.
For example, if you have a non-urgent home improvement project, you might postpone the project and set up a dedicated savings account where you make periodic deposits until you can afford to pay for it out of pocket. Doing so would allow you to avoid having to make monthly debt payments and pay interest over the expense.
2. Review your credit and finances
Not only should you consider how much money you want to borrow, you need to figure out how much you can afford to repay. Look at your monthly budget and review how much you earn versus your current financial obligations. Be honest with yourself about whether you can afford another monthly payment. For example, you should know how an additional debt will affect your ability to meet financial goals like paying down other debts or saving for emergencies.
In addition to your loan amount, your repayment term will affect your monthly payments. A shorter repayment term will come with higher monthly payments but a lower overall cost of borrowing. The opposite is also true. Use this payment calculator to estimate your ideal loan terms.
Your lender will also check your credit report and score when you apply for a personal loan. So, it's wise to review all three of your credit reports and your credit score in advance. You can access a free credit score using My LendingTree, our credit monitoring service. Some credit card issuers also offer you free access to your credit score. AnnualCreditReport.com, meanwhile, allows you to access your credit report from each of the three major credit bureaus (Equifax, Experian and TransUnion) for free once every 12 months (and once a week through the end of 2022).
Note:
If you have bad credit, your access to personal loans will be more limited. Personal loans are typically unsecured, so lenders rely more heavily on your credit and financial information to determine loan eligibility. Even if you do qualify for a personal loan, you could face triple-digit APRs, making your loan incredibly expensive and unaffordable. If you're looking to take out a loan, but you have bad credit,
click here
to learn more about your options.
3. Research and compare personal loan lenders
With an idea of your personal loan needs and your credit health, you can begin scoping out lenders. There are three major types of personal loan companies: banks, credit unions and online lenders (more on them differences below). Across all three types, you'll find a wide variety of offered interest rates, loan amounts, repayment terms and fees, in addition to varying credit requirements.
With your credit health and preferred loan terms in mind, you'll want to do some preliminary research on lenders. For example, you might research lenders in your area, if you'd prefer to work with a lender face-to-face. Or you use our loan marketplace  to explore lenders according to their credit requirements.
Types of personal loan lenders
What it is
Pros
Cons
Banks
For-profit financial institutions with physical branches and, often, online tools.

Discuss loan options and apply in person or online.
Manage multiple financial accounts with a single institution.

Credit requirements may be steep.
Customer service hours may be limited.

Credit unions
Nonprofit, member-owned financial institution with physical branches and, sometimes, online tools.

May lend to borrowers with credit challenges.
Manage multiple financial accounts with a single institution.

Typically only members can qualify for financing.
Branch locations may be limited.

Online lenders
Lenders that generally specialize in loans and only operate online.

Fewer overhead costs may translate to lower rates for borrowers.
May lend to borrowers with credit challenges.

Unlikely to have face-to-face customer service.
Research required to find reputable lenders.
4. See loan offers with a soft credit check
Many personal loan lenders let you check potential loan offers without filling out a formal loan application. If the lender allows it, you can fill out a short form with limited personal information and agree to a soft pull of your credit report. A soft credit inquiry will not harm your credit score.
This process, called prequalification, can let you know if you're likely to qualify for a loan (though qualification isn't guaranteed). If you prequalify for a loan, you'll see what kind of terms a lender may be willing to offer you. It can be a great tool to help you compare different lenders when you're shopping for a personal loan.
Some of the information you may need to provide during the prequalification process includes:
Personal identifying information (i.e., name, date of birth, Social Security number, etc.).
Contact information (i.e., address, previous address, phone number, email address, etc.).
Income and employment details.
Your educational background (i.e., college attended and major).
5. Select a lender
Be sure to compare multiple personal loan offers before you choose your lender. Shopping around for a loan may help you to secure a better deal that could save you a considerable amount of money over the life of your loan.
Keep in mind that the lowest interest rate personal loan isn't necessarily the cheapest option. In addition to personal loan interest rates you should also compare other lender fees. As a general rule, compare lenders based on their offered APRs. The annual percentage rate (APR) includes the interest rate plus other fees and is a more accurate estimate of your loan cost.
In the below table, you can see average offered APRs based on credit range:
Credit score range
Average offered APR
760 and up
11.99%
720-759
16.24%
680-719
20.98%
640-679
24.89%
Source: LendingTree Personal Loan Offers Report, May 2020
6. Formally apply for a loan
After you choose your preferred lender, the next step is to fill out a formal loan application. Here are the typical steps.
Complete the formal loan application. You will need to supply additional information that you didn't include when you checked for prequalification. This information might include your Social Security number, financial details such as your bank account balances and more.
Authorize a hard credit inquiry. The lender will want to perform a hard inquiry to check a full copy of your credit report and score to make sure you qualify for financing. (This inquiry might ding your credit score, though usually only slightly.)
Supply supporting documentation. Most lenders will require you to provide copies of certain documents along with your loan application. Common paperwork requested include proof of identity and address (like a driver's license and Social Security card) and proof of income (like pay stubs or a tax return). You may need to send additional documents as well, depending on the lender.
Agree to the lender's terms and conditions. Once a lender officially approves your application, it's time to review the fine print. Be on the lookout for APR changes, origination fees, prepayment penalties, and anything else the lender requires you to agree to before it will issue funding. If you're comfortable with the terms offered, you can sign (or e-sign) to accept them.
Tip: If you're denied for a personal loan…
Contact the lender. Ask why you were denied. If the reason for your denial is minor, such as missing documentation, you might be able to convince the lender to reconsider your application.
Consider a cosigner. Some personal loan lenders will allow joint credit applications. If you are turned down for a loan due to a poor credit score or income problems, adding a cosigner with good credit or additional income might help you qualify.
Work on the problem. Bad credit can make it difficult to secure a personal loan and many other types of financing. The same is true if your debt-to-income ratio is too high. However, if you work to improve your credit or debt situation, there's a chance that you may be able to qualify for a personal loan in the future.
7. Receive loan funds
The final step in the loan process is receiving your loan proceeds. Different lenders distribute funds on different time tables. In most cases, you will receive your loan funds within a few business days, often via direct deposit. Some lenders, like Discover personal loans, can pay your other creditors directly if you're consolidating debt.
Finding personal loans for bad credit
Personal loans can be difficult to get if you have bad credit, and you can expect high interest rates if you do qualify with a lender. That higher cost may be worthwhile to you if you want fixed payments and would prefer an unsecured loan.
But you should still explore your bad credit borrowing options. Consider the following table of loans:
6 types of loans for bad credit
Loan type
What it is
Pros
Cons
Unsecured personal loan
A loan backed by your creditworthiness and other factors, not collateral.
Less risk for borrowers since you're not putting an asset on the line.
Interest rates tend to be higher.
Secured personal loan
A loan backed by the value of the asset you pledge to the lender.
Interest rates tend to be lower than those on personal loans.
If you default, you risk losing your collateral.
Home equity loan
A loan backed by the equity in your home.
You may qualify for tax benefits if you use the loan for home improvements.
Fail to pay as agreed and the lender could foreclose on your home.
Home equity line of credit (HELOC)
A revolving line of credit backed by the equity in your home.
Borrowing flexibility similar to a credit card.
The lender could foreclose on your home if you don't pay as agreed.
401(k) loan
Funds you borrow from your retirement savings.
Borrow up to half the vested amount in your 401(k) – up to $50,000.
Must repay within five years, and you'll miss out on interest savings.
Payday Alternative Loan (PAL)
Small dollar loans available through some credit unions.
Lower rates and fees compared with payday loans.
Interest rate is 28% and the maximum amount you can borrow is $2,000.
Beware payday and title loans
Payday loans and title loans are two types of small-dollar, short-term loans that most people can qualify for even with bad credit. Although the loans are easy to get, they come with steep interest rates and high fees.
In addition to being expensive, these predatory loan products come with risks. Title loans in particular could put you in a position where you lose your vehicle if you can't afford to repay the lender as promised. It's best to avoid these types of loans at all costs and find alternative options.
It may be worthwhile to wait to apply
Borrowers with bad credit can save a lot of money if they can wait and work on their credit. Of course, it's also understandable that you may need money now and can't wait. If you feel like a personal loan for bad credit borrowers is your only choice, remember that you can still work to improve your credit after the fact. Once you're successful in improving your credit rating, you can always try to consolidate your debt with a new, lower-rate loan in the future.