How Does LendingTree Get Paid?
LendingTree is compensated by companies on this site and this compensation may impact how and where offers appear on this site (such as the order). LendingTree does not include all lenders, savings products, or loan options available in the marketplace.
Peloton Financing: Get in Shape for Less Money
Updated on:
Content was accurate at the time of publication.
If you're in the market for some workout equipment, you may have eyed Peloton stationary bikes and treadmills at some point. These products are ideal for people who prefer to work out at home, but they do come at a high cost. For those who can't afford to pay for equipment upfront, Peloton financing is an available option — and some further options may even come with 0% APR.
Peloton financing through Affirm
APR: 0.00% to 36.00%
Repayment term: 1 to 48 months (depending on the size of your purchase)
Fees: No origination fee, late payment or other additional fees
Down payment: May be required at checkout
While Peloton is popular, it can be a luxury to be able to afford the company's equipment upfront. A basic Peloton Bike costs start at $1,495, while the Peloton Tread starts at $2,495.
Affirm is an online lender that partners with Peloton to offer financing at time of checkout. With Affirm, you can apply for an installment loan that is repaid over 1 to 48 months. Peloton financing through Affirm also offers zero down and 0.00% APR — though these perks are dependent on your credit profile.
Affirm doesn't provide detailed information about their credit score requirements; however, you can still find out if you prequalify for financing, as well as what your rates and terms might be. Doing so won't affect your credit score — keep in mind, however, that prequalification does not guarantee loan approval.
Assuming a 0.00% APR, here's what your monthly payments may look like with Affirm financing: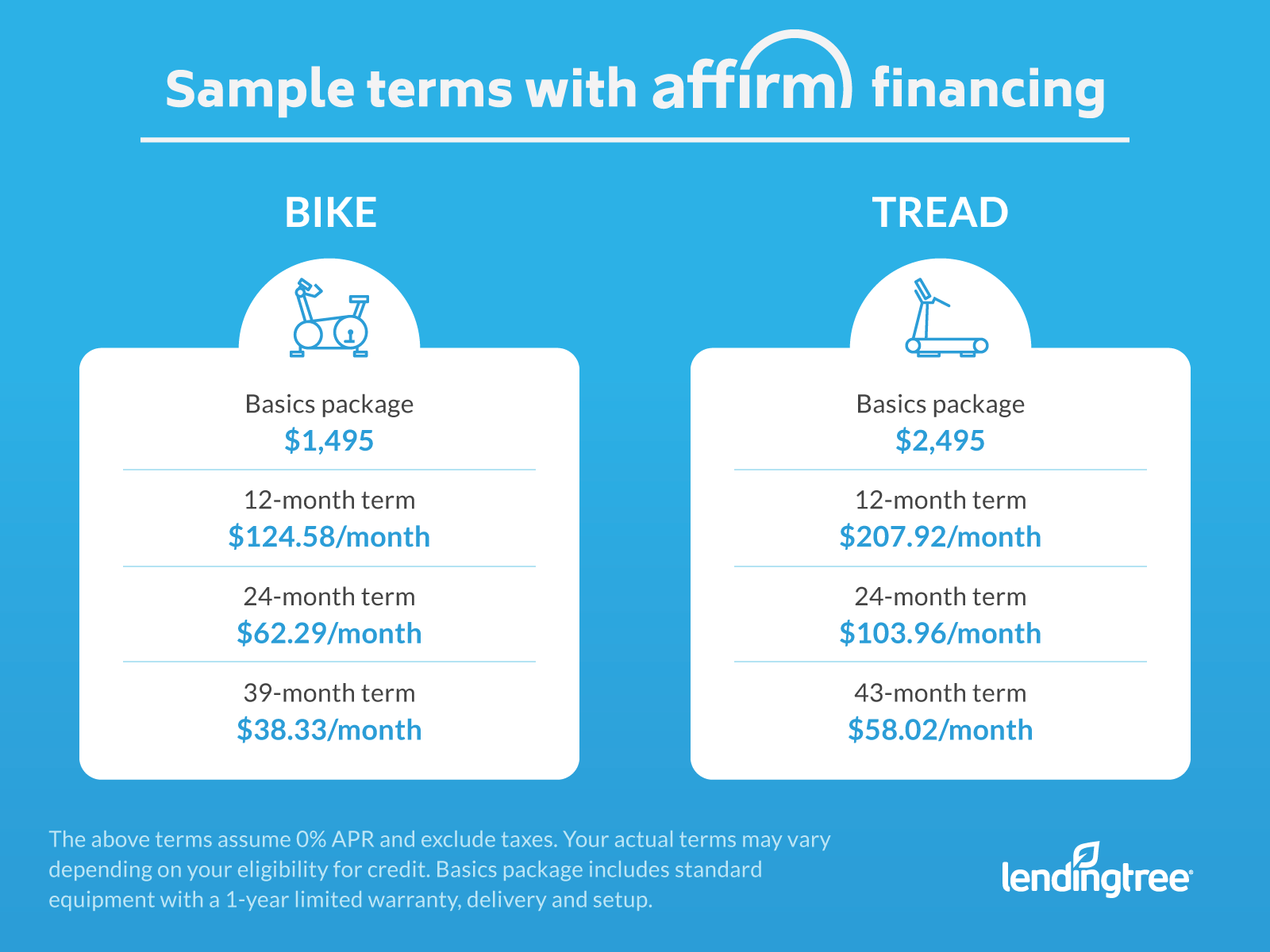 Other Peloton financing options
If you want a different method of financing your Peloton purchase, you have two main options: personal loans and credit cards (ideally with a low introductory rate).
Personal loan
APRs: Rates usually fall between 5% and 36% (for unsecured personal loans)
Loan repayment terms: Generally range between 12 to 60 months (one to five years)
Qualification requirements: Varies by lender, though higher scores are generally preferred (however, if you have a lower score and don't qualify, there are bad credit loans you may consider instead — just beware high-interest rates)
Personal loans are installment loans that are typically repaid over 12 to 60 months. You can find small personal loans with fixed interest rates from banks, credit unions and online lenders.
Unlike with Affirm loans, you'll receive a lump sum of money after being approved for a personal loan. You can use those funds on a variety of needs, including major purchases; however, minimum borrowing limits typically start at $1,000, but could be as high as $2,000 or $5,000.
Many lenders allow you to see offers with a soft credit check. Because terms vary by lender and your credit, it's important to shop lenders by comparing offers. These offers aren't a guarantee that you'll be approved for financing, but they could help you determine which lender may have the best deal for you.
Credit card with a low intro APR
APRs: After introductory period, rates usually fall between 15.78% to 23.14%
Credit repayment terms: Generally, credit card users pay a monthly sum depending on the size of the loan and APR rates
Qualification requirements: Depends on the lender, though typically the higher the score the better
Using a credit card with an introductory 0% APR to purchase a Peloton Bike or Tread could be a cost-effective way to minimize interest charges. These types of offers typically last as long as 18 months, after which you'll pay the regular APR on your outstanding balance.
Another key benefit to a credit card is the flexibility on how you can shop. With a loan, you'll borrow a set amount and must take out a new loan to access additional funds. However, as you pay down your credit card balance, you can make additional charges to your card up to the credit limit.
Still, there are notable downsides to this financing option:
High APR after the intro period: You should pay off most, if not all, of your balance before the introductory period ends as the regular APR can be above 20%, making repayment far more expensive.
Strong credit needed: Credit cards offering this type of deal to new customers usually require good to exceptional credit.
The debt's effect on your credit: Taking on a large amount of credit card debt can adversely affect your credit score by increasing your credit utilization ratio, the amount of your debt in relation to your credit limit — "amounts owed" is a factor that makes up 30% of your FICO Score.
Purchase without financing
Financing or using a credit card to pay for a large purchase can end up being significantly more expensive than using cash. So, if you have cash on hand, or think you could save for a big-ticket item, paying cash may eliminate a future financial burden.
If you don't have cash on hand, try setting a savings timeline to determine how much you can set aside each paycheck for your purchase. For example, since you know the Peloton Bike's cost, divide the total amount by how much you could save each week, month or quarter to create a savings schedule.
You could even establish a savings account specifically meant for your savings goal, such as a high-yield savings account, so you can accumulate interest while you're saving for your significant purchase.
How to make Peloton gear more affordable
Peloton deals to save money
The cost for a Peloton Bike or Tread is high, so you may want to try to find other ways to save on the purchase. Peloton doesn't generally offer sales or discounts — however, there are a few ways to save money, including:
Buying a Peloton Bike or Tread with a referral code. With a referral code, you could save up to $100 on your purchase.
Waiting for a promotion. Peloton has promo offers available for free shipping, as well as for free shoes and accessory packages, when you make your purchase. These promotions tend to happen around the holidays, so be on the lookout.
Nabbing a special offer for members of the military or first responders by contacting Peloton by phone. Peloton will need to verify your identity before you can receive such an offer.
Pick up the 90-day free trial on Peloton's monthly membership. This lets you access Peloton classes, whether or not you own a Peloton Bike or Tread — and it could save you a fair amount of cash if you had already planned on signing up.
Buy a used Peloton Bike to cut costs
Purchasing a used Peloton Bike could lead to significant savings and allows you to avoid paying interest or loan origination fees, assuming you don't use a credit card or loan to fund the purchase. On eBay, the price for a gently used Peloton Bike can range around $1,000 to $2,000. You may also find used Peloton Bikes for sale on the internet through Craigslist, Facebook Marketplace or other local or national online sales sites.
Keep in mind, you'll also need to transport the equipment to your home or negotiate with the seller to deliver the item. Any warranty is nontransferable, so you'll be on the hook for any repairs. Plus, if you still need help financing your Peloton purchase, you may not be able to use Affirm or a credit card depending on where you purchased your equipment.
Peloton financing: The bottom line
If you have exceptional credit and qualify for a 0.00% or similarly low APR, Affirm could be your most affordable option when you can't pay in full. Spreading your payments over a few months makes your purchase more manageable, especially since Affirm doesn't charge any additional fees like origination or late payment fees.
Even if you have excellent credit, personal loan lenders will struggle to compete with a potentially 0% APR from Affirm. Even if you land an OK APR through a personal loan, Affirm may still be a better option because it doesn't charge an origination fee. You'll find many personal loan lenders change between a 1% and 8% origination fee, though there are no-fee loan options.
On the other hand, if you find a credit card with a 0% intro APR rate and you qualify for it, you'll want to pay off the card before the promotion expires or you'll be stuck paying interest. However, no matter which way you decide to approach Peloton financing, if you don't think you can make the monthly payments, taking on more debt might not be the right solution.