How Much Does It Cost to Own a Horse?
Published on: August 16th, 2019
Editorial Note: The content of this article is based on the author's opinions and recommendations alone. It may not have been previewed, commissioned or otherwise endorsed by any of our network partners.
Owning a horse is not that uncommon. According to the American Horse Council, there are over 7.2 million horses in the United States, most of which are used for recreation.
But how much does a horse cost? Many people think that horse ownership is only for the super wealthy, but people of all income levels love and own horses. To figure out if you can afford it yourself, you have to consider all of the associated expenses and see if it can comfortably fit into your budget.
How much does it cost to own a horse?
If you're thinking of buying a horse, it's important to keep your goals in mind. According to Courtney Jade Hermanson, barn manager and head riding instructor with Cadence Equestrian in Florida, what you intend to do with the horse will affect its price.
"You would have very different budgets if you want a trail horse versus if you're looking for a show horse," she said.
Equine.com, a leading horse sales site, reported that horses vary greatly in terms of cost. There's listings for free horses and ones that cost $100,000 or more. If you're just looking to ride on recreation trails, you should be able to find a healthy horse for $5,000 or less.
However, the purchase price of the horse is only a fraction of what you should expect to pay.
"Always plan to spend $1,000 more than what you pay for the horse," Hermanson advised. "You should always perform a pre-purchase exam, and if radiographs and blood work are desired, it can get very expensive. You must also take into account the trailering costs of getting your new horse to you."
Budgeting for horse ownership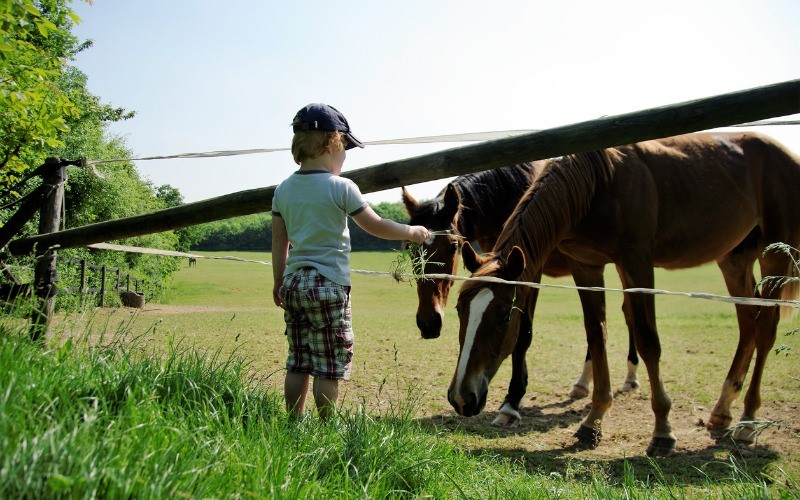 With most transactions, the upfront cost of the purchase is your biggest cost. But, that's not the case with horses. Even if you find a free or cheap horse, you should expect to pay a substantial amount of money for its upkeep.
According to the University of Maine, the average annual cost of caring for a horse is $3,876 — and that's assuming that your horse is able to stay on your property, doesn't need to be boarded at a facility and doesn't need health insurance. And, it's important to keep in mind that horses can live well into their 30s. If you buy a horse when it's a baby and keep it for 30 years, that means you'd spend over $116,000 just for its basic care.
As a horse owner, you should be prepared to cover the following expenses:
Food
Horses are enormous creatures, easily weighing over 1,000 lbs. Your horse will need to eat a substantial amount of grass or hay every day. Depending on your horse and the type of riding you do, your horse may also need daily grain to supplement its diet. Feeding your horse will likely be your biggest expense after housing it, costing $1,211 a year, on average.
Some horses also require supplements, which can significantly add to your expenses. For example, many horse owners opt to give their horses Sandclear, a supplement that helps the horse's intestinal system function properly. That supplement alone would cost about $60 a month.
Boarding
If you have land that is zoned for horses, you can save a lot of money by keeping your horse on your own property. But unfortunately, that's not an option for a lot of people. Instead, they have to board their horses at a professional facility and pay a monthly fee. Boarding costs can be relatively cheap or very expensive, depending on your location and what services you're looking for.
"[Boarding costs] $400 to $650 per month at our farm, but the cost varies widely," said Hermanson. "Some places can be as low as $100 per month, where others can exceed well over $1,000 per month."
There are three main types of boarding:
Pasture board: With this option, your horse is turned out into a pasture and doesn't have a designated stall.
Partial board: If your horse is under a partial board agreement, your horse will have a stall, but you're responsible for feeding it and cleaning the stall every day.
Full care board: Full care board means that the facility handles the bulk of your horse's care. Your horse will have a designated stall, and staff will feed your horse and clean its stall daily.
A boarding facility's focus and amenities can affect its price. For example, a low-key barn that caters to pleasure riders will generally be much cheaper than a barn that is focused on showing.
Veterinarian bills
Horses are surprisingly fragile animals, and require specialized care from large animal veterinarians on an ongoing basis.
"I put aside $600 to $800 per horse per year for maintenance — meaning non-emergency — equine care such as twice-yearly vaccinations, [health exams including] coggins tests, and regular dental work," said Hermanson. "Anything left over at the end of the year, I roll over into that horses 'emergency' fund, and start saving all over again. Senior horses should also get a once, yearly blood exam to make sure that all is well as they age."
Besides their general maintenance, you should set aside money for any complications that occur. If your horse gets sick, it can be incredibly expensive.
For example, colic is a common ailment that can affect any horse of any breed or age. It's a disorder of the digestive system, but in horses, it can be deadly. In fact, it's the second-leading cause of death in horses. If your horse has colic, he'll need emergency veterinary care. According to the South Shore Equine Clinic & Diagnostic Center in Massachusetts, a treatment for severe cases can cost up to $12,000. That cost could drain your savings or put you in the market for a personal loan.
Insurance
Medical care for horses can be prohibitively costly. That's why it's a good idea to sign up for health insurance for your new horse. It provides coverage in case of an emergency, such as if your horse gets colic and needs surgery.
According to Horse and Rider, mortality/theft insurance costs up to $250 per month. If you want to add major-medical coverage to your policy, you should expect to pay an additional $200 to $675 per year, depending on your policy's limit.
Farrier care
Horses need regular care for their hooves. They need to be trimmed and filed, at a minimum. Some horses will also require shoes, which add to your costs. According to the American Farriers Journal, the average trim costs $42.06. But if your horse needs shoes, you're looking at an average cost of $113.36. This needs to be done every five to six weeks.
Training
To keep your horse well-behaved and suitable for your needs, you'll need to pay for training throughout the horse's life. Depending on how much training your horse needs, that could cost you a few hundred dollars a year, or several thousand. If you're planning on competing in horse shows, you should expect to pay thousands of dollars for training for both you and your horse.
Equipment
When you first buy a horse, you'll need to purchase a good deal of equipment. For your horse, you'll need essentials like a saddle, bridle, saddle pad, girth, stirrup leathers, first aid kit, grooming supplies and fly spray. As a rider, you'll also need to buy a riding helmet, riding pants and boots, at a minimum.
A starter saddle can cost several hundred dollars, while high end competition saddles can cost as much as a used car,  so your equipment can cost thousands of dollars.
How to cover the cost of owning a horse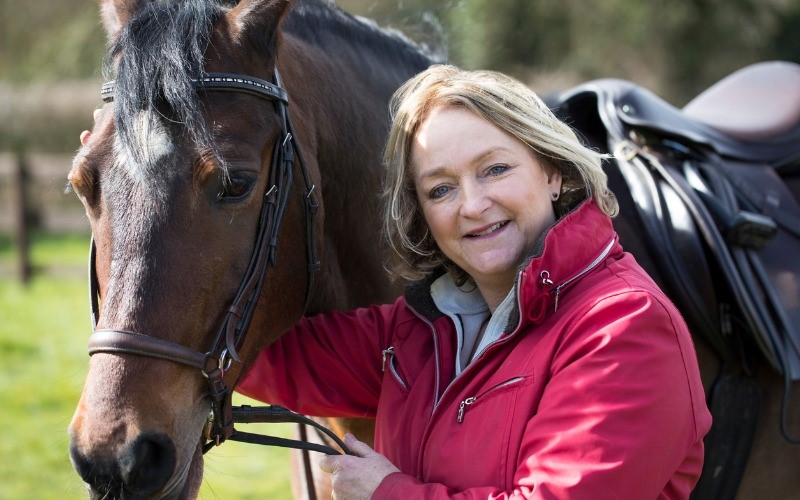 If you want to buy a horse but don't have enough money set aside in the bank, there are a few options available to you. Horse financing is becoming increasingly common, allowing you to take out a loan to buy a horse, pay for its care or even to buy a horse trailer.
Horse loans
Horse loans are specialized personal loans. If you have good credit, you can qualify for a low-interest, unsecured loan you can use to buy a horse or relevant equipment. Depending on the lender, you can borrow as little as $5,000 or as much as $100,000 to complete the transaction.
Horse trailer financing
If you plan to take your horse off property, you'll need to purchase a horse trailer. Trailers can be pricey, easily costing as much as a car.
Horse trailer financing allows you to borrow the money you need to pay for your trailer. Much like a car loan, horse trailer financing is typically a fixed rate loan, with terms as long as 84 months.
Ways to save on horse ownership
If you dream of becoming a horse owner, but are scared off by the cost, there are a few ways to get involved with horses at a more affordable cost.
Do the work yourself: If you're willing to care for your horse yourself, rather than having a boarding facility do it for you, you can dramatically reduce your horse's maintenance costs. Pasture board or self-care board is much cheaper than full care board. And, some barns will give you a discount if you do extra barn chores.
Get a shareboarder: Another way to save money is to get a shareboarder. With this option, someone pays you money to cover some of your horse's expenses. In return, they get to ride your horse several days a week.
Lease a horse: If you can't afford to own a horse yourself, consider leasing. There are two main types of leases: a full lease and partial or half lease. With a full lease, you take on full financial responsibility for the horse's care, and have exclusive access to the horse. With a partial or half lease, you pay the owner a set fee each month and get to ride the horse a few days a week.
Volunteer: There are hundreds of horse rescues all over the country that need help. If you volunteer your time, you can spend time with horses and even get to ride them occasionally.
Owning a horse can be an incredibly rewarding experience, but it's important to understand the full cost of owning a horse before you saddle up. By doing your homework and planning ahead of time, you can plan for your new life as a horse owner.