How Does LendingTree Get Paid?
LendingTree is compensated by companies on this site and this compensation may impact how and where offers appear on this site (such as the order). LendingTree does not include all lenders, savings products, or loan options available in the marketplace.
Survey: Student Loan Borrowers Will Spend the Most for July Fourth Celebrations
Updated on: June 28th, 2018
Editorial Note: The content of this article is based on the author's opinions and recommendations alone. It may not have been reviewed, commissioned or otherwise endorsed by any of our network partners.
Celebrating the Fourth of July means getting decked out in red, white, and blue, grilling burgers and hot dogs, and setting off fireworks and sparklers. But going all out on an Independence Day bash isn't cheap — Americans plan to spend $6.9 billion on Fourth of July cookouts this year, according to the National Retail Federation.
Our own July Fourth spending survey reveals how this holiday affects Americans' expenses and budgets. Here's what partiers said about the amount they expect to spend in different categories to celebrate the Independence Day 2018.
Key findings
Most Americans will keep July Fourth spending under $100. Seventeen percent said they don't plan to spend anything for the holiday, while 46% said they'll keep costs under $100.

The biggest Fourth of July expense is food. Over half of the respondents (54%) expected to spend the most on food, projecting costs that average $149.

The average total spending on an Independence Day celebration is $710. This amount includes the costs of food, alcohol, fireworks, travel, and patriotic merchandise.

Student loan borrowers plan to spend 37% more than those without student debt for this holiday. Americans with student debt planned to spend more than those without education loans in every category of Independence Day-related costs. In fact, their projected total expenses were $235 higher than what people without student debt planned to spend.
Two-thirds plan to spend under $100
When it comes to the Fourth of July, celebrations tend to be flashy, but relatively inexpensive.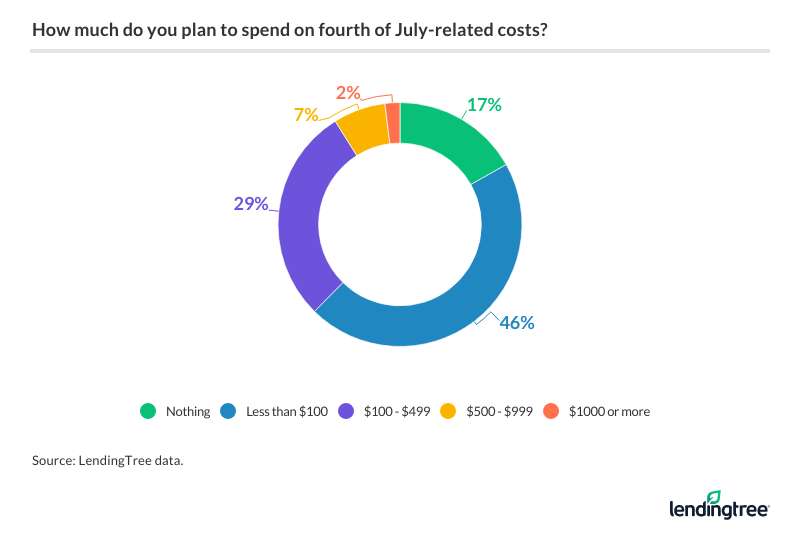 Nearly two-thirds of our survey respondents planned to spend under $100 on all Independence Day expenses, including food, drinks, travel, decor, clothing, and fireworks. That segment includes the 17% who planned to spend nothing on the festivities, plus the 46% who expected to spend less than $100.
Another 29% planned to spend between $100 and $499 to celebrate the holiday. But fewer than 10% of the respondents planned to spend more than $500, including 7% estimating between $500 and $999, and just 2% expecting to spend $1,000 or more.
More than half say food will be biggest expense
Food is expected to be the star of the Fourth of July celebrations, according to our survey. When asked about different spending categories, most respondents said they expected to spend the most money on food.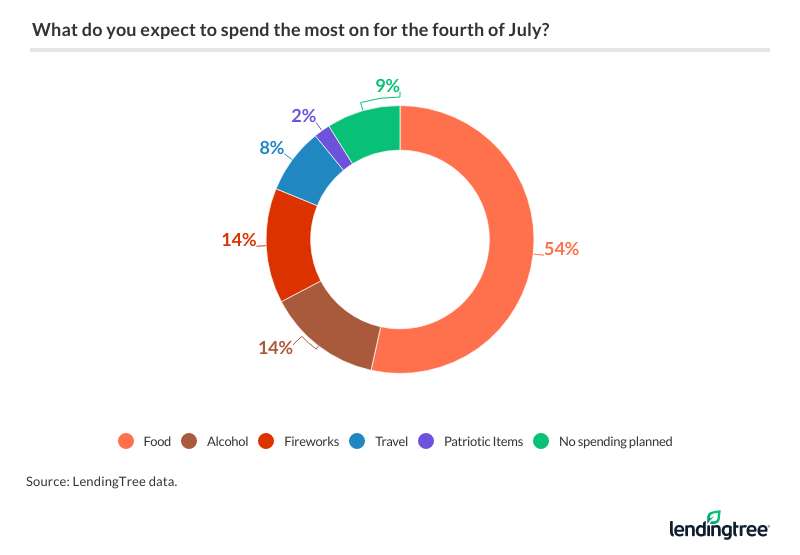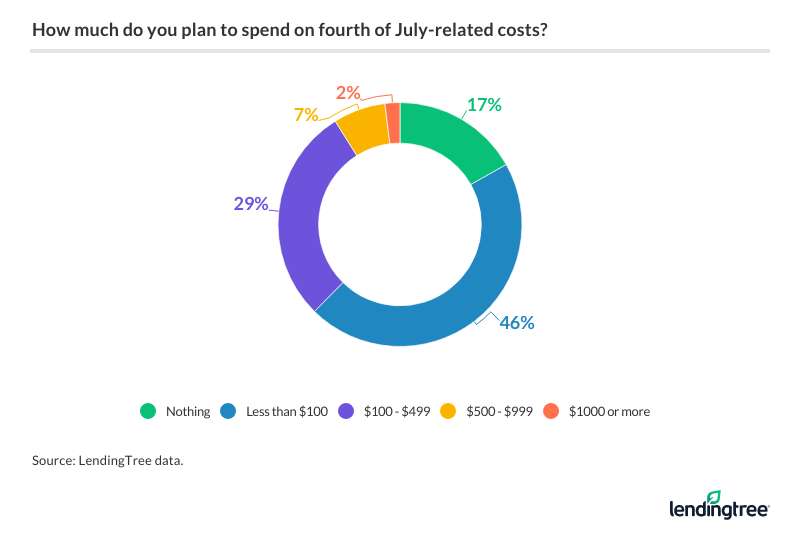 Over half (54%) are spending more on food than any other Independence Day costs. The trend that makes sense, given that the all-American cookout is the quintessential way to spend the holiday. In fact, 62% of Americans plan to celebrate the holiday in this fashion this year, according to the National Retail Federation.
Food is followed by two categories likely to be popular at cookouts: alcohol and fireworks. Combined, 28% of respondents in our survey expected one of these categories to be their biggest expense.
Travel was next, with 8% projecting they'd spend the most on this activity. Then came patriotic merchandise — only 2% of all respondents said such items would be their biggest expense.
Finally, 9% of respondents did not choose a top spending category because they don't plan to spend anything to celebrate the holiday.
The average celebration is expected to cost $710
In addition to seeing which categories were expected to draw people's spending for Independence Day, we wanted to capture the dollar amounts they planned on each of them. So, our survey asked respondents to estimate their expenses using a sliding scale.
Based on the responses, here are the average amounts they planned to spend in each category.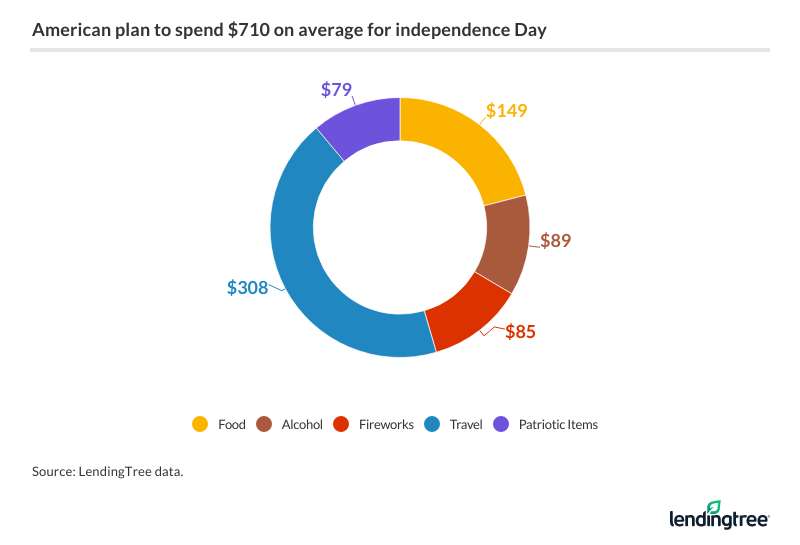 The total cost of celebrating July Fourth is expected to be $710 on average. This amount is far above what most people planned to spend on the holiday, considering that two-thirds were going to spend under $100.
Of course, these averages aren't necessarily representative of a typical celebrator's true spending. Some respondents' higher expenses could skew results upward, as might have happened with outliers in the travel category.
Student loan borrowers plan to spend $235 more than others
We're always interested to see how student loans affect money management and spending habits, so we included a question in the survey asking respondents if they have student loans. Then we compared the Fourth of July costs for those with education debt to those without the burden.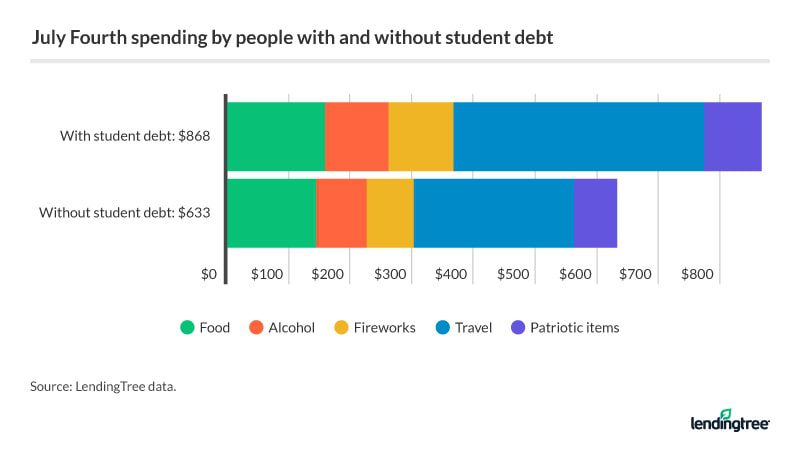 The startling result? Across the board, student loan borrowers planned to spend more than people without student debt — despite having an additional monthly payment around which they have to budget.
The biggest cost difference was in the travel category, for which student loan borrowers planned to spend an average of $407, compared with $260 for those without student debt. The category with the smallest spending difference was food.
These differences in spending added up to an extra $235 in estimated costs for respondents with student debt.
We don't know why people with education debt planned to spend more on the holiday, but it's a strong trend. In fact, the amount of planned July Fourth spending correlates to the amount of debt owed — those who owe more than $30,000 in student debt said they planned to spend even more, on average, than those with less debt.
People carrying student debt likely are more educated, which correlates to higher incomes. These higher earnings might explain a higher level of spending. If these borrowers earn more, they might be able to afford to budget more for holiday celebrations, even with a student loan payment in the mix.
Plan out your holiday expenses and stick to what's affordable
Overall, Americans aren't afraid to spend big on an Independence Day bash. This survey can be helpful in gauging what's reasonable to spend on July Fourth celebrations, but you also should consider your own money situation.
As you plan your budget, calculate your costs to make sure you can afford comfortably. List your planned costs to ensure you can pay your bills and afford a holiday blowout. By looking ahead, you can try to adjust your budget or other costs to avoid overspending.
Be cautious when covering July Fourth costs with a credit card, too. These costs coincide with popular categories for big credit card rewards and cash back, such as travel, gas, and groceries. But don't let the convenience of credit cards lure you into debt for Independence Day. You should charge only those purchases you can pay off in full in the coming month to avoid paying credit card interest.
By planning your holiday spending and shopping around Fourth of July deals, you can celebrate in style without paying for it later.
Methodology
This survey on July Fourth spending was conducted June 12, 2018, in partnership with SurveyMonkey, collecting 1,016 responses from adult Americans ages 18 and up.
Hey, reporters! Check out our latest surveys and studies by signing up for our news updates. We'd love to help you with your next assignment.