How Does LendingTree Get Paid?
LendingTree is compensated by companies on this site and this compensation may impact how and where offers appear on this site (such as the order). LendingTree does not include all lenders, savings products, or loan options available in the marketplace.
Parent Student Loans Survey: How Do They Affect Parents and Their Debt?
Updated on: March 13th, 2018
Editorial Note: The content of this article is based on the author's opinions and recommendations alone. It may not have been reviewed, commissioned or otherwise endorsed by any of our network partners.
Three in 5 parents with children heading to college said they expect to help their kids repay student loans, according to a Discover Student Loans survey.
In fact, many parents of adult children are already doing so. Some are making payments on student loans for parents, such as Parent PLUS Loans, which they borrowed to help pay for their children's education. Others are repaying student loans they cosigned.
But how do these student loan payments impact parents' financial situations? LendingTree recently surveyed parents who took out or cosigned loans for their children's education to find out.
55 percent of parents have more than $40,000 in student debt
The survey collected responses from parents who are repaying student loans they borrowed to pay for a child's education and for which they are legally responsible. These loans include both student loans for parents and student loans parents cosigned with a child.
Among the parents surveyed, total student debt is high. Here's a breakdown of their student loan balances, including both debt they took on for their own education and student loans they used to pay for their children's education:
23 percent have more than $50,000 in student loan debt.
32 percent have more than $40,000 in student loan debt.
43 percent have more than $30,000 in student loan debt.
Over half (55 percent) of parents surveyed reported a combined balance of more than $40,000 between parent student loans and other student loans. This significant financial burden can hold parents back as they working toward other financial goals, such as saving for retirement.
Almost 2 in 5 parents repay student debt alone
The survey also asked parents how often their children contribute payments toward the student loans borrowed to fund their education. Here's how they responded:
39 percent — almost 2 in 5 parents — said their children never contribute to student loan repayment.
20 percent said their children sometimes contribute to student loan repayment.
41 percent said their children always contribute to student loan repayment.
Altogether, 59 percent of parents who cosigned student loans or borrowed parent student loans to finance a child's college degree said they pay some or all of the student loan debt they incurred.
While parents are legally responsible for student loans they take out or cosign, many families have informal agreements about who is responsible for repaying student loans.
It's not uncommon for parents to take out student loans for parents or cosign student loans a child agrees to repay. However, many parents ultimately are stuck repaying those student loans on their own.
Parents: Discuss a plan for your child to take over student loans
When it comes to shared student debt, parents should keep an open dialogue with the child about who is responsible for repaying it.
Perhaps a child has difficulty repaying their student loans because of low income or high costs of living. Parents can help their child find strategies to create more room in their budget to help with repayment.
Once a child can afford to take over payments, even partially, parents can work with them to make a plan for a complete takeover in the future. Perhaps the adult child can cover 25 percent of monthly payments to start and then bump up contributions until they are paying the full monthly payment amount.
Parents and their adult children also should discuss refinancing. If the child is repaying the student loans, refinancing with the right lender can change who holds the loans to reflect that fact. Some lenders even allow a child to refinance Parent PLUS Loans or private parent student loans into their own name.
A child also can refinance cosigned private student loans to remove a parent as a cosigner. Some lenders offer cosigner release, which can remove the cosigner so the primary borrower becomes the sole owner of the debt.
27 percent of parents used retirement savings to cover student loans
Among the parents surveyed, nearly 3 in 10 (27 percent) said they'd withdrawn from retirement savings to help cover student loan payments.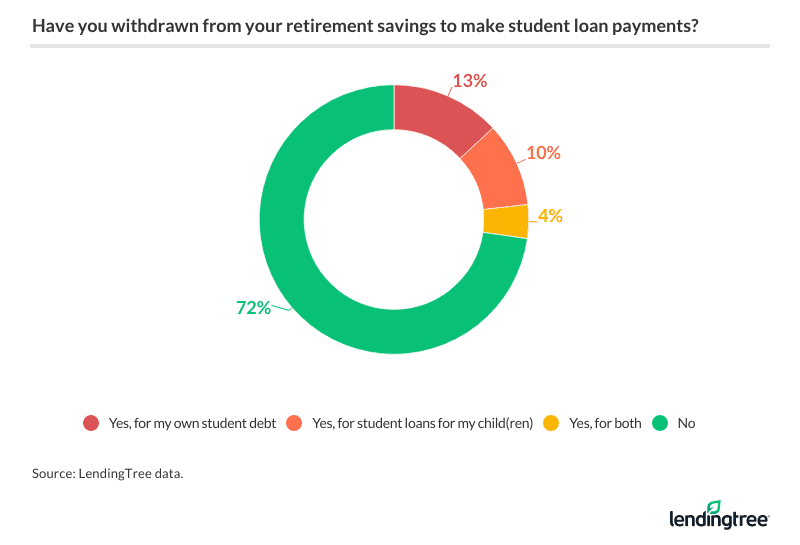 A similar percentage of parents — 24 percent — said they'd considered using retirement savings to pay student debt.
That means student loans for parents do, in fact, harm retirement planning for parents. Plus, early withdrawals often incur costly penalties that can waste some of a parent's retirement savings.
Even if a parent manages to replace those funds, they lose out on the time those savings could have earned gains and compounding interest.
How to boost a retirement fund's recovery from parent student loans
Borrowers who have withdrawn from their retirement accounts to repay student loans for parents need to play catch-up to get back on track.
First and foremost, get your parent student loans under control so you can avoid any need to tap into your retirement funds in the future:
If you're struggling with Parent PLUS Loans, consider applying for an income-driven repayment (IDR) plan to lower your monthly payments.
Try refinancing student debt that's in your name. Whether you have Parent PLUS Loans or private student loans for parents, refinancing could help you secure a lower interest rate. Refinancing also will give you control over the length and monthly amount of your repayment.
Step up your retirement contributions, especially in the last 10 years before you retire. Refinancing parent student loans can produce savings, which you can then contribute to retirement.
Taking out student loans for parents can set back retirement — but parents don't regret it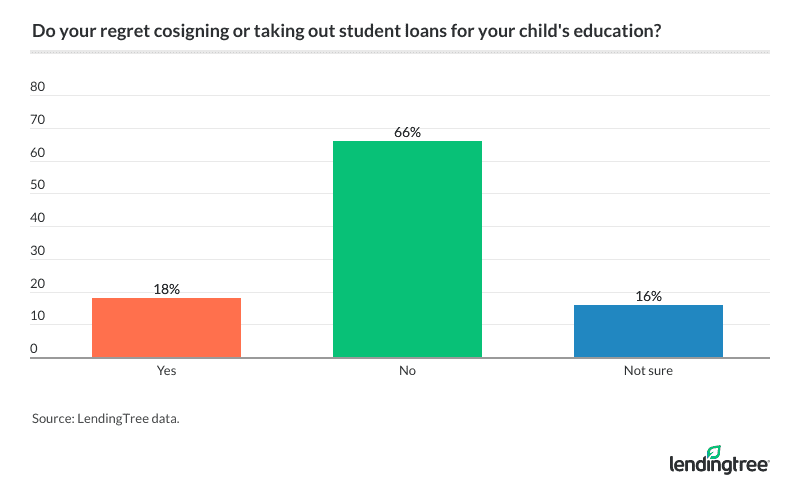 Most experts advise adults to pay down debt as they transition to retirement. Those nearing retirement age and carrying high balances on student loans for parents will have to work a lot harder to follow this advice. Plus, debt diverts money away from retirements savings.
Despite the potentially negative effects of this student debt, most parents (66 percent) don't regret it. In fact, just 18 percent said they regret cosigning or taking out student loans for a child's college costs.
Majority of parents don't know their student loan repayment options
Many parents struggle with their student debt burden. But this survey also reveals that a majority of parents are unaware of options that can help.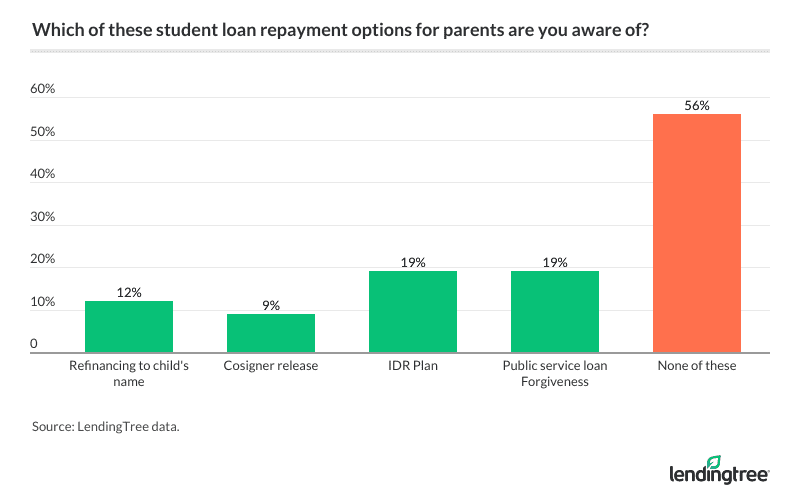 For instance, 19 percent of parents surveyed said they were unaware they could put their Parent PLUS Loans on an IDR plan — called Income-Contingent Repayment. And 12 percent didn't know they could refinance parent student loans into their child's name.
What's more, almost 2 in 5 parents (19 percent) surveyed said they were unaware of Public Service Loan Forgiveness (PSLF), which can help eliminate debt for parents and students who hold government jobs or work for certain nonprofits.
Even when parents said they knew about options, they weren't always valid. For example, 17 percent of parents said they knew about "Obama student loan forgiveness" — even though no such program exists.
Parents could be missing out on student loan refinancing
Refinancing student loans can solve a few problems at once. Borrowers can get lower student loan rates and lower monthly payments. Refinancing also can be a way to move student loans from a parent to a child (or vice versa) or remove a cosigner.
Twelve percent of parents surveyed had already refinanced student loans used for a child's college to be solely in the parent's name. A parent might want to refinance to take over a student loan they cosigned and are repaying because a child can't afford to, for example. Eleven percent didn't even know it was an option.
Parents also can refinance student debt into the child's name. Doing so can make the child the legal owner of the loans or remove the parent as a cosigner. Here's a breakdown of responses from parents regarding refinancing student loans into a child's name:
64 percent hadn't considered this option.
16 percent didn't know refinancing student loans into a child's name was an option.
20 percent had considered it.
Parents who are interested in making such a move should do so soon. Interest rates are expected to increase in the coming years. Borrowers likely will get the best deals if they don't wait to refinance student loans for parents.
Putting refinancing and interest rates into perspective, a third (36 percent) of parents said they're either somewhat or very likely to refinance student loans. Another third said it's unlikely to affect their decision (32 percent). The remaining third (32 percent) said they're unsure.
Look for solutions together to repay parent student loans
Most parents who helped their children borrow for college are glad they did. But that doesn't mitigate the potentially negative effects of student loans for parents.
When the arrangement isn't working, parents and children need to proactively seek solutions.
The good news is parents likely have more student loan repayment options than they realize. Parents should take the time to research these options so they can create the best repayment plan for themselves and their children.
Methodology: This survey was conducted via Google Consumer Surveys on behalf of LendingTree on April 5-9, 2017, with a nationally representative sample of 1,001 adults living in the United States. "Are you currently making payments on student loans you cosigned for or took out for your child(ren)'s education?" was used as a screening question (with a target answer of "yes"). The survey margin of error ranged from 4.5 to 4.8 percent.