How Does LendingTree Get Paid?
LendingTree is compensated by companies on this site and this compensation may impact how and where offers appear on this site (such as the order). LendingTree does not include all lenders, savings products, or loan options available in the marketplace.
Most Parents Willing to Donate Money to Get Child Into College: Survey
Updated on: October 2nd, 2019
Editorial Note: The content of this article is based on the author's opinions and recommendations alone. It may not have been reviewed, commissioned or otherwise endorsed by any of our network partners.
How far would you go to get your child into the school of their dreams? That's become a very relevant question to ask in the wake of the recent multi-million-dollar college admissions bribery scandal. According to a new LendingTree survey, the answer for most parents is "whatever it takes" — short of doing something illegal.
About 90% of moms and dads would take any course of action to get their son or daughter into a desired college, as long as it didn't break the law or sacrifice their ethics. About 54% of parents with kids under 18 would even be willing to donate to their child's first-choice school.
Respondents also helped us understand why the college application process is so important to parents, and why it adds stress to the average household.
Key findings:
Only a small minority (9%) of parents said they wouldn't do "whatever it takes" when it comes to helping their child gain admittance.
The majority of moms and dads are willing to open their wallets, and nearly 1 in 4 parents would be willing to spend at least $10,000 to help their child get into a good college.
71% of respondents think school selection will impact their child's future earning potential, with fathers (76%) more likely to take this stance than mothers (66%).
More than 40% of parents overall report stress when their children apply for college; here, dads are also more likely to be stressed than moms (47% versus 34%) over getting their child into a "good" school.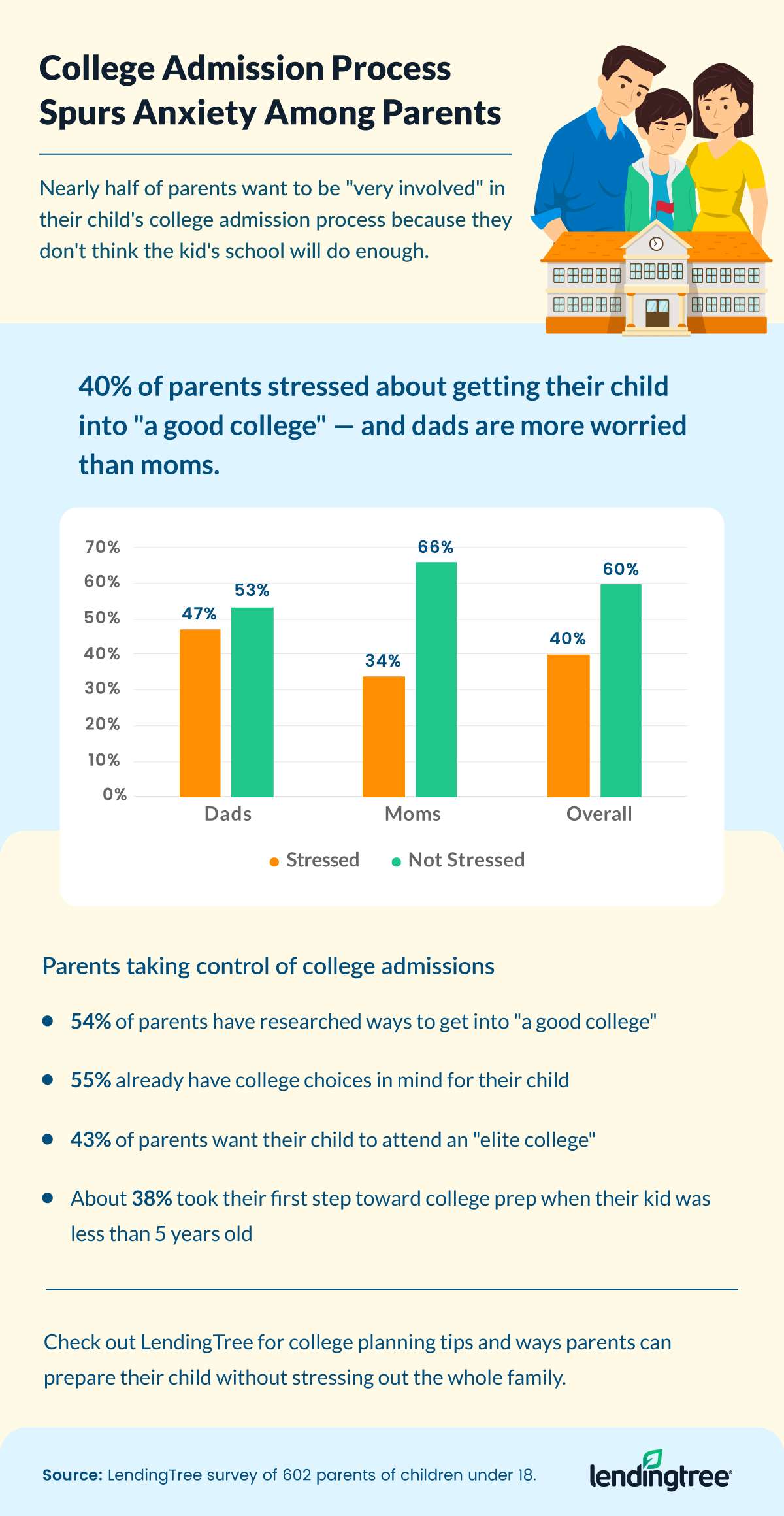 Parents willing to do whatever it takes
An overwhelming majority of moms and dads are eager to do whatever they can — at least, legally and ethically — to help their child's admission chances. For example, more than half of our respondents (54%) had already taken the significant measure of moving their family to a better school district, and another 30% said they would be willing to do so in the future.
Parents also reported a willingness to…
Enroll their child in extracurricular activities: 59%
Encourage their child to participate in leadership activities: 51%
Pay for SAT prep courses: 36%
Pay for private tutors: 35%
Pay for educational camps: 25%
Send their child to a private school: 21%
Pay for college application counselor: 16%
Connect with alumni of their child's first-choice school: 13%
Just 9% of our respondents indicated they would not do any of the above.
In terms of the overall financial costs of paving their child's path to college, 54% of parents said they'd be willing to make a donation to their child's first-choice school, and about 24% said they'd be OK to spend at least five figures on this.
The motivation is clear: 66% of parents think spending money on college prep activities will help ensure that their child gains admittance.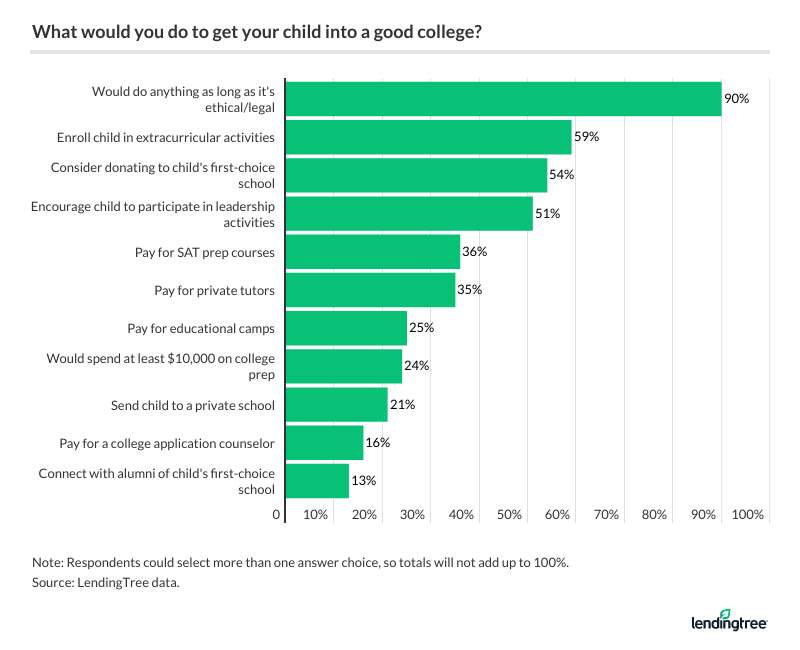 Parents see school choice leading to greater earning power
Our survey also developed a clear picture of why parents are so concerned with their child attending a "good" school. Their concern revolves, at least partly, around two beliefs:
71% of parents think college choice will impact their child's future earning potential.
48% want to be "very involved" in the admissions process because they don't think the child's school will do enough.
Believing that school choice is tied to expected salary, it's no surprise that parents put stock into a school's stature. Only cost of attendance (33%) was a more important factor than reputation (31%) in the eyes of our respondents.
Moms and dads also care about the school's location (20%), while wisely giving less weight to factors like the campus' available amenities (4%) and sports teams (3%).
But as much as they might appear to be dead-set on their kids attending top-notch schools, survey respondents showed some room for flexibility. About 82% said their child should attend a less-prominent college on scholarship instead of an elite school with no such gift aid.
Fortunately, more and more prestigious schools are adopting need-based admissions. There's also a growing list of colleges with "no student loans" policies.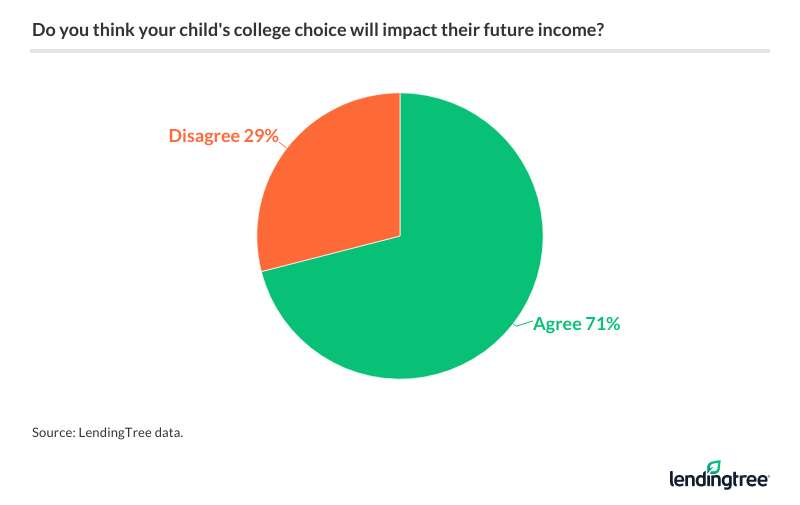 Preparing for college causes stress in the family
Placing so much importance on college choice is bound to come with a side order of anxiety.
About 40% of parents reported being stressed about getting their child into "a good college" — with dads more likely to be stressed than moms.
Taking control of the process could be leading to added stress: About 54% of parents have researched ways to get into "a good college," and 55% already have college choices in mind for their child.
Moms and dads might also be alarmed if they feel they haven't started early in getting their child ready to be accepted into a good school. About 38% of survey respondents took their first step toward college prep when their child was less than 5 years old, and 27% started preparing between ages 6 and 10. But more than 21% said they didn't start until their child was 14 or older.
Much of the preparation stress is also related to paying for school rather than just getting accepted, as a separate LendingTree survey last year showed many parents with children in college regret not saving more money for their education.
How parents can succeed at college planning
The underlying theme of our survey results shouldn't come as a shock: Parents want the best for their children. In fact, 43% reported wanting their child to attend an "elite college."
The question for mothers and fathers is how to put their children in the best possible situation, both academically and financially, without overstressing the whole family.
Beyond starting as early as possible — there are college scholarships for kids as young as 5 — here are some tips we've previously relayed at LendingTree:
If you and your child are starting the college admission process from scratch, you might also review our guide to federal financial aid.
Methodology
LendingTree commissioned Qualtrics to conduct an online survey of 602 parents of children under 18. The survey was fielded from July 22 to July 26, 2019.