How Does LendingTree Get Paid?
LendingTree is compensated by companies on this site and this compensation may impact how and where offers appear on this site (such as the order). LendingTree does not include all lenders, savings products, or loan options available in the marketplace.
Smart (and Dumb) Money Moves Students Are Making This Year According to Our Survey
Updated on: March 15th, 2018
Editorial Note: The content of this article is based on the author's opinions and recommendations alone. It may not have been reviewed, commissioned or otherwise endorsed by any of our network partners.
As the costs of higher education have continued to climb, everyone from parents to policymakers are wringing their hands over student loans. Current students are right in the middle of the college cost crisis. So how are they coping in the face of immediate educational expenses — and the prospect of student loan repayment post-graduation?
We surveyed over 1,000 undergraduate students enrolled at least half-time to see what kind of costs they are facing this school year, and how they are planning to tackle them. Here's what we discovered.
2016-17 college costs and student loan use
Many students say they are considering costs and potential earnings when choosing a college and major. A majority of students show signs of smart decision-making by considering costs and future earnings when choosing a school and major.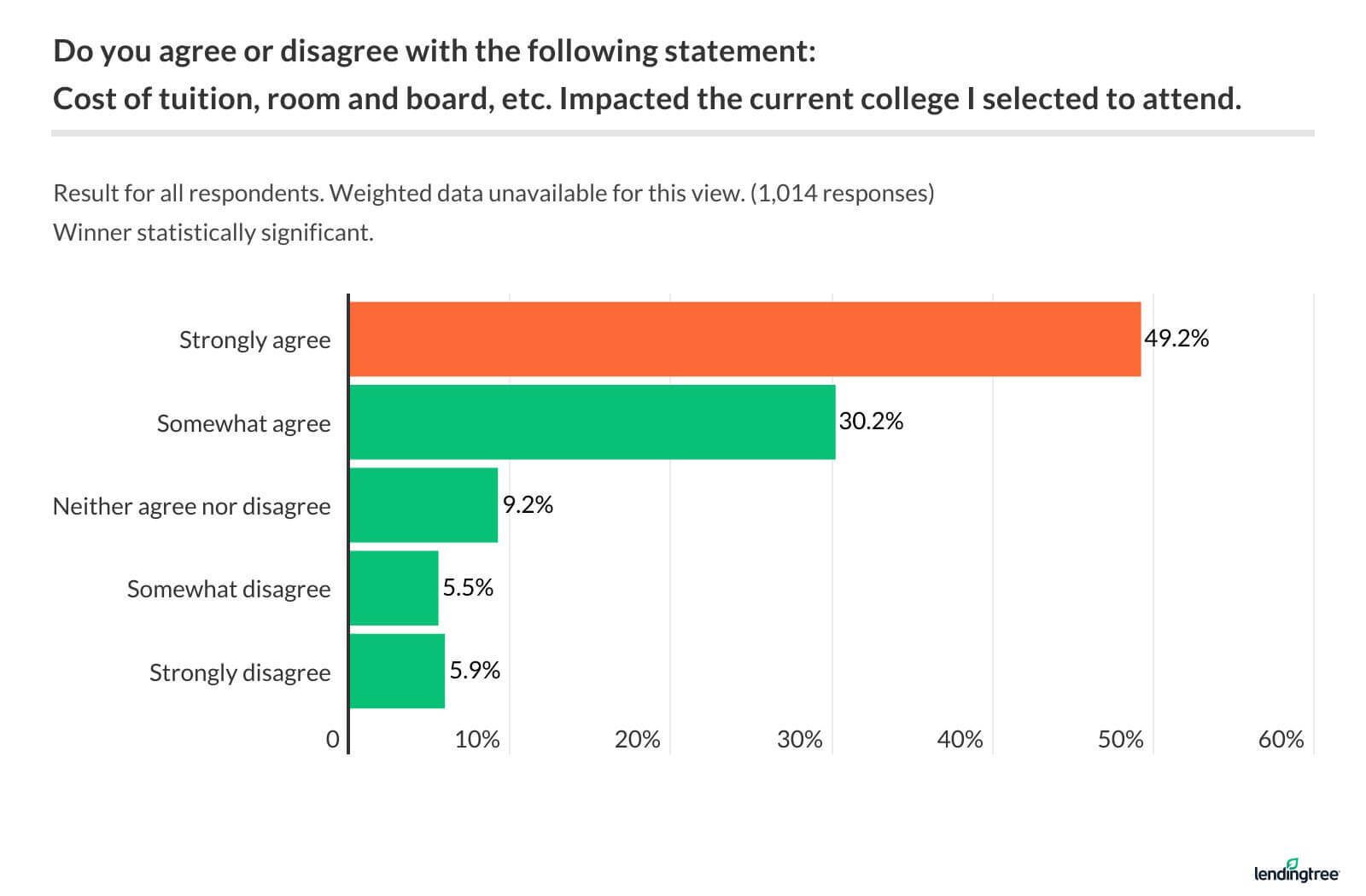 Four out of five students attending school this year agree that their choice of college was impacted by costs of attendance. For students concerned about costs, this focus led them to low-cost schools. Students facing costs under $20,000 are the most likely to say cost was a major deciding factor.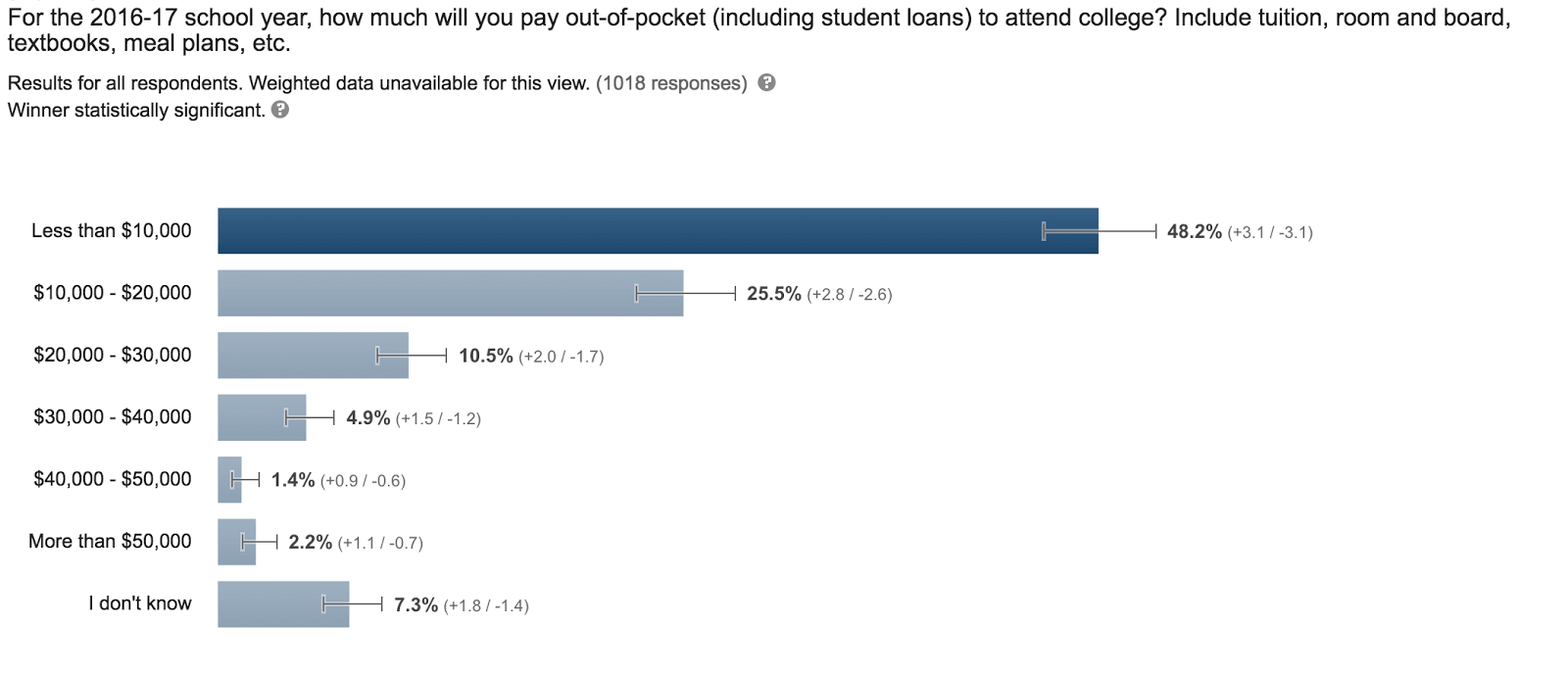 Nearly half of students have reasonable education costs for the 2016-17 school year, with total costs under $10,000. An additional 26 percent are facing costs between $10,000 and $20,000. This means three-quarters of students are keeping costs below the 2013-14 annual average of $24,706, the most recent estimate reported by the US Department of Education.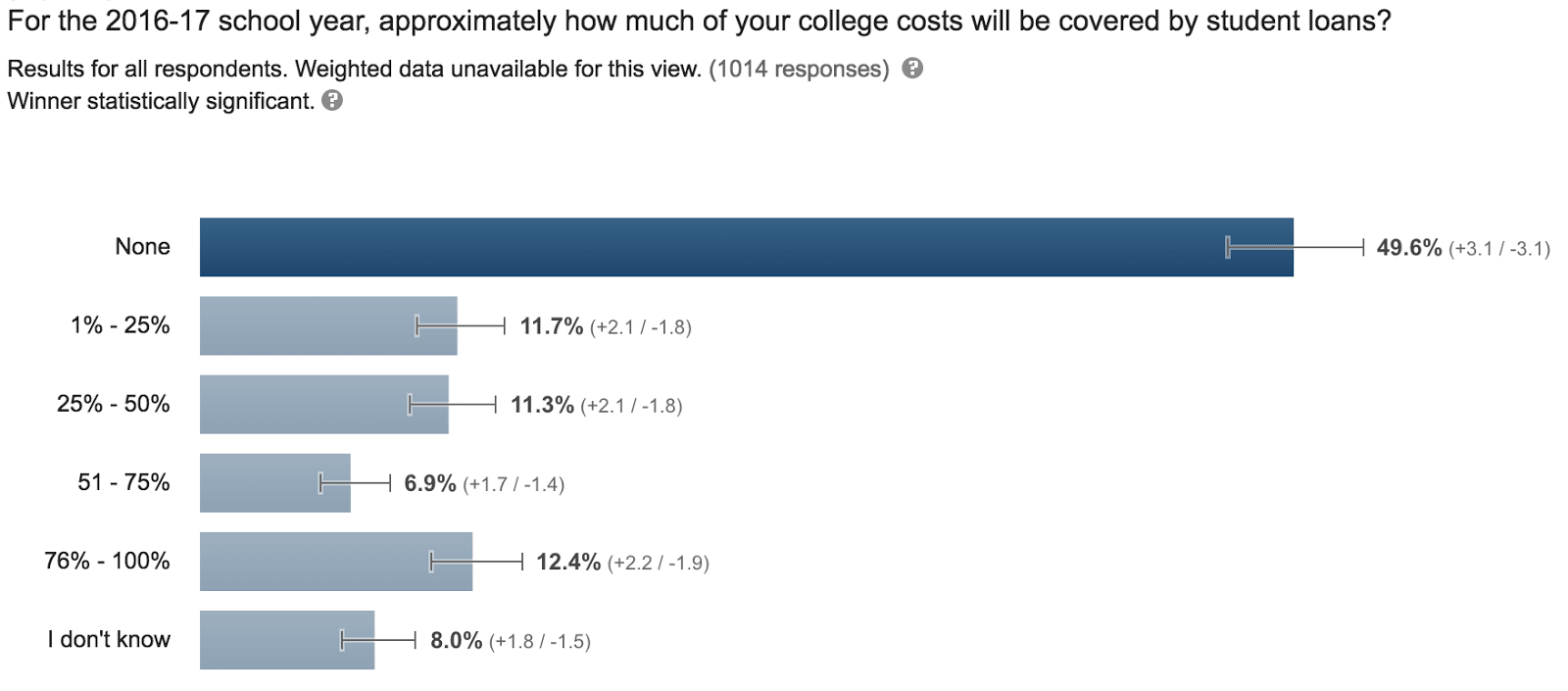 Current students are also reporting a low reliance on student loans. Half say that they wouldn't be covering any college costs with student loans. Another 23 percent of respondents said they were relying on education loans for only up to half their total costs.
Choosing colleges and majors with careers in mind
Students' choices of majors indicate an awareness of how these decisions will affect them once they graduate. Two-thirds of students say they were certain of their majors when choosing a college or university. Two-thirds also agree that their future earnings potentials impacted their chosen areas of study.
Of the fields of study from which survey respondents could choose, Science, Technology, Engin­eering, and Math (STEM) majors are by far the most popular, with over half of students studying in this field.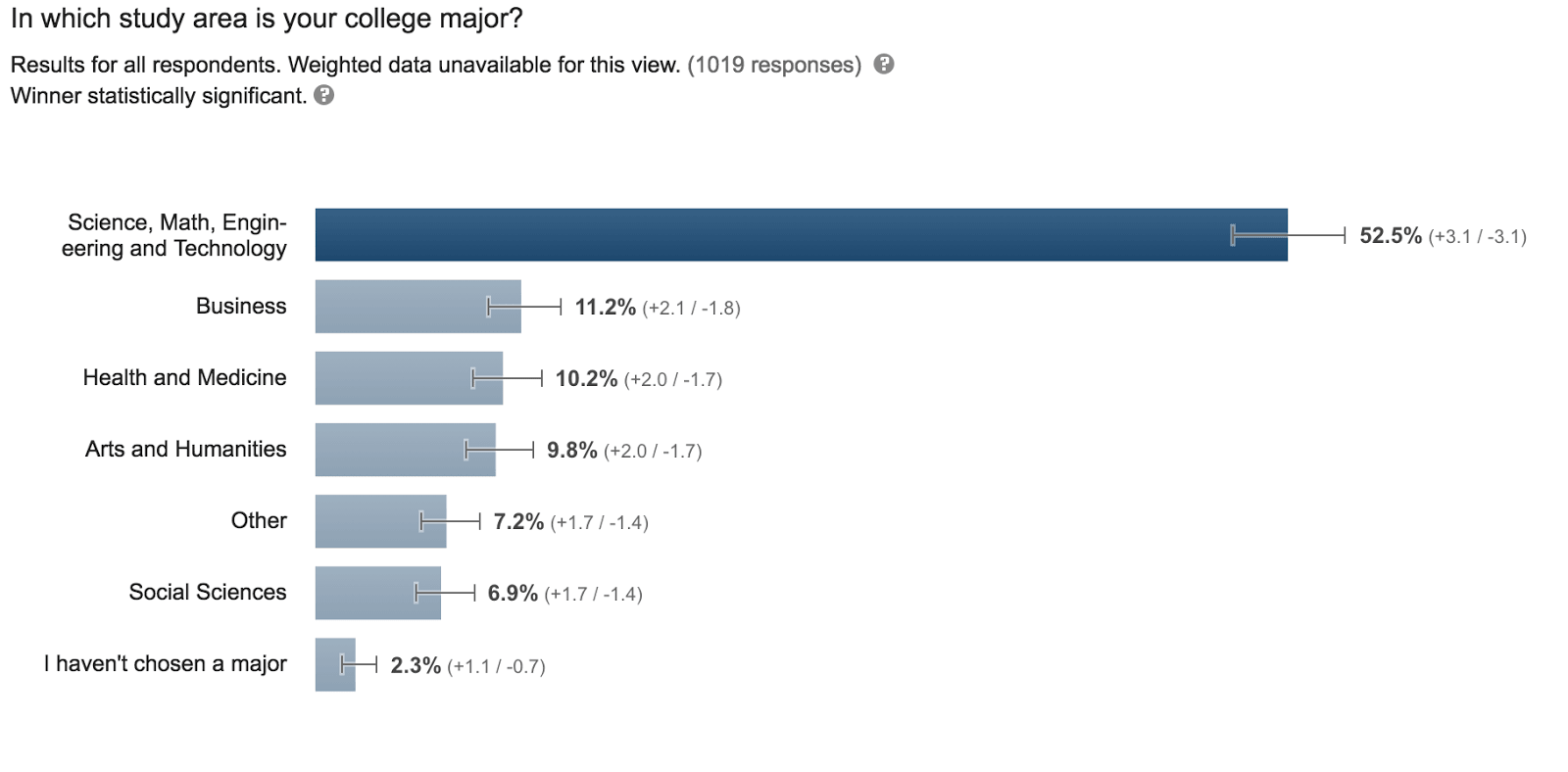 Students in this field are the most likely to say they won't use student loans to cover this year's costs, a sign that they are more likely to graduate with lower student loans. Even better, STEM majors are in high demand and commanding some of the highest starting salaries right out of college, according to the National Association of Colleges and Employers.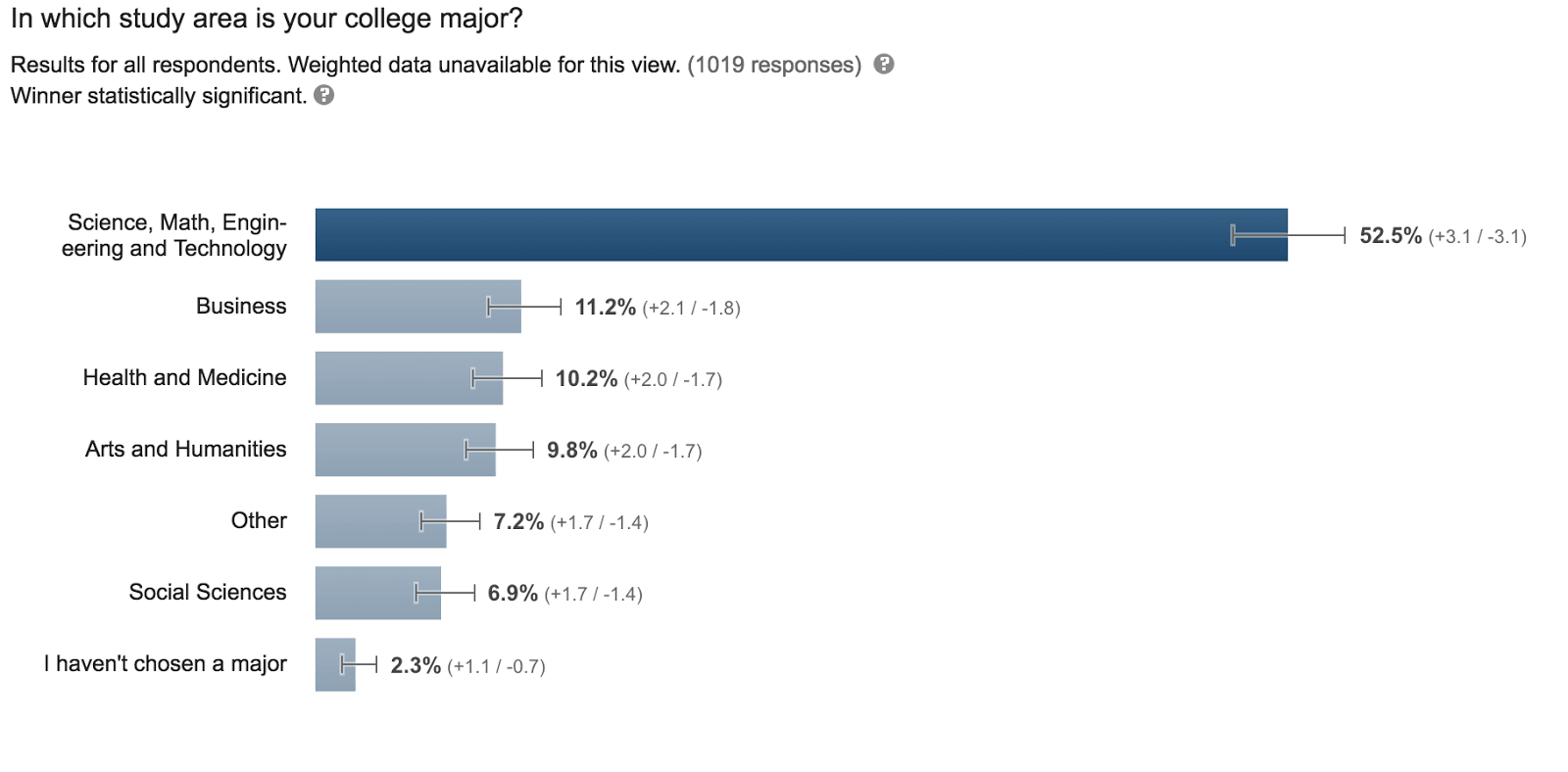 Business and Health & Medicine are the two areas of study most common after STEM majors, with a respective 11 percent and 10 percent of students in each field. Students who chose a major related to business or health are also the most likely to agree that their choice was impacted by future earning potential.
More than two-thirds of students agree that salary and career earning potential impacted their choices or college majors. On the other hand, 17 percent disagree that salary considerations impacted their choice. Social Science and Arts & Humanities majors are the students who disagree with this statement most often.
9 in 10 students follow their passions
It's encouraging to see so many students looking ahead to their careers and weighing their potential earnings when making educational choices. But it's still more common to follow passion than practicality when deciding on a major.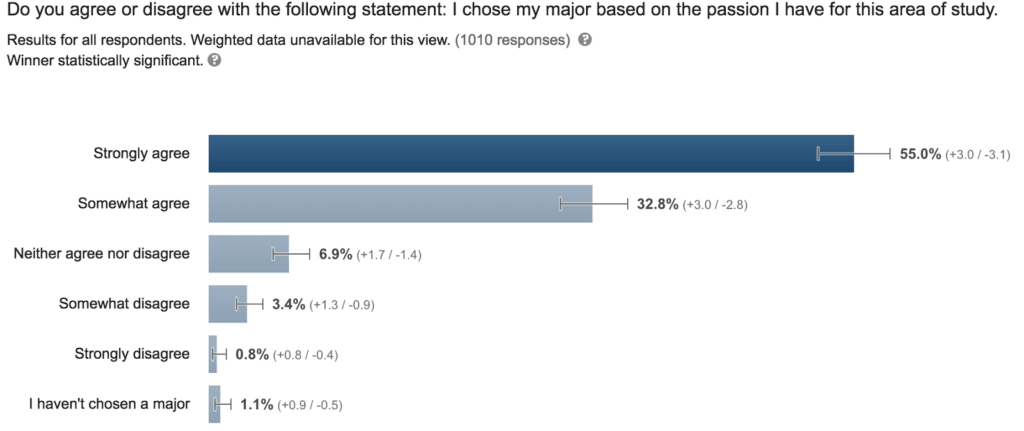 In all, 88 percent agree that they chose their major  based on passion, compared to the 67 percent impacted by earning potential.
Arts & Humanities majors, while less likely to be impacted by earnings considerations, are the most likely of any major to choose their study field based on passion at a rate of 96 percent. Those majoring in the STEM field aren't far behind, with 92 percent reporting a passion for their chosen field.
2 in 5 fund non-educational bills with student loans
A troubling behavior many students report is using their student loans for expenses that are not directly related to education. Two in five say that they would at least use student loans to cover monthly bills.
This indicates that current students are more willing to use loans to cover non-education costs than even the most recent cohort of graduates. The Class of 2016 reported a rate of non-educational use of student loans that was half of current students', according to a LendingTree survey of recent graduates.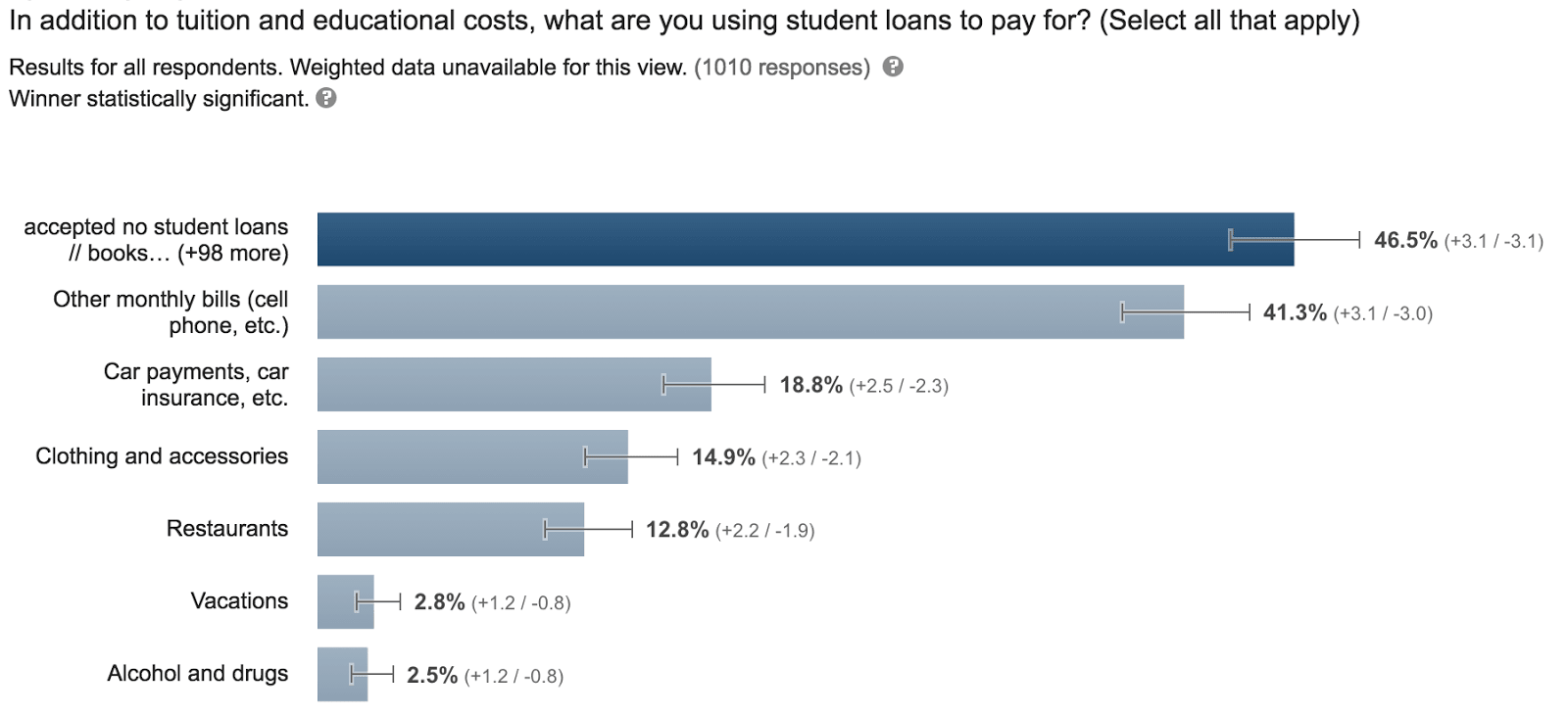 In addition to those paying for monthly bills, one in five respondents are using those funds to cover car costs like a payment or insurance. It's possible that for many students, these are necessary expenses in their college budgets — phones might be used to keep up on assignments and cars could be needed for a commute to class.
But plenty of students are using their funds for more frivolous costs, as well. Fifteen percent say they will use student loans to pay for clothing and accessories, and 13 percent will spend student loan money at restaurants. About 3 percent of students plan to use student loan money to fund vacations and another 3 percent will spend it on alcohol or drugs.
Some students don't know their costs
Despite the majority that's facing lower costs and foregoing student loans, a significant portion of respondents are still choosing high-cost programs. More than 8 percent of students have annual costs over $30,000.
Higher costs also correlate to a higher reliance on student loans to cover their schooling. Students with costs of $30,000 or more are 60 percent more likely to use student loans to cover the majority of their educational expenses than those with costs under $30,000.
Perhaps the more troubling students are the 7 percent who say they don't know what their costs of the 2016-17 school year will be. This clueless cohort is also the most likely to not know how much they would rely on student loans in the coming year.
Without an awareness of expenses and a plan to cover them, these students will have less control over their costs. This could leave them scrambling at the last minute to cover their expenses, possibly relying more heavily on loans.
Overall, however, most students enrolled for the 2016-17 school year say they are aware of costs and their future earning potentials. These students should use this information to keep costs and student balances low, and maximize their earning potential after graduation.
Even as student loan costs continue to rise, today's students can make smart choices and avoid the pitfalls of over-borrowing in college and under-earning after graduating.
Survey methodology
Survey was conducted via Google Consumer Surveys on behalf of LendingTree on Sept. 8, 2016, with a nationally representative sample of 1,019 undergraduate students currently enrolled at least half-time in the United States. "Are you currently an undergraduate college student enrolled at least half-time?" was used as a screening question (with a target answer of "Yes").