How Does LendingTree Get Paid?
LendingTree is compensated by companies on this site and this compensation may impact how and where offers appear on this site (such as the order). LendingTree does not include all lenders, savings products, or loan options available in the marketplace.
Most Student Loan Borrowers Think They'll Have Debt Forever: Survey
Updated on: June 23rd, 2021
Editorial Note: The content of this article is based on the author's opinions and recommendations alone. It may not have been reviewed, commissioned or otherwise endorsed by any of our network partners.
When student loan balances seemingly grow each month — not shrink as they're supposed to — it's easy for borrowers to think the finish line keeps moving further away. That thought is even more common than you might imagine.
A new LendingTree survey found that 53% of borrowers believe they'll be making student loan payments for the rest of their lives. That number jumps to 74% among borrowers with at least six figures to repay. (And note that these responses were from early February, when concern over the coronavirus in the U.S. was relatively mild.)
"It's hard to juggle all of my expenses and actually make progress on paying off the actual loans, rather than just the interest," one the respondents said.
Still, not everyone is pessimistic about the future of their repayment, with confidence varying by generation and gender, as well as whether the borrower in question has a strategy to deal with their debt. Here's what we found …
Key findings
Those 53% of student loan borrowers who see no end in sight pointed to specific obstacles. Among these, not earning enough funds was seen as the greatest impediment, cited by 27%. (More here)
Gen X borrowers (ages 40 to 54) had the bleakest outlook toward student debt, with 57% assuming they'll be paying their student loans for as long as they live. About 55% of millennials and 42% of Gen Zers were similarly discouraged. (More here)
Along gender lines, female borrowers were more likely to have dire student loan payoff expectations: 57% said they didn't expect to ever repay their education debt, compared to 47% of men.
Among the more confident crowd of borrowers, 47% said they planned on becoming free of all education debt within the next five years. Their most popular repayment strategy was paying more than the minimum due on their loans each month (52%). (More here)
Common obstacles bring down many student loan borrowers
More than 7 out of 10 borrowers with at least $100,000 in outstanding education loans said they thought their debt would outlive them. This is despite the fact that large student loan balances are common among relatively high-income earners — such as doctors, lawyers and other professionals — who are prime candidates to lower their rates via student loan refinancing.
Of course, even more modest debt totals can be daunting, especially for those earning lower wages. And income was just of four key obstacles that the survey respondents said were the biggest factor blocking a more successful repayment:
Low income (27% of respondents): How much you earn is, of course, a major factor in how you view your debt, which is why borrowers on a budget should spend just as much time (if not more) increasing their income compared to decreasing their expenses.
High interest rates (25%): Heavy interest costs can put drag on repayment. The only way to reduce your interest rate significantly is through student loan refinancing, though this requires either good credit or a creditworthy cosigner.
Large balances (23%): A big debt figure can be intimidating. The best way to fight this is with a long-term repayment strategy.
Additional debt obligations (22%): Prioritizing the payoff off higher-interest debt, like that of credit cards, is generally recommended, but borrowers should consider whether the snowball or avalanche method is right for them.
The pessimism over student debt repayment isn't new. Our 2019 report on debt hindering personal milestones found that less than half (44%) of respondents were fully confident they could afford their ensuing monthly payment.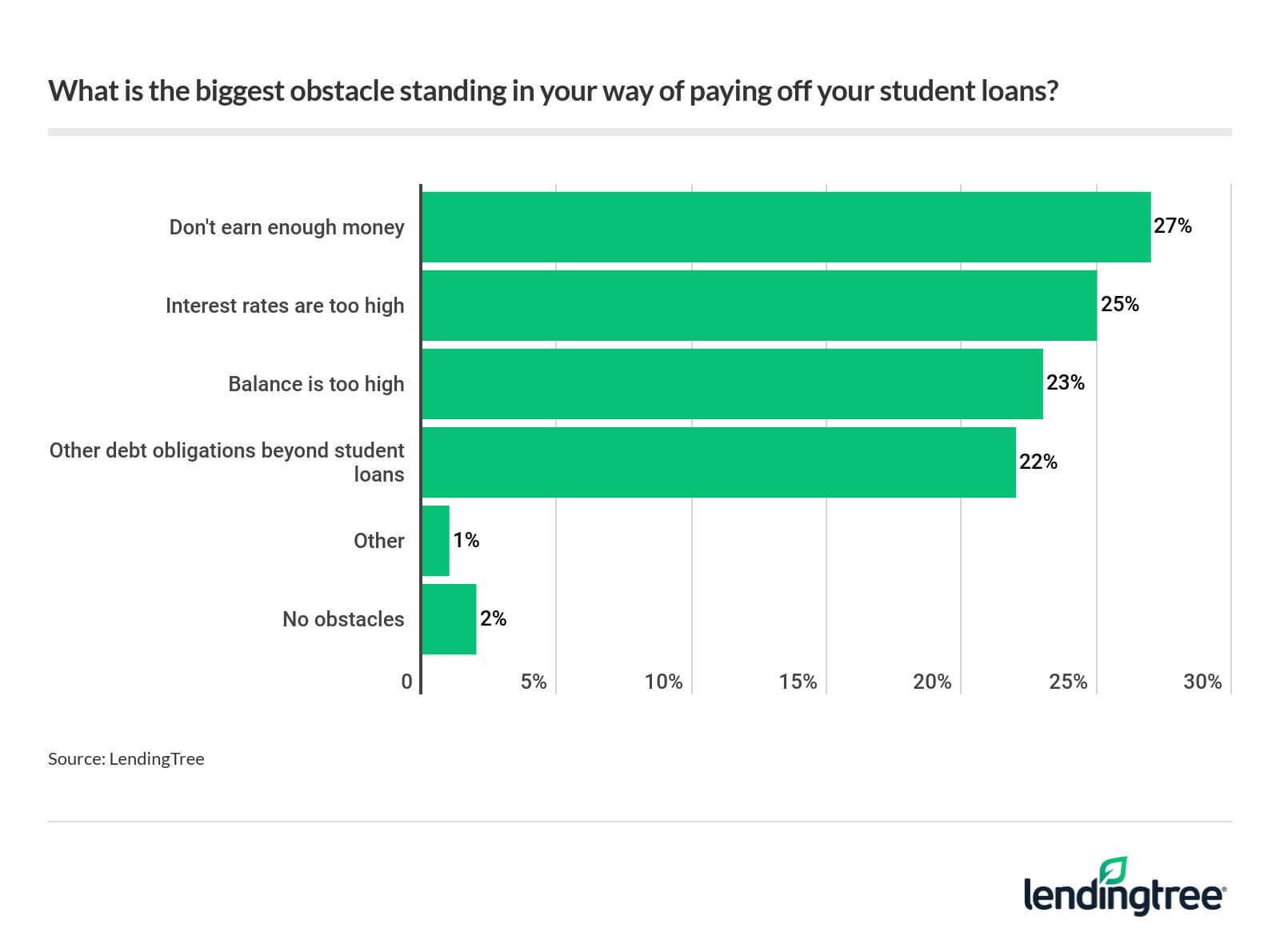 Borrower optimism varies by generation and gender
The older the borrower, the more likely they were to say their education debt felt endless: 41% of Gen Zers (ages 18 to 23), 55% of millennials (ages 24 to 39) and 57% of Gen Xers (ages 40 to 54) said they believe their debt will span their lifetimes.
That's to be expected, as research shows that a majority of parent PLUS loan borrowers — that is, Moms and Dads who borrow federal loans on their children's behalf — struggle in repayment, putting their retirement in peril.
Besides older borrowers, female respondents were also more likely to show pessimism about repaying their loans. Nearly 6 in 10 (57%) said their education debt would prove to be never-ending, compared with about 5 in 10 (47%) of male borrowers.
These results echo past research by LendingTree indicating that women are more likely than men to see their student debt as unmanageable.
The obstacle in front of many borrowers — especially women — was income. Female respondents were more likely to say they don't make enough money (30%) for their repayment, compared to 23% of males.
The difference between men and women in confidence surrounding salaries is very likely tied to the gender pay gap. According to our 2019 personal milestones survey mentioned above, only 44% of women said their annual salary was more than their student loan balance, compared to 59% of men.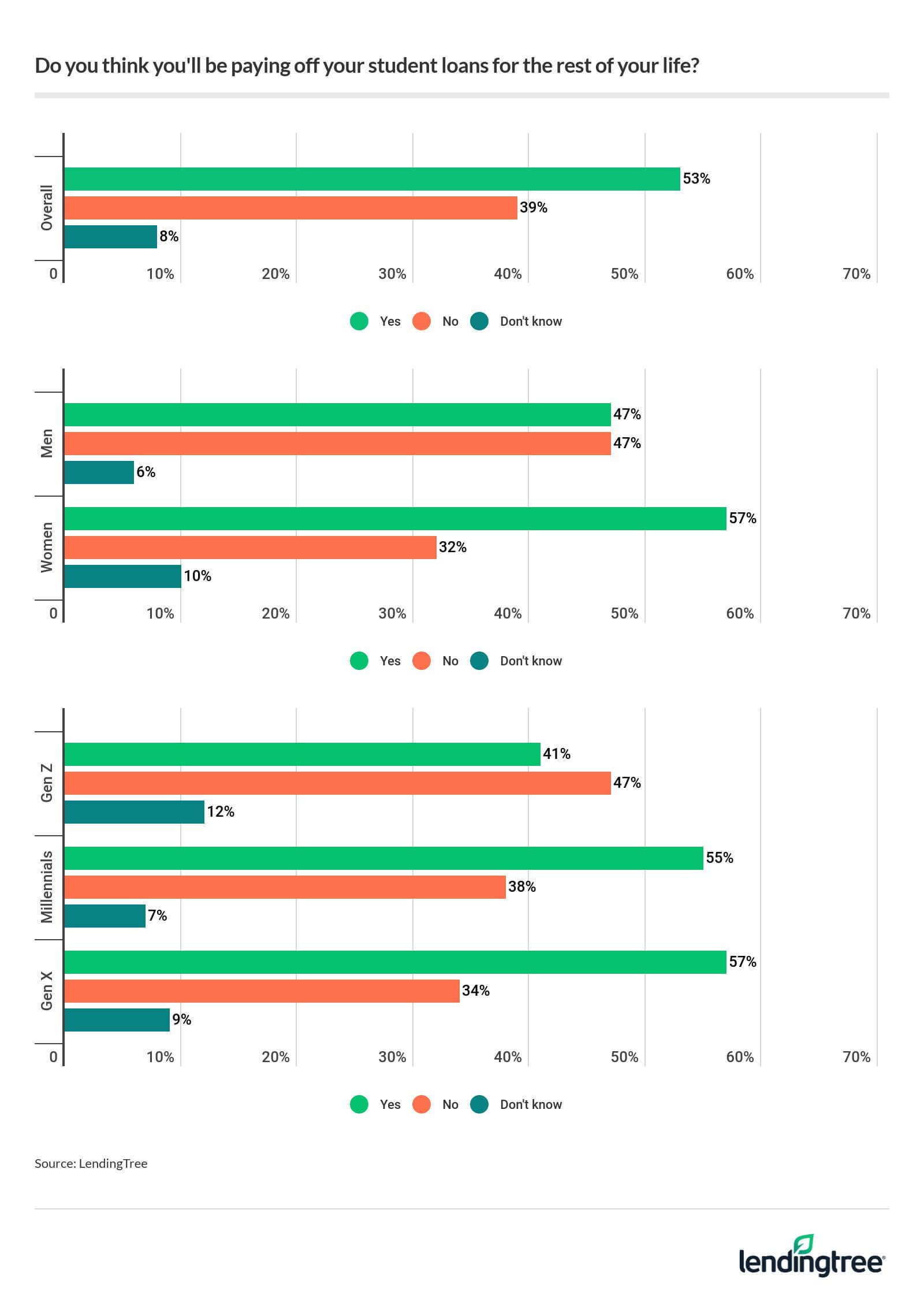 More hopeful borrowers rely on student loan strategies
But while the glass is half empty, so too is it half full. About 47% of those surveyed said they planned to be free of their student debt within the next five years. To do so, 86% of these more confident borrowers said they were relying on at least one repayment strategy. Specifically …
Paying more than the minimum due (52% of respondents): You can calculate the benefit of this aggressive tactic using LendingTree's lump-sum extra payment and loan prepayment calculators
Trimming their budget (33%): Coming up with that larger monthly payment amount can be chalked up to cutting unnecessary expenses.
Refinancing to a lower interest rate (21%): Student loan refinancing is the only way for borrowers to reduce their average rate by a significant margin. But, like anything else, there are pros and cons to refinancing.
Added an income stream (19%): Whether through a side hustle, a part-time job or a pay raise, there's no limit on any borrower's potential income.
Of course, feeling confident about repayment is also about control. And with measures like these, borrowers have more control over their fate. In fact, each of these tactics are also featured in our student loan payoff success stories.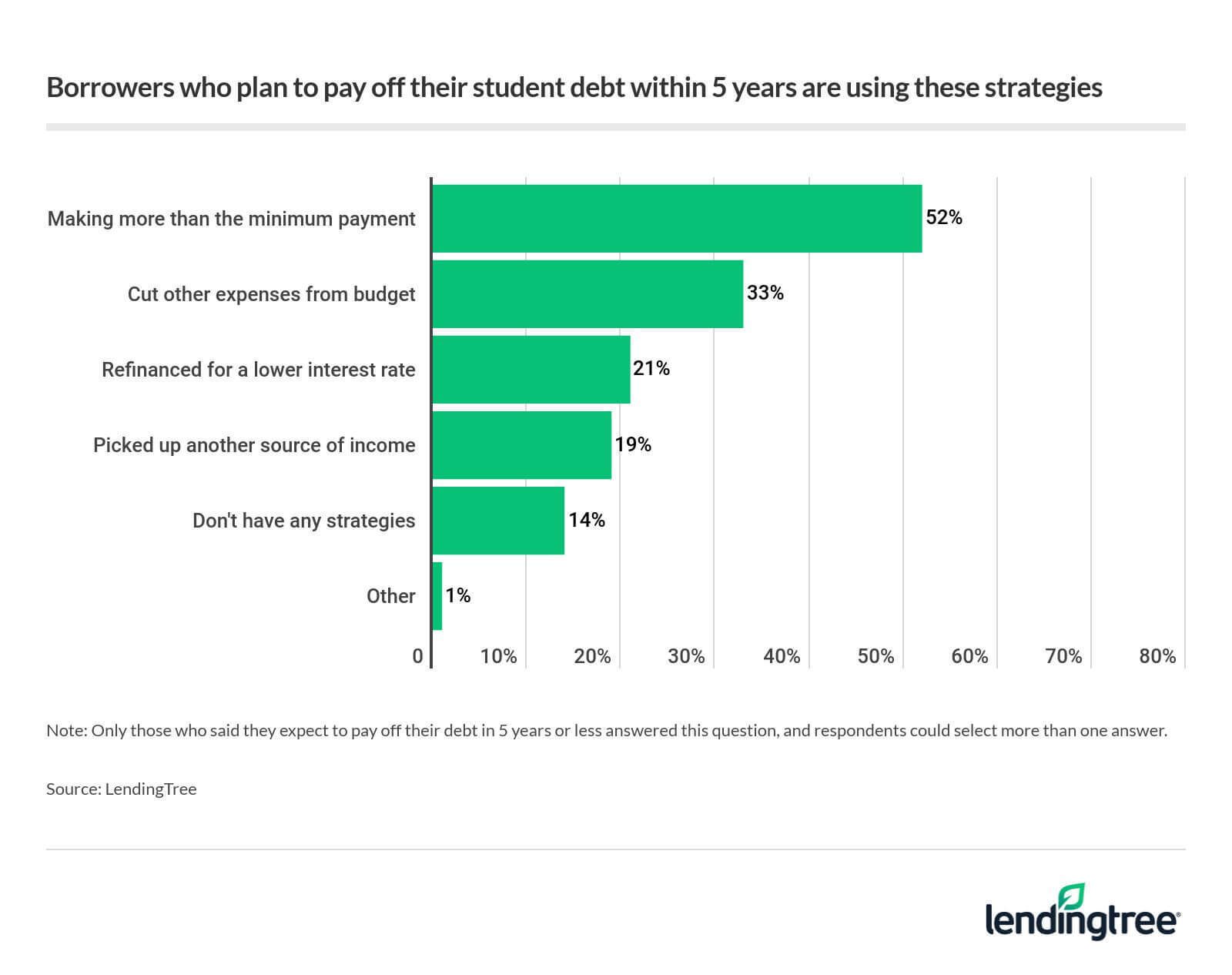 Confidence is key to a successful student loan repayment
You don't have to major in behavioral economics to know that your attitude can affect your outcome. That's why it's so important for student loan borrowers to feel empowered about their repayment.
Unfortunately, as our survey results indicate, more than half of all borrowers don't feel they're in the driver's seat — a finding that squares with our 2020 survey on student loan-induced depression.
To combat these unhelpful feelings, consider the strategies that the more confident borrowers surveyed are using. You can try sneaking in an extra payment or two. Or if you can't afford that, take a hard look at your budget. Alternatively, if you don't yet qualify for student loan refinancing, try improving your debt-to-income ratio with a moneymaking side hustle.
LendingTree conducted an online survey of 1,007 Americans who have student loan debt, with the sample base proportioned to represent the overall population. The survey was fielded online using Qualtrics from Feb. 5-10, 2020.
Generations are defined as the following ages in 2020:
Generation Z: 18-23
Millennials: 24-39
Generation X: 40-54
Baby boomers: 55-74
Silent Generation: 75 and older