How Does LendingTree Get Paid?
LendingTree is compensated by companies on this site and this compensation may impact how and where offers appear on this site (such as the order). LendingTree does not include all lenders, savings products, or loan options available in the marketplace.
Nearly 4 in 10 Americans Are Mooching Off Someone Else's Streaming Account
Updated on: March 11th, 2021
Why use LendingTree?
We are committed to providing accurate content that helps you make informed money decisions. The content on this page has not been reviewed, approved or otherwise endorsed by any credit card issuer. We do maintain partnerships with some issuers, and our site may be compensated through those partnerships. Read our .
It's official: Americans love to stream. With more than 8 in 10 Americans saying they spend money on at least one streaming service — and 4 in 10 admitting that they mooch off someone else's paid account — binge-watching is a national pastime.
That was among the key findings in a LendingTree survey of over 1,500 Americans on their streaming habits. The survey also revealed that parents are the group most likely to subscribe, Netflix is the most popular service and more than a third of streamers are earning credit card rewards on their subscription spend.
Key findings
As of February 2021, 81% of consumers were spending money on at least one streaming service subscription. Netflix has the top spot, as 60% of Americans have a paid account, followed by Amazon Prime Video (43%) and Hulu (38%).
Nearly 4 in 10 Americans are mooching off of someone else's streaming account, and about a third do so without permission from the account holder. Of those who log in with someone else's account, 52% are Netflix watchers, the most common choice by far.
Some consumers — 43% — don't think it's fair to the streaming company to use someone else's account without paying for your own. Baby boomers (66%) were much more likely to agree with that statement.
Still, 51% of those who have a streaming service account admit they let others use it, too. Netflix is once again the most popular shared service, as 72% let someone use their account.
Some may share streaming accounts to trim their costs, as a quarter of streamers fork over more than $50 per month. For parents with kids under 18, that percentage rises to 34%. On average, consumers have three different accounts.
Streamers are missing out on credit card rewards. Only 37% earn rewards by paying for their subscriptions with their credit cards, even though some issuers offer lucrative streaming benefits.
Nearly 4 in 10 Americans are sharing streaming logins
Sharing or swapping streaming logins happens all the time, said Matt Schulz, chief credit analyst for LendingTree. "If you're keeping it within the family, such as a kid using mom and dad's account when they go off to college, that totally makes sense," he said.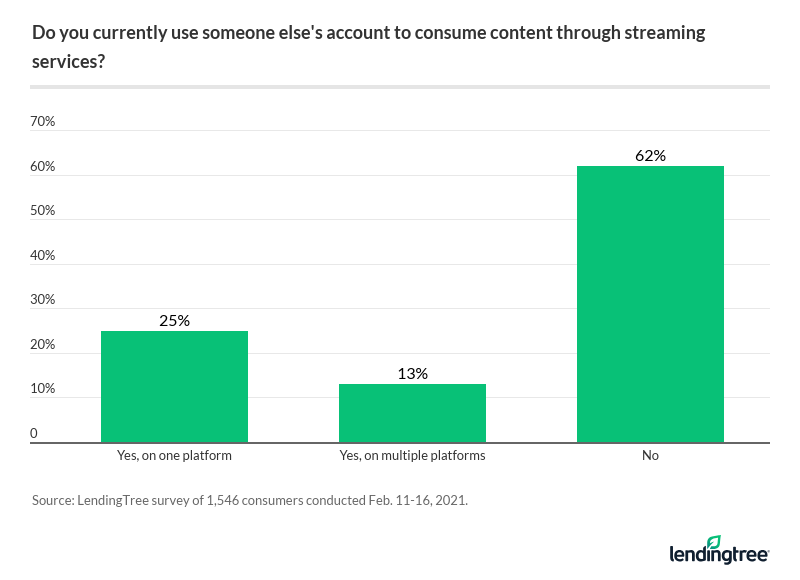 Sharing is caring
The most popular account to "borrow" is Netflix, cited by 52% of respondents, followed by Hulu (31%) and Disney+ (28%). On average, those who use someone else's streaming account do so on three different platforms.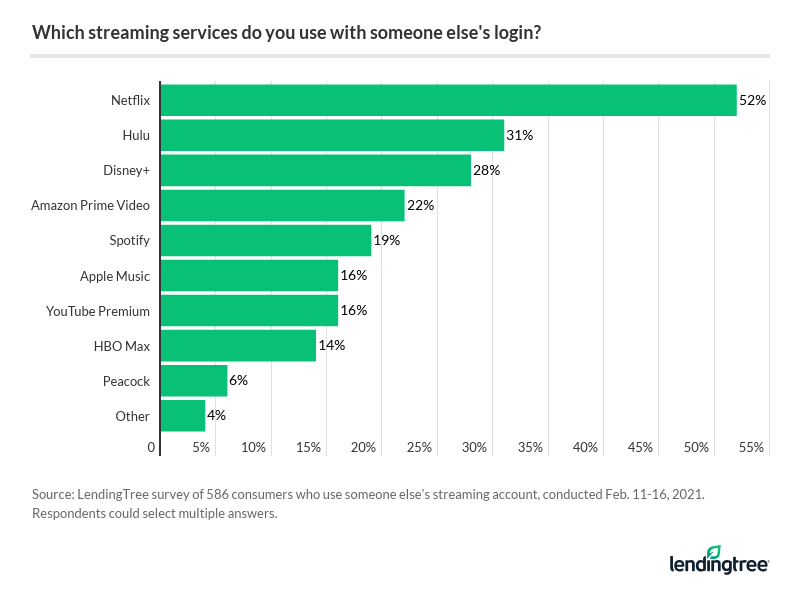 Among those borrowing someone else's login, 6 out of 10 said the account belongs to a family member, while about a quarter borrow from a friend, 20% from a significant other and 5% from an ex.
Three-quarters of the non-paying users said they have a deal in place with the account holder: 45% said they swap account logins, 20% split the subscription cost and 10% worked out some other kind of agreement.
"It can make sense if you'd like to test-drive a new streaming service to see if you'd like it," said Schulz. "Borrow your friend's password, watch a couple of episodes of Wandavision or Bridgerton, see what you think and then, if you're into them, get your own account."
Then again, nearly a third (32%) of respondents admit they are secretly logging in without the permission of the account holder.
But is it fair to share?
Not everyone thinks it's fair to share (or steal) logins, though — especially baby boomers, as 66% said so. This is in direct contrast to the 48% of Gen Z who said it's no big deal since these companies already make plenty of money.
For the most part, Schulz noted, it is unfair to the streaming company to use someone else's account, since they rely on that revenue to create all of that buzzworthy content.
"However, the reality is that Netflix, Spotify and others know that you do it," he said. "They assume a certain amount of mooching when they set their prices."
They also know that many people who test-drive their content will eventually become paid subscribers, he added. This seems to be the case, since the majority (57%) of those who do use someone else's account said they would purchase their own subscription if they were cut off.
81% spend on streaming subscriptions each month
Besides the people who share accounts, 8 in 10 people are paying for at least one streaming service of their own. Younger viewers are the more likely streamers — 92% of millennials and 89% of Gen Z, versus 80% of Gen X and 65% of baby boomers.
But the biggest market for streaming services seems to be parents with kids under 18, as 93% of those subscribe. According to Schulz, this comes as no surprise, especially during the pandemic when parents have leaned on in-home entertainment for kids stuck in lockdown.
About half (51%) of paying customers don't mind letting others use their accounts. The most popular shared accounts are: Netflix (72%), Hulu (42%),  Amazon Prime Video (36%) and Disney+ (34%).
Netflix is the most popular streaming service…
Six in 10 Americans pay for Netflix, followed by Amazon Prime Video (43%) and Hulu (38%). Music-wise, Spotify (20%) has more subscribers than Apple Music (11%).
YouTube's paid subscribers tend to be much younger, with just over a quarter of Gen Z subscribing versus just 10% of Gen X.
…but Netflix is also the subscription consumers would cut first
Of those who have a Netflix account, 27% said they would give it up over their other streaming subscriptions if forced to choose.
1 in 4 spend more than $50 monthly for multiple accounts
Parents with kids under 18 spend more money on streaming than anyone else — 34% said their monthly bill exceeds $50.
And the younger the viewer/listener, the more streaming services they have:
Gen Z has an average of 5 subscriptions
Millennials have 4
Gen X has 3
Baby boomers have 2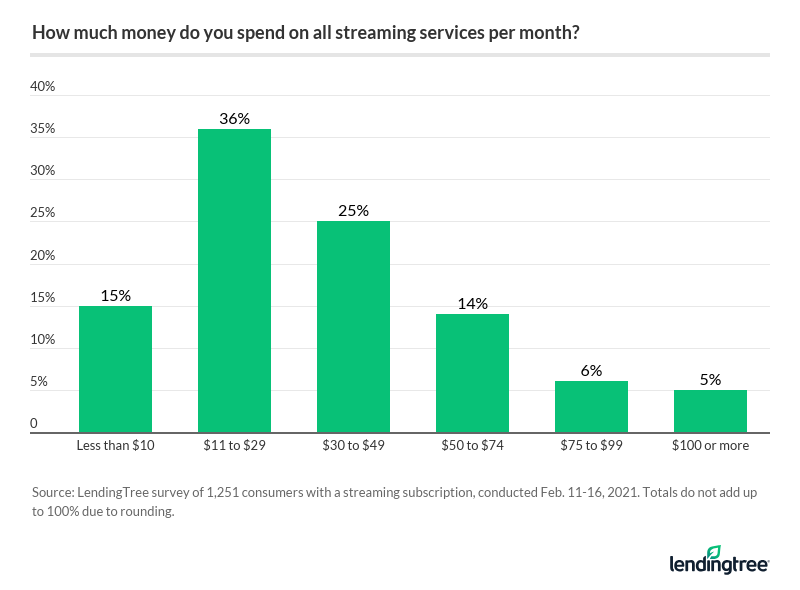 You could be missing out on credit card rewards for streaming spending
Some credit issuers offer bonus rewards for streaming, but only 37% of consumers are taking advantage.
"Credit card issuers have fallen in love with streaming rewards in the past year, so if you spend a lot of money on streaming, it's worth looking into what your cards offer," said Schulz.
Just be sure that you keep your spending in perspective, he added: "For example, don't throw away a good grocery rewards card for one that gives more for streaming."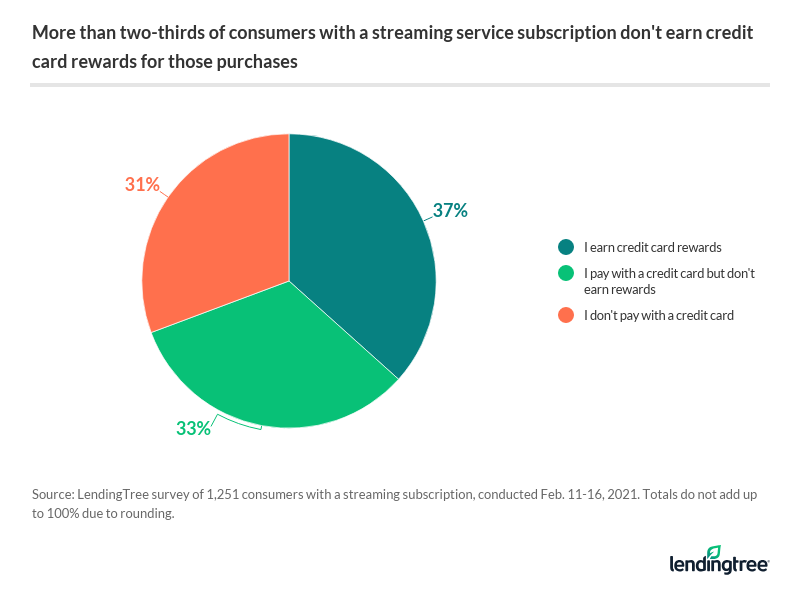 Tips to trim your streaming spend
Those small monthly charges can quickly add up, and many consumers have a small financial margin of error, said Schulz. If you're hooked on streaming — especially while entertainment options are limited — here are some ways to keep it affordable.
Ditch the services you're not using. Assess what you've watched over the past month or two, and if there's a service you haven't logged into, close it. "Streaming services make a fortune off of people who forget to cancel their accounts," said Schulz. "Don't be one of them."
Make sure you opt out after free trials. You had good intentions — sign up for a free trial, watch the show everyone's been talking about, then cancel. But oftentimes, people forget. To avoid this, Schulz recommends setting a calendar reminder.
"If you end up wanting to keep the service when that reminder pops up, that's fine. But if you do want to cancel, the reminder will help make sure it gets done," he said.
Watch out for streaming cost creep. You may have some wiggle room if you're not going out much, but be sure you're keeping track of escalating recurring charges. Itemize each individual service into your budget, said Schulz. "That way, if you need to cut back, you can easily see what you subscribe to and you can make decisions from there," he said.
Look for deals. You may be eligible for free or discounted subscriptions. For example, if you're a T-Mobile customer, Netflix is free on certain plans. Those who purchase an Apple device can get a free year's subscription to AppleTV+, while Hulu, Spotify and Showtime offer a bundle package for students. Plus, some services are cheaper or free if you use versions that run ads.
Rotate/limit subscriptions. To further control those recurring monthly subscription charges, you can set a limit of, say, two subscriptions at a time. It's fairly easy to cancel those you aren't viewing as much and resubscribe at a later date.
Methodology
LendingTree commissioned Qualtrics to field an online survey of 1,546 Americans, conducted Feb. 11 to Feb. 16, 2021. The survey was administered using a non-probability-based sample, and quotas were used to ensure the sample base represented the overall population. All responses were reviewed by researchers for quality control.
We defined generations as the following ages in 2021:
Generation Z: 18 to 24
Millennial: 25 to 40
Generation X: 41 to 55
Baby boomer: 56 to 75
While the survey also included consumers from the silent generation (defined as those 76 and older), the sample size was too small to include findings related to that group in the generational breakdowns.