How Does LendingTree Get Paid?
LendingTree is compensated by companies on this site and this compensation may impact how and where offers appear on this site (such as the order). LendingTree does not include all lenders, savings products, or loan options available in the marketplace.
Types of RVs Explained: How to Choose the Right One for You
Published on: May 20th, 2019
Editorial Note: The content of this article is based on the author's opinions and recommendations alone. It may not have been previewed, commissioned or otherwise endorsed by any of our network partners.
The term "recreational vehicle" (RV) means everything from a 5-foot pop-up tent trailer to a 50-foot, million-dollar land yacht with an engine. With such a wide difference, how do novices decide on the type of RV they want? Here, we'll break down the different types and classifications of recreational vehicles, so you can choose the best one for your budget and lifestyle.
How to choose the right type of RV for you
As you look at the types of RVs, here are some questions to keep in mind so you can be sure that the RV you have your eye on is the right one for you.
How do you want to use your RV? Whether you want to park it on a beach for the whole summer, or just take your family camping several weekends out of the year, here are some things to consider:
How many people will be in your RV? Will it just be you or do five of your closest friends want to join? More people means more space is needed: not just for everyone to sleep, but for food and luggage storage.
How often and for how long will you use your RV? Is the RV for an occasional weekend trip, to live in for a couple months at a time or for full-time living? The more often and the longer you use it, the more room and home-like features you may want.
What will the weather be like when you use your RV? Do you plan to break out the RV during the hot summer only or will you be using it during snowy winters? A fold-down tent trailer may be perfect when there are summer breezes, but may not be suitable for the cold.
How far will you travel? Are you going across the country or across the state? The heaviness and aerodynamics of the RV can affect how much you pay at the pump.
What is your budget? The bigger and nicer the RV, the more expensive it will be. The point of RVs is for everyone to have fun — an RV that drains your budget may also drain all the satisfaction. Search for an RV and RV loan that will satisfy your goals, including your financial peace of mind. If you're debating a new versus used RV, used will almost certainly be cheaper — but there's often a tricky balance between finding an inexpensive used model and avoiding RVs that are too old to be reliable.
Financing an RV. RV dealers can connect you to lenders, but beware: they may tell you about the loan that gives them the highest finder's fee, not the loan that's the best deal for you. The best way to know you're getting the best deal for you is to apply for a loan outside of the dealership. Potential lenders could include your bank, credit union or online lender. Then, at the dealership, you can ask the finance manager to beat the offer you already have. You could fill out an online form at LendingTree where you may be matched with potential RV loan offers from lenders, based on your creditworthiness.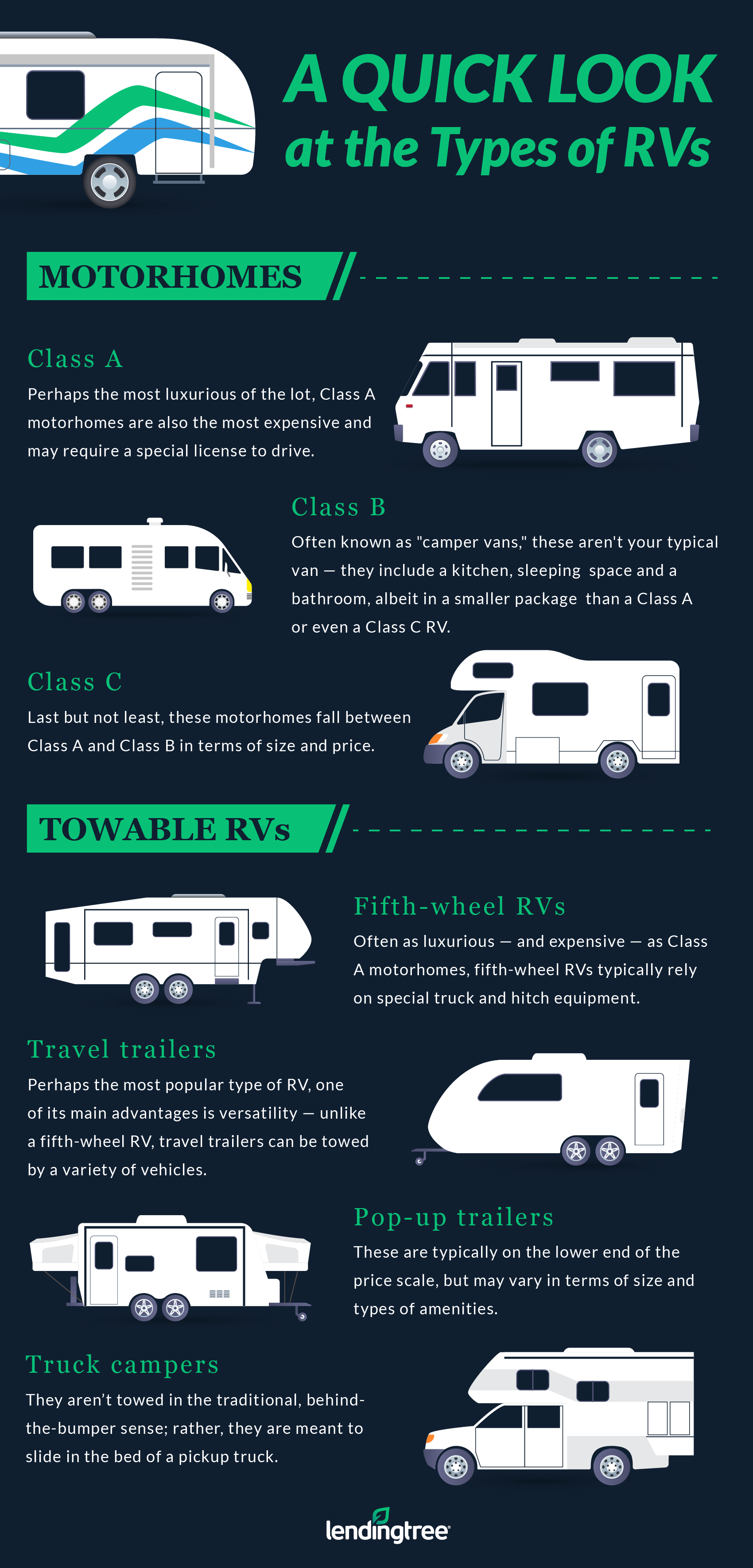 The types of RVs
Now that you have a better idea of how you might use your RV, you can match your needs with the corresponding category.
Motorhome RVs
These are the RVs you drive. Within the general category of motorhomes, there are a few classifications, which are based on how the motorhome is built. Still, each will have an engine, in addition to a bed, toilet, kitchen and more. Because motorhomes are vehicles and sleeping quarters in one, they are more expensive and tend to depreciate more quickly than other types of RVs.
Class A. This RV is the type rockstars use. They are built on a single chassis and may look like a coach bus, like the ones Greyhound and MegaBus use. They are usually between 30 and 40 feet long, and could tow something else behind them, like a car or a boat. You don't have to buy a rockstar-grade Class A though; lower-end models are lighter, less fancy and less expensive. New Class A motorhome prices start around $60,000 and stretch into the millions.
Class B. Class B RVs are also called "camper vans" or "sprinter vans." And while the term "camper van" may bring to mind a Volkswagen wagon of the 1960s, you might want to check out how Volkswagen and Mercedes-Benz put a modern spin on it before discounting this RV class. New Class B motorhome prices typically range between $40,000 and $80,000.
Class C. These RVs are built as two units: the "home" part of the motorhome is built separately from the vehicle part, usually a pickup truck cab and chassis, and then the two are put together. This RV might also have towing power. Often recognizable for the cab extending over the driver's cockpit, prices range between $50,000 and $100,000.
Diesel versus gas. In Class A, B and C RVs, you could have a choice between a diesel or gas engine. Diesel engines tend to be more powerful, get better mileage and last longer than gas engines, all of which are important factors when you're talking about transporting the weight of a home potentially thousands of miles. However, they are more expensive outright.
Towable RVs
Also known as campers and RV trailers, these types of RVs don't have an engine, which means they'll need to be hooked up to a vehicle to go anywhere. If you are considering one of these, make sure the vehicle you plan to use to tow the RV is capable of handling the weight. As size and weight of towable RVs go down, so too do the amenities and price.
Fifth-wheel RVs. These are the largest and heaviest towable RVs. The "fifth wheel" refers to the gooseneck hitch, which extends from the front of the trailer over the bed of a pickup where it is attached to a hitching mechanism.
This type of RV requires a fairly powerful truck, which could add to the price of your RV if you don't already have one. Fifth-wheel RVs range in price from $18,000 to $150,000.
Travel trailers. These may be the most common type of RV. They're towed behind a vehicle and come in all types of sizes, styles and prices. The vehicle that tows this RV doesn't have to be a pickup, but could be an SUV or crossover depending on the weight of the trailer and the vehicle's towing capacity.
Expandables. These travel trailers are on the smaller side, but they have expandable sections. Parts of them can pop out to offer more sleeping room; these parts are usually made out of tent material.
Fold downs, pop-ups and tent trailers. These terms all refer to the same type of RV. This type may be only 3 feet high when everything is folded up to travel behind your vehicle, but when you set up for the night, it expands much like a tent. It may even allow for standing room in the living areas and enough room to sleep up to four adults.
Truck camper. This type of RV is made to slide onto the back of a pickup. As such, it doesn't have wheels nor need a hitch. It's also usually one of the smallest types of RVs.
Toy hauler RVs
These RVs are built to haul "toys" such as ATVs, motorcycles, golf carts and more inside the RV thanks to a cargo/garage space at the RV's rear end. A toy hauler could be a motorhome or a towable RV. Towable toy haulers tend to be fifth-wheel RVs in order to handle the size and weight of the cargo, while still offering living and sleeping space.
RVs meant for long-term parking
Not everyone wants to use an RV to travel the country. Rather, some people just want to get to a beautiful spot, hook up the RV and live there for a season, a year or more. While they are capable of traveling, all of the following types of RVs are made to be parked and lived in for long periods of time, rather than constantly travel for long distances.
Because they expect daily use, they have interior features that may be hard to find in other RVs, including electric fireplaces, bay windows and gourmet kitchens. Their materials also tend to be nicer and stronger in order to stand up to daily wear. This all means, however, that in general they are super heavy and not very aerodynamic, and they may require a heavy-duty truck to tow them.
Destination RVs. These RVs go by names such as villa, cabin, retreat and resort trailer. While they are meant to be parked at a vacation destination of your choosing, they are still self-contained like a travel trailer. They don't have to be hooked up to anything to function and might be towed with a heavy-duty pickup.
Park models. These RVs are basically tiny homes that are only meant to travel once or twice in their lifetime. They are not self-contained and require special transportation, water, power and sewer/septic hookups. Though they might look like mobile homes, they are still classified as RVs.
The bottom line
There are so many types of RVs, it may seem overwhelming when it comes time to shop for one. But rather than face analysis paralysis, keep in mind how you plan to use the RV and what you can afford in order to narrow down choices, then make the best one for yourself and your wallet.