How Does LendingTree Get Paid?
LendingTree is compensated by companies on this site and this compensation may impact how and where offers appear on this site (such as the order). LendingTree does not include all lenders, savings products, or loan options available in the marketplace.
Types of RVs Explained: How to Choose the Right One for You
Updated on: June 22nd, 2022
Why use LendingTree?
We are committed to providing accurate content that helps you make informed money decisions. Our partners have not commissioned or endorsed this content. Read our .
The term recreational vehicle (RV) can mean everything from a five-foot pop-up tent trailer to a 50-foot, million-dollar land yacht. With such a wide range, how can amateurs decide on the type of RV they want? Here are the types of RVs explained.
In this article, we'll examine…
Plus:
Class A motorhome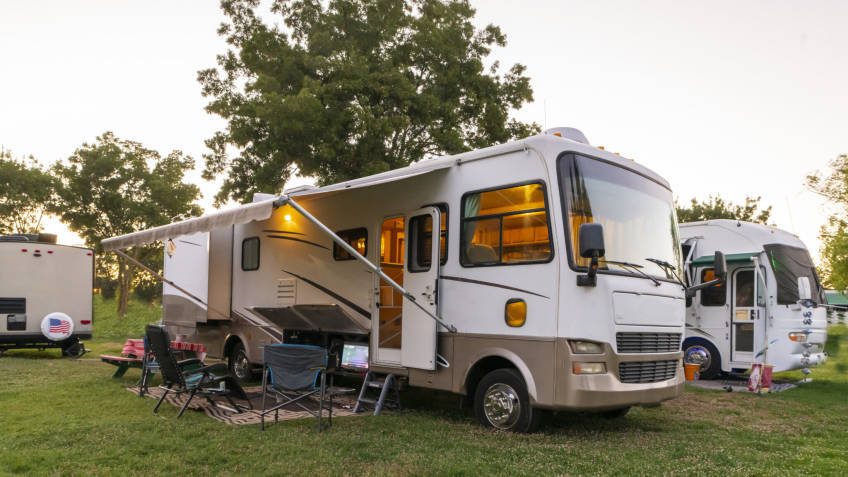 Image Credit: Getty Images
This type of motorhome is typically the largest and most expensive type of RV, ranging between 29 and 45 feet long. If you plan to pile on the miles, consider getting a diesel engine Class A. It may be more expensive, but diesel engines are more durable and more fuel efficient.
If money truly isn't an issue, Type A RVs can be extremely luxurious and have power to spare, capable of towing a boat or regular car behind them. But you don't have to buy a rockstar-grade Class A; most models are lighter, less fancy and less expensive.
Class B motorhome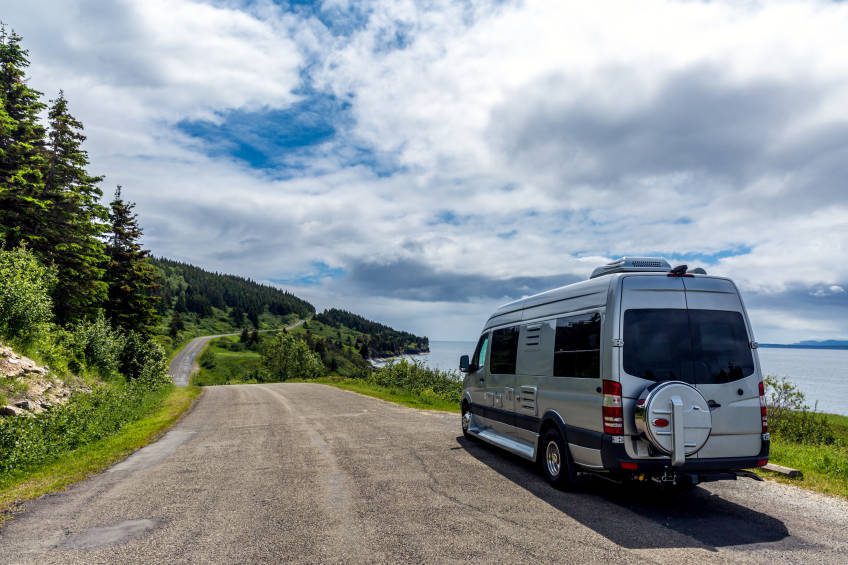 Image Credit: Getty Images
The smallest of the motorhomes, Class B RVs are also called "camper vans" or "sprinter vans." And while the term "camper van" may bring to mind a Volkswagen van from the 1960s, the new models can make your head turn. Type B motorhomes are extremely customizable and can be built to go off-road. RV makers, including Winnebago and Thor, are set to produce EV camper vans in the next few years.
Class C motorhome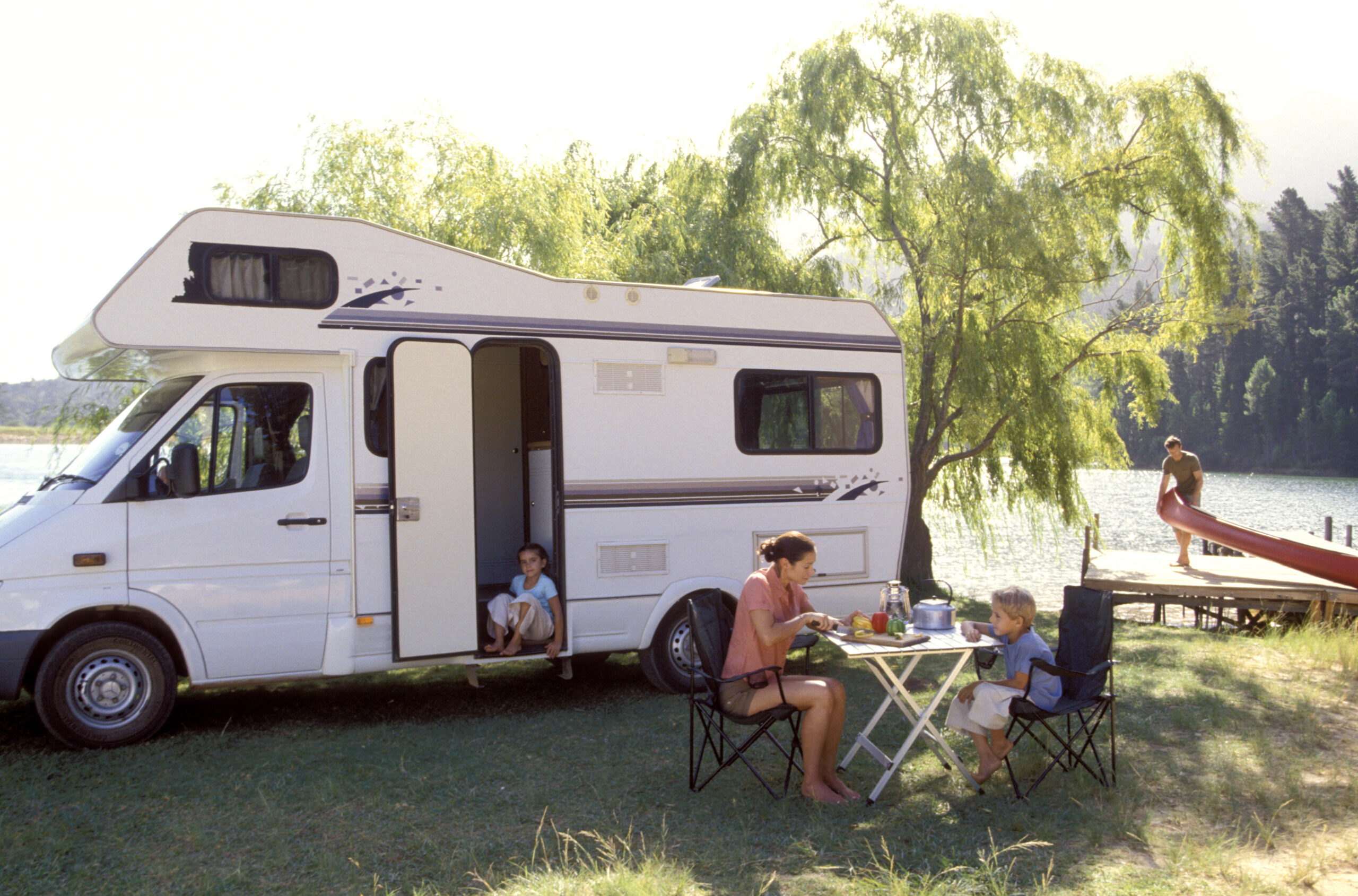 Image Credit: Getty Images
The "Goldilocks" of motorhomes, these midsized RVs are typically larger than a camper van and smaller than a Type A. They offer room for storage, plenty of amenities and space to spread out, while still being short enough that most people feel comfortable driving them. They often look like someone glued the cab of a pickup to the body of an RV.
Fifth wheel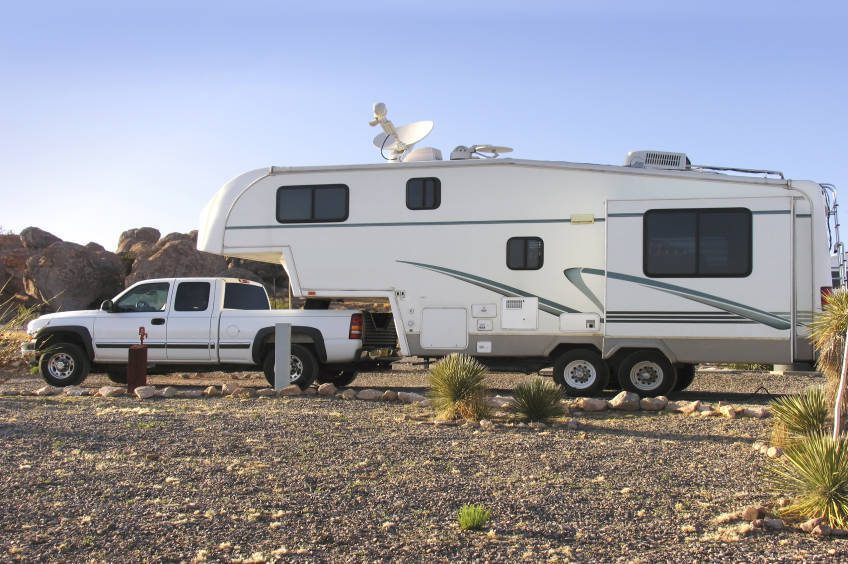 Image Credit: Getty Images
The "fifth wheel" refers to the gooseneck hitch, which extends from the front of the trailer over the bed of a pickup, where it is attached to a hitching mechanism. These are the largest and heaviest towable RVs and can be very luxurious, with stone fireplaces and room to sleep ten people.
Toy hauler RV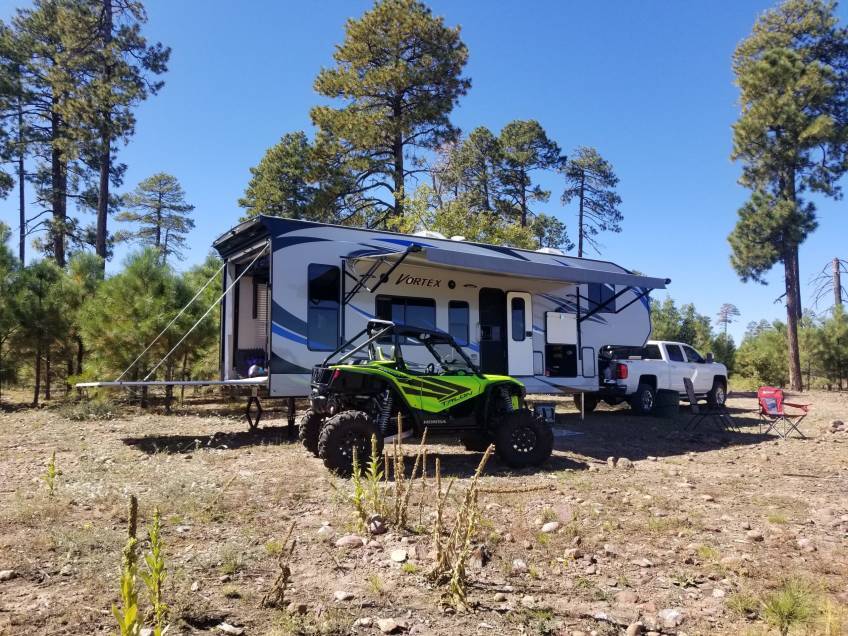 Image Credit: Shutterstock
If you have "toys" — such as motorcycles, ATVs or golf carts — and want to take them with you on vacation, toy hauler RVs are a great option. They have a garage area built into them, typically at the rear. Because such toys typically add a lot of weight, most toy haulers are either Type A or fifth-wheel RVs.
Travel trailer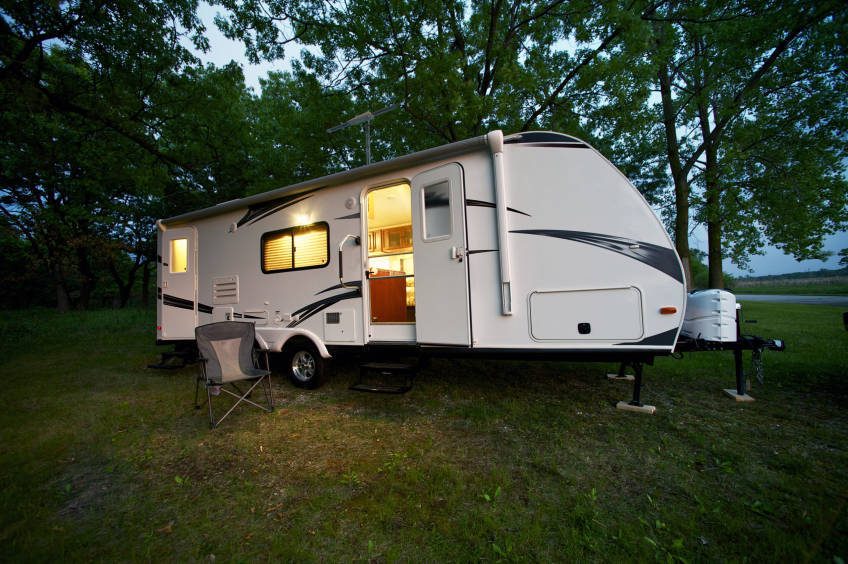 Image Credit: Getty Images
This may be the most common type of RV. It's towed behind a vehicle and comes in a wide variety of sizes, styles and prices. The vehicle that tows this RV doesn't have to be a pickup, but could be an SUV or crossover, depending on the weight of the trailer and the vehicle's towing capacity.
Pop-up camper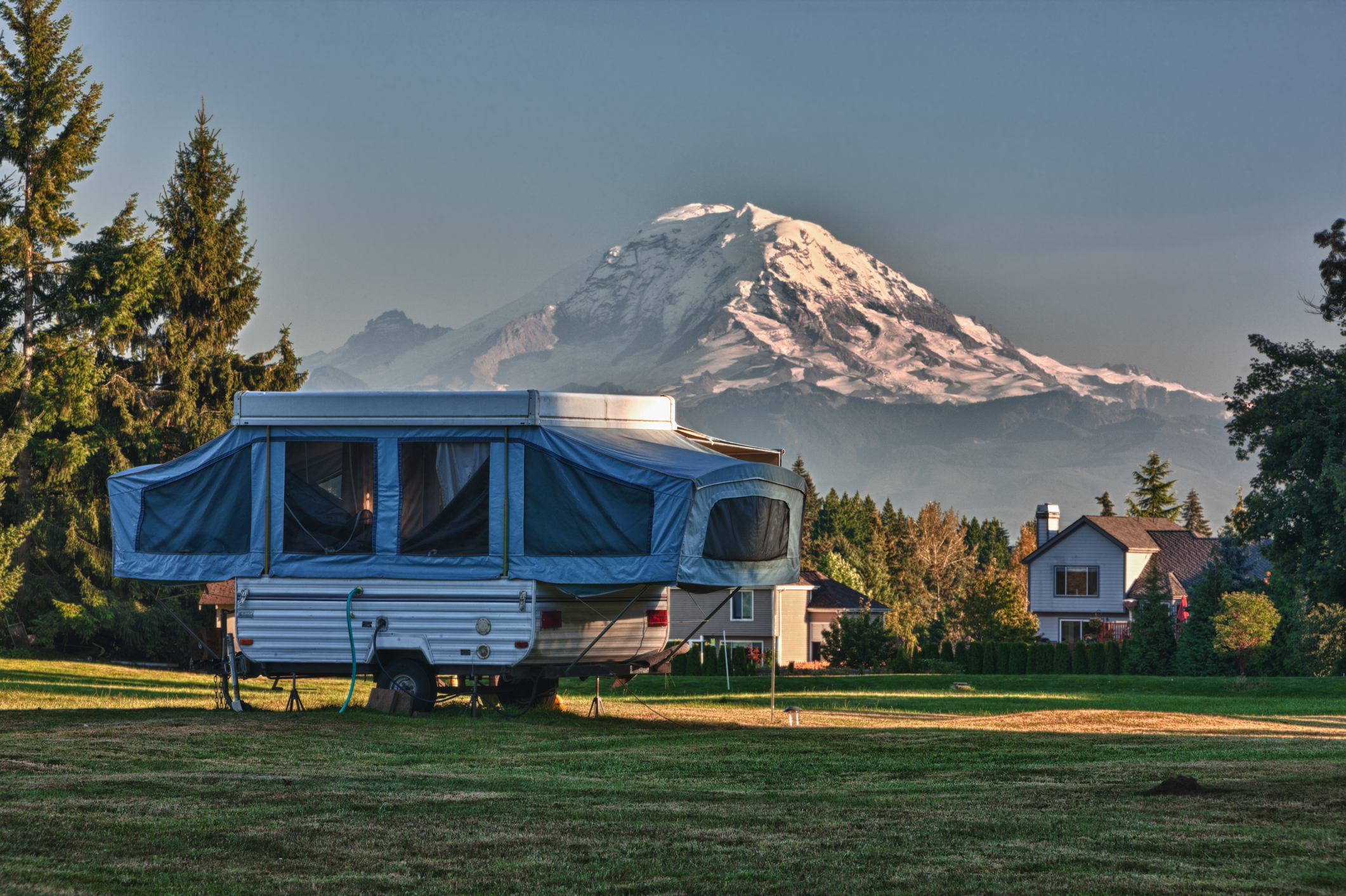 Image Credit: Getty Images
This type may be only three feet high when everything is folded up to travel behind your vehicle, but when you set up for the night, it expands much like a tent. It typically allows for standing room in the living areas and enough room to sleep up to four adults.
Truck camper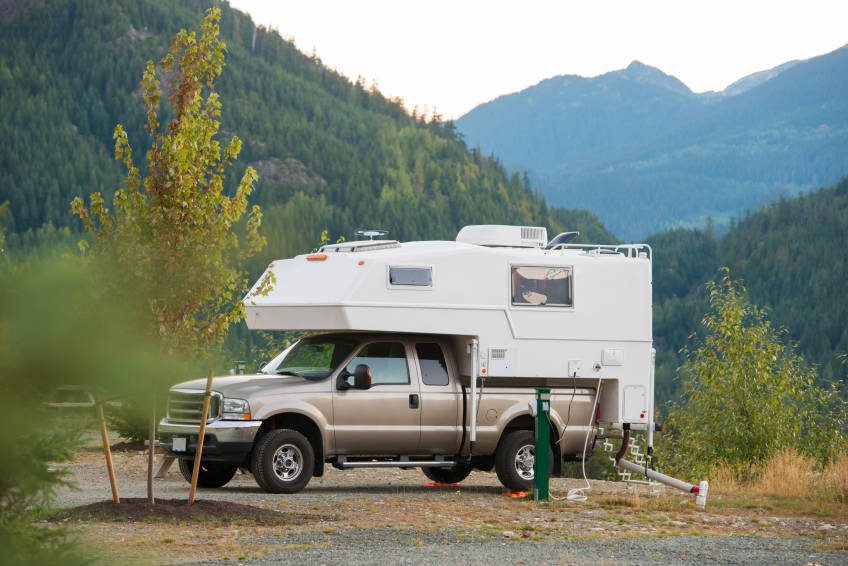 Image Credit: Getty Images
This type of RV is made to slide into the bed of a pickup. As such, it doesn't have wheels or a hitch. The size is limited to the size of your truck bed; a full-size truck bed is typically six feet long. Truck campers typically contain separate areas for eating, cooking, sleeping and hygiene.
Teardrop campers and tiny RVs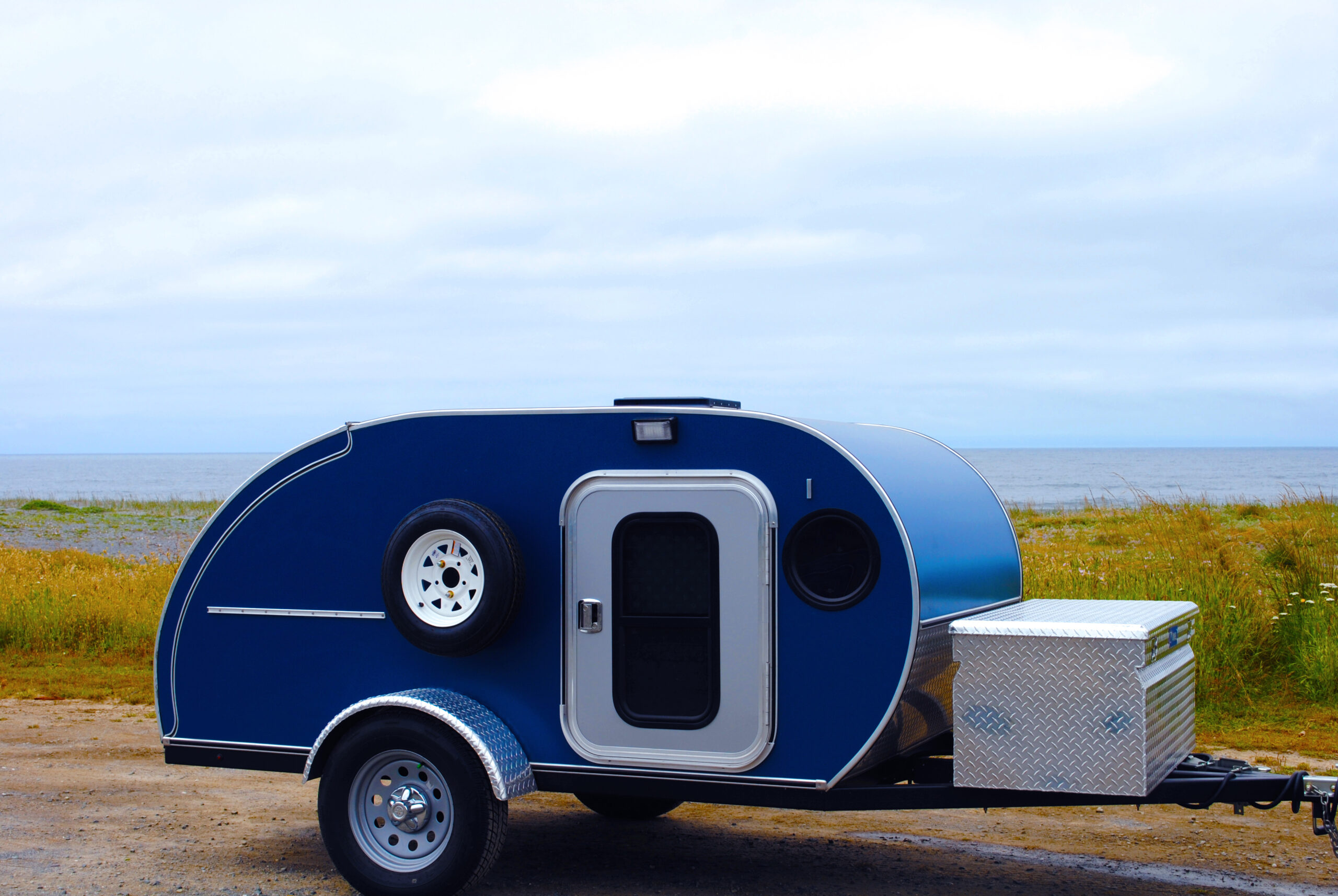 Image Credit: Getty Images
Teardrop campers and other tiny RVs are basically beds on wheels with a compartment accessible from the exterior that serves as a kitchen or storage area. They're some of the lightest weight and most aerodynamic options— meaning they won't eat up your fuel efficiency — and can be towed by most vehicle types.
How to choose the right type of RV for you
As you explore the types of RVs, there are some important questions to keep in mind so you can be sure that the RV you have your eye on is the right one for you.
How do you want to use your RV? Whether you want to park it on a beach for the whole summer or just take your family camping several weekends out of the year, here are some things to consider:
How many people will be in your RV? Will it just be you, or do five of your closest friends want to join? More people means more space is needed — not just for everyone to sleep, but for food and luggage storage.
How often and for how long will you use your RV? Will the RV be used for an occasional weekend trip, to live in for a couple of months at a time or for full-time living? The more often and the longer you use it, the more room and home-like features you may want.
What will the weather be like when you use your RV? Do you plan to break out the RV only during the hot summer months or will you be using it during snowy winters? A fold-down tent trailer may be perfect when there are summer breezes, but may not be suitable for the cold.
How far will you travel? Are you going across the country or across the state? The heaviness and aerodynamics of the RV can affect how much you pay at the pump.
What is your budget? The bigger and nicer the RV, the more expensive it will be. The point of RVs is for everyone to have fun; an RV that drains your budget may also drain all the excitement and satisfaction. Search for an RV and an RV loan that will satisfy your goals, including your financial peace of mind. If you're debating a new versus used RV, used will almost certainly be cheaper, but there's often a tricky balance between finding an inexpensive used model and avoiding RVs that are too old to be reliable.
See RV loan offers
Financing an RV
RV dealers can connect you to lenders, but beware: they may tell you about the loan that gives them the highest finder's fee, not the loan that's the best deal for you. The best way to know you're getting the best deal for you is to apply for a loan outside of the dealership. Potential lenders could include your bank, credit union or online lender. Then, at the dealership, you can ask the finance manager to beat the offer you already have. You could fill out an online form at LendingTree where you may be matched with potential RV loan offers from lenders, based on your creditworthiness.