How Does LendingTree Get Paid?
LendingTree is compensated by companies on this site and this compensation may impact how and where offers appear on this site (such as the order). LendingTree does not include all lenders, savings products, or loan options available in the marketplace.
How to Buy a Used RV
Published on: May 20th, 2019
Editorial Note: The content of this article is based on the author's opinions and recommendations alone. It may not have been reviewed, commissioned or otherwise endorsed by any of our network partners.
With options galore and prices often far less expensive than new, buying used is a way to get a good deal on a recreational vehicle. But with so many types to choose from and a wide variety of prices, the process of buying a used RV could become overwhelming.
So, where do you start? Here we'll walk you through the steps of setting a budget, what to look for in a used RV and when and how to find financing.
Set a used RV budget
If you're someone who think setting up a budget is fun, you're that rare person. But while this may be the most boring part of the used RV hunt, it's also the most important. Set a budget before you shop and stick to it, so you don't fall in love with an RV that's way over your price range.
How do you set a budget? If you want to set up an entire household budget, check out how to make a budget and tips for sticking with it. If you already have a basic budget and want to figure out how much RV you can afford, start by looking at how much you make. What's left over after regular fixed expenses — rent or mortgage, car payment, groceries and utilities and what you spend on restaurant bills and entertainment — is your remaining discretionary income, which you could use to buy an RV.
How much do you want to spend monthly? While you could spend this entire amount of discretionary income on an RV, it's a healthy idea to save money for a rainy day or future plans like a new house or car, college and retirement.
How much will an RV will cost monthly? You could use an online calculator to find out how much an RV and the RV loan would cost you each month. But remember: an RV will cost more than its price tag — taxes, insurance and maintenance can add up, not to mention gasoline and campground fees.
Find used RVs you like
Now that you have an idea of your RV budget, match that figure with our guide on the types of RVs. Then, consider where you'd like to shop for a used RV:
RV dealers — These may be large, such as CampingWorld, the country's largest RV retailer, or mom-and-pop lots.
Private sellers — These are individuals selling personal RVs to other individuals. You may see their listings on online sites that cater specifically to RV buyers, such as RV Trader and RVUSA. There are also sites for those looking for converted RVs or even school buses (known as "schoolies"). RVT.com is another online classifieds site where you'll find private sellers as well as dealer postings. You could also look at peer-to-peer sites such as Craigslist and Facebook Marketplace.
Once you've spotted an RV (or several) within your budget, you should do a bit of research to narrow down or confirm your choice(s), then go out and see the used RV(s) in person to inspect them.
Research. Before you go kick the tires, make sure that seeing the RV will be worth your time.
Is it a fair price? Check the National Automobile Dealers Association (NADA) website to find a fair price for that particular make, model, year and condition of the RV. NADAguides is a free, online industry guide that even lenders use to value all types of vehicles, including RVs.
Check its history. If the RV is a motorhome, it will have a vehicle identification number (VIN). A VIN check should turn up any recalls. A vehicle history report will tell you whether the RV was taken care of and if it was in any accidents. You may want to consider using a service such as BigRigVIN that specializes in reports about RVs and other large vehicles.
Check its reviews. Do a quick internet search and see what current owners of that RV have to say about it -— is the RV widely praised or have many of its users had major problems?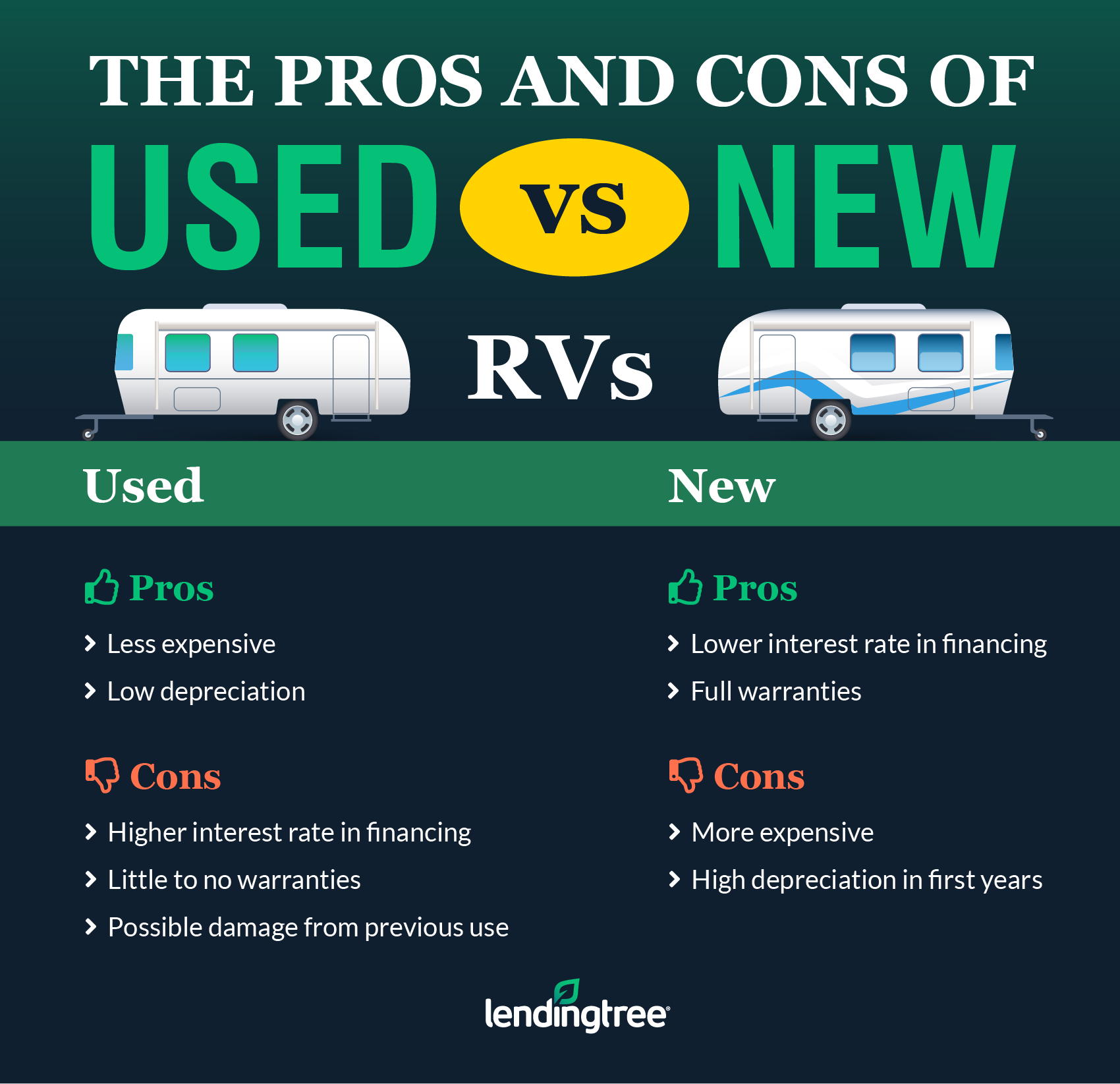 Inspect. When you do go out to kick the tires, pay attention to a few things. This is not an exhaustive list of how to inspect an RV, but it can give you a good idea of what to look for:
Smell. Does it smell moldy or musty? There may be a crack that lets rainwater in or a break in the internal plumbing. Water damage is common in used RVs because seams and sealants flex and move when the RV is in motion.
Listen. Do the axles or suspension creak? Does the floor squeak when you walk on it? If the noise is loud or consistent, it may have structural problems. It may sound obvious, but take a motorized RV for a test drive just like you would a car.
See. Is there rust outside or inside? Water stains? Do all the lights work — tail lights and internal lamps? What about the plumbing, fridge, microwave or any other appliances? If the RV is a motorhome, is the exhaust smoke any color other than clear?
Touch. Are the walls solid? Are the bedding or cushions soft and dry? Is any cabinetry firm? Are the tires firm and have good tread?
If the RV passes your initial inspection, consider having a certified, independent mechanic take a look at it. The mechanic may charge $100 to inspect it, but that could be a lot cheaper than buying a bad RV that brings a host of pricey fixes. It may be a small price for peace of mind.
Negotiate
Once again, NADAguides is your best friend when it's time to agree on a price. Don't pay any more than what NADAguides says the used RV is worth. Ask the seller to deduct from the price the cost of any repairs you'll need to make.
Ask about warranties. A new RV usually comes with several types of warranties, covering the engine to the fridge, but these may be expired on a used RV. Ask the seller if the used RV has any remaining warranties. If it doesn't, you may have to make repairs sooner rather than later and pay for them out of pocket, or you might buy an extended warranty — both would cost you more money, which you could use as a factor to negotiate the price down.
What about an extended warranty? If you buy a used RV at a dealer, the salesperson may encourage you to buy an extended warranty. Before you do, make sure you understand in plain language which parts it covers for how long (time and miles) for up to how much (in parts and labor), as well as the total dollar amount the warranty will cost rather than the monthly amount, which salespeople tend to focus on. You could also consider an RV service plan or roadside assistance plan from a business such as Good Sam.
Apply for a loan
Once you have the exact RV you want for a good price, apply for financing, if you need it. When you apply to buy a used RV, the potential lender will ask for personal identifying information, including your contact information and Social Security number. You may also need to provide information about the RV itself, such as year, make model and VIN.
The main tradeoff in new versus used RV financing is that a used RV typically means you will finance a lower amount, but with a higher interest rate. Loan term length depends on how much you want to borrow. If your RV costs as much as a house — $100,000 or more — you might be able to get a 20-year loan. If your RV is less than $10,000, a 4-year loan may be enough.
Used vs. new. As we mentioned earlier, the price range for a used RV does vary wildly. Notably, though, Camping World reported an average sales price of $22,014 in the first quarter of 2019 for its used RVs. Interestingly, used RV prices rose while average new RV prices fell, to an average $35,268. That might explain why new RVs are generally more popular at the country's largest RV dealer than used — perhaps some buyers don't see enough of a savings advantage when compared with taking on potential problems of a used RV. But a difference of $13,254 adds up, particularly when you add in the cost of borrowing, which we'll talk about next.
Shop around for the best used RV loan rate the same way you shopped for the best RV. Apply to a few lenders so you know you're getting the best deal and paying the least amount possible for financing. Your credit will not be penalized by applying for a used RV loan from several lenders any more than it would be if you applied to one, as long as you do all applications within a 14-day window. Potential lenders could include your bank, credit union or online lender. By filling out a single online form at LendingTree, you may be matched with several used RV loan offers from lenders, based on your creditworthiness.
Once you have a loan approval and you accept the loan, the lender or dealer will guide you through finalizing the paperwork. The final thing you may have to do yourself if you buy a used RV from a private seller, rather than a dealer, is register the RV according to your state's laws, paying taxes and fees as necessary, if your state requires it.
The bottom line
Buying a used RV can save thousands over the price of a used RV. But with any used vehicle, there are risks. Do your research and shop around for a loan once you have your RV picked out.
What if you buy a lemon? Even when you've done all your homework, problems can crop up after buying a used RV. A "lemon" in this context is an RV that suddenly has major problems right after you buy it. Different states have different laws regarding what they consider a lemon, so check your state's used car lemon law and read it carefully: many states exclude motorhomes from their lemon laws. And even when they are included, they may not cover the "home" portion of the motorhome. If you think you bought a lemon, contact the seller and try to come to an agreement. Document each step you take, including keeping receipts. And you could check out lemon law resources by the Better Business Bureau.
If your state doesn't consider your case as a lemon, you may still be able to make a case using the Magnuson-Moss Warranty Act, a federal law governing warranties on consumer products.