How Does LendingTree Get Paid?
LendingTree is compensated by companies on this site and this compensation may impact how and where offers appear on this site (such as the order). LendingTree does not include all lenders, savings products, or loan options available in the marketplace.
How to Get a VIN Check Before Buying a Used Car
Updated on: March 31st, 2021
Editorial Note: The content of this article is based on the author's opinions and recommendations alone. It may not have been reviewed, commissioned or otherwise endorsed by any of our network partners.
A VIN check tells you about a vehicle's history: accidents, safety recalls and other information you should use when buying a car. A vehicle identification number (VIN) is easy to find on most cars, but knowing how to check a VIN number gets a little more complicated. Free VIN checks are available but may not give you as much information as paid vehicle history reports. We'll walk you through the options and what to do next: buy, negotiate a lower price or avoid that car and move on to the next one.
What to do with your VIN check
How to check a VIN number
1. Find the VIN 
The VIN is a 17-digit code used to track vehicles for safety and taxation purposes. Manufacturers stamp the VIN in several places on a vehicle. Here's what it looks like and three easy places to find it: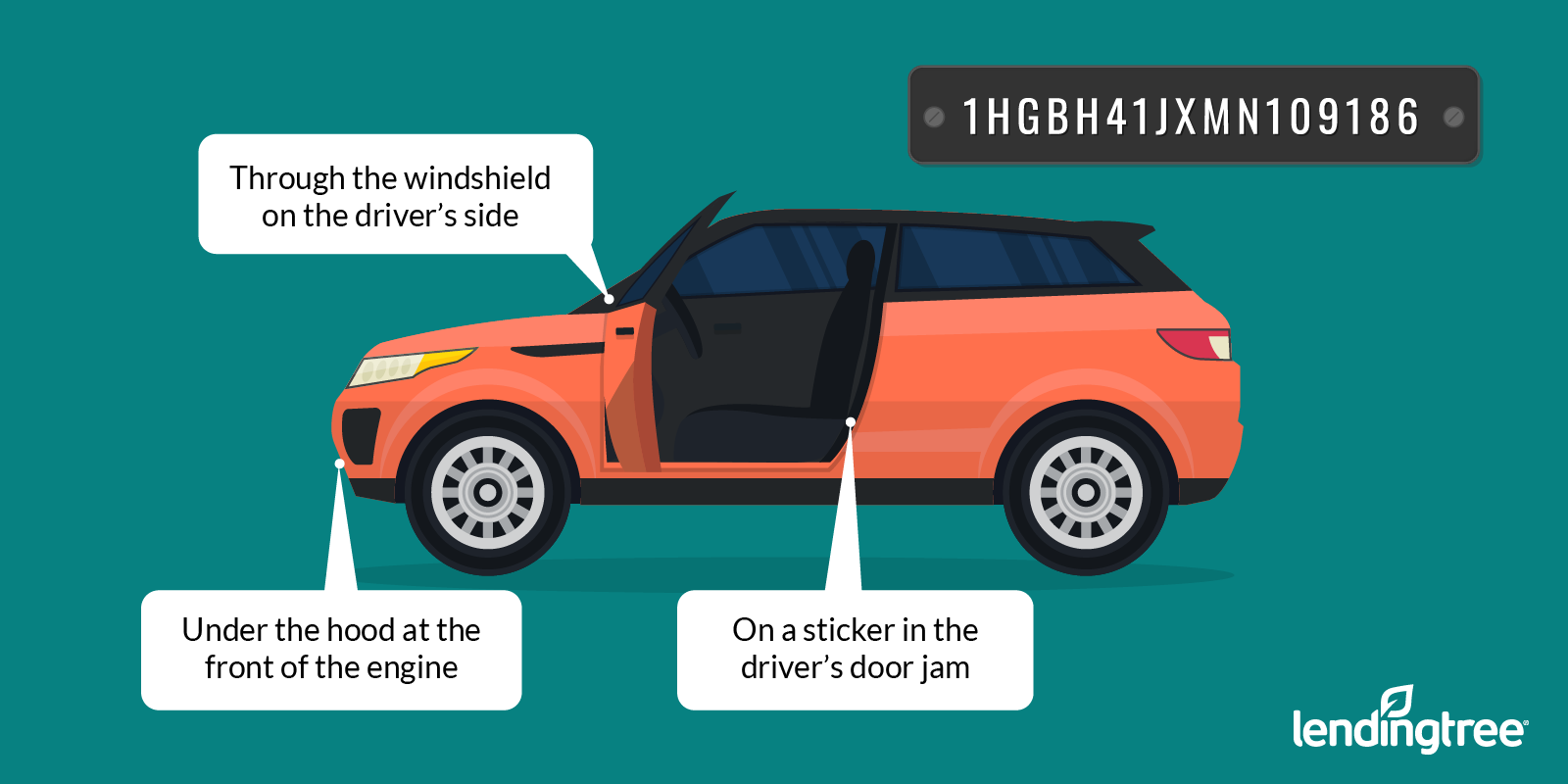 2. Use a VIN lookup website 
Some VIN check websites are free while others charge a fee in exchange for more information on a vehicle's history.
Where to find free VIN checks:
National Highway Traffic Safety Administration — NHTSA provides basic information on the make and model of the vehicle using its VIN Decoder. Its VIN lookup tool lists any  unresolved safety recalls.
National Insurance Crime Bureau — NICB's VINCheck® shows whether the vehicle is reported as stolen or has a salvage title, a type of vehicle title indicating a past accident or other event that caused significant damage.
CarsForSale — A free vehicle history report here gives you a car's title issue date and history, latest odometer reading, theft history (if any) and salvage history. It's one of the National Motor Vehicle Title Information System's approved providers. More on the NMVTIS in a minute.
Want more information?
These VIN check websites dive deeper into a vehicle's history, for a fee:
CarFax — The industry standard, a CarFax report is also the most expensive on this list: $40 for one, $60 for three and $100 for six.
NVMTIS approved providers — These reports range from $3.50 to $16 for one VIN check:
Before you order: Many dealerships provide a free VIN check. For example, Carvana provides a free vehicle history report for every car. Other online car-buying sites will allow you to refine your search to listings that include a CarFax report. Always ask the seller if they provide one before you go and buy one.
3. Review the VIN check report 
Here are some questions to ask as you look over the VIN check results.
Does the vehicle match the VIN Check report?
The vehicle you're inspecting should match the one described in the VIN check report, down to year, make, model, engine type and more.
Does it have a clear title?
A clear or clean vehicle title means a vehicle has had few damages or repairs. It can also mean no one holds or a lien or loan against the car. A lien doesn't mean a vehicle is unclean, but it is a bad sign if there are multiple claims of ownership. Likewise, a fender-bender or two might not be a dealbreaker, but a history with a major accident could lead to problems down the road.
Pros and cons of a salvage title car:  A salvage car isn't always a bad thing. Some bargain hunters seek out flood cars or other damaged vehicles, but they may be difficult to insure and expensive to fix or maintain.
What to do with your VIN check
A VIN check is just one part of researching a used car and what you do with it will depend on several factors. A car with some problems in its past might mean you could negotiate down the price. On the other hand, if you have a low appetite for risk and a limited repair budget, it might be better to keep searching. A VIN check — or more than one — is not a replacement for an inspection by a reputable mechanic. These steps may seem time-consuming, especially if you need a new ride right away, but buying a car is a big purchase and it's good to take your time whenever possible.