How Does LendingTree Get Paid?
LendingTree is compensated by companies on this site and this compensation may impact how and where offers appear on this site (such as the order). LendingTree does not include all lenders, savings products, or loan options available in the marketplace.
How to Get a VIN Check Before Buying a Used Car
Updated on: August 31st, 2022
Why use LendingTree?
We are committed to providing accurate content that helps you make informed money decisions. Our partners have not commissioned or endorsed this content. Read our .
If you're considering purchasing a used car, it's wise to do some digging to find out more about its history. With a quick check of the vehicle identification number (VIN), you can uncover the car's life story, including previous ownership, maintenance history, accidents and safety recalls. While paid VIN checks give you a more detailed report, you can still get useful information about the vehicle with a free VIN check that will help you with your decision.
We'll walk you through how to get a free VIN check and what to do with the report.
How to check a VIN number
Much like a Social Security number is assigned to a person, a VIN is assigned to each vehicle at the time of manufacturing. Since this 17-digit alphanumeric code is unique, checking the VIN number will only provide details about that specific car.
Here is the process for checking a VIN number for a car:
Find the VIN
Although all vehicles manufactured since 1981 have a VIN, it isn't always displayed on the same part of the vehicle. When locating your VIN, check in a few different places, including the driver's side door jamb, driver's side windshield and under the hood at the front of the engine, which are the three common locations for VINs.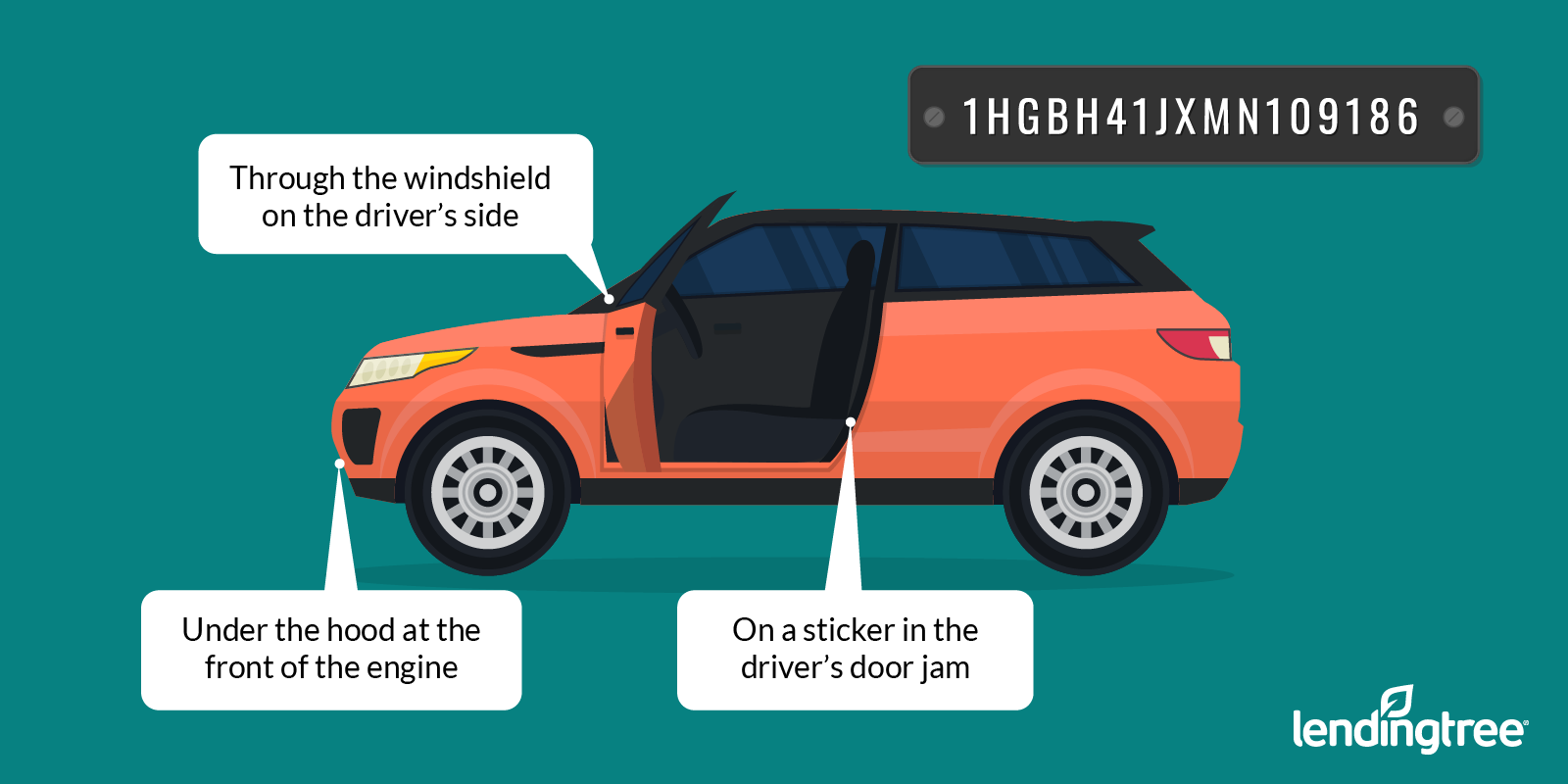 Use a VIN check website
VIN checks can be performed for free, but there are also websites that offer paid VIN checks. When opting for a paid VIN check, you have access to more detailed information about the vehicle; however, the basic details included in the free report can be just as helpful when buying a used car online, from a dealership or from a private seller.
Where to find free VIN checks
Where to find paid VIN checks
CarFax: CarFax offers a more detailed vehicle history report for $39.99, $59.99 and $99.99, depending on how many reports you need.
NMVTIS-approved providers: The National Motor Vehicle Title Information System's approved providers offer VIN checks at varying prices.
Review the VIN check report
After inputting the VIN, you'll have access to the VIN check report. You'll want to review the report and all the information provided, but there are a few specific things you should watch for as you look through this report.
Does the vehicle match the VIN check report?
The VIN check report includes the vehicle manufacturer, make and model and model year. This information should match the title and description of the used car you are considering purchasing. If the information in the VIN check report and title don't match, it could be due to a clerical error or the car being stolen.
Does it have a clear title?
Pay close attention to the type of damages and repairs listed, but also look out for a hold or lien that can prevent the sale of the vehicle. For example, if the seller financed the vehicle, the bank or financial institution may still have a lien on it if the car hasn't been paid off.
Does it have any unrepaired recalls?
Depending on the VIN check tool used, the report may list relevant safety recalls. If any are listed, confirm whether the repair has been performed. An unrepaired recall means a repair is needed. Luckily, safety recall repairs are generally free and can be done by a local dealership.
What to do with your VIN check
After you've completed the VIN check and closely looked over the report, you can decide whether buying the car is a good idea. Ideally, you've confirmed ownership, recent service and repairs and safety recalls. If you feel comfortable moving forward with the purchase, you can rest a little easier knowing you understand the vehicle's history.
Frequently asked questions
Vehicle manufacturers typically place the VIN in one of three places: the driver's side door jamb, driver's side windshield and under the hood at the front of the engine. The VIN can also be found on the title of the vehicle.
Yes, a free VIN check is safe. When checking the VIN, you are only asked to enter the VIN, so no personal information is at risk of being compromised. If you are requesting a paid VIN check, use a reputable website, such as CarFax.
Checking a VIN allows you to get the car's complete history. You don't want to purchase a car that is a lemon or stolen, and not only can a VIN check confirm ownership of the car, but it can also provide details about service and repairs, accidents and recalls. With this information, you can decide whether purchasing the car is the right choice for you.